NEW
22 cu. ft. 36-Inch Width Counter Depth Panel Ready with Interior Dispense French Door Refrigerator
22 cu. ft. 36-Inch Width Counter Depth Panel Ready with Interior Dispense French Door Refrigerator is rated out of 5 by 64.
This 72-inch refrigerator is three inches taller than a standard counter-depth refrigerator. It fills the gap that can be left above many refrigerators, adding to its integrated appeal. A pull-out freezer drawer allows you to organize frozen items on three levels. And with the ExtendFresh™ Temperature Management System all of your ingredients will be held at the optimum temperature to maximize their flavor and texture.
Panel Ready - KRFC302EPA
Features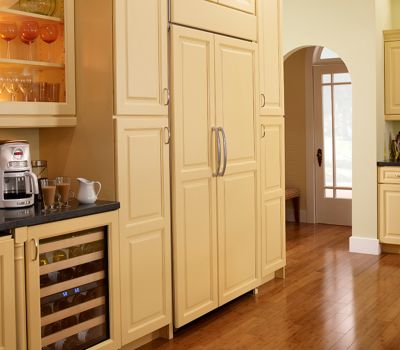 Overlay Panel-Ready
Allows the refrigerator to be customized to match surrounding cabinets with custom panels and handles (not included).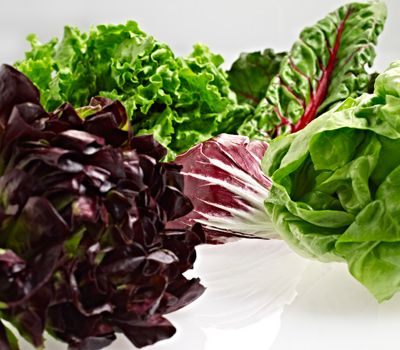 ExtendFresh™ Temperature Management System
Separately monitors the temperatures in the refrigerator and freezer through a sensor located in each, to help ensure fresh fruit juices don't become frozen and prawns avoid freezer burn.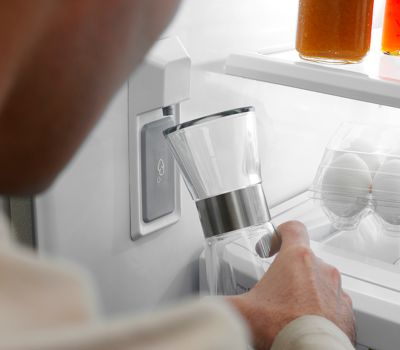 Interior Water Dispenser
provides easy access to filtered water and is conveniently located for one-hand operation.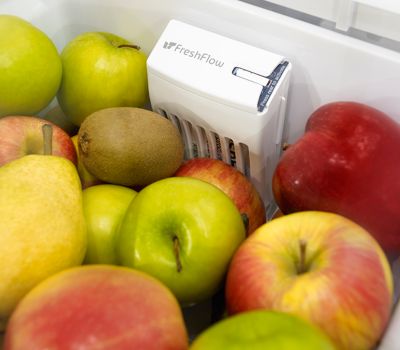 Produce Preserver
Absorbs ethylene gas emitted by many fruits and vegetables, causing them to over ripen. By removing ethylene, the produce preserver helps extend freshness.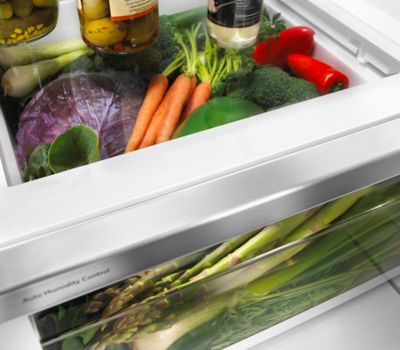 Humidity-Controlled Crispers
Provide a dedicated storage option with adjustable humidity levels. They let you select the high humidity that keeps romaine crisp, or the arid environment that helps figs and apricots stay fresh.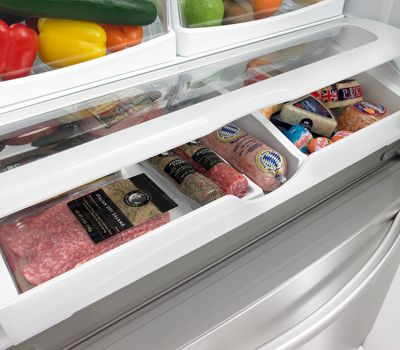 FreshChill™ Temperature-Controlled Full-Width Pantry
Provides a manual temperature setting that lets you maintain the freshness of ingredients as varied as a whole salmon or large eggplants.It gives you total control over of the amount of cool air that enters the drawer.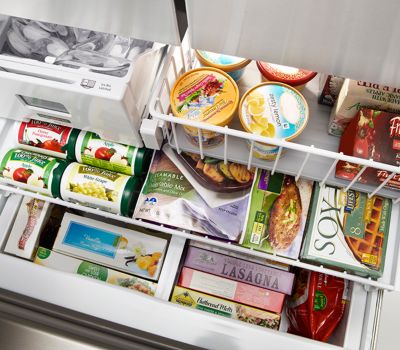 Pull-Out Tri-Level Freezer Drawer
features slide-out baskets with mats to help keep the freezer clean and organized.

SatinGlide® System
Uses space-efficient, under-mounted pans with rollers and glides for satisfyingly smooth operation.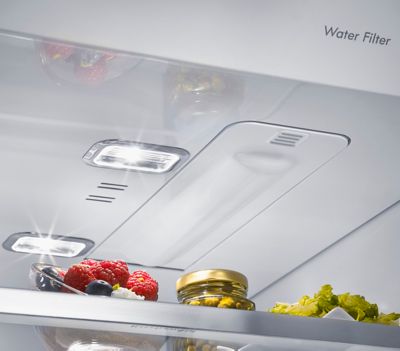 LED Lighting
Uses less energy than incandescent bulbs. Multiple lights are purposefully placed throughout the refrigerator and freezer, making it easy to find items at a glance.

Star-K Certified
STAR-K KOSHER CERTIFICATION for use on the Jewish Sabbath and other religious holidays.

Automatic Ice Maker
ensures a constant supply of ice on hand at all times for entertaining and everyday use.

Max Cool
When selected, automatically adjusts the temperature in the refrigerator and freezer to the lowest setting as needed. This helps keep the refrigerator at the ideal temperature even when you have the doors open for an extended period in order to load all your freshly purchased produce.

Metallic Accents on Shelf Trim
Are applied to the leading edges of the refrigerator shelves. These rich accents complement the gloss finish of the interior, to make finding your ingredients as much of a pleasure as using them.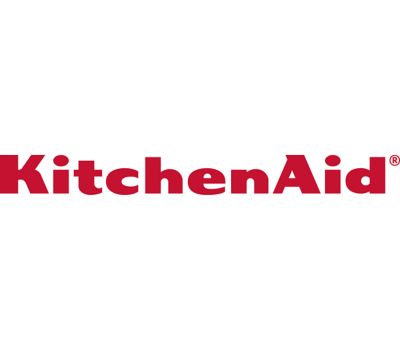 Metal Wine Rack
provides a durable storage solution for up to four bottles of wine or 2-liter containers and can be removed for additional storage flexibility.
Specifications
Configuration and Overview
Refrigerator Type
French Door
Refrigerator Capacity
16.35
Energy Star® Qualified
No
Dimensions
Height To Top Of Cabinet
71 3/8
Depth With Door Open 90 Degree
44 1/8
Depth Excluding Doors
24 5/8
Depth Closed Excluding Handles
27 3/4
Width with Doors Closed
35 3/4
Capacity
Refrigerator Capacity
16.35
Features
Number of Interior Shelves
5
Spill-Proof Glass Shelves
4 Adjustable Half Width
Conventional Shelves
1 Fixed Full-Width Glass
Humidity-Controlled Drawers
2 Half-Width
Temperature-Controlled Drawers
1 Full Width Pantry
Non Climate-Control Drawers
No
Door Bins
2 Fixed Full-Width Gallon, 4 Adjustable Gallon
Freezer Features
Freezer Drawer-Basket
1 Full Width Lower Metal, 1 Full Width Middle Wire, 1 Half Width Upper Wire
Filtration and Dispensing
Dispenser Type
Interior Water Only
Dispenser Options
Filtered Water
Ice Maker
Factory Installed
Show More Specifications
Reviews
Rated 2 out of 5
by
Rich D
from
Seal & Gasket concerns?
I bought this gorgeously expensive food cooler a little over a year ago. In this time, the ice maker has stopped working and started again twice... No issues now, so crossing my fingers... I'm beside myself lately though, as my right door seal/Gasket seems to be split and the strip magnet falls out. The seal is also separated at the bottom of the door and seems to be either a defect, or simply cheap materials used. I have it held together with some small pieces of duct tape for now, and my wife is less than happy to say the least. No idea what to do next here... Hopefully I am the only one out there with this issue after paying $3,500 plus for this refrigerator/freezer ... suddenly very disappointed in an otherwise great operating machine.......
Date published: 2018-04-16
Rated 1 out of 5
by
Help
from
Buyer Beware
Panel ready refrigerator is black with black trim, not gray as shown in picture!
Date published: 2018-02-16
Rated 1 out of 5
by
very mad too
from
Agree with "Very Mad", MISLEADING
I received this refrigerator a week ago. Our cabinet maker built cabinets per Kitchen Aid specs, but the refrigerator doors will not open when the refrigerator is pushed back. It needs to protrude 2 1/2 to 3 inches to allow the doors to open. Your drawings, specs and photographs are very misleading. Our contractor and cabinet maker agree. When pulled out 2 1/2 to 3 inches, the black sides show and look horrible, and when the custom panels are applied, it will protrude even further. Our panels are off white. What is the point of having panel ready if the ugly sides show? I am now wondering if we will have the additional problem of weak hinges when panels are applied, as someone else has posted this problem. My nine year old Kenmore had better features, better built shelves with no spaces behind, more storage in the doors. There is much less usable space than my Kenmore of the same size.
Date published: 2017-12-26
Rated 1 out of 5
by
sad_panda
from
DO NOT BUY!!! Worst quality and horrible service.
Unlike some of the other reviewers I purchased this fridge with full knowledge of the external dimensions... This is just a terrible fridge. If I could give a negative star I would. The hinges are not strong enough to hold the weight of the door and bend easily. Even without panels/handles installed. I'm waiting on my 3rd set to be installed. 1) The hinges do not have adjusters so your cabinet installer need to get the panel mounting perfect on the first try. Which is all for not because once the hinges start bending there is no way to get the doors back in-line. 2) The center divider folds via a cam/striker setup... There is no adjusting this piece either and even with new hinges it barely works. As the hinges bend, the striker tabs go UNDER the cam and will not flip the divider. 3) The shelves have huge gaps at the back. Large enough for a standard soda or even jelly/pickle containers to drop down the back. 4) Finally, it's noisier then the 10 year old LG it replaced.
Date published: 2017-12-12
Rated 4 out of 5
by
Glowplugv
from
Working great after 3 months
After 3 months of operation I can say we are very happy with this refrigerator. It would have been 5 stars but for the installation related to the water line and electrical plug issue I documented in an earlier review with pictures. I have the frig set at the defaults (38/0 degrees F) per the manual. Compared to our old 1999 GE refrigerator, the fruit and vegetable storage is much better as the both fruit and veggies seem to stay fresh much longer. I don't miss the external ice dispenser as the in freezer ice drawer is convenient and we avoid the issues of the in door ice maker that seems to dominate negative reviews of those sorts of refrigs. Very quiet and doors open and close smoothly. Highly recommend the French Doors with bottom freezer as it puts the things you need daily at eye level. Our old refrigerator had the fruit/veggie bins at the bottom and it was pain to load and see what was there. I was able to get the Kitchenaid rebate and only wish it was EnergyStar rated so I could get a tax credit.
Date published: 2017-12-02
Rated 5 out of 5
by
Carol 1967
from
Well worth the money
We almost bought another fridge made in Australia that was completely built-in (fully integrated) for the same price. However, we like the fact that the doors on this Kitchenaid open all the way. Many "fully integrated" fridges do not. Hubby thought the idea of a French door fridge was a little silly but now that we've had it for 3 months, he LOVES how easy it is to find everything. The ice-maker holds much more ice than did our previous 48" top-of-the-line $10,000 side-by-side which makes him REALLY happy! Yes, small items will fall off the back of the two top glass shelves. Small items are hard to find on the top shelves of any fridge so simply store your small items (like juice drink cartons) on the bottom shelf where they are easier to find anyway. The freezer compartment does not hold much. Depending on the size of your family and how much you rely on frozen food, this could be an issue. One design suggestion: The cold water dispenser inside the fridge is a great idea. However, it should be on the right side not the left. Most people are right handed and it is a bit awkward holding the right and the left door opens just to get cold water.
Date published: 2017-11-18
Rated 1 out of 5
by
6LuckyDucks
from
BEWARE!!! Ice Maker Bin Drawer Freezes & Locks Up
We are now on our second refrigerator. The first one took 10-1/2 months with 6 or 7 service calls, new parts, sealing the door, changing gaskets, installing new rails (glides) on the bin - nothing worked. In the end the Protection Agreement finally authorized a replacement refrigerator. It was an extremely trying and frustrating experience. Since this is a Panel Ready unit, we wanted to be able to reuse our expensive panels that match the cabinetry; so we tried the next year's model. The first several months were relatively trouble-free. Then the ice build-up on the rails started to appear, the bin stuck and has to pulled with two-handed force to be able to access the ice at all. The tiny magnet which is designed to secure the ice bin to the main freezer drawer front is inadequately small and will not lock and hold in place. Beyond all this, the interior water dispenser drips and there is constant wiping. The refrigerator section is set at 38 degrees, as suggested, and often freezes food and drink items, i.e. cottage cheese, club soda, a jar of roasted red peppers, etc. I am now starting this service nightmare all over again with the second machine - hope it doesn't take another 10 months to be resolved. Save your sanity - Don't buy this model! t buy this machine.
Date published: 2017-11-11
Rated 4 out of 5
by
dwfish61
from
easy to get into
So far love it! I was looking for a unit but do not like stainless steel. Cabinet ready is beautiful!
Date published: 2017-10-21
Rated 1 out of 5
by
very mad
from
MISLEADING
Firstly called counter depth, but it isn't. Sold panel ready with perfectly flush built in images- it can't be done. Door hinge structure does not allow for a built in fridge. period.
Date published: 2017-10-10
Rated 3 out of 5
by
Renovator
from
Started with service call
I wanted counter depth and panel ready. This is the most affordable option. Unfortunately the refrigerator section was not cooling upon install and we had to get service. Still waiting on repair but hopefully it will work well from her on out.
Date published: 2017-10-06
Demos & Guides
guides
Panel Install Instructions
Panel Install Instructions
Use & Care Guide
Comprehensive information about your new appliance - from getting started to cleaning and maintenance.
Energy Guide
Information about the efficiency of your appliance, including energy consumption and annual costs to operate.
Warranty Information
A complete description of your warranty coverage, and contact information for service and support.
Dimension Guide
Detailed dimensions of your new appliance with space requirements for the area surrounding it.
Panel Install Instructions
Detailed panel dimensions of your new appliance.
In order to read a PDF file, you must have Adobe Acrobat reader installed on your computer. You can download the latest version at the Adobe website.
Show More Guides