NEW
24" Wine Cellar with Glass Door and Wood-Front Racks
24" Wine Cellar with Glass Door and Wood-Front Racks is rated out of 5 by 12.
A combination of style and functionality, this Wine Cellar features two temperature-controlled zones to help preserve the flavor and integrity of individual wines and allows white and red wines to be stored at a separate temperatures. The 46 wine bottle capacity is the perfect size for a collector.
Stainless Steel - KUWL204ESB
Features

Two Temperature-Controlled Zones (For Wine Cellar)
Allows for two temperature zones to chill both whites and reds at their optimal temperatures to help preserve the flavor and integrity of individual wines. The top zone adjusts from 42-54°F for whites while the lower zone can be set from 42-64°F for reds.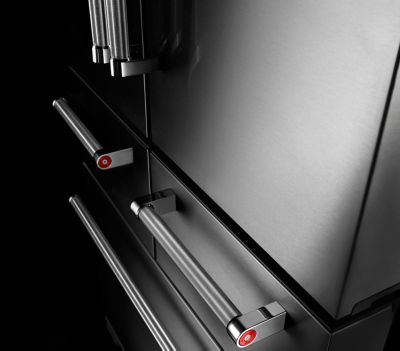 Professionally-Inspired Design
A bold blend of professionally-inspired styling and sleek touches for the home. This refrigerator features Satin Textured Handles with iconic KitchenAid Brand Medallions and a beautiful chrome frame.

46 Wine Bottle Capacity
Provides large capacity to easily chill and display a full selection of wines.

UV-Protected Thermal Glass Door
Filters UV rays to help protect wine and other beverages from premature aging.

Auto Light Interior LED Lighting
Is proximity-activated making it easy to find items inside the unit without having to open the door. One or two rows of LED top mounted lights slowly illuminate when approaching the unit, and gradually turn off when not needed.

Touch Controls
An easy to use electronic interface that allows pleasant and precise control over the refrigerator temperatures and settings.

SatinGlide® Wood-Front racks
Provides smooth movement even on fully loaded racks. The wood front gives the metal racks a sleek, high-end design.

Built-In or Freestanding Installation
Provides the ultimate versatility and flexibility for placement. Easily add a unit under counters in the kitchen, to custom cabinets in the dining room, or free standing anywhere you like around the house.

Over-Temp Alarm
automatically alerts you if the temperature isn't safe for cold storage. Sensors trigger the alarm if the refrigerator temperature rises above 45°F (7°C) for more than 4 hours. The alarm shuts off once temperatures return to normal.

Door Alarm
automatically alerts you when the door has been left open before items inside rise above their ideal temperature. The alarm sounds after fives minutes and goes off every two minutes until the door has been closed or the controls have been pressed.
Specifications
Configuration and Overview
Controls
Control Location
Interior Up Front
Number of Temperature Controlled Zones
2
Installation Option
Freestanding or Built-In
Refrigerator Type
Wine Cellar
Shelf(s) Description
Wine Rack
Temperature Divider LED Color
White
Temperature Divider LED Dimmer Switch
No
Temperature Range
42F to 64F
Zone 1 Capacity
Up to 24 Bottles
Zone 1 Description
White Wine
Zone 1 Temperature Range
42F to 54F
Zone 2 Capacity
Up to 22 Bottles
Zone 2 Description
Red Wine
Zone 2 Temperature Range
42F to 64F
Annual Energy Usage [kWh]
441
Cabinet Material
Prepainted Steel
Door Color
Stainless Steel
Dimensions
Depth With Door Open 90 Degree
47 3/4
Depth Closed Excluding Handles
24 3/8
Width of Cabinet Only
23 3/4
Show More Specifications
Reviews
Rated 1 out of 5
by
elizarto
from
doesn't fit normal sized wine bottles!!
I wish I had seen the previous reviews about the wine racking on this wine cellar! We just had ours installed in our newly remodeled kitchen and the racks are a JOKE! Obviously designed by someone who doesn't drink a variety of wines! It is only good for the narrowest bottles and certainly will not take a full drawer of bottles the way they describe they are supposed to fit! The one drawer below the temperature control fits only splits or maybe dessert wines. The bottom drawer is made differently than the rest, it has a better lay out of the metal slats that hold the bottles and they allow the bottles to sit better. There is NOTHING about this refrigerator that I would recommend! DON'T BUY IT! I paid less than $500 for another brand that we now have to keep in the garage to hold our good wines. This was a complete waste of money.
Date published: 2018-03-29
Rated 5 out of 5
by
Mark211
from
Quality product
Second time I used this wine refrig. Great product. Low noise
Date published: 2018-03-18
Rated 5 out of 5
by
Anonymous
from
The perfect appliance
This was installed in our new;ly reodeled kitchen and we love it.
Date published: 2017-11-04
Rated 5 out of 5
by
Teresa
from
Purchased two!
My husband and I purchased two of these wine cellars - we use one for wine and the other we removed two shelves and use it as a cooled pantry - the perfect temperature for cheese, butter, fruit, vegetables etc. Love them!
Date published: 2017-09-21
Rated 1 out of 5
by
AM
from
Poor reliability, not worth the cost
This product came with the house when it was built in 2008. It lasted 3 years and then stopped working. We paid someone to come recharge the refrigerant, that lasted 6 months and died again. I agree with other reviewers, looks nice, but reliability is bad. For the cost to repair this unit, we can buy a brand new one. I wish Kitchenaid would stand behind these expensive appliances that they make and take care of their customers.
Date published: 2017-06-20
Rated 1 out of 5
by
DavidL
from
Do NOT Buy this Wine Fridge from KitchenAid
KitchenAid Makes this claim right on the product description page and it is 100% false. "46 Wine Bottle Capacity Provides large capacity to easily chill and display a full selection of wines." It may hold 46 bottles but all have to be mini-skinny bottles and NOT the "full selection" because if you want champaign or pinot noir any bottle slightly different size, you have to remove racks. Not adjust racks, REMOVE RACKS. See previous reviewer who states the same (I've cut and pasted relevant portion below) which basically states that bottles over a certain circumference do NOT fit. What KitchenAid is advertising is false. "2) The drawer immediately below the display panel does not provide sufficient space for average size wine bottles. Wine bottles with circumference 25.5 cm and larger may fit in this drawer by deflecting the display panel which is directly above. Placing 4 or 5 average bottles in this drawer results in a press fit situation that tears the bottle label and drags all bottles to the back of the drawer when it is opened." So while the cooler offers an option in set the temperature on the control panel specifically for Champagne, if you want Champagne, you can't adjust the racks to fit, you have to remove an entire rack. Thus NOT a 46 bottle storage devise. Don't buy KitchenAid. They lie in description. They do NOT provide a good customer service experience once it's too late and you have purchased product. Correct customer service is to replace product with one that performs as advertised. Or better yet, retrofit the product so that the racks can be adjusted. But I guess they prefer to lie to you and sell you on max bottles than sell you a product that takes care of you and your wine.
Date published: 2017-04-19
Rated 1 out of 5
by
Sean Not Happy
from
KitchenAid Wine Cellar Doesn't Last
Had one of the units installed ~2.5 years ago. It is a beautiful unit, but it has already stopped working (i.e. not cooling.) While this unit is very nice aesthetically, it is functionally not worth the cost. The support line was no help either and they pointed me to local service companies in the Yellow Pages.
Date published: 2016-12-11
Rated 1 out of 5
by
J not Happy
from
Will not last
These units are just for looks. And will not work or last. We have had the unit for 5 years and it has never worked correctly and now has quit working all together we have had 2 different Kitchenaid Products and both have had the coil go out at the connection. And of course the are out of warranty now. You would think these products would last longer than a few years. So do not buy these products if you want them to last cause that will not happen. and for the money you would think they would have better quality.
Date published: 2016-09-22
Rated 4 out of 5
by
GE
from
sleek design
sleek design and modern
Date published: 2016-09-06
Rated 5 out of 5
by
Lorena2016
from
Beautiful wine cellar. Excellent for wines.
I purchased about 3 months ago and I love this product.
Date published: 2016-04-10