NEW
30-Inch 4-Burner Dual Fuel Downdraft Slide-In Range
30-Inch 4-Burner Dual Fuel Downdraft Slide-In Range is rated out of 5 by 158.
This all-in-one dual fuel range includes Downdraft, which integrates the ventilation system so a separate hood is not needed. Smoke and odors can be removed outside or filtered air can be recirculated inside. This range allows you to achieve flawless cooking results thanks to Even-Heat™ True Convection. The unique bow-tie design and convection fan ensure the entire oven is heated perfectly. It also has a Steam Rack that offers the ability to add moisture to the oven and enhances cooking results.
Stainless Steel - KSDG950ESS
Features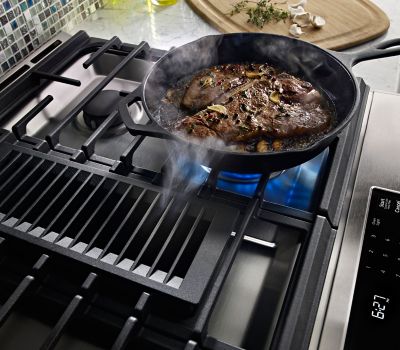 Downdraft
Integrates the ventilation system right into the range so that a separate hood is not needed. Smoke and odors can be removed and taken outside or air can be filtered and recirculated inside. A duct free kit can be purchased separately.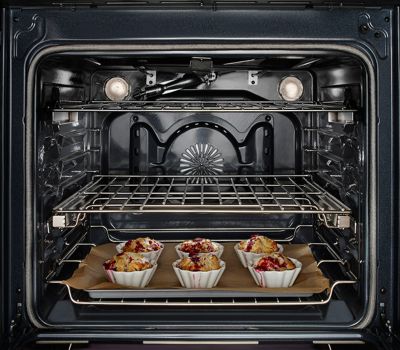 Even-Heat™ True Convection
Produces flawless results. The unique bow-tie design and convection fan ensure the inside of the entire oven is heated to, and stays at, the perfect temperature.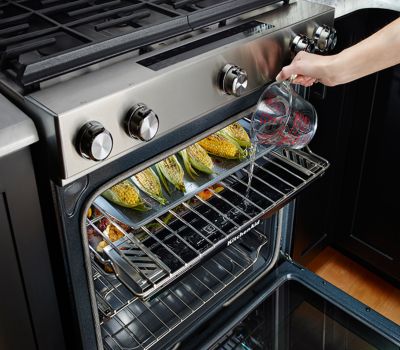 Steam Rack
Offers the ability to provide additional moisture to the inside of the oven, enhancing cooking results.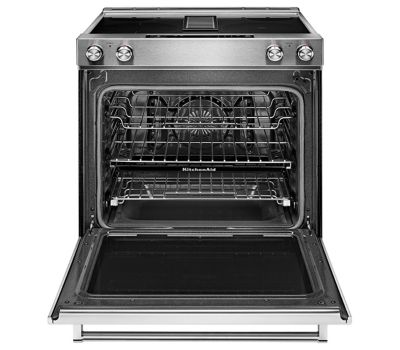 6.4 cu ft Capacity
This electric slide-in range provides a large cooking capacity that easily handles multiple dishes at once.
4 burners (5k, 9.2k, 15k and 17k)
Provides the perfect range of cooking power from 5,000 to 17,000 BTU, so you can go from a rolling boil to a delicate simmer.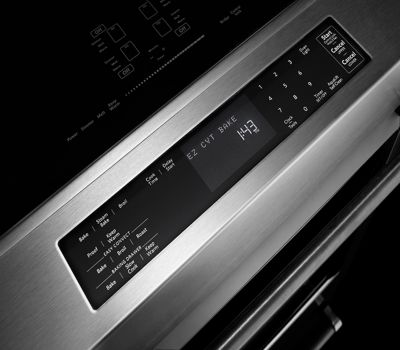 EasyConvect™ Conversion
Takes the guesswork out of convection cooking by converting conventional settings for recipes to convection settings for you.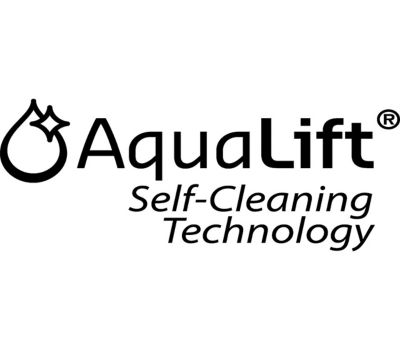 Aqualift®
Cleans your oven in less than an hour without odors and at a temperature below 200°F. This innovative system combines low heat with water to release baked-on spills.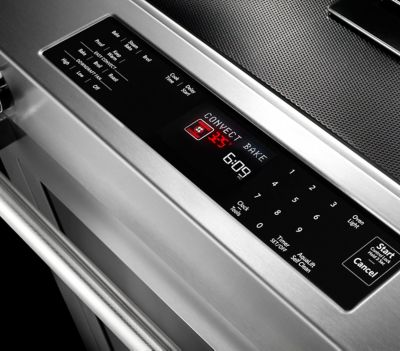 Glass Touch Controls
Offer an intuitive, easy-to-use touch screen experience.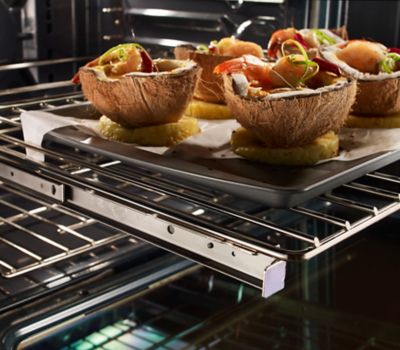 SatinGlide® Max Racks
Move smoothly in and out, allowing effortless loading and unloading, even with large or heavy dishes.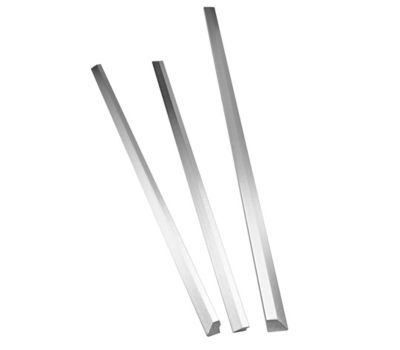 Side Trim Accessory Kit
This optional accessory kit will cover damaged countertops and unfinished edges from an old slide- in range to make them beautiful again. Trim pieces come in black, white and stainless to seamlessly match your new range.
Specifications
Configuration and Overview
Cooktop Features
Cooktop Element Style
Gas Burner
Cooktop Surface Color
Color Coordinated
Cooktop Surface Material
Stainless Steel
Number of Cooking Element-Burners
4
Left Front Element-Burner Power
17,000 BTU
Left Front Element-Burner Type
Burner
Left Rear Element-Burner Power
5000 BTU
Left Rear Element-Burner Type
Burner
Right Front Element-Burner Power
15,000 BTU
Right Front Element-Burner Type
Burner
Right Rear Element-Burner Power
9200 BTU
Right Rear Element-Burner Type
Burner
Grate Details
Cast Iron Grates, Continuous, Dishwasher Safe, Matte Finish
Oven Features
Automatic Convection Conversion Temperature Adjust
Yes
Heating Element On Indicator Light
No
Hot Surface Indicator Light
No
Power On Indicator Light
Yes
Oven Rack Type
1 Max Capacity, 1 Gliding Roll-Out, 1 Steam Rack
Self-Cleaning 
AquaLift® Self Clean
Oven Cooking System
Convection
Broiler Element Power
4000W
Broiler Location
Top of Oven
Convection Element Power (watts)
3200
Convection Element Type
Fan
Convection Functions
Bake, Broil, Roast
Oven Interior Depth(IN,inches)
20 3/4
Oven Interior Height(IN,inches)
22 1/8
Oven Interior Width(IN,inches)
24 1/8
Controls
Selections
Cancel/Off, Clock, Cook Time Indicator, Delay Start, Keep Warm Setting, Proofing, Steam Bake, Timer
ADA Compliant
ADA Height and Operation Compliant
Show More Specifications
Reviews
Rated 3 out of 5
by
zettec
from
Buyer beware
I had this range installed about a month ago to replace my older Jenn Aire. Special ordered it from Lowes, but they were not able to install of assist contractor with installation.(Paper work clearly stated special orders can not be returned) It cost about $2,000 to finally get it installed -- new electric line, new gas line and getting downdraft functioning. Once installed, I love the downdraft, the various burners, the convection oven, the slide out shelf in the oven, the ease of cleaning the top and the overall appearance. Truly a joy for preparing meals. The oven cleaning system doesn't begin to do a satisfactory job. It's a bit difficult for a 78 year old with an artificial knee to kneel on the floor and manually clean this oven. I finally resorted to Bar Keeper's Friend, after using the recommended system to no avail. I was able to restore the original beauty after a meatloaf bubbled grease over the pan during the cooking process. Probably would have been better to redo over range cabinets, install an over range exhaust and get a high heat self-cleaning oven.
Date published: 2018-04-15
Rated 5 out of 5
by
Derekleea
from
Love this range.
Got this a month ago and is one of the best buys ever. Super efficient, very appealing, and easy to keep clean.
Date published: 2018-04-11
Rated 5 out of 5
by
Ceechar
from
Superior gas range
My old downdraft range could not be repaired and I was forced to purchase a new range. I am so pleased with this downdraft Kitchen Aid range. I love the different size burners and the oven features are outstanding.
Date published: 2018-04-10
Rated 2 out of 5
by
Tobyjango
from
So Many Little Things To Not Like
First I am a cook. I cook ALL THE TIME. I love all my other Kitchen Aid products..made well, smart design. When I had to replace a older Jenn Air Dual Fuel, I quickly realized I had pretty much only two options....this Kitchen Aid, or the newer Jenn Air. Since I kept having to replace the control plane in my old one, decided I would go with the Kitchen Aid. Since getting this stove....there are so many things to dislike, things that leave you wondering who in the heck designs these things?! First, the control panel is ALWAYS getting covered in cooking debri since it is on the same plane as the burners. So plan on having to clean it pretty much every single time you cook. Second, unless you manually lock the panel, the beeps at you incessantly while you try and whip it up. Annoying. The oven takes an arch age to heat up. No rapid preheat like my Jenn Air had. Boo. The convection settings are confusing...don't plan of figuring it out unless you have the manual handy...not intuitive. When you hit cancel on the oven for example, if you had the timer going for something else, too bad...everything turn off. There is a glitch where when you put something in the oven, then try and set the timer, it tries to change the temperature of the oven instead. So you have to cancel the whole thing out and reset the temp, and set a timer. The oven cleaning feature??!! It's laughable. I mean, seriously, who ever thought that this new steam cleaning feature was a good idea? The ONLY thing it cleans well is the very bottom of the oven where the water sits.....all the grease on the walls and oven window? Too bad...time to clean it the old fashioned and super time consuming way. This actually makes me angry when I think about all the time I waste. Why not give us the OPTION to do steam clean OR a traditional high heat? Seriously laughable and will leave you wondering who in their right mind actually thought this was going to work? There is NO lip to cover the edge between the counter and the stove, so all sorts of food goodness falls into the crack. The weird piece they sell is super awkward and not the depth of the stove, so it just looks weird and would make things even harder to clean. So while beautiful, and the stove top itself is easy to clean...buy this knowing what your going to be getting and weigh things that are most important to you.
Date published: 2018-04-07
Rated 5 out of 5
by
Jen H
from
Great features!I feel spoiled - I love the oven a
I feel so spoiled, I love the oven and think the whole unit is a pleasure to use.
Date published: 2018-04-03
Rated 3 out of 5
by
Anonymous
from
Costlly installation
Purchased this stove 1/23/18 from Lowes. After delivering the stove, Loews was finished with the transaction. We had to pay for and arrange the installation: hire a carpenter, electrician and gas tech. This installation cost us $1,322.00. We were upset and we still are upset.
Date published: 2018-03-22
Rated 5 out of 5
by
Jimmie6
from
A Finely Crafted Appliance
We bought this fine range one month ago and couldn't be happier with it. The excellent workmanship and precision controls are such a pleasure to cook with. We couldn't be happier with our purchase.
Date published: 2018-03-21
Rated 5 out of 5
by
mr rex
from
looks and works GREAT!!!!!!!!!!!!!!!
I got it about 3 weeks ago and iam very happy with it.
Date published: 2018-03-05
Rated 5 out of 5
by
MDLA
from
Fastest broil function ever!
We love the broil function and use it often. We did find it difficult to learn how to use the different timer functions and the convection modes. We also did not receive adequate directions on installation and accidentally used the propane adapter instead of the natural gas. This resulted in really tiny flames on the burners. We figured it out but the directions should have been more specific.
Date published: 2018-02-26
Rated 5 out of 5
by
Kfros
from
Great
This is a great product. Also made in the USA too. From the knobs to the rack that slides on bearings , i cant say one bad thing.
Date published: 2018-02-26
Demos & Guides
guides
Use & Care Guide
Comprehensive information about your new appliance - from getting started to cleaning and maintenance.
Warranty Information
A complete description of your warranty coverage, and contact information for service and support.
Installation Guide
Instructions for unpacking and installing your appliance, including electrical requirements and necessary tools.
Dimension Guide
Detailed dimensions of your new appliance with space requirements for the area surrounding it.
In order to read a PDF file, you must have Adobe Acrobat reader installed on your computer. You can download the latest version at the Adobe website.
Show More Guides