NEW
18'' Automatic Ice Maker
18'' Automatic Ice Maker is rated out of 5 by 61.
This 18" ice maker produces ice with a shape and size that makes it ideal for a variety of entertaining needs. A drop-down door provides convenient access to the deep storage bin which can hold up to 35 pounds of ice.
Stainless Steel - KUID508ESS
Features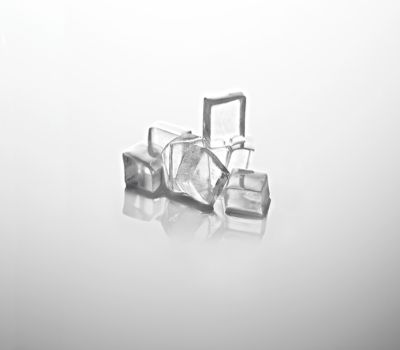 Clear Ice Technology
Provides a uniform 3/4" x 3/4" x 1/2" size and shape that is ideal for daily use or a variety of entertaining needs.2

Factory-Installed Drain Pump
Allows installation within 10 feet of a drain, in any direction.

Professionally-Inspired Design
Represents a reimagining of what a true cook's kitchen can be with a bold blend of commercial styling and sleek touches for the home. Handles feature iconic red medallions that speak to our timeless craftsmanship.

Integrated Filter
Helps to remove contaminants to help improve taste and clarity. For best results, the filter must be changed every six months.

Max Ice
Ice is produced 56% faster, compared to normal mode, when ice is needed quickly.

Drop-Down Door
Allows a more custom installation with a design that removes the need to account for a hinge.

3-Year Limited Warranty
Helps ensure purchase satisfaction with one of the strongest warranties in the industry1.
Specifications
Controls
Control Location
Interior Up Front
Cabinet Material
Prepainted Steel
Handle Location
Horizontal
Water Filter Location
Interior
Dimensions
Depth With Door Open 90 Degree
44 1/8
Depth Excluding Doors
21 1/8
Depth Closed Excluding Handles
23 1/8
Show More Specifications
Reviews
Rated 4 out of 5
by
Steve
from
Nice Amenity
Very pleased with the ice maker. Easy to install. Wish there was a way to dump the entire bucket of ice without having to use the scoop for everything.
Date published: 2017-07-12
Rated 4 out of 5
by
Teddy
from
Ice is great
Haven't had it long enough to give overall rating
Date published: 2017-06-27
Rated 5 out of 5
by
Marty
from
Better than our last one
This unit replaced another kitchen aid 18" ice make that we had for about 10 years . So far we like the features they've added like "max ice" and the internal water filter
Date published: 2017-05-15
Rated 5 out of 5
by
Jim
from
Fine Ice Machine
This is my second one. It lasted 10 years, I hope this one does too.
Date published: 2017-05-03
Rated 5 out of 5
by
Bryan
from
Great machine!
This is a great machine! it makes lots of ice and is very quiet.
Date published: 2017-04-13
Rated 5 out of 5
by
Ice ice baby
from
The Best Ice Machine Available!!!
Had this ice machine for a month and love it more each day. The best choice!
Date published: 2017-04-04
Rated 5 out of 5
by
Sippin pretty in Cisco
from
ICE-ICE-ICE BABY
We have been spoiled to an ice-maker for 9 years. When it went out I realized how dependent on it we had become. However, I would trade it in, in a heartbeat, for this new Kitchen Aid ice-maker! It makes ice at twice the speed the other one did. The cubes are a little slimmer which makes them attractive when serving a beverage. The new machine maintains the ice longer than our previous one did, and I am delighted this Kitchen Aid ice-machine is now part of our kitchen appliance family!
Date published: 2017-03-09
Rated 1 out of 5
by
ArchGE
from
This thing was terrible.
Obvious cheap build right out of the box. Parts are plastic and fit is flimsy. I know ice makers are notoriously noisy, especially in a residential application, but this one is right up there. Made ice fine for the first year then began to produce inconsistent cube size and quantity, even with recommended cleanings. Limped along with it for another year when the compressor went out. Our appliance repair guy said it wasn't worth the cost to fix. The only reason I went with this one is a kitchen remodel to stainless and we had an 18" space. KitchenAid seems to be the only one making this size. My new ice maker will be a 15" Scotsman commercial grade unit. I'll gladly install fillers on each side for the new fit. If I'm going to pay almost as much for an ice maker as a full size refrigerator, it better last as long as I need it to. My 20 year old one is in the garage and still making ice!
Date published: 2017-03-06
Rated 5 out of 5
by
Grann
from
Great ice maker. Love the small wet ice cubes.
Replaced same model that was 10 years old and had worked great.
Date published: 2017-02-19
Rated 5 out of 5
by
Dabney Mitchell
from
Awesome icemaker.
I've heard horror stories about built in icebreakers. My appliance guy, and friend Chuck Stokes was adamant about purchasing the kitchenaid due to lot maintenance. Looking around at other machines kitchenaid had the best ratings at a number of retailers at 4 star plus. I am truly enjoying it. Recommendation, opt for the drain pump. Sincerely DPM
Date published: 2017-02-17
Rated 5 out of 5
by
John / waterman
from
Great under the counter ice maker ; filters incoming water
Minerals and calcium in water take a toll on all the components of under the counter ice makers; frequent cleaning is required to prevent damage to pumps, solenoid valves, etc. This model has a decent replaceable filter that rids the incoming water line of contaminants , I'm confident that this improved model will last longer and require less maintenance.
Date published: 2017-01-06
Rated 5 out of 5
by
Cat
from
Great Features
I am so happy with my new ice machine. The ice is the perfect size. Just hosted 2 parties and we had plenty of ice.
Date published: 2016-12-30
Rated 2 out of 5
by
Elizabeth
from
Unimpressed
I bought this ice maker less than six months ago, along with a full "dream kitchen" of Kitchenaid pro appliances. It was great at first but has now stopped making ice for the second time. Waiting 10 days for a service tech. All of my new appliances by Kitchenaid are failing or falling apart. Please do not buy these products! I can't wait to get rid of all of my Kitchenaid appliances and replace them with something else altogether. Anything would be an improvement.
Date published: 2016-12-07
Rated 4 out of 5
by
Jeff the cook
from
Great ice production
Upon receipt of the icemaker, which was a replacement for one that was 6 years old, installation was attempted and failed. The factory failed to connect an interior drain line so we had water shooting everywhere. After a repair, the icemaker has worked beautifully. Ice production is plentiful and precise. The associated sounds with the ice making process are minimal to our ears. We love having a bin full of ice at the ready. The option for increased production is also handy when company is here or we have a greater need.
Date published: 2016-12-06
Rated 1 out of 5
by
FedUpWithKAIcemakers
from
Won't last a year
We purchased our 2nd Kitchen Aid icemaker in Fall 2014. I cannot vouch for whatever happened to icemaker #1, because we moved from that house a few months after buying it, but welcome to the saga of icemaker #2. The icemaker that we purchased lasted less than one year. When it failed, we attempted to have it repaired under warranty, but let me tell you - finding anyone who even knows what an icemaker is is almost a joke. After 6 service appointments, 3 of which were a total waste because they sent "qualified technicians" who thought they were coming to repair a 1) refrigerator 2) refrigerator icemaker and 3) a dishwasher (?!?!), it was declared irreparable and a new unit was finally sent to us. It then took 2 appointments to get it installed because, well, see above. And then that unit didn't work. It would turn on but do nothing. Want to guess how many calls it took to first, get it checked out - "ma'am, I can't get the machine to do anything, I am not sure it works" - and then ultimately returned? We finally received the 3rd one in January of this year (2016). It is now November, and, well, that one, too, has stopped working. I am absolutely sick to my stomach to think about having to deal with this again. I seriously cannot warn you more strongly to NOT WASTE YOUR MONEY OR TIME. KitchenAid icemakers will cause you nothing but grief in the end, which is sad, because for ~10 months, the ice was lovely. But unless you want to spend a lot of money for an appliance you are going to have to replace every year, I'd say get a really good cooler and ice delivery service instead.
Date published: 2016-11-10
Rated 4 out of 5
by
Mike
from
Awesome Ice Maker
We have been very satisfied with the performance of this KitchenAid stand alone automatic ice maker. We entertain often and find that we always needed ice and purchased our first ice maker years ago. In March of 2016 we had to replace it and we're not disappointed as it does a great job! I'm giving it a 4 star instead of 5 star rating just because the unit is very loud. Otherwise, I'm very happy with it. We also love the look of the updated KitchenAid Architect series!
Date published: 2016-11-05
Rated 4 out of 5
by
Mark
from
I love my CLEAR ICE!
The best all round non-commercial ice maker made.
Date published: 2016-11-01
Rated 1 out of 5
by
crbstorm
from
Under Counter 18" Ice Maker
We have had series of Ice Makers. The reliability is poor and repair support is lousy. I brought the current one because my wife's insistence. The prior one was brought and install in 2005. It went thru a number of failures and in 2013 failed such that the repair technician said it was not repairable. We were then without an under Counter Ice Maker for 3 years and relied of the Refrigerator Ice Maker supplement by bags of Ice purchased at Publix.
Date published: 2016-10-08
Rated 5 out of 5
by
Otter
from
Ice maker
We had this for over 6 years in our home we just sold. This was the first thing we bought for our new home. Makes great ice and has been trouble free.
Date published: 2016-10-07
Rated 3 out of 5
by
Margo
from
Love the ice but sound is loud
Sound is continually loud. I like the rest tho
Date published: 2016-09-28
Rated 5 out of 5
by
B. Olsen
from
Replaced a previous Kitchenaid 18" Icemaker
This is a much improved model compared to the version that my builder installed in 2007. It is quiet and efficient. My only request is that it would make the "sonic" type ice.
Date published: 2016-09-24
Rated 4 out of 5
by
Val
from
Great Warranty
This is our second Kitchen Aid Ice Machine. The first one lasted 8 years and we were pleased with the performance, but the compressor finally gave out. This machine makes great ice and is quieter than the first. It is also easy to install.
Date published: 2016-09-18
Rated 5 out of 5
by
SJS
from
Great!
I bought this ice maker when we moved into a new house and it has been great!
Date published: 2016-09-07
Rated 5 out of 5
by
Lynn
from
Great height, can be easily installed under existing granite
Much, much better than the older units, so happy I purchased this unit, highly recommend
Date published: 2016-08-19
Rated 1 out of 5
by
HomeBuilder007
from
Looks Nice, but stopped working after 6 months
This ice maker looks nice in our kitchen, but that is the only redeeming quality. This ice maker has stopped working twice since we have owned it. It was the mother board the first time and the compressor the second. We have only owned this unit for 6 months and 2 of those months it has not been functional. (3 week lead time for a service tech to come out). While the appearance is of high quality, the inner workings are junk. We will be buying a different brand sooner rather than later. We have had success with Kitchenaid appliances in the past, but it seems the quality is not what it once was.
Date published: 2016-08-09
Rated 5 out of 5
by
Jill
from
Great Design
We replaced a leaking 5 year old ice machine with a broken door. This model looks to be built better and feels sturdier.
Date published: 2016-08-09
Rated 5 out of 5
by
T
from
Great appliance
It's s little loud, and I wish the ice cube tray could be swapped out for a different size, such as a half moon shape. But other than that, we love it.
Date published: 2016-07-26
Rated 5 out of 5
by
Happy Owner
from
This is my 5th KitchenAid stand alone ice maker.
THIS MACHINE MAKES THE BEST TASTING ICE. IT IS QUIET,AND PRODUCES ADEQUATE VOLUMES OF ICE FOR EVERYDAY AND PARTY USES.
Date published: 2016-07-20
Rated 2 out of 5
by
Dan
from
Ice maker
I bought a new ice maker to replace a broken icemaker. Both kitchen aid 18 inch wide. Older machine lasted 4 years. New machine lasted two months. This is my third. We'll see if the third is a charm. Unfortunately, there are ok alternative machines.
Date published: 2016-07-11
Rated 5 out of 5
by
Ike
from
It makes ICE!
Holy wow does thing make ice. Like all day. POW!
Date published: 2016-06-24
Demos & Guides
guides
Installation Guide
Instructions for unpacking and installing your appliance, including electrical requirements and necessary tools.
Warranty Information
A complete description of your warranty coverage, and contact information for service and support.
Dimension Guide
Detailed dimensions of your new appliance with space requirements for the area surrounding it.
Use & Care Guide
Comprehensive information about your new appliance - from getting started to cleaning and maintenance.
In order to read a PDF file, you must have Adobe Acrobat reader installed on your computer. You can download the latest version at the Adobe website.
Show More Guides
(1) Visit KitchenAid.com for warranty details.
(2) Among leading brands based on 3rd party survey testing.