NEW
30-Inch 5 Element Electric Convection Range with Warming Drawer
30-Inch 5 Element Electric Convection Range with Warming Drawer is rated out of 5 by 50.
This versatile electric freestanding range provides a separate Warming / Slow Cook Drawer that adds more options to the oven. It also features a Steam Rack that offers the ability to add moisture to the oven, enhancing cooking results. The range produces flawless cooking results with Even-Heat™ True Convection. The unique bow-tie design and convection fan ensure the entire oven is heated to, and stays at, the perfect temperature.
Stainless Steel - KFES530ESS
Features

Even-Heat™ True Convection
Produces flawless results. The unique bow-tie design and convection fan ensure the inside of the entire oven is heated to, and stays at, the perfect temperature.

6.4 Cu Ft. Oven Capacity
Provides an extra-large cooking capacity that easily handles multiple dishes at once.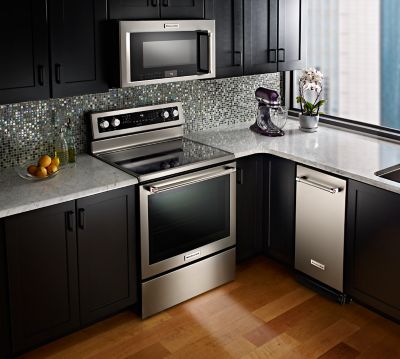 Professionally-Inspired Design
Combines a bold blend of professionally-inspired styling with sleek touches for the home. This range features Satin Textured Handles and the KitchenAid® Badge, a symbol of uncompromised quality.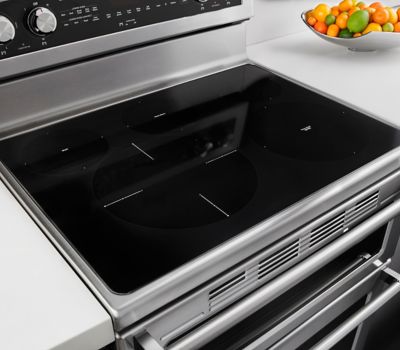 5 Cooking Elements Including a Warm Zone
Provides five independent cooking surfaces that allow you to do more on your range. It features a triple cooking zone of 6, 9 and 12 inches, one 10 inch zone and two 6 inch cooking zones, plus a dedicated warming zone.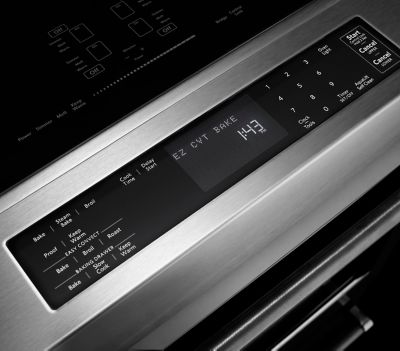 EasyConvect™ Conversion System
Takes guesswork out of convection cooking by ensuring you can get exceptional results when experimenting with new or familiar recipes.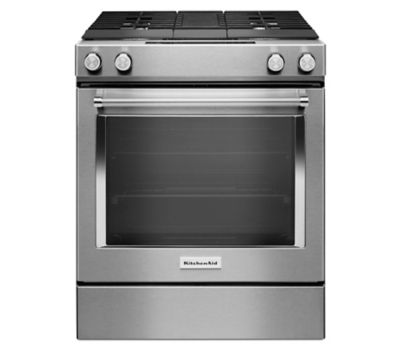 Aqualift®
Cleans your oven in less than an hour without odors and at a temperature below 200°F. This innovative system combines low heat with water to release baked-on spills.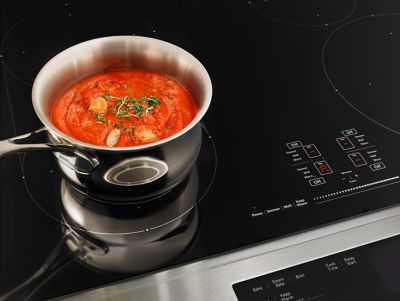 Glass Touch Controls
Offer an intuitive, easy-to-use touch screen experience.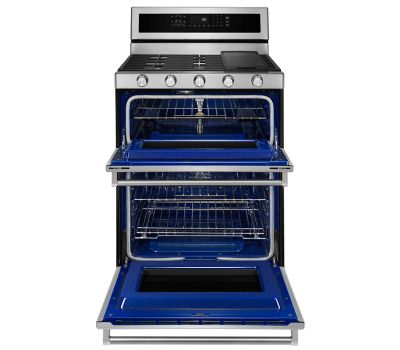 SatinGlide® Racks
Move smoothly in and out, allowing effortless loading and unloading, even with large or heavy dishes.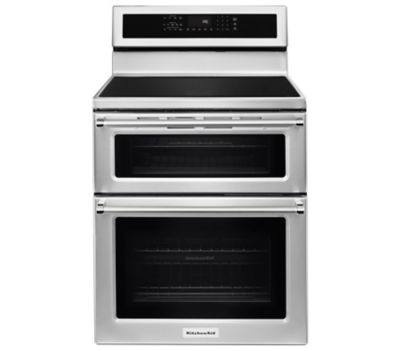 Stainless Steel Cooktop Trim
Provides a seamless transition to other surfaces and enhances the look of edges around stainless steel cooktops.
Specifications
Configuration and Overview
Cooktop Features
Cooktop Element Style
Radiant
Cooktop Surface Color
Black
Cooktop Surface Material
Ceramic Glass
Number of Cooking Element-Burners
5
Center Rear Element-Burner Power
100W
Center Rear Element-Burner Size
6"
Center Rear Element-Burner Type
Warming
Left Front Element-Burner Power
4500W/2950W/1400W
Left Front Element-Burner Size
12"/9"/6"
Left Front Element-Burner Type
Triple
Left Rear Element-Burner Power
1300W
Left Rear Element-Burner Size
6"
Left Rear Element-Burner Type
Hyper
Right Front Element-Burner Power
3200W
Right Front Element-Burner Size
10"
Right Front Element-Burner Type
Hyper
Right Rear Element-Burner Power
1200W
Right Rear Element-Burner Size
6"
Right Rear Element-Burner Type
Single
Oven Features
Automatic Convection Conversion Temperature Adjust
Yes
Heating Element On Indicator Light
Yes
Hot Surface Indicator Light
Yes
Power On Indicator Light
Yes
Oven Rack Type
1 Max Capacity, 1 Gliding Roll-Out, 1 Steam Rack
Self-Cleaning 
AquaLift® Self Clean
Oven Control Location
Backguard
Oven Cooking System
Convection
Broiler Element Power
4000W
Broiler Location
Top of Oven
Convection Element Power (watts)
900
Convection Element Type
Fan
Convection Functions
Bake, Broil, Roast
Oven Interior Depth(IN,inches)
20.63
Oven Interior Height(IN,inches)
22 1/8
Oven Interior Width(IN,inches)
25 5/16
Controls
Selections
Cook Time Indicator, Delay Start, Easy Convect Baked Goods, Easy Convect Meats, Easy Convect Pizza, Keep Warm Setting, Sabbath Mode, Steam Bake, Timer, Warm Zone, Warming Drawer Slow Cook
Show More Specifications
Reviews
Rated 5 out of 5
by
H2
from
like it
We like it very much, though our kitchen is still under renovation and it hasn't been used a lot. My verdict is still out on the convection. It does take a long time for the oven to preheat.
Date published: 2017-08-09
Rated 5 out of 5
by
Liz
from
Great stove!
I purchased this Kitchenaid stove and highly recommend it. I have the Kitchenaid over the range hood and Kitchenaid dishwasher. Next, I will purchase the Kitchenaid refrigerator. Love these stainless steel appliances. This stove is exactly what I wanted and I am not disappointed. With the convection oven, pizzas actually turn out with crust lightly toasted and delicious. My chocolate pound cake bakes smoothly and in less time. I use the 3 ply stainless steel cookware and the ceramic stove top heats quick enough and evenly. I appreciate the easy way the oven racks move in and out. I am so all around pleased. This stove is such a beautiful, modern style appliance. Thanks, Kitchenaid!
Date published: 2017-07-23
Rated 4 out of 5
by
TheHomesteadHoney
from
Nice appliance!
So far we have loved using this range. The convection oven is new to us, but seems like an awesome feature. I love the even heating technology, the easy glide oven rack, and the warming drawer and extra keep warm burner. I would have given it 5 stars, but it does seem a little easy to scratch the metal, not the stove top but the front stainless steel edge. I can already see a few scratches on the front edge where it looks like a pan has scratched it when moving across it. But so far, it is great!!! And we got a great deal!
Date published: 2017-07-22
Rated 3 out of 5
by
Fi
from
If only it worked as good as it looks... F6E9 error code
We bought all brand new Kitchen Aid appliances during Black Friday last year. Purchased a fridge w/bottom freezer, dishwasher, microwave and this electric oven. Most of our appliances are good. We like the fridge, love the microwave, and the dishwasher is ok (dishes are still completely wet at the end, doesn't dry well even with the Heated Dry setting on, but I can live with that). This oven, however, is disappointing. First of all, it takes FOREVER to pre-heat. Like a half hour or more. Once it is pre-heated and you open it up for 2 minutes to put the baking dish in and shut the oven door, you'll notice the temp drop drastically and it'll take another 10-15 mins to come up to the temp you had set it had. Once it warms though, it's fine. Food cooks fairly well. My main issue is the F6E9 we keep getting. Unit was installed in mid-December and about 3-4 weeks later, we noticed there was a random F6E9 error code on the display panel. We called the appliance store, they spoke to Kitchen Aid, someone came out to diagnose it, then they came back to repair some parts and we were told it should be fine. Then it happened again. And again. And again! We have had technicians come out 3-4 times this past year to repair this issue. They've replaced whatever parts they think are causing the issue but it persists. The error code comes back after a few weeks. Most annoyingly, usually we can hit "cancel" on the touch screen and the error code disappears so we can at least use the stove controls and see the temp etc. on the display panel. Now, I have to replace the whole stove and hope the issue doesn't occur in the new one. This time, however, the error code came back 5 days ago and now it won't go away. No amount of hitting cancel gets rid of it. So now, all my touch panel shows is the error code. To say I expected better from Kitchen Aid would be an understatement. I am extremely disappointed in their appliance quality and will never be purchasing them again.
Date published: 2017-07-11
Rated 5 out of 5
by
Steve
from
Lots of cooking capability.
Bright red, easy to understand indicators on the control panel. Bar graph heating indicators are nice because I can see whats on high and what's not. Oven control indicators make sense too. Shows the set point temperature and the increasing temperature in contrasting colors. Largest element starts to boil a very large pot of water in about eight minutes.
Date published: 2017-06-21
Rated 5 out of 5
by
SC
from
Those racks!!
I love how easy this range is to keep clean but the best thing about it is the Satnglide racks! Oh my gosh!!! Where have these been all my life?? I am short with arthritic hands and these racks make it so easy to place and retrieve even large, heavy items!
Date published: 2017-06-19
Rated 5 out of 5
by
Dandy
from
good looking
Only 2 weeks and my wife loves the looks and operation of range.
Date published: 2017-06-09
Rated 3 out of 5
by
DKirk
from
For the most part satisfied.
I am happy with this range for the most part. It did take me a bit to get used to the burners and what heat setting I should use because it seems the medium setting is hotter than I expected. Also, the oven takes a long time to heat up.
Date published: 2017-04-24
Rated 4 out of 5
by
albert
from
look good
glass top is difficult to clean but no worse that others. Oven is outstanding.
Date published: 2017-03-23
Rated 5 out of 5
by
Dean
from
Love the look
It's been a little over a months had it over the holidays. Flawless
Date published: 2017-01-19
Rated 4 out of 5
by
Teri the chief cook and bottle washer
from
Great Stove with great features
I bought this right before Christmas. I love the features on this stove. Used the warming drawer while fixing Christmas dinner and my sides came out nice and warm. The big burners make it great when cooking a big pot of soup as it covers the whole bottom of the pot. The only complaint is the all black top is hard to keep clean
Date published: 2017-01-18
Rated 4 out of 5
by
Karen
from
Has features I want
Bought this range as a replacement. It works very well. It does take longer to preheat than my previous range, and seems to cook a little slower--I wonder if this may be because it is more even heating, which will be better in the long run.
Date published: 2017-01-16
Rated 5 out of 5
by
Borch
from
Great Appliance
Has great features, and love the warming drawer, its like having a built in crock pot. It has so many features on it, that you do have to take the time to read the manual for proper usage. I prefer gas, but my wife bought this electric stove. It cooks almost as fast as gas, and now that we have it, I'm very happy with it.
Date published: 2016-12-05
Rated 5 out of 5
by
Dar
from
Convection range
Looks great. Am learning how to use the convection oven. Quality product. Stovetop heats faster than my previous one so this is a learning curve. Cooks faster. New technology..
Date published: 2016-12-02
Rated 5 out of 5
by
PH
from
Oven makes it fun to coook.
Love the oven steamer. It does take several minutes to get to the correct temperature in the oven.
Date published: 2016-11-04
Rated 5 out of 5
by
none
from
very happy with our range
bought the range about two months ago. So far everything has worked great. Very good looking. Convect is great bakes three pans of cookies at a time and turn out perfect.
Date published: 2016-10-29
Rated 4 out of 5
by
Orlandosteph
from
Looking Good
We selected this range because of its modern high tech appearance. I do enjoy its easy to clean smooth cook top. Since it doesn't have knobs, cleaning the control panel is a breeze. The sliding interior racks are super convenient. It does take a little while to preheat. But it's temperature is accurate; I know because I have actually tested it. I haven't tried the steam cleaning as of yet, but it definitely has a strong appeal to me.
Date published: 2016-10-18
Rated 3 out of 5
by
Sandy
from
I liked my last kitchenaid better.
I 've had the range for 3 weeks. It takes 25 minutes for the oven to fully pre-heat and does not keep consistent heat. One of the surface burners does not work. Not all burner displays light up.
Date published: 2016-09-13
Rated 5 out of 5
by
Beck
from
Everything I needed
We purchased this about two months ago. I am extremely satisfied with my purchase . Sleek looking and easy to get use to .
Date published: 2016-09-09
Rated 5 out of 5
by
Mom-Teachet
from
Great Features
It looks great in my new kitchen, and I love cooking with it. The sliding racks and steamer are my favorites.
Date published: 2016-08-06
Rated 5 out of 5
by
Linda
from
So pretty in my kitchen
I hope my picture comes thru. I was debating on the slide in but in my house this was best for me. It's my first smooth top so i was frightened but so surprised at how easy it is and no knobs to clean. It's so cool!
Date published: 2016-07-27
Rated 5 out of 5
by
Susie
from
Modern Features
Learning how the convection oven theory works but loving the new technology!
Date published: 2016-06-12
Rated 4 out of 5
by
T
from
Touch pad and easy clean glass top.
Takes a while to preheat. Longer then a standard lower grade oven.
Date published: 2016-05-22
Rated 4 out of 5
by
Phyllis
from
Pros and con
Bought this product because of sabbath mode and because handles match other kitchen aid products I just bought Disappointed that self cleaning oven is Aqua lift, will entail more work in cleaning. I liked old system of intense heat in oven to clean it out well. Hard to keep stovetop clean
Date published: 2016-05-01
Rated 5 out of 5
by
Kevin Knoxville
from
Well Made/Great Features
The quality of this KitchenAid stove seems to be very good and it's nice looking too. We love the front element that can be three sizes. Also, the boost feature is great for boiling water quickly. There is room on the back burners for medium sized pots and the keep warm burner is great when preparing large meals. We've only used the self cleaning cycle once and it worked well. It doesn't get too hot and only takes an hour. There were a few places that still needed scrubbing but those came off using only hot water and the scrubby pad. The self cleaning steam system seems to work as well as any other self cleaning oven we've had. The gliding oven rack is so nice, I wish the other two were gliding as well. However, you can purchase them online if you want them. We have not used the steam cooking feature and most likely never will, just because we don't cook anything that needs steam. It might be nice for someone who bakes fresh fish though. The warming drawer is great for those times when things bake at different temperatures and you need to keep something, already cooked, hot. We haven't learned how to use the slow cook feature yet. And frankly, the instructions are vague on that subject. I wish KitchenAid would provide a few recipes so that it would give me some ideas on how to use the warming drawer for cooking. This model has loads of features without being too high priced.
Date published: 2016-02-05
Rated 4 out of 5
by
Ginny
from
Nice stove
Handle on oven gets hot need to be careful. The heat from the oven also heats the counter top and cabinet. I am concerned about the heat if the oven is on for an extended period.
Date published: 2016-01-17
Rated 2 out of 5
by
DJ
from
My 4-yr old stove has given error codes since purchased.
I have had this style 4 yrs and continually get error codes that do not exist manual. Up until this Thanksgiving I have been able to bypass and use oven by flipping the Breaker. This time I received a Feature not Available" rendering my oven useless
Date published: 2015-12-05
Rated 1 out of 5
by
Disappointed
from
Stay away
I bought Kitchen Aid with Aqua lift feature, worst appliance I have ever owned. Better off with a manual spray cleaning oven. Kitchen Aid should be ashamed. Bought partly because of trust of name. Buy an oven with self cleaning or manual clean. Reviews about aqua lift that were good were all total lies, Oven itself is sturdy, but not better than a Whirlpool in my opinion.
Date published: 2015-11-27
Rated 5 out of 5
by
gil
from
Clean Look
We have only had this for a few weeks and haven't been able to try everything yet, but really like the ease of keeping it clean
Date published: 2015-11-08
Rated 5 out of 5
by
Tricia
from
Looks good
Have only had it a couple of weeks. So far really like it. Have not used the convection oven yet, but will as holiday baking approaches. Sleek appearance looks great in my kitchen. Cooktop so far is easy to clean, maybe because it's new? Time will tell. American made is how I shop.
Date published: 2015-11-08
Demos & Guides
guides
Installation Guide
Instructions for unpacking and installing your appliance, including electrical requirements and necessary tools.
Warranty Information
A complete description of your warranty coverage, and contact information for service and support.
Use & Care Guide
Comprehensive information about your new appliance - from getting started to cleaning and maintenance.
Dimension Guide
Detailed dimensions of your new appliance with space requirements for the area surrounding it.
In order to read a PDF file, you must have Adobe Acrobat reader installed on your computer. You can download the latest version at the Adobe website.
Show More Guides