36-Inch 5 Burner Gas Cooktop, Architect® Series II
36-Inch 5 Burner Gas Cooktop, Architect Series II is rated out of 5 by 30.
This 36-inch cooktop has a ceramic-glass surface that looks stylish in many kitchens. The easy-to-clean surface features full-width cast-iron grates that allow you to slide cookware across the surface without lifting. In addition, the powerful burner options range from 6,000 to 17,000 BTU allowing you to get exceptional results for simmering a sauce or searing a steak.
Black - KGCC566RBL
Features

Gas-on-Glass Surface
Offers a stylish appearance and wipes clean easily.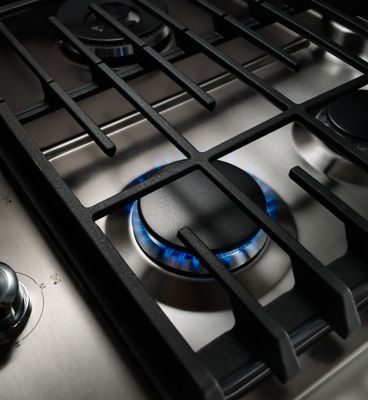 Full-Width Cast-Iron Grates
Enhance the beautiful look of the cooktop and allow easy movement of cookware around the entire cooking surface.

17K BTU Professional Burner
Provides the ability to use high-temperature cooking methods such as searing, stir-frying, and wok cooking as well as low temperatures suitable for simmering.

Two 6K BTU Simmer Burners
Allow more accurate simmer control at the lowest setting, and are ideal for cooking smaller quantities of food, using smaller pots and pans.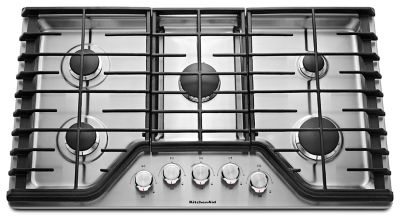 Electronic Ignition
Automatically lights burners so no standing pilot light is needed.

LP Conversion Kit Included
Allows you to convert the cooktop so it can be used with LP gas.
Specifications
Configuration and Overview
Surface Material
Ceramic Glass
Number of Elements-Burners
5
Cooktop Element Style
Sealed Burner
Installs Over Built-In Oven
Yes
Cooktop Features
Center Rear Power
9000 BTU
Left Front Power
17,000 BTU
Left Front Type
Professional Burner
Right Front Power
6000 BTU
Right Rear Power
12,500 BTU
Right Rear Element-Burner Type
Burner
Grate Details
Cast Iron Grates, Continuous, Matte Finish
Controls
Heating Element On Indicator Light
No
Hot Surface Indicator Light
No
Show More Specifications
Reviews
Rated 4 out of 5
by
PlanoGal
from
Love how this cook top cooks, cleanup not so much
I purchased this cooktop for my kitchen remodel. I love the size, and the fact that there is so much room to have multiple pots. I had a glass/gas cooktop before and the cleanup wasn't so bad. This ceramic glass cooktop is more difficult to clean. I think that I have found the trick to ensure that it looks as good after the cooking as it did before. Everything I have cooked so far has come out better than on my old cooktop.
Date published: 2018-04-06
Rated 5 out of 5
by
KJaeb
from
Cooktop was installed 9 years ago - LOVE IT.
Do be careful about bumping edges, say with the olive oil bottle, as it can chip & crack. Someone commented on wishing to be able to turn down to simmer? My mom taught me the trick is to turn back like you are turning off, past the clicker, and you can adjust down to super low heat. (Also see the installation instructions pg. 8 - states that you can adjust the "low" flame height by removing control knob and adjusting with pliers & screwdriver). As far as comments made about cleaning, I keep a small razor scraper to use around the burners and always try to get sticky stuff up quickly (use&care guide says sugary spills if allowed to cool may cause pitting/leave permanent marks to the glass surface). To get the surface nice & shiny (streak free) after cleaning always finish up by drying/polishing with a microfiber cloth - works great.
Date published: 2018-03-19
Rated 4 out of 5
by
Buzz123
from
Cook Top
Love the looks and feel. But the glass is hard to keep clean. Our previous SS unit hid the "soiling" much better...not any cleaner...just harder to see.
Date published: 2018-02-28
Rated 5 out of 5
by
Look To Cook
from
Wonderful cooking surface and functionality
I bought the cook top a month ago. It has excellent heating and saves time because the burner is so close to the heating surface; it does not take much time to heat up the pan or pot surface. I also love the sealed burners. I stayed away from stainless steel because of some of the issues with cleaning. The glass top is best for this reason. It is easy to clean and maintain.
Date published: 2017-11-16
Rated 4 out of 5
by
Chris M.
from
Works great, could look better
This is the first gas cooktop I have ever owned and I am still getting used to cooking with gas, but overall I love my new cooktop. The only downside to this product is keeping it looking like new. While the glass vs. ceramic is suppose to be easier to keep clean and burnt on spills are supposed to clean up easily, the glass ALWAYS looks streaky. Drives me crazy!! I have been trying many different suggestions and products, and so far have not had much luck. This is why I only gave this product 4 stars. Kitchen Aide, if you have a miraculous product, please share it!!
Date published: 2017-08-28
Rated 3 out of 5
by
Shreshrey
from
Powerful Range
I really like this range it is beautiful and easy to clean. My only complaint is the grill part, a piece has already broken off, it seems to be wearing down and chipping away. Perhaps the grill cannot sustain the heat from the burners. Now I am on the hunt for a new grill and I can't imagine how much that must be. I've only been using it for 4 years so I'm surprised.
Date published: 2017-07-31
Rated 5 out of 5
by
Ms Lena
from
Cooktop
I love this KitchenAid cooktop, constructed very strong to last. looks great in my kitchen.
Date published: 2017-02-05
Rated 4 out of 5
by
slfoster01
from
10 years and counting...
I bought this cooktop 10 yeas ago, when I remodeled my house. I chose it because of the shallow depth, which allowed me to have a bank of 3 drawers underneath- the top one more like a tray that holds knives and other gadgets (thermometers, spoon rests, scoops, sharpening stone, etc.) used for various cooking tasks. Over the years, I have determined the following: the glass surface is not my favorite it's streaky (as someone else said) when cleaning it; if something boils over, it seems to fuse to the glass (I even tried using a glass scraper); don't let moisture (even cleaning solution) get on the ignition port- it will continuously spark, then you have to unplug it until it dries out before you can use it again. The worst that happened- someone [in my household] dropped something round on the front edge and cracked the glass (I know it was round because of the smooth curve), which hasn't affected the performance. So be careful of that. Otherwise, it works well and I love it, I would (will eventually) buy it again.
Date published: 2017-02-04
Rated 5 out of 5
by
KB
from
Great top
Works very well, easy to control heat. Glass top easy to clean. Well made
Date published: 2017-01-06
Rated 3 out of 5
by
Unhappy cleaner
from
Miserable to clean!
The stove top cooks excellent and does everything I expected it to do. HOWEVER, the reflective black glass surface is impossible to keep clean. Every little splatter or smudge stands out. Every time it's used, we have to completely dismantle the top down to bare glass and clean, clean, clean. Repeated cleanings will sometimes (but rarely) remove all smears. It doesn't matter what cleaning product we use, it all leaves a smeary surface.
Date published: 2016-11-07
Demos & Guides
guides
Installation Guide
Instructions for unpacking and installing your appliance, including electrical requirements and necessary tools.
Warranty Information
A complete description of your warranty coverage, and contact information for service and support.
Dimension Guide
Detailed dimensions of your new appliance with space requirements for the area surrounding it.
Use & Care Guide
Comprehensive information about your new appliance - from getting started to cleaning and maintenance.
Oven and Cooktop Combinations
Oven and Cooktop Combinations
In order to read a PDF file, you must have Adobe Acrobat reader installed on your computer. You can download the latest version at the Adobe website.
Show More Guides