NEW
44 dBA Dishwasher with Window and Lighted Interior
44 dBA Dishwasher with Window and Lighted Interior is rated out of 5 by 26.
This beautifully designed top control dishwasher has a Window with Lighted Interior and Advanced Racks so you can inspect dishes before removing them. It features the Dynamic Wash Arms providing complete water coverage. The unique design sprays water everywhere in the dishwasher, including hard-to-reach places. It also uses Clean Water Wash System that continuously cleans the water for superior performance, even with the heaviest loads.
Stainless Steel - KDTM804ESS
Features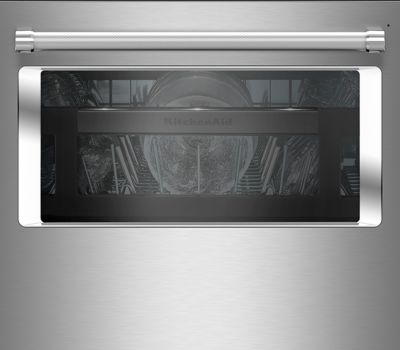 Window with Lighted Interior
allows you to view the dishwasher interior and inspect your dishes to ensure they are sparklingly clean even before removing them.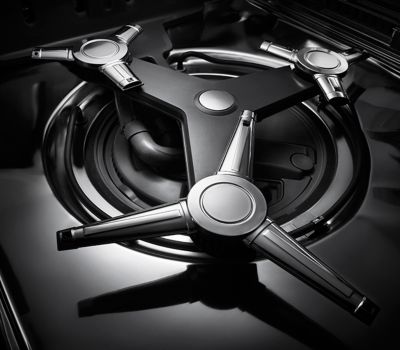 Dynamic Wash Arm
features nine wash arms in one for 3 times better coverage. This unique design directly sprays water everywhere in the dishwasher, including hard to reach places. This means dishes get a powerful clean no matter where they are placed in the rack.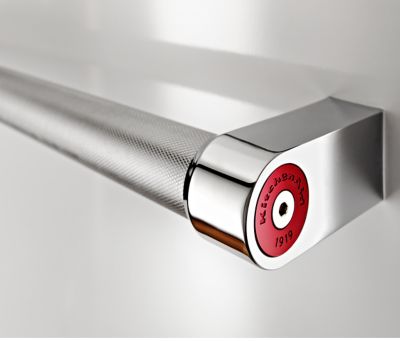 Professionally-Inspired Design
combines a bold blend of professionally-inspired styling with sleek touches for the home. This beautiful dishwasher features Satin Textured Handles and the KitchenAid® Badge, a symbol of uncompromised quality.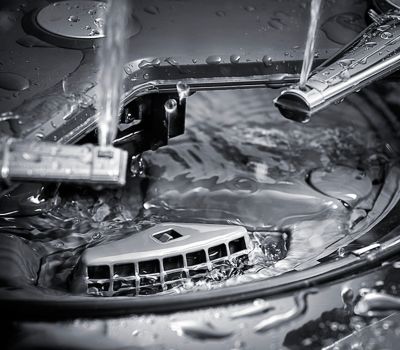 Clean Water Wash System
continuously removes food particles from the wash water. The result of this exclusive technology is clean wash water for excellent performance. Plus, there's no need to ever remove and clean the filter.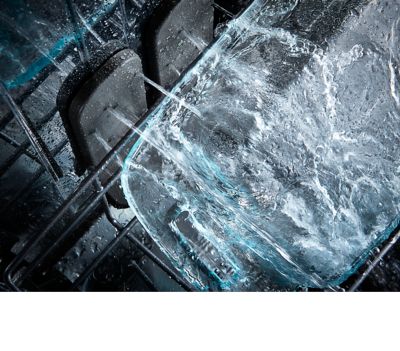 ProScrub™ Option
Helps eliminate soaking or pre-scrubbing with 40 targeted spray jets that help remove stubborn messes like seared or baked-on foods.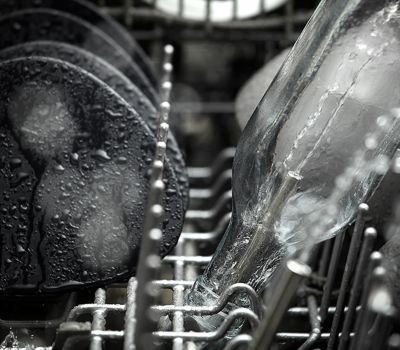 Bottle Wash
provides four dedicated spray nozzles in the upper rack that can be placed deep inside tall glasses and bottles to thoroughly clean even deep and odd-shaped dishes. Each nozzle is adjustable and can be bent down to accommodate a wide variety of dishes.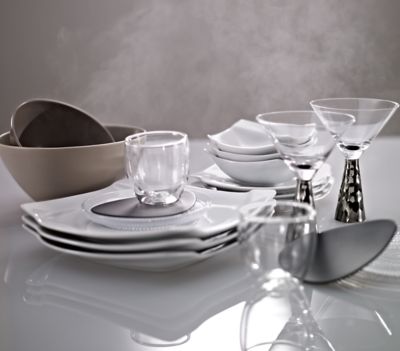 ProWash™ Cycle
Determines the ideal cycle for washing dishes based on soil level and then makes real-time adjustments to achieve the best cleaning performance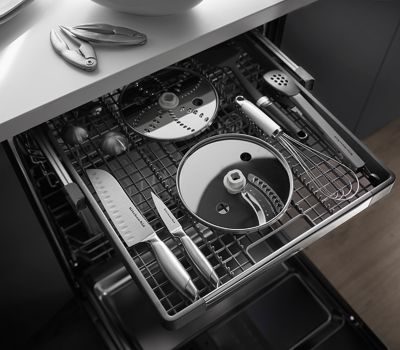 Third Level Rack
makes it easy to clean hard-to-place items such as spatulas, serving utensils and measuring cups, freeing up space in the lower two racks.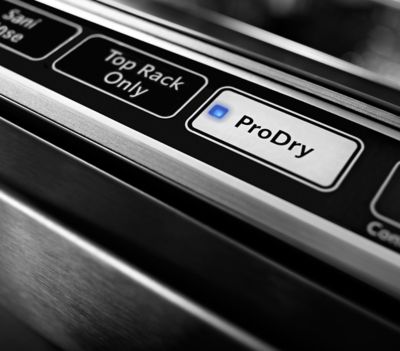 Advanced ProDry™ System
Delivers the best drying1 performance without rinseaid using a recessed heating element and a fan to draw moisture out of the wash tub giving you better drying results.

SatinGlide® Max Rails (Upper and Lower Racks)
Creates a smooth, premium feeling when pulling out the upper and lower racks, particularly with heavy loads.

Sliding Tines in the Lower Rack
provides the ideal fit for deep and narrow dish sizes. The adjustable tines let you customize the spacing between the rows.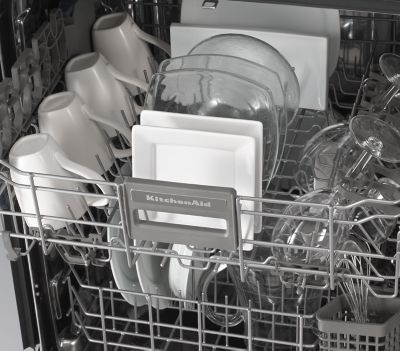 2 Fold-Down Cup Shelves with Integrated Stemware Holders
Provides extra room in the upper rack to hold additional cups, wine glasses, or long items such as utensils and spatulas.

Express Wash
quickly and effortlessly handles the heaviest soils, even stubborn baked and seared-on messes in less time.
Specifications
Configuration and Overview
Energy Star® Qualified
ENERGY STAR® Qualified
Cycle Selections
Express Wash, Light/China, Normal, ProWash™, Rinse Only, Tough
Option Selections
1-24 Hour Delay, BottleWash, Control Lock, Heated Dry, Hi Temp Wash, ProDry™, ProScrub®, Sani Rinse®, Top Rack Wash
Water Filtration System
Maintenance Free Microfilter
Extras
2-Plastic Cup Shelves, 4-Light Item Clips, 8-Stemware Holders
Adjustable Upper Rack
2 Position
Number of Place Settings
16
Controls
Exterior Status Light
Multi-Color
Dimensions
Depth With Door Open 90 Degree
49 1/2
Show More Specifications
Reviews
Rated 4 out of 5
by
Martini
from
Cleans great and quiet!
HATE the AMERICAN sticker placed on front panel! We can't remove it! We would not have purchased if we'd known it was there. It's tacky and can't remove without leaving serious marks. You really expect more when purchasing a $2000 dishwasher. They need to rethink this practice!
Date published: 2017-10-30
Rated 5 out of 5
by
Kmendes
from
Love the window
Seemed silly to me to have a window on a dishwasher, but it makes the appliance much prettier and we ended up picking this over the panel ready option as we had proginally wanted, since the window makes it prettier than a regular dishwasher.
Date published: 2017-10-26
Rated 5 out of 5
by
Bendi
from
Best Dishwasher I've Ever Owned!!
I can honestly say that this is the very best dishwasher that I have ever owned!! You cannot hear it when it is running. It is literally quiet as a mouse:) The interior holds a massive amount of dishes, pots, pans, utensils, bowls, and there is still room left. It thoroughly cleans each and every load, no matter what wash cycle you choose. I feel that my dishes are clean and sterile when I remove them. This dishwasher uses the hottest water in the rinse cycle and it allows the loads to dry quickly. I love the interior light feature. It visibly tells you that the dishwasher cycle is complete and the dishes are ready to be removed. The many different wash choices that are available is appealing to me. I have had no trouble figuring out fancy cycles or devices. It is a well-made appliance and the interior baskets are of better quality than many others that I have owned. If I had it to do over again, I would definitely purchase this reliable, hard-working dishwasher! I recommend it to everyone. It is pricey but well worth it. You get what you pay for and a lot more.
Date published: 2017-09-15
Rated 5 out of 5
by
Di
from
Best dishwasher
Only want a kitchenaid dishwasher; it's the best!
Date published: 2017-08-31
Rated 5 out of 5
by
Dishpan Hands
from
Excellent performance
My home warranty company suggested this one as a replacement. So far I love it and the 3rd rack is very handy.
Date published: 2017-07-17
Rated 5 out of 5
by
Tab380
from
Best of the best
This model dishwasher seems to have answered and fixed all the issues I have had with all the other dishwashers I have owned. Shelving issues, noise issues, door issues, all gone.
Date published: 2017-07-15
Rated 5 out of 5
by
Dr. Young 02
from
Love It
Love this dishwasher, I don't know why I waited so long to purchase a new one. This dishwasher cleans efficiently. THe light feature is cute but I barely get to admire it because it automatically comes on after the wash is done and automatically shuts off. There are a number of colors that appear on the door throughout the wash cycle however I was not completely sure what each color meant. Blue is for washing, red I assume is for drying and white I understand now that the wash cycle is done. Overall an excellent addition to our kitchen
Date published: 2017-06-08
Rated 3 out of 5
by
Jason
from
Washes dishes great, but why no light with window?
We purchased this dishwasher about two weeks ago. It is as wonderful as described and as you probably saw in the showroom. IT's the top of the line and the most expensive model, so you've probably got a lot of expectations. So did we. We sprung for having the lights inside, the window in the door, the pot scrubber, the bottle washers, etc. And it does a bang up job of cleaning dishes. But, a few things that weren't thought of (and that makes how much we paid for it annoying): 1) there's lights and a window, but the lights can't be manually turned on and they don't come on during washing. What's the point of that? There's a window but I can't see inside. Why did you put a window for me to look through? Yes, the light comes on at the end of the wash for about ten minutes. Nice, but since it takes the dishwasher about 3 hours to do a load of dishes, I'm not around to see the light come on. Not the most well thought out approach. Instead, kitchenaid, add a button like on the oven so i can turn the lights on and off at my leisure. let us see how your cool new appliance works. 2) the tines in the lower rack point straight up (that seems normal, right?) but, dinner plates usually need to lean back or else they fall over. So, i've manually bent the tines to keep the dinner plates from falling all over themselves. The bottom rack looks haphazard and i'm afraid i'll break the rack. Anyhow, seems easy enough to just manufacture the rack to accommodate dinner plates. 3) if you open the dishwasher during a cycle to add a dish, you have to press START then shut the door. IT doesn't start back up automatically. (grrr...) Overall, cleans and dries dishes great. I probably would have bought a cheaper model in kitchenaid and not paid for the cool new features because not everything was fully thought out.
Date published: 2017-05-18
Rated 5 out of 5
by
Sue B
from
Just fabulous!!!
I purchased this dishwasher for my new home and it is just fabulous. Aside from how great it looks in my kitchen, it is also the quietest dishwasher ever. I am living all the amazing features especially bottle cleaners in the top rack. I can't say enough good things about this appliance.
Date published: 2017-05-01
Rated 5 out of 5
by
Rocky
from
Good cleaner
We replaced another Kitchen Aid with this unit. We preferred the old top mounted utensil holder to the new basket holder on the bottom rack.
Date published: 2017-03-07
Demos & Guides
guides
Installation Guide
Instructions for unpacking and installing your appliance, including electrical requirements and necessary tools.
Energy Guide
Information about the efficiency of your appliance, including energy consumption and annual costs to operate.
Dimension Guide
Detailed dimensions of your new appliance with space requirements for the area surrounding it.
Use & Care Guide
Comprehensive information about your new appliance - from getting started to cleaning and maintenance.
Warranty Information
A complete description of your warranty coverage, and contact information for service and support.
In order to read a PDF file, you must have Adobe Acrobat reader installed on your computer. You can download the latest version at the Adobe website.
Show More Guides
(1) Among leading premium brands, with rinse aid.