36" Island-Mount, 3-Speed Canopy Hood
Model: KVIB606DBS
Model: KVIB606DBS
36" Island-Mount, 3-Speed Canopy Hood
KVIB606DBS
Model: KVIB606DBS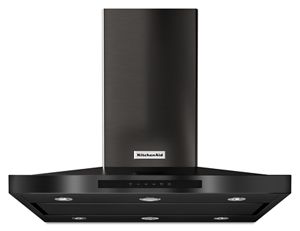 DOES IT FIT IN YOUR SPACE?
Use your camera to view in your room.
Key Features
4-Speed Electronic Glass Touch Control
Color:
Black Stainless Steel with PrintShield™ Finish
Sign in to unlock lower pricing
Earliest Estimated In-Home Delivery :
product.tray.major.arrival.date.unavailable.label
Change this location?
Protection Plans (Optional)
Flexible Appliance Protection Plans for Your Needs Learn More
Accessories & Attachments
Items frequently bought together
Overview
Product Description
36" Island-Mount, 3-Speed Canopy Hood
This 36-inch canopy hood provides the coverage necessary over a 30- or 36-inch cooking surface. Features like Auto Speed Setting ensure that the ventilation system is working efficiently by automatically changing the speed of the fan to best match the dish you are preparing. Four LED task lights provide ample light when cooking and two halogen night lights provide ambient light for the kitchen.
Power Boost Function
Assists high-heat cooking by activating maximum fan speed for five minutes to help quickly clear smoke and steam. This function turns on automatically if the hood's sensor detects high-heat cooking on multiple burners and can also be activated manually.
Automatic Turn On
Provides intuitive assistance to help keep smoke and steam from building up in the kitchen. If the hood's sensor detects high-heat cooking on multiple burners while the controls are off, it will automatically turn on the fan and set it to Power Boost.
Perimeter Ventilation
Pairs with any 30-inch and 36-inch range or cooktop with a total burner output up to 65,000 BTU
Additional Features
4-Speed Electronic Glass Touch Control
Provides electronic operation with visual feedback on settings and selections. Features low, medium, high and power boost settings, so you can choose the right fan speed for every cooking adventure, from gentle simmering to high-heat searing.
Auto Speed Setting
takes the guesswork out of choosing the proper ventilation setting to match your cooking by automatically adjusting the fan's speed depending on the heat being produced.
Removable Filters
help capture the grease, steam and odors of high-heat cooking. Filters are removable for easy cleaning with soap and water.
Two Halogen Night Lights
subtly accent the kitchen with a soft, inviting glow.
Four LED Task Lights
illuminate the entire cooking surface below with natural-looking light.
Easy In-line Conversion
Converts from a traditional installation to an in-line blower installation.1
65,000 BTU Rating
Pairs with any 30-inch and 36-inch range or cooktop with a total burner output up to 65,000 BTU.
585 CFM Motor Class Ventilation System
Helps capture smoke, grease and odors from the cooking surface below for everything from simmering to high temperature cooking techniques like pan searing and stir-frying so you can experiment with confidence.
Certifications
Dimensions
Configuration and Overview
Details
Number of Night Light Settings
1
Number of Task Light Settings
1
Ventilation System
Auto Function
Auto On and Speed Adjust
Sound Max Speed Sones
5-2/5
Sound Max Speed |Sound Max Speed dBA
65.0
Sound Min Speed Sones
1-1/2
Sound Min Speed dBA
49-1/2
Refinement KAD
Auto Turn On
Auto Turn On
Perimeter Ventilation
Perimeter Ventilation
Product Hierarchy
Flooring Program Codes
USKADBL
Rated

4

out of

5
by
UdoMin
from
Installation Instructions
We had a few things to bring up with your tech pub manuals and how stuff is designed on a hefty priced product.. 1st advice is to buy a few ikea shelves and see how they illustrate putting things together.. when we have to drill a knockout meant for hardwired install it shows a improvements could be made in laser cutters along with adding a few rubber grommets to keep wire electricians install from chaffing. Separate screws bags are helpful or make all screws same size so their is no questions of screw torx tip size differences.. install video would be awesome particularly if it showed the people who create your technical manuals as the installers then we would know that we are not cussing the designer of a product that has ultra small images of what goes where during all case scenarios. Overall the fit n finish of this puppy is great…we'll have to wrap it up in moving blankets while installing new cabinets and report back later for final press worthy photos…to be continued!
Date published: 2022-03-18
Rated

4

out of

5
by
Clj1
from
Love the new look in our kitchen!
Remodeled our kitchen added a hood over the stove, there was not one in the house prior. Love having a way to vent now. The only issue I have is the controls are not light up, so you have to have a light on to see which button to push. They need to add a light behind the panel, other than that it's a great product!
Date published: 2021-11-06
Rated

4

out of

5
by
Anna20
from
GREAT FEAFTURES
LOVE THE HOOD ALL THREE SPEED AND QUITE WHEN IT IS ON,
Date published: 2020-07-01
Rated

4

out of

5
by
Me1234
from
Looks amazing!
We just recently were able to use it, but it's works great! Had an issue with a set of lights that wouldn't work, but was a simple fix!
Date published: 2019-06-24
Rated

4

out of

5
by
Thamer Rushaidat
from
Piece of Art
The only issue we have face with this piece is the long lead to deliver
Date published: 2019-04-26
Rated

4

out of

5
by
Sdiaz4
from
Good Looking
Install was moderately easy. Took 3 people to lift/ screw mounting brackets. Not totally happy with lower shroud alignment, but I'm kind of picky.
Date published: 2018-09-06
Rated

4

out of

5
by
Terry17
from
Professional look!
We remodeled our kitchen and bought all new KitchenAid appliances. Love the look! The only downside of the hood is that it is not conducive to older homes. This made the installation difficult with much waste. They should be designed based on the ceiling height.
Date published: 2018-06-10
Rated

4

out of

5
by
AjSm
from
Nice quiet
Happy with this ventless hood lighting is nice and is quiter than expected Even in the boost mode
Date published: 2017-12-22
Rated

4

out of

5
by
Misl1
from
It will suck your wig off!
Hood works so well i had to buy reducer to pass inspection.
Date published: 2017-11-10
Rated

4

out of

5
by
OC resident
from
Modern and sleek
If I could not have a hood, I would, but due to our kitchen layout and permitting we needed one. But this is beautiful, modern looking and very quiet as far as this type of product goes. The lighting and fan options are great. We are very pleased.
Date published: 2017-05-10
Rated

4

out of

5
by
KCK
from
Looks Great But
Installed this by a professional in Nov 2016. One of the halogen bulbs did not work from first day. Then, the LED lights started to fail - they would "dim" out. Called KitchenAid warranty and they sent out a service guy. He fixed all lights on one trip and said they were essentially loose wiring. Now all appears fine. Minus the initial aggravation with the lights not working, this is a great hood vent, looks really nice, works well and would recommend.
Date published: 2017-04-12
Rated

4

out of

5
by
BUCHER
from
Works great!
Had it for five months now. Lights up the stove well and removes steam but cooking orders linger even if the dishes are done promtly.
Date published: 2017-03-16
Rated

4

out of

5
by
Telly
from
Looks great in black stainless!
Works great and looks even better matching with the rest of my black stainless kitchen aid appliances. Only downfall is the installation. It's very difficult and the screws it came with aren't really great quality. Had to buy my own.
Date published: 2016-06-17
Rated

3

out of

5
by
willh323
from
Nice Unit but Lacking Trim
Happy with the unit except for the black plastic clips(really, couldn't make them out of stainless?) & no trim for the upper vent covers. Screws are showing. Otherwise good unit.
Date published: 2021-06-02
Rated

3

out of

5
by
Neil Bynum
from
Great looking, extremely difficult to get serviced
We purchased in early 2019 after install worked fine for about a year. luckily we had the extended warranty. the hood front panel sometimes goes completely out and nothing works, sometimes just the lights. A tech came to look at it and put some dielectric grease on the connector between the front panel and the wiring harness. this help for about 2 wks and it started happening again. We called the issue back in and now NO SERVICE provider in the area services range hoods. Finally had to get my own provider who came out and said most likely will have to replace the wiring harness, front panel display controller board, or the entire wiring from front to the various components. It is a good thing i had the warranty as they just (after 5months of back and forth) paid back in full for the hood. NOW i need another one to replace this one. this model looks great and goes well with the other kitchen appliances we have. I am considering getting the same model but i have some serious reservations.
Date published: 2020-11-17
Rated

3

out of

5
by
Dave1947
from
Dave
I just purchased the hood. Short screws for the install. Called customer service, got the run around for serial #. Shouldn't need the serial number to send screws. If the product would have been packaged accurately I wouldn't be short. Now have to get the serial # and call back again, wait in line for next available representative to help me. Shouldn't be that tough to fix your packaging screw up. I need 5 screws to complete the install. Happy with the product, extremely unhappy with the customer service.
Date published: 2020-01-21
Rated

3

out of

5
by
Scubed
from
Functions GREAT but very aware of aesthetics
I purchased this island mount hood to replace a downdraft vent system. Love how it functions and the lighting is awesome. However, this vent titles a 36" from countertop vent. This is VERY misleading. When my installer started to work on the duct framework he had to figure out a way ,on his own, how to make the frame reduce to a size that would bring it up higher than 24" from the counter. 24" from the counter places the hood at my nose and I am 5'4". When he did figure out a way to get the hood higher from the counter it could only be at 29" from counter. After doing this the covering to the framework had to be cut because contrary to instructions the coverings to hide frame where to long to adjust with my 8' ceilings. Had to take to sheet metal shop and have them cut. Which was a nightmare. So if U don't have high ceilings or are taller than 5' be very aware of what the actual off counter height of the hood will be. Instructions are misleading. As far as recommending I would say yes for function but make certain you know about counter height problem
Date published: 2018-10-10
Rated

3

out of

5
by
Poor Factory Quality
from
Broken out of the box
When my contractor pulled the hood out of the box there was a screw missing holding the trim plate that covers the vent. This is just poor workmanship! He then replaced the screw and mounted the hood. To make matters worse, after a month the LED's quit working. The technician from the appliance store came out and determined it was a wiring board. The part took a couple weeks to receive. It appears that it was a common problem, thus the parts delay. The technician replaced the board and the lights worked again. As part of a kitchen remodel I purchased all new Kitchenaid appliances. Thus far there have been defects with 3 of 5 appliances. Fortunately the appliance store that I purchased from has a top rate technical staff.
Date published: 2018-08-17
Rated

3

out of

5
by
Scott M.
from
Island hood
It's a head-banger. Be careful. Kitchen Aid says it's ok to mount from an 8 foot ceiling, but the hood won't allow for mounting it up and out of head/face banger height. I'm 5'-9" and my lady is 5'-4" and this is a problem for both of us. UNSAFE!!!
Date published: 2018-07-05
Rated

3

out of

5
by
lsigmon05
from
Beware of Ceiling Height!
We bought this hood to go over our range in a 1970's house that has standard 8' ceilings. If you don't plan ahead with your installer to rig this thing then be prepared that it will sit only 25" above your cooktop!! It's a great hood, nice lights, quiet, but not meant for an older home remodel project. Seems to me like a MAJOR design flaw that Kitchenaid needs to correct.
Date published: 2017-11-13
Rated

2

out of

5
by
Anadant
from
Disappointed
I purchased the hood last year and due to unforeseen financial issues I was unable to remodel my kitchen. I finally remodeled my kitchen and found that my range hood is two different colors, semi gloss black and black stainless. I contacted Kitchen Aid for a possible exchange and have not had much luck. I recently sent in pictures so that they could understand the problem. I am waiting for a response but it doesn't seem promising since 30 days have elapsed since the purchase. I may lose my $1500. Giving 2 stars simply because I don't know the outcome of my situation yet.
Date published: 2018-06-25
Rated

1

out of

5
by
Chris2023
from
Highly Priced, Poorly Manufactured, Unsupportable
This same model was originally installed by the home builder, but so poorly it eventually resulted in a sensor failure kicking fan on high repeatedly until it would no longer turn off. I had little faith that it could be serviced in short order without paying the equivalent of a brand new range hood in service fees (and still not have a functioning range hood). So we elected to replace it with a new range hood. In order to maintain the KitchenAid aesthetic of all our appliances that my wife wanted I reluctantly purchased this same model from KitchenAid.com for $2K (my vote was for a $500 range hood from Lowes). When it arrived, I was astounded by several things: 1. The installation guide available online is for an older generation/version. This "engineering digit 4" version does not have its installation guide available on KitchenAid.com. Considering it is significantly different, it needs to be there. 2. Not only are the "3.5 x 9.5 mm mounting screws (2)" not available to attach the transition to the hood, the step to do so has been removed from the installation guide included in the box! (Which also explains why the builder didn't screw down the transition to the hood on the original model). 3. Unbelievably, the lower vertical support brackets were so poorly manufactured, the holes didn't even come close to lining up with the holes of the horizontal support. In fact, in the attached photo, you can see the sheet metal wasn't even bent consistently bad... they were all over the place. (fun fact, I was a helicopter sheet metal mechanic in the Marine Corps, I know what I'm talking about). 4. Calling in for support about this issue, I spoke with no less than five Whirlpool/KitchenAid reps for nearly 2 hours eventually getting to Direct Care Dept Team Lead, Sam, in Michigan (I challenge anyone with authority at KitchenAid who may be reading this to review my call notes). Sam said she'd have the parts team do some research to determine if these brackets had a part number so replacements could be shipped to me. She said she would reach back out to me once she received feedback from the parts team in a couple days because, if there were no part numbers for these brackets, KitchenAid would have to ship me an entire new replacement range hood (but with no guarantee that those brackets wouldn't be bad also). Disappointingly, Sam never did get back to me. But, about a week later, I got a parts shipping confirmation from KitchenAid. It did not specify exactly what was being shipped. So, based on my experience so far, I knew exactly where this was headed... that's right, I was sent not one, but two additional installation guides with attending bags of hardware/screws... which also did not include the screws for attaching the transition to the hood. So, how exactly am I supposed to safely attach this range hood to my ceiling now? Do I manufacture my own brackets? Do I have KitchenAid send me a whole new replacement hood with the hope (not guarantee) that the brackets in that box are manufactured to engineering specs? I'm open to any and all suggestions. In conclusion, some simple questions any Director, VP and or President at Whirlpool/KitchenAid needs to begin asking themselves (and everyone else around them): a. Are proper QA functions being performed during manufacturing by contracted fabricators? Clearly not. b. Is our documentation team creating and releasing installation guides that have been internally reviewed, tested and vetted for accuracy? Clearly not. c. Is our web admin uploading the correct pdf installation guides for the pertinent model variants? Clearly not. d. Do I care enough about the quality of our products and customer experience to personally reach out directly to this customer, Chris, for further details since he's obviously meticulously documented his entire experience (which he's probably sharing with everyone he knows personally and on social media). e. Do I think that this customer, Chris, has gotten $2K worth of value out of our range hood that cannot be installed? Or do I think that he deserves a full and complete refund for the trouble we've put him through?
Date published: 2023-07-06
Rated

1

out of

5
by
Clint S
from
Installation parts not included and do not exist.
Bought this Hood a year before installation went to install it and the upper and lower horizontal brackets are missing which are required for installation KitchenAid themselves cannot find the part, no where online shows the parts. Only in the manual that came with the hood shows a diagram of the mount that I need, we cannot find anyone that can locate this part
Date published: 2023-06-02
Rated

1

out of

5
by
kfred
from
Good luck getting installation parts
I ordered this a few weeks ago. Install doc says I need a chimney extension for a 11' ceiling and lists a part number that Kitchenaid says is discontinued. After 4+ hours on the phone and several transfers to other hold queues, I still don't have a viable part number to order. What a frustrating experience.
Date published: 2023-03-16
Rated

1

out of

5
by
Tim 61
from
I loved the looks of this product on the website.
I purchased this as I was redoing my whole house. So it sat in the box for about a year before it was installed. I noticed in the very last piece or cover that someone at the factory had cut the laser plastic around the kitchenaid emblem put in place to protect from scratches and put cut marks around the emblem. Even though this was new they wouldn't warranty the item because they only warranty the appearance for 30 days. Now mine you this product costs $1,800.00 and the part that was damaged cost $326.00 not happy. Whatever happened to customer service? I guess in the future I will only be doing business with companies that back up there products. Sorry I purchased from this company.
Date published: 2021-01-25
Rated

1

out of

5
by
Mikeat77
from
Looks Great but not adjustable for 8ft ceilings
This product looks great and is a perfect match to my full set of black stainless KitchenAid appliances but the installation was incredibly time consuming and only to find out it is NOT adjustable to 8ft ceilings. I'm now faced with buying a hood that doesn't match or cutting the brackets and shroud to achieve the correct height. Ridiculous for a $2000 product!!!
Date published: 2020-04-17
Rated

1

out of

5
by
admire
from
AWFUL
Do not buy this product if you have an 8 - 8 1/2 foot ceiling. You will be sorry. I wish kitchenaid would contact and have your engineers/developers meet with me to show how inferior this product and instructions are. ridiculous
Date published: 2019-06-04
Rated

1

out of

5
by
sbd57
from
2nd service man out and still no answers
we have been told by two KitchenAid service men that nothing more can be done with our range hood as it is working perfectly according to specs. WHY is my home filling with smoke? Ive requested from KitchenAid that they take this back as defective, credit me what I spent so that I can buy the KitchenAid commercial range hood as it might prove to be more powerful for the grill on our new KitchenAid range. Can someone please help with this?
Date published: 2018-09-04
Rated

1

out of

5
by
sbd57
from
not happy
I bought this in september of 2017 for a kitchen remodel that was finished in January of 2018. This is for a 2nd home and although we do not utilize the range hood very often, from the first time it was used in conjunction with the grill on our range, the entire house filled up with smoke. We were given certainty that this was the proper hood for our range and grill yet it is obviously Not! So disappointed amd I am waitingg to see what KitchenAid can do for us!
Date published: 2018-07-07
y_2023, m_12, d_10, h_8
bvseo_bulk, prod_bvrr, vn_bulk_3.0.37
cp_3, bvpage2n
co_hasreviews, tv_1, tr_65
loc_en_US, sid_KVIB606DBS, prod, sort_[SortEntry(order=RATING, direction=DESCENDING), SortEntry(order=SUBMISSION_TIME, direction=DESCENDING)]
clientName_kitchenaidbrand
bvseo_sdk, java_sdk, bvseo-4.0.0
CLOUD, getReviews, 62ms
REVIEWS, PRODUCT
Bundle summary&nbsp (&nbspitems)
If Purchased Individually*
*Offer subject to change. Limit one use per order. Valid for bundles delivered to a single U.S. address. Bundle savings based on current pricing available from KitchenAid.com. Only valid for new orders on KitchenAid.com.
See how we handle Returns
.
Similar Products
Related Products
WHY SHOP KITCHENAID® APPLIANCES
*Your rate will be 0% or 10–36% APR based on credit, and is subject to an eligibility check. Payment options depend on your purchase amount, and a down payment may be required. Payment options through Affirm are provided by these lending partners: affirm.com/lenders.