30-Inch 4-Element Electric Downdraft Slide-In Range
30-Inch 4-Element Electric Downdraft Slide-In Range is rated out of 5 by 188.
This all-in-one eclectic range includes Downdraft, which integrates the ventilation system so a separate hood is not needed. Smoke and odors can be removed outside or filtered air can be recirculated inside. This range helps you achieve flawless cooking results thanks to Even-Heat™ True Convection. The unique bow-tie design and convection fan ensure the entire oven is heated perfectly. It also has a Steam Rack that offers the ability to add moisture to the oven and enhances cooking results.
Stainless Steel - KSEG950ESS
Features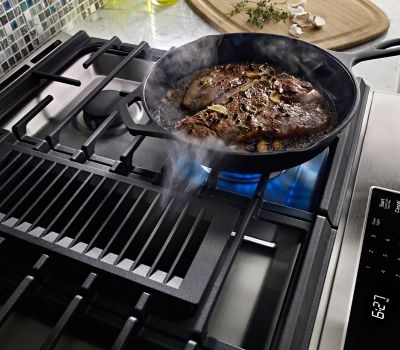 Downdraft
Integrates the ventilation system right into the range so that a separate hood is not needed. Smoke and odors can be removed and taken outside or air can be filtered and recirculated inside. A duct free kit can be purchased separately.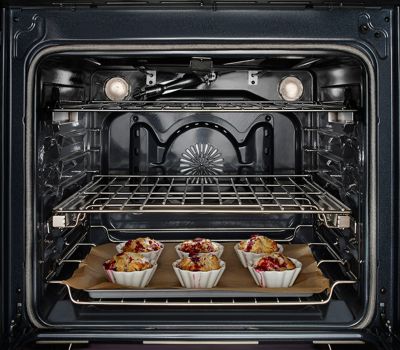 Even-Heat™ True Convection
Produces flawless results. The unique bow-tie design and convection fan ensure the inside of the entire oven is heated to, and stays at, the perfect temperature.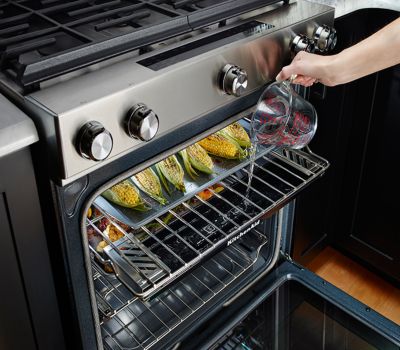 Steam Rack
Offers the ability to provide additional moisture to the inside of the oven, enhancing cooking results.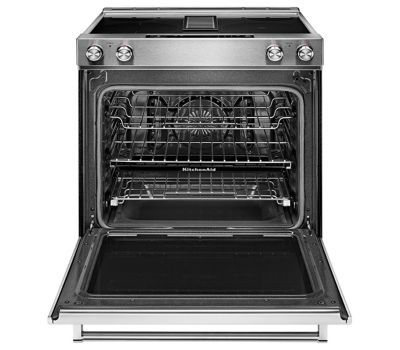 6.4 cu ft Capacity
This electric slide-in range provides a large cooking capacity that easily handles multiple dishes at once.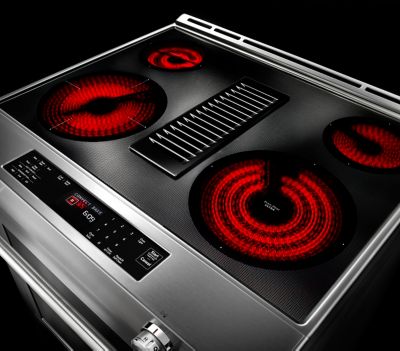 4 Cooking Elements
Provides four independent cooking surfaces that allow you to do more on your range. It features a double cooking zone of 6 and 10 inches, one 10 inch zone, plus two 6 inch cooking zones.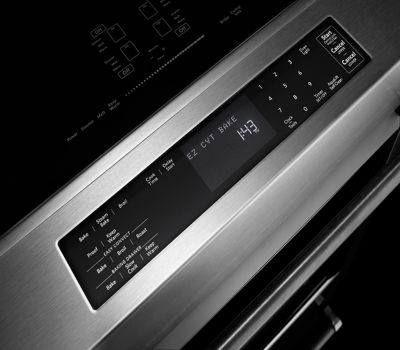 EasyConvect™ Conversion
Takes the guesswork out of convection cooking by converting conventional settings for recipes to convection settings for you.
Aqualift®
Cleans your oven in less than an hour without odors and at a temperature below 200°F. This innovative system combines low heat with water to release baked-on spills.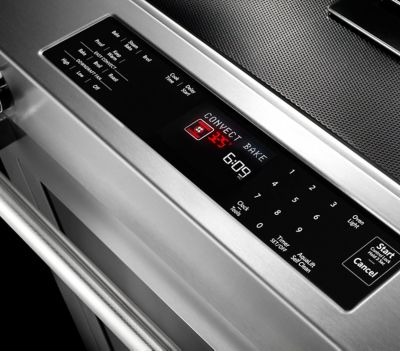 Glass Touch Controls
Offer an intuitive, easy-to-use touch screen experience.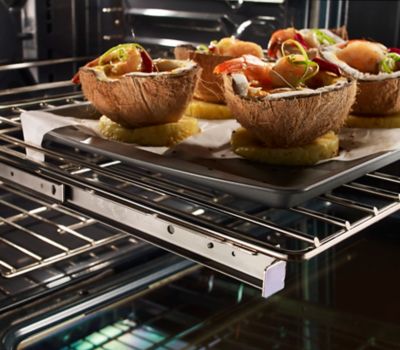 SatinGlide® Max Racks
Move smoothly in and out, allowing effortless loading and unloading, even with large or heavy dishes.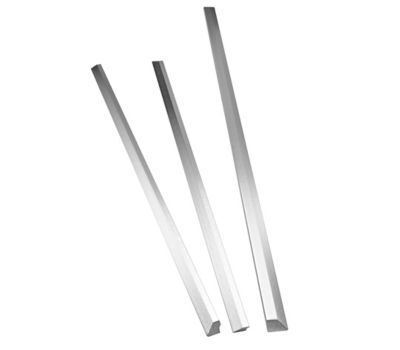 Side Trim Accessory Kit
This optional accessory kit will cover damaged countertops and unfinished edges from an old slide- in range to make them beautiful again. Trim pieces come in black, white and stainless to seamlessly match your new range.
Specifications
Configuration and Overview
Cooktop Features
Cooktop Element Style
Radiant
Cooktop Surface Color
Black
Cooktop Surface Material
Ceramic Glass
Number of Cooking Element-Burners
4
Left Front Element-Burner Power
3000W
Left Front Element-Burner Size
12"/6"
Left Front Element-Burner Type
Dual
Left Rear Element-Burner Power
1300W
Left Rear Element-Burner Size
6"
Left Rear Element-Burner Type
Radiant Hyper
Right Front Element-Burner Power
3200W
Right Front Element-Burner Size
10"
Right Front Element-Burner Type
Radiant Hyper
Right Rear Element-Burner Power
1200W
Right Rear Element-Burner Size
6"
Right Rear Element-Burner Type
Radiant
Oven Features
Automatic Convection Conversion Temperature Adjust
Yes
Heating Element On Indicator Light
Yes
Hot Surface Indicator Light
Yes
Power On Indicator Light
Yes
Oven Rack Type
1 Max Capacity, 1 Gliding Roll-Out, 1 Steam Rack
Self-Cleaning 
AquaLift® Self Clean
Oven Cooking System
Convection
Broiler Element Power
4000W
Broiler Location
Top of Oven
Convection Element Power (watts)
3200
Convection Element Type
Fan
Convection Functions
Bake, Broil, Roast
Oven Interior Depth(IN,inches)
20 5/8
Oven Interior Height(IN,inches)
22 1/8
Oven Interior Width(IN,inches)
24 1/8
Controls
Selections
Cancel/Off, Clock, Cook Time Indicator, Delay Start, Keep Warm Setting, Proofing, Sabbath Mode, Steam Bake, Timer
ADA Compliant
ADA Height and Operation Compliant
Show More Specifications
Reviews
Rated 4 out of 5
by
Charlie V
from
Excellent Range
We just had the range installed and we are very happy with the features. It would have been nice if it came with a molding kit for a closer fit to the counter top. The range was quite expensive, but we were replacing an existing downdraft range, and it is difficult to find a range with this feature.
Date published: 2017-12-19
Rated 1 out of 5
by
Don't buy
from
Don't waste your money
Oven never heats ... took 1/1/2 hours to cook a pork tenderloin that was supposed to take 30 minutes! AquaLift cleaning is a joke did it 4 times does nothing! Try to buy recommended cleaners what a joke that is too out of stock,discontinued... total bad experience... miss my Jenn-air that I had for 28 years... be lucky if this lasts 5 years
Date published: 2017-12-02
Rated 1 out of 5
by
redth
from
Terrible Product. Would not recomend
This range does nothing but fall apart. Right out of the box the control panel was malfunctioning and needed replacement. This meant my family was without a working range for a month. Then, the cooling fan was "spinning too slowly". This repair was out of warranty and took another month. Then, the down draft rubber boot completely feel apart. The oven, cook top, and down draft do not work well at all. If you need help be prepared for a 1 hour hold time. Very disappointed for a $3000 dollar range. Even when the range is functioning it is a poor performing product. Would not recommend this product! I regret this purchase.
Date published: 2017-11-26
Rated 5 out of 5
by
jpjenn22
from
Love this stove
We looked for ever for a downdraft stove and found this one and so happy with this one.
Date published: 2017-11-21
Rated 2 out of 5
by
Bubba guy
from
Uneven cooking in oven bad
Just a bad choice on my part. Fan is now broke in oven and it cooks so unevenly I have to turn thing every 10 min or so.
Date published: 2017-11-12
Rated 5 out of 5
by
Anonymous
from
Performances
Everything about this stove/range has met our expectations and more.
Date published: 2017-11-06
Rated 5 out of 5
by
Hech
from
Great design
Because of the design of our kitchen we needed a down-draft vent for the stove, and Kitched Aid was the most cost effective and fit our needs perfectly
Date published: 2017-10-19
Rated 4 out of 5
by
Downdraft
from
Too Expensive
I bought this because it's the only downdraft I could find in the whole world. I've only had it a month. The inside fan rattles every time I turn on the oven and continues until it reaches temperature. I've been extremely careful to clean the top after each use, but the top appears to be permanently marked. Any food that gets on the burner leaves a dark spot that cannot be removed.
Date published: 2017-10-06
Rated 5 out of 5
by
no nickname
from
Love the streamlined look
I purchased this particular range because I remodeled my kitchen and needed a range that fit in my island, just the way my old range did. Because the island is in the center of my large kitchen, it is the focal point and the place where my company hangs out whenever I entertain. I was happy to find a range that not only fit in the space but looks sleek and clean all the time. I love it and was so happy to find it at M & H appliance in St. Cloud, MN!!!
Date published: 2017-09-08
Rated 5 out of 5
by
Bean
from
nice oven size!
Just bought a month ago. Love it so far.
Date published: 2017-09-07
Rated 5 out of 5
by
Pam
from
Gorgeous range
This range is gorgeous and well made
Date published: 2017-09-02
Rated 5 out of 5
by
T. Ernie
from
Superior Perform./Excellent Solution for Island or Peninsula
Searched high and low for a solution to a peninsula installation. Previous down draft (not a Kitchenaid) was old and didn't work well. This slide-in was easy to install, is sleek and stylish, and functions amazingly. The oven controls are on top, the cook top controls are similar in size to gas ranges. The elements heat quickly and thoroughly and the variety of setting make this four burner range nearly as functional as a five burner one. The oven door is big (as is the oven cavity) and the glass clear - so you can really see how dishes are cooking without having to open the oven. And lastly, this is one beautiful appliance! As of now we couldn't be happier!!
Date published: 2017-08-22
Rated 4 out of 5
by
Sandra
from
Love it
Love the range and all the features but the installation was a nightmare
Date published: 2017-08-02
Rated 5 out of 5
by
MMiera
from
Amazing Heating Elements!
New Kitchen Aid electric cook top came in to compliment my Kitchen Aid Dishwasher, and I could not be more pleased with the size of the oven, easy slide baking racks, and ability to use both conventional and convection oven options. But what I love the most is the smooth and efficient heating elements. They heat up fast, and provide a great even cooking surface. Overall great appliance!
Date published: 2017-07-28
Rated 5 out of 5
by
Grace
from
Good range.
I bought this range two years ago. It works very well. Easy to clean. I love my new range.
Date published: 2017-07-18
Rated 5 out of 5
by
Carolyn
from
Downdraft still here
I was concerned that replacing in my 25 year old Jenn Air slide in, electric range could be a problem after the brand disappeared. The Kitchenaid option is just perfect and even better with steam and bread proofing functions. The only improvement would be to add a white color option.
Date published: 2017-07-17
Rated 5 out of 5
by
MariBo
from
So happy to have found a replacement for Thermador downdraft
I've had this installed for about three weeks and love this appliance. Bakes well. Stovetop is great--heats fast. This is really silly but one feature I think is great is how well you can actually see what's cooking in the oven. I haven't used the downdraft or some of the other features--but I will soon.
Date published: 2017-07-12
Rated 4 out of 5
by
T-town Ken
from
Good Oven, but range hard to clean
We found this as the only economical option for replacing a 22 year old Kenmore downdraft. I love the convection oven, but the glasstop range is hard to clean. Have tried several products and none work well. Also, when wiping the top, I hit the oven touch pad (which is extremely sensitive) and I end up needing to reset my oven if it's in use. The downdraft is quieter and more efficient then the Kenmore, but I must admit, I miss my Kenmore range. It had more options such as a grill and griddle and was a lot easier to keep clean.
Date published: 2017-07-02
Rated 5 out of 5
by
Tina
from
Great product
Love my new oven/range. The ceramic top is much better than what I had before. Everything that I have cooked and baked comes out perfectly!!!!
Date published: 2017-06-28
Rated 3 out of 5
by
Bbiglin
from
Stove is ok
The stove works fine, I don't have any issue with it's ability to cook my food. The logistics of the touch-button panel are a nightmare. I can't tell you how many times I've heard my boyfriend cursing the button panel while he's making a meal. The timer function makes no sense--you have to push the timer button, set the time (it doesn't do seconds btw) then push the timer button again and THEN press OK. Took us awhile to figure that one out. It's ultra sensitive when you're not trying to press any buttons and when you are, you have to push extra hard.
Date published: 2017-06-21
Rated 4 out of 5
by
Dave
from
Cleans Very Well
The first time we used it, it leaked. It was promptly repaired at no expense to us and has functioned very well since. We're still learning how to benefit from all of its features.
Date published: 2017-06-21
Rated 5 out of 5
by
Dee, the Memorial Weekend Hostess
from
Makes Cooking Fun! Passed the Friends Test!
I have this about 3 weeks and knew I was entertaining a large group for the weekend. Both women and men had the opportunity to use my new range and each and every one of them complimented the ease of use.
Date published: 2017-05-31
Rated 4 out of 5
by
Cormac
from
Huge Oven, getting used to computer aided cooking.
The oven and cook top elements are managed by a fly-by-wire system. This takes a little getting used to, but results have been fine. The elements turn on and off often to maintain temperature. A little experimentation with the knob settings gets things going. The oven is all about programming. Made some great no kneed bread right off. Several heavy racks come with the range. Oven is a bit slow to heat up if they are all left in. Replaces a downdraft gas/elec. range in a free-standing counter with no hood. This fan is quieter. A rubber bumper on the oven door was missing, fixed in a few days by local rep. Note, links to Kitchenaid Terms and Privacy Statement open blank pages.
Date published: 2017-05-23
Rated 5 out of 5
by
marge
from
beautiful range that improves overall appearance of kitchen.
The range has a beautiful appearance. The burners respond very quickly when turned on. The downdraft works very well.
Date published: 2017-05-19
Rated 5 out of 5
by
JEB
from
Great stove .
I love how it heats up quickly. Great to cook on and in.
Date published: 2017-05-16
Rated 5 out of 5
by
Mary
from
Pretty appliance
I would highly recommend this appliance. My only downfall is that I am OCD and am constantly making sure there are no fingerprints on the glass top which is my problem only. If you don't care about that than it's a very beautiful fixture.
Date published: 2017-05-15
Rated 5 out of 5
by
none
from
So nice to look at
So happy with the downdraft. Seems to be strong enough for tough odors.
Date published: 2017-05-03
Rated 3 out of 5
by
Jane
from
Cooks great; Scratches easily
I needed a downdraft oven and found better reviews on the Kitchen Aid than the Jenn Air. After purchasing this very pricey appliance, we noticed scratches on the stainless piece that runs across the front of the oven. The scratches occurred with normal use. Since that time, we have been very careful not to sit anything on the stovetop, being that it is evidently too fragile for normal use. I called Kitchen Aid, who sent out a repairman to assess the damage. He reported the scratches and was told that there was absolutely nothing that they were willing to do since the oven was more than 30 days old. Now I have a four month old appliance that I saved up for several years to purchase with very noticeable scratches.
Date published: 2017-05-02
Rated 3 out of 5
by
Hilltowner
from
Waiting
I bought this downdraft stove two weeks ago to replace a jennaire downdraft. The dealer delivered it one week ago but I am still waiting for the dealer to send someone to install the downdraft motor. In addition, the vent hole doesn't line up with my older stove, so a new hole has to be cut into the floor.
Date published: 2017-04-27
Rated 5 out of 5
by
Tony G.
from
GREAT replacement to our 31 year old Jenn Air
We purchased the Kitchen 950 downdraft electric range to replace our 31 year old Jenn Air of the same type. It heats up much quicker than the old Jenn Air and with options like the larger oven, precise timing, convection timer converter, and smooth cooking surface, it creates an excellent upgrade to the ranges of this generation.
Date published: 2017-04-25
Demos & Guides
guides
Warranty Information
A complete description of your warranty coverage, and contact information for service and support.
Dimension Guide
Detailed dimensions of your new appliance with space requirements for the area surrounding it.
Use & Care Guide
Comprehensive information about your new appliance - from getting started to cleaning and maintenance.
Installation Guide
Instructions for unpacking and installing your appliance, including electrical requirements and necessary tools.
In order to read a PDF file, you must have Adobe Acrobat reader installed on your computer. You can download the latest version at the Adobe website.
Show More Guides