NEW
22 cu. ft. 36-Inch Width Counter Depth French Door Refrigerator with Interior Dispense
22 cu. ft. 36-Inch Width Counter Depth French Door Refrigerator with Interior Dispense is rated out of 5 by 412.
This 72-inch refrigerator is three inches taller than a standard counter-depth refrigerator. It fills the gap that can be left above many refrigerators, adding to its integrated appeal. A pull-out freezer drawer allows you to organize frozen items on three levels. And with the ExtendFresh™ Temperature Management System all of your ingredients will be held at the optimum temperature to maximize their flavor and texture.
Black Stainless - KRFC302EBS
Features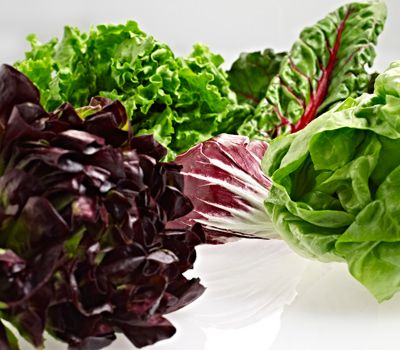 ExtendFresh™ Temperature Management System
Separately monitors the temperatures in the refrigerator and freezer through a sensor located in each, to help ensure fresh fruit juices don't become frozen and prawns avoid freezer burn.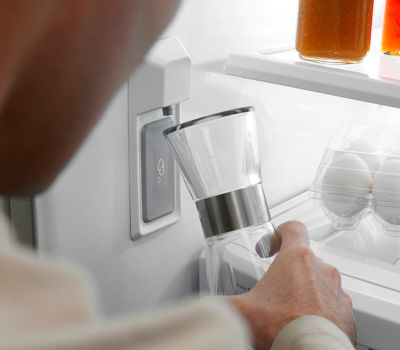 Interior Water Dispenser
provides easy access to filtered water and is conveniently located for one-hand operation.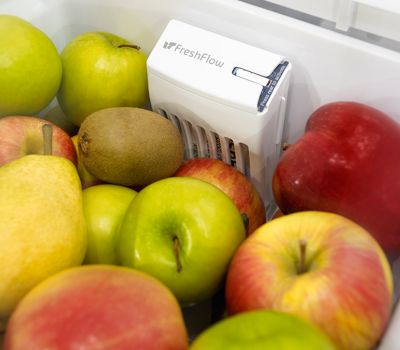 Produce Preserver
Absorbs ethylene gas emitted by many fruits and vegetables, causing them to over ripen. By removing ethylene, the produce preserver helps extend freshness.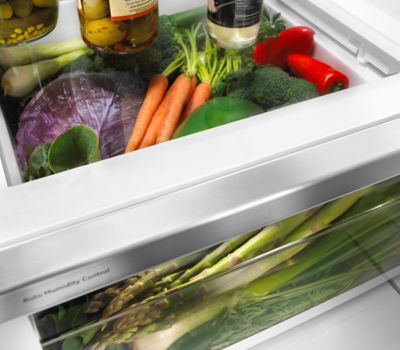 Humidity-Controlled Crispers
Provide a dedicated storage option with adjustable humidity levels. They let you select the high humidity that keeps romaine crisp, or the arid environment that helps figs and apricots stay fresh.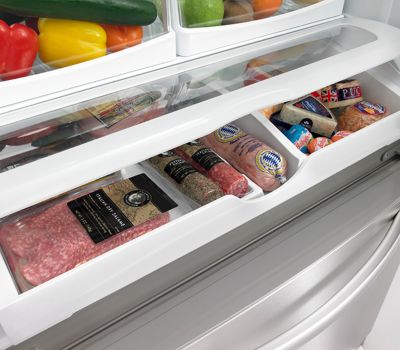 FreshChill™ Temperature-Controlled Full-Width Pantry
Provides a manual temperature setting that lets you maintain the freshness of ingredients as varied as a whole salmon or large eggplants.It gives you total control over of the amount of cool air that enters the drawer.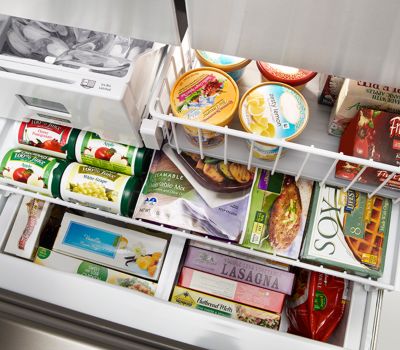 Pull-Out Tri-Level Freezer Drawer
features slide-out baskets with mats to help keep the freezer clean and organized.

SatinGlide® System
Uses space-efficient, under-mounted pans with rollers and glides for satisfyingly smooth operation.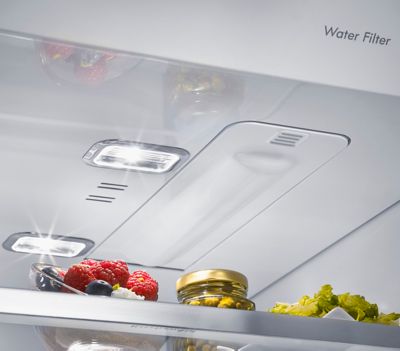 LED Lighting
Uses less energy than incandescent bulbs. Multiple lights are purposefully placed throughout the refrigerator and freezer, making it easy to find items at a glance.

Star-K Certified
STAR-K KOSHER CERTIFICATION for use on the Jewish Sabbath and other religious holidays.

Automatic Ice Maker
ensures a constant supply of ice on hand at all times for entertaining and everyday use.

Max Cool
When selected, automatically adjusts the temperature in the refrigerator and freezer to the lowest setting as needed. This helps keep the refrigerator at the ideal temperature even when you have the doors open for an extended period in order to load all your freshly purchased produce.

Metallic Accents on Shelf Trim
Are applied to the leading edges of the refrigerator shelves. These rich accents complement the gloss finish of the interior, to make finding your ingredients as much of a pleasure as using them.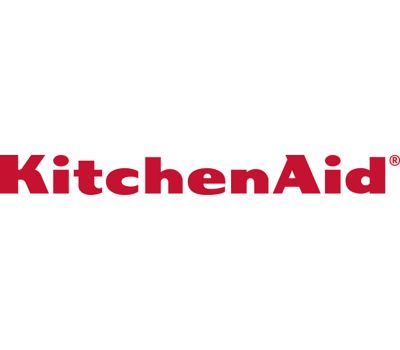 Metal Wine Rack
provides a durable storage solution for up to four bottles of wine or 2-liter containers and can be removed for additional storage flexibility.
Specifications
Configuration and Overview
Refrigerator Type
French Door
Refrigerator Capacity
16.35
Energy Star® Qualified
No
Dimensions
Height To Top Of Cabinet
71 3/8
Depth With Door Open 90 Degree
44 1/8
Depth Excluding Doors
24 5/8
Depth Closed Excluding Handles
27 3/4
Width with Doors Closed
35 3/4
Capacity
Refrigerator Capacity
16.35
Features
Number of Interior Shelves
5
Spill-Proof Glass Shelves
4 Adjustable Half Width
Conventional Shelves
1 Fixed Full-Width Glass
Humidity-Controlled Drawers
2 Half-Width
Temperature-Controlled Drawers
1 Full Width Pantry
Non Climate-Control Drawers
No
Door Bins
2 Fixed Full-Width Gallon, 4 Adjustable Gallon
Freezer Features
Freezer Drawer-Basket
1 Full Width Lower Metal, 1 Full Width Middle Wire, 1 Half Width Upper Wire
Filtration and Dispensing
Dispenser Type
Interior Water Only
Dispenser Options
Filtered Water
Ice Maker
Factory Installed
Show More Specifications
Reviews
Rated 5 out of 5
by
Datsky
from
Fabulous fridge
Slim lines - seems like less things to go wrong -hoping not to ever run out of ice!
Date published: 2018-01-03
Rated 4 out of 5
by
vijesh
from
Great space
Only problem with this fridge are the doors - closing one of the doors requires some force which is annoying considering the items we put in the door itself can move around and break.
Date published: 2018-01-02
Rated 5 out of 5
by
Gesh
from
Plenty of Room
We like the freezer on the bottom. Plenty of room for all our requirements. When opening both doors you need to close the left door first. Otherwise the door stays ajar and the refrig will beep at you.
Date published: 2018-01-01
Rated 4 out of 5
by
shoogstr
from
What's with those shelves??!!
I have had this refrigerator for a few months and have loved it. Just yesterday I was trying to cram a few more things into it and things started falling down the back side. I had never noticed that the shelves don't go all the way back. I was hoping to find some sort of adaptor on line that would fix this but so far have not found anything. Pretty disappointing and a little bit concerning if a glass item falls on one of the glass shelves. KitchenAid please make a fix for this. I also agree with other reviewers that the left-hand door takes an extra nudge to get it to close completely. Glad it is alarmed but I often don't hear it if I'm in a different part of the house.
Date published: 2017-12-31
Rated 4 out of 5
by
Roy1961
from
Nice fridge - horrible shelf design
You guys really missed the mark on the design of the shelves for the unit. There is a good three to four inches between the shelf and the back of the fridge. You could have at least put something at the back of the shelf to stop items from falling down the back. Everything else is fantastic. You would have had a perfect fridge if not for the shelves
Date published: 2017-12-31
Rated 2 out of 5
by
MelJoy2075
from
Keeps food cold but....
I expected more from Kitchen Aid at this price point! It keeps food cold as it should. But the "craftsmanship" is sub par. Extra foam was oozing out of crevices. I had to have a repairman come out to tighten up the loose handles. Messy remnants of glue are on the rubber gaskets areas that will never come off.Even the information label is on crooked. Looks like someone just really didn't care at all. I would return it in a heartbeat if it weren't such a hassle. Just not what I was expecting from a $2000+ refrigerator from a revered name like Kitchen Aid. Next house we build...no Kitchen Aid.
Date published: 2017-12-29
Rated 5 out of 5
by
JTMc
from
Perfect fit
Nice interior layout. Led lights are bright. Plenty of ice storage.
Date published: 2017-12-24
Rated 3 out of 5
by
Oscaluigi
from
It works
Not thrilled. While everything works, it is somewhat noisy, freezer drawer is unstable on its tracks, and it came with wine holder made for another model so it doesn't fit our model.
Date published: 2017-12-23
Rated 5 out of 5
by
DrJet
from
Love the water inside
It fits our cabinets beautifully and we love the interior design too.
Date published: 2017-12-21
Rated 3 out of 5
by
Tang12
from
Okay. Not great
Pros: Looks good, does it jobs as expected Cons: Too small. Internal compartments design are flawed thus reduced the space significantly. Has a quality issue where the seal actually broke after less than a year. Fortunately, this is still under warranty. Again, the quality is not the best
Date published: 2017-12-21
Rated 5 out of 5
by
P1B2
from
True confessions... love this fridge
We actually purchased this unit a couple years ago and loved it. So, when we moved to a condo, first appliance purchase was to replace the side-by-side with this unit. Why? The space utilization is superb... and access is as one would expect for a French door
Date published: 2017-12-09
Rated 3 out of 5
by
One big family
from
Refrigerator
We have had this fridge for a week and thank goodness we have another in the garage because it doesn't hold much. The shelves are small and do not go to the sides or the back of the fridge. The water dispenser isn't so bad but if you have children you probably don't want them opening the fridge all day to get water and not clean up the water that is in the fridge that drips and they spilled. The veggie and fruit drawer are extreamly small. If you shop at sams club or Costco there is probably not enough room or have a family of six this fridge is probably not the right choice in my opinion
Date published: 2017-12-05
Rated 4 out of 5
by
Mark52
from
Looks built in
Our 7 year old nonKitchenaid died. We wanted a clean looking counter depth unit to replace it and research led us to this model. It fits perfectly in our space and we love the ample internal space and the quick cooling.
Date published: 2017-12-05
Rated 5 out of 5
by
sdarent
from
Flawless performance
Well thought out product with no issues at all.Would buy again.
Date published: 2017-12-05
Rated 2 out of 5
by
Evan R
from
Great Looking, Bad Door
Purchased this Kitchen Aid about 7 months ago and it looks incredible. The shelves are moveable so I'm still trying to figure out the best arrangement. The main issue is the left door has an astragal that parents the door from closing fully without extra force. Ours came too low so it doesn't align with the stop at the top. We bought the extended warranty so the service tech came out and attempted to fix it by lowering the stop at the top by adding washers. It still doesn't close. I understand the purpose of the astragal, but I think it is a design defect plain and simple. It appears to be unfixable. I have th dishwasher and double wall oven too and those are outstanding. The refrigerator looks great but drives me crazy!
Date published: 2017-12-02
Rated 5 out of 5
by
The search is over
from
easy access into frig
Great features! Easy access. Water inside vs outside.
Date published: 2017-12-01
Rated 2 out of 5
by
Anonymous
from
Horribly designed shelves
The main shelving does not go to the back of the fridge. Items are constantly falling down the back. A can of soda can fit behind the shelf. The shelving brackets in the middle also make it difficult to fit a cake pan or other longer items. The doors do not close well unless you push them shut. With small kids the doors are constantly open.
Date published: 2017-11-30
Rated 5 out of 5
by
KarenR58
from
Nice Refrigerator
The look of this refrigerator is outstanding. Built-in look was accomplished.Very quiet running. One downfall is no container for eggs or butter.
Date published: 2017-11-30
Rated 2 out of 5
by
DanL
from
Fully fills a standard cutout/poor shelf design
I bought this because it looks like a built in since it's counter depth and is nearly 72" tall filling out a standard 36x72 refrigerator opening. Why that means it should cost $1000 more than the non-counter depth (and larger) model I can't say. The glass shelves are truly a horrible design since a soda can fall down the back. It also lacks a slide back shelf so tall items like a wine bottle can't fit standing up. They only fit on the doors or the goofy under shelf mount wine rack that I threw out. Freezer section works well. Bottom line: looks great on the outside, very poor shelf design, too expensive for what you get. Understand the trade offs.
Date published: 2017-11-26
Rated 4 out of 5
by
jbrob
from
Efficient use of space
We bought this for our kitchen remodel, which required a counter-depth refrigerator. We were pleasantly surprised by the very roomy freezer compartment, with easy accessibility. In the regular refrigerator section, the door compartments and shelving affords ample space for most items. It will take time to figure out where to store all our vegetables, as the two drawers are much smaller than what we've had in the past. The large full-width drawer beneath those two drawers, however, can perhaps be used to accommodate some of the overflow, along with cheeses and meats. The one drawback is the shelving in that area. The glass shelves do not go all the way to the back of the refrigerator, which could potentially mean that skinny item could fall down the back and collide with shelves below. We assume the reason for not going to the back wall is to provide adequate circulation. For now, we have decided to store skinny items (beer, sauces, etc.) in the door bins. We have not been able to hook up to water yet, as the remodel has not gone so far as to provide that source. We are expecting no problems in that area, as the quality of this product appears to be very good.
Date published: 2017-11-24
Rated 3 out of 5
by
Mark P
from
OK, but door issues out of the box
Bought this refrigerator to match the KitchenAid appliances that came with the new house/kitchen. The fridge is OK, but out of the box, the doors never shut correctly.. still dealing with warranty repair….. parts on order.
Date published: 2017-11-23
Rated 4 out of 5
by
milo
from
So far so good - and sexy too.
My husband and I have a crush on our refrigerator. Although our kitchen is still under construction we have been using the new fridge for a couple of weeks. So far we are very happy with our choice. The French Door and bottom freezer take some getting used to. Make sure you shut that left door first, or open the left to shut the right, if you grab something from the right, without opening the left. I am certain that action will seem natural before too long. We are happy that we chose a model with an interior water dispenser, as we really like the clean lines of the doors. Be aware, that there is sometimes a one or two drip delay after the water dispense button is released. I am not certain if there is an adjustment for that. We are happy that we have chest freezers to accommodate the majority of our frozen goods, because the freezer is kind of small, the ice bin takes up a lot of space (but the ice feature is fantastic, as is the cool scoop that it comes with.) Like anything else new, there is an adjustment period to using this refrigerator. Figuring where to put things for ease of access and most efficient use of space will take some time, but so far so good.
Date published: 2017-11-19
Rated 4 out of 5
by
Side by side junkie
from
FRENCH DOOR VS. SIDE BY SIDE
To access the refrigeration section, I need to open both doors way too often.
Date published: 2017-11-17
Rated 5 out of 5
by
P@Boise
from
Good features
Very nice and excellent technology. Would recommend to a friend.
Date published: 2017-11-10
Rated 5 out of 5
by
Mrsbarrett
from
Sleek sleek sleek!!!
Could not be more pleased. Love the fact that the water and ice are inside. We needed a smaller refrigerator in order to relocate it to another area in the kitchen. This fit perfectly, but still gives us plenty of room to store everything we need. Handles are a beautiful touch.
Date published: 2017-11-10
Rated 3 out of 5
by
LeslieAnn
from
Recommend with reservation
I would recommend the refrigerator with reservation. If you are thinking of buying it, there are a few things I would tell you to consider. The interior shelves do not reach the back wall of the refrigerator so small items can fall off the shelf. The left door has a hinged seal. We have had trouble with the door closing since we got the refrigerator. You have to be diligent about making sure the left door is shut because the seal will get stuck and keep the door slightly ajar. Unfortunately the door alarm does not go off because the door is not wide open. This is a definite design flaw! Lastly, stainless steel is so hard to keep clean.
Date published: 2017-11-10
Rated 5 out of 5
by
Miss Pat
from
A Pleasant Surprise
I ordered this refrigerator without seeing the model, and I am extremely pleased. Our contractor recommended KitchenAid, and I am so glad he did. I love the deli tray as it holds so much! The shelves are a convenient height, and the freezer holds plenty of food. Best of all, it is quiet. Love the look and the way it functions.
Date published: 2017-10-31
Rated 4 out of 5
by
Shirley222
from
Great features
I bought this refrigerator about a month ago and I am very happy with it. I especially like the black stainless steel color.
Date published: 2017-10-26
Rated 4 out of 5
by
jamezyjamez
from
Great layout and style
I've had the refrigerator for about a year and have really enjoyed the storage layout, quality of build and the cool style. I've had one incident (covered under warranty) where a line froze, causing inability for the freezer to seal and frost buildup. Great experience with the repair company, a quick fix (30 minutes) and no loss of food!
Date published: 2017-10-23
Rated 5 out of 5
by
Donw811
from
Beautiful fridge with lots of space
We bought this fridge a month ago and it is perfect for our kitchen!!!
Date published: 2017-10-23
Demos & Guides
guides
Energy Guide
Information about the efficiency of your appliance, including energy consumption and annual costs to operate.
Warranty Information
A complete description of your warranty coverage, and contact information for service and support.
Dimension Guide
Detailed dimensions of your new appliance with space requirements for the area surrounding it.
Use & Care Guide
Comprehensive information about your new appliance - from getting started to cleaning and maintenance.
In order to read a PDF file, you must have Adobe Acrobat reader installed on your computer. You can download the latest version at the Adobe website.
Show More Guides