Cold Brew Coffee Maker
Cold Brew Coffee Maker is rated out of 5 by 102.
Treat yourself to a smooth and balanced cold brew at home. The KitchenAid® Cold Brew Coffee Maker is easy to use, pour and clean.
Brushed Stainless Steel - KCM4212SX
Features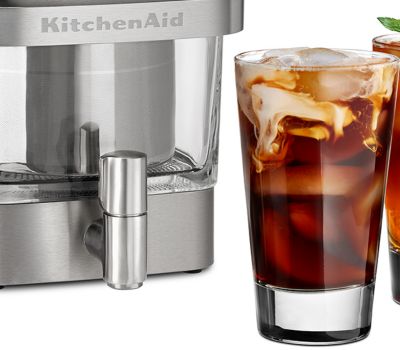 Smooth, rich full-bodied flavor
Simply fill with coffee and cold water, steep, & enjoy.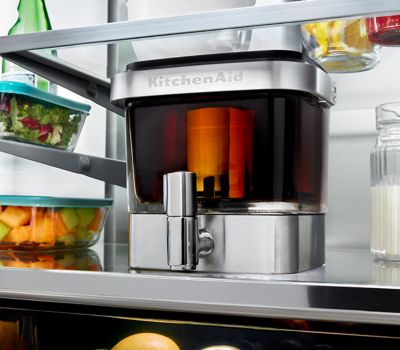 Small Footprint
Ideal fit for any refrigerator or kitchen counter.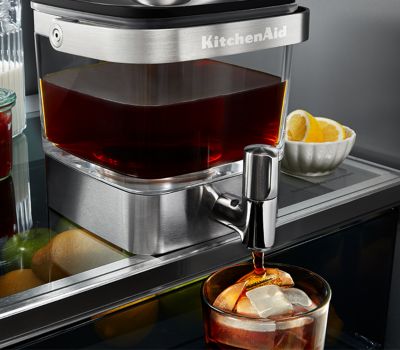 Always on Tap
Built in stainless steel tap to easily dispense your cold brew from your refrigerator and carrying handle for easy portability.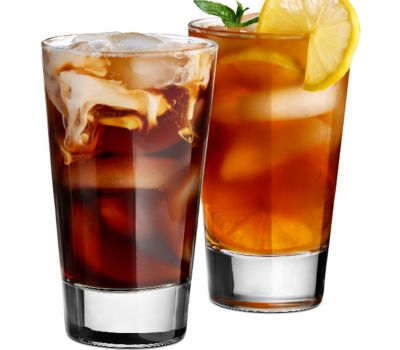 Make up to 14 Servings*
Simply mix 2 oz of coffee concentrate with every 6 oz of your favorite milk, water or ice. This brewer makes up to 28 oz of coffee concentrate that stays fresh in the fridge for up to 2 weeks. *Servings may vary based on coffee or tea type.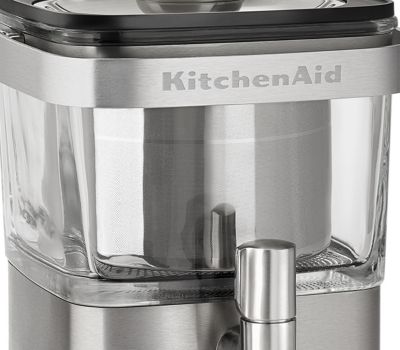 Streamlined Design
Beautiful, streamlined design with glass and stainless steel components to preserve taste, for easy use and cleaning.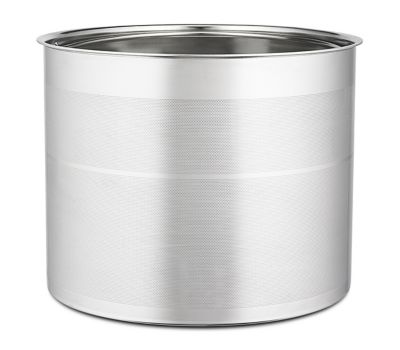 Reusable Stainless Steel Steeper
Allows you to brew the beverage of your choice and is labeled with fill level indicators to take the guesswork out of the brewing process.
Reviews
Rated 5 out of 5
by
HazelH
from
Easy to use,easy to clean & great coffee
After a few weeks drinking bought expensive cold brew and many hours of research I bought this amazing piece of kitchen equipment. Easy to use,fits in the fridge and amazing cold brew coffee.
Date published: 2018-01-14
Rated 5 out of 5
by
SWJenn
from
Great quality and easy to use
Bought this for hubby for his birthday, but it's a gift for the whole family. Has a permanent place in the fridge. We use the coffee to make frozen coffee drinks, iced coffee, or even to cool down hot chocolate. So much easier than the way we used to make cold brew, and the flavor is so smooth, way beats hot brew. Recommend this for anyone who enjoys cold coffee or adding coffee to flavor other drinks.
Date published: 2018-01-13
Rated 5 out of 5
by
BobWest
from
Tastes Great
The coffee tastes great without the coffee acidity, very happy with the purchase.
Date published: 2018-01-02
Rated 4 out of 5
by
GinaS1972
from
Awesome product!
Love this!! Well made and so cute and compact. Steal and glass!
Date published: 2018-01-02
Rated 5 out of 5
by
Jake14
from
Great coffee maker!
Love it. Fits easily in fridge. Compact design, nice look.
Date published: 2018-01-02
Rated 5 out of 5
by
Rusti
from
KitchenAidncold brew coffee maker
Great product. Easy to use and makes great cold brew
Date published: 2018-01-01
Rated 5 out of 5
by
CathyE
from
I love the brewer!
The best way to describe how this brew tastes, is to take in the aroma of your favorite freshly ground beans. The brew tastes just like your beans. My only wish is for better guidance on water to grind ratio on 8oz of beans. The directions are metric, and when measuring 250 grams (8.8 oz) of beans, it leaves less than 7.2 oz beans left in my 1lb bag. I'll eventually figure that out, but it would help consumers when making their inagural brews. This cold brew will eventually be my primary source of coffee.
Date published: 2017-12-31
Rated 5 out of 5
by
Houserlm
from
Best cold brew coffee!
I've been looking for a great way to make cold brew coffee and I found it. It's simple to use and easy to clean and makes great coffee. The best part this having it readily available in the fridge whenever I want it. Just turn the tap and there it is! Love this thing!
Date published: 2017-12-28
Rated 5 out of 5
by
jackson1969
from
BEST X-MAS GIFT THIS YEAR
I bought this for my Huzbear & this was his Fav present as he stated. I got it at a great price.
Date published: 2017-12-28
Rated 4 out of 5
by
Sterlz
from
Great Materials and Concept
I received this as a gift, and after previously steeping cold brew through a coffee filter into a mason jar, this elegant solution streamlined my process for brewing, storing, and dispensing my cold brew coffee concentrate. The only thing I wish was different was a better solution for straining the Coffee, the grind must be perfect to prevent small coffee molecules in your brew, as well as the glass container is only about half full after removing the strainer from the enclosure. Still the best solution I have found for use at home.
Date published: 2017-12-24
Demos & Guides
guides
Use & Care Guide
Comprehensive information about your new appliance - from getting started to cleaning and maintenance.