All Metal Grain Mill
All Metal Grain Mill is rated out of 5 by 242.
Grind wheat, oats, corn, rice, and other low-moisture, low-oil grains. This all-metal grain mill simply attaches to the hub of your stand mixer for quick and easy milling. Choose from 'cracked' to extra fine consistency.
Other - KGM
Features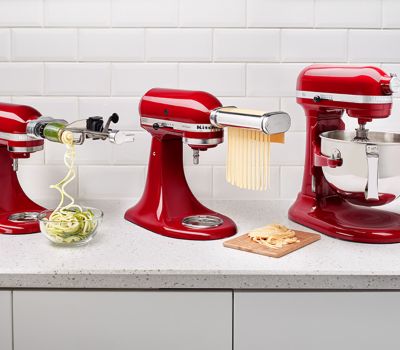 Attaches to Power Hub
Of your stand mixer and uses the power of the motor to run the attachment. Fits all Household KitchenAid® Stand Mixers.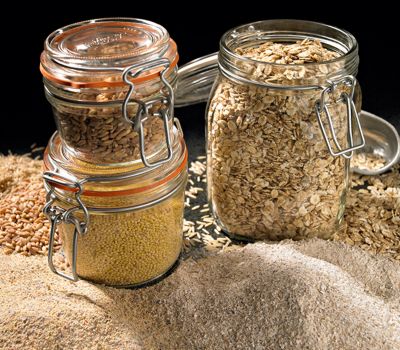 Easily Grinds Low-Moisture Grains
Such as fresh wheat, corn, oats, rye, rice and buckwheat.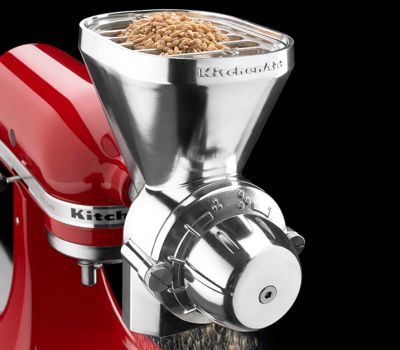 12 Grind Levels
That range from a very coarse "cracked" texture to a fine grind.
Reviews
Rated 4 out of 5
by
Metcalfe
from
New to KitchenAide.
Haven't used it yet. It's all metal. Still dismayed why it isn't dishwasher safe?
Date published: 2018-03-20
Rated 4 out of 5
by
Toni49
from
Great so far!
So far I love my grinder. I've read the other reviews so I guess time will tell if it burns out my mixer. But for the moment it is great! I have one question, I have the professional HD and when I use me grinder it is too close to my mixer to set a bowl under it to catch my flour, but too far away to set a bowl in the mixer to catch the flour as it comes out, do you have a bowl designed specifically for catching the flour? I have to stand and hold a bowl under the grinder and catch my flour. That's the reason for 4 stars instead of 5!
Date published: 2017-12-18
Rated 5 out of 5
by
Mr Lakay
from
5 stars but mixed reviews
I really love the grain mill. it does its job i want to make spelt grain bread and noodles and other assorted grinding tasks. the mill is great Mixer #1 was a costco 475 WATT motor worked great till i made 6 loaves of bread and then the machine got hot and the worm drive failed... so i ordered a new 7 quart model and thought my grinding will be pure bliss... of course Kitchen aid lady on the phone insisted on free shipping which meant that the box took over a month to arrive... well finally yesterday it arrived... i attached the Grain Mill Attachment ... was a little jiggly but so was the first smaller mixer... i did notice the thumb screw on the 7 quart had a pointy tip and the knob was shiny smooth and didnt feel like i could get it tight as i would like but i made it tight as i could without using vise grips or channel locks ... loaded up with spelt and slid the lever to 10 for Fast speed. Man oh man it was smoth steady and much quieter than the little mixer, the Mill did a great job as i expected... so i started moving around the kitchen to prepare some other items while the grinder worked the first hopper load for me... dream come true.... then BANG... CRASH ... I turn around and see the mill on the floor, grain and flour All over the floor and the counter and unimaginable places, and the little flapper that covers the attachment drive port was on the floor.... end of joy and happiness.But, Not the blame of the Grinder itself. so I closely examined the parts and see that the tip on the thumb screw is quite pointed, while the divot on the attachment is more rounded, and when i re-attached it and jiggled it i see the screw will start loosening, so i think there may be a solution with a better thumb screw perhaps larger with knurling to allow for a better non slip grip to tighten better, and the tip of the threaded end shaped to be compatible with the divot on the implement.As for the little flapper cover, i was able to push in at an angle and twisted it back on and it seems fixed. The attachment is great for its purpose does a fine job, i loved my flour. better for me to have the counter space not taken by an additional flour mill. it is a little slow to gring but sometimes we need to slow down a bit and smell the roses along the way dollar for dollar i give it 2 thumbs up....
Date published: 2017-12-17
Rated 1 out of 5
by
raph133
from
Poor design from Kitchenaid DONT BUY THIS PRODUCT
I bought this grain mill two years ago, I used it very little to grind spices, rice salt (popcorn). I also have a meat grinder. The problem with the grain mill is, it doesn't sit properly in the mixer opening, I have the kitchenAid 7qt 1.3HP mixer. I didn't pay attention when I first go it that it didn't sit properly in the mixer i.e. fully insert in the mixer opening. One time it came out during grinding of spices (don't recall what king of spices it was) but no damage was done, I thought I didn't tighten the thumb screw enough so I did not pay attention. Last month it came out again but this time the pin on the side of the mill that goes into the mixer broke off, the base of the mill where the pin is inserted also broke off. After inspecting the grinder mill I realised that the grain mill was never seated properly in the mixer. The prove was the meat grinder. I measured the O.D. with a caliper and the grain mill O.D. is .9455in compare to .9340in on the meat grinder. That difference was preventing the grain mill to be fully inserted in the mixer. Also the thumb screw on the side of the mixer couldn't hold the grain mill in place because the hole in the grain mill never aligned with the hole on the mixer since it was so far out of the mixer. So I am out of warranty for a manufacturing defect that started on day one. Thank you KitchenAid for your poor design.
Date published: 2017-11-16
Rated 1 out of 5
by
cashout
from
Grain mill shreaded gears in Mixer
We bought the grain mill a nine months ago, and used it with our mixer. We had no issues with the mixer before, now the mixer has a gear inside that has been replaced twice. All we grind is rice for flour. We pause the machine during grinding to prevent overheating the mixer. I guess it may work fine with other grains, we have not tried. Look at reviews on other websites regarding this product. It may look nice and shiny out of the box, but it could kill your mixer over time.
Date published: 2017-08-28
Rated 5 out of 5
by
Joe
from
Great!
Great! Solid construction, light weight, easy to clean. A Kitchen Aid stand mixer has plenty of power. I highly recommend, you cannot beat the price for value.
Date published: 2017-05-25
Rated 5 out of 5
by
asedapa
from
Grain Mill is great
Its fantastic to sit back and watch the mill grind wheat berries fresh for the baking. It was easy to attach the grinder. No mess no fuss.
Date published: 2017-01-30
Rated 5 out of 5
by
Jan
from
Good Worker!
This mill is a workhorse! It does the job, and you can regrind the product if you want your flour even finer. So far, I have had no problem with it heating up too much, either. Nice tool!
Date published: 2017-01-06
Rated 5 out of 5
by
SueBee
from
Great Grain Mill!!
This is an excellent product for grinding my grains for gluten-free bread. I can even make some of my flours finer than I purchased. My husband loved it too and he even took over grinding my grains! Worth my purchase!!
Date published: 2016-12-10
Rated 5 out of 5
by
Whole cook
from
Works great!
It takes a little longer when on the finest grind setting when I did winter wheat but that is understandable. Gets a little warm from the friction but the flour turned out great. The manual said that it would be a little more coarse than conventional flour because they sift out the berries but I could even tell when I compared the two.
Date published: 2016-11-17
Demos & Guides
guides
Use & Care Guide
Comprehensive information about your new appliance - from getting started to cleaning and maintenance.