All Metal Grain Mill
All Metal Grain Mill is rated out of 5 by 239.
Grind wheat, oats, corn, rice, and other low-moisture, low-oil grains. This all-metal grain mill simply attaches to the hub of your stand mixer for quick and easy milling. Choose from 'cracked' to extra fine consistency.
Other - KGM
Features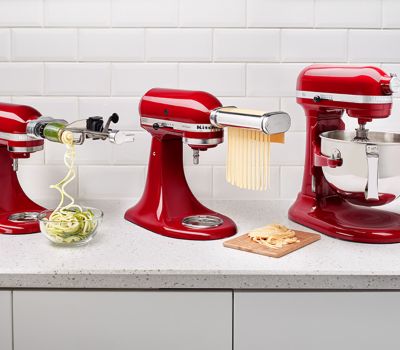 Attaches to Power Hub
Of your stand mixer and uses the power of the motor to run the attachment. Fits all Household KitchenAid® Stand Mixers.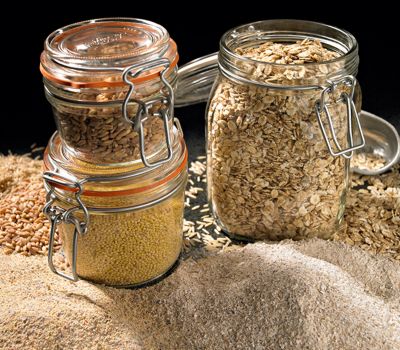 Easily Grinds Low-Moisture Grains
Such as fresh wheat, corn, oats, rye, rice and buckwheat.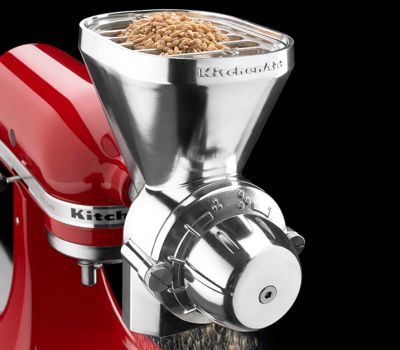 12 Grind Levels
That range from a very coarse "cracked" texture to a fine grind.
Reviews
Rated 1 out of 5
by
raph133
from
Poor design from Kitchenaid DONT BUY THIS PRODUCT
I bought this grain mill two years ago, I used it very little to grind spices, rice salt (popcorn). I also have a meat grinder. The problem with the grain mill is, it doesn't sit properly in the mixer opening, I have the kitchenAid 7qt 1.3HP mixer. I didn't pay attention when I first go it that it didn't sit properly in the mixer i.e. fully insert in the mixer opening. One time it came out during grinding of spices (don't recall what king of spices it was) but no damage was done, I thought I didn't tighten the thumb screw enough so I did not pay attention. Last month it came out again but this time the pin on the side of the mill that goes into the mixer broke off, the base of the mill where the pin is inserted also broke off. After inspecting the grinder mill I realised that the grain mill was never seated properly in the mixer. The prove was the meat grinder. I measured the O.D. with a caliper and the grain mill O.D. is .9455in compare to .9340in on the meat grinder. That difference was preventing the grain mill to be fully inserted in the mixer. Also the thumb screw on the side of the mixer couldn't hold the grain mill in place because the hole in the grain mill never aligned with the hole on the mixer since it was so far out of the mixer. So I am out of warranty for a manufacturing defect that started on day one. Thank you KitchenAid for your poor design.
Date published: 2017-11-16
Rated 1 out of 5
by
cashout
from
Grain mill shreaded gears in Mixer
We bought the grain mill a nine months ago, and used it with our mixer. We had no issues with the mixer before, now the mixer has a gear inside that has been replaced twice. All we grind is rice for flour. We pause the machine during grinding to prevent overheating the mixer. I guess it may work fine with other grains, we have not tried. Look at reviews on other websites regarding this product. It may look nice and shiny out of the box, but it could kill your mixer over time.
Date published: 2017-08-28
Rated 5 out of 5
by
Joe
from
Great!
Great! Solid construction, light weight, easy to clean. A Kitchen Aid stand mixer has plenty of power. I highly recommend, you cannot beat the price for value.
Date published: 2017-05-25
Rated 5 out of 5
by
asedapa
from
Grain Mill is great
Its fantastic to sit back and watch the mill grind wheat berries fresh for the baking. It was easy to attach the grinder. No mess no fuss.
Date published: 2017-01-30
Rated 5 out of 5
by
Jan
from
Good Worker!
This mill is a workhorse! It does the job, and you can regrind the product if you want your flour even finer. So far, I have had no problem with it heating up too much, either. Nice tool!
Date published: 2017-01-06
Rated 5 out of 5
by
SueBee
from
Great Grain Mill!!
This is an excellent product for grinding my grains for gluten-free bread. I can even make some of my flours finer than I purchased. My husband loved it too and he even took over grinding my grains! Worth my purchase!!
Date published: 2016-12-10
Rated 5 out of 5
by
Whole cook
from
Works great!
It takes a little longer when on the finest grind setting when I did winter wheat but that is understandable. Gets a little warm from the friction but the flour turned out great. The manual said that it would be a little more coarse than conventional flour because they sift out the berries but I could even tell when I compared the two.
Date published: 2016-11-17
Rated 1 out of 5
by
Homegrown
from
Poorly machined, did not fit mixer well and wobbled.
The spline end was not machined properly, did not fit. The replacement was close to the same and wobbled. Does not grind corn well at all. Do not know how so few working parts could clog, but it did at the "flour" end. Yes, the corn was dry. Perhaps the auger could be more pronounce to help with emptying? Very frustrating so out came the hand crank mill which worked better.
Date published: 2016-08-19
Rated 3 out of 5
by
Andy S.
from
Almost Burned Out My KitchenAid Mixer
I just received my KitchenAid grain mill in the mail today and was very excited to try it out. First of all, the grain mill itself is a very solid product (except for the screwdriver on the back of the cleaning brush). To try out my new grain mill, I poured about a pound of buckwheat into the hopper, turned the dial all the way to the three small dots for extra fine and started the mixer on 10. The mixer barely turned the grain mill, but there was flour coming out, so I kept it running. Within a few minutes, the mixer came to a complete standstill. I instantly turned it off, but still had smoke coming out of it. A new product should not burn out my KitchenAid mixer! Once I let it cool off, I turned the dial two steps away from extra-fine and tried again. Now the mixer turned the grain mill just fine and I was able to finish my pound of buckwheat. Not sure whether I should buy an old used KitchenAid machine for my grain mill, so I don't ruin my nice one. Or buy a separate grain mill.
Date published: 2016-08-03
Rated 5 out of 5
by
David
from
Excellent product
I bought this over 6 months ago and have been extremely pleased. The machine is easy to operate. My family has enjoyed all of the freshly made breads, pancakes, waffles, pies, and cakes that I have made grinding grain with this machine. The dial gives ample options for the fineness of the grain from very fine to coarse. Clean-up takes just a little time and effort, but you don't have to wash it each time, so it's no problem whatsoever. The process itself is loud, but that is to be expected. It is more quiet than the coffee grinders my parents' use to use. The flavors from freshly ground grain have been superior.
Date published: 2015-10-08
Demos & Guides
guides
Use & Care Guide
Comprehensive information about your new appliance - from getting started to cleaning and maintenance.