Artisan® Series 5 Quart Tilt-Head Stand Mixer
Model: KSM150PSSC
Model: KSM150PSSC
Artisan® Series 5 Quart Tilt-Head Stand Mixer
KSM150PSSC
Model: KSM150PSSC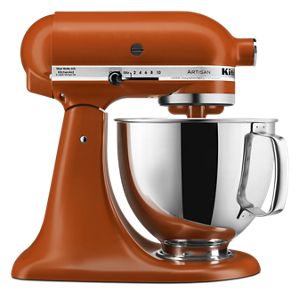 DOES IT FIT IN YOUR SPACE?
Use your camera to view in your room.
UPGRADE YOUR MIXER
FOR BIGGER BATCHES
See how a bowl-lift stand mixer offers more capacity to create.
UPGRADE YOUR MIXER
OUR MOST POWERFUL MIXER
See how the Pro Line® Series helps you take on your biggest culinary challenges.
UPGRADE YOUR MIXER
READY FOR MORE?
Unleash your culinary potential with the Artisan® Series.
CUSTOMIZE YOUR MIXER
BROADEN YOUR BOWL COLLECTION
Choose between glass and stainless steel bowl options.
UPGRADE YOUR MIXER
JUST THE RIGHT SIZE
See how today's smaller mixers help deliver more than ever.
STAND MIXER ATTACHMENTS
AMPLIFY YOUR CREATIVITY
Power Hub attachments are designed to work with any KitchenAid® Stand Mixer.
SHOP SUSTAINABLY
LIKE NEW PERFORMANCE AT A PRICE YOU'LL LOVE
Refurbished appliances are tested to ensure like new quality and performance.
GET MORE FROM YOUR MIXER
FLAT BEATER FEATURES TO INSPIRE & AMPLIFY
Discover five flat beater features designed to help you get more out of your making.
CUSTOMIZE YOUR MIXER
BOWLS FOR EVERY MAKER
Choose between glass and ceramic to find a bowl that matches your unique style.
BY HAND, FROM SCRATCH
Make fresh from scratch pasta at home with the Pasta Roller and Cutter Attachment.
FRESH PREP, SIMPLIFIED
Use the Fresh Prep Slicer/Shredder to easily slice and shred fresh ingredients.
BUYING THE RIGHT BOWL
From capacity to design and finish, find out which bowl to choose.
ADD VERSATILITY TO YOUR COUNTERTOP
Find out all the different things you can do with a countertop oven.
NEW POSSIBILITIES WITH MEAT GRINDERS
Learn all the things you can do with a meat grinder attachment.
FIND THE RIGHT FOOD PROCESSOR FOR YOU
Break down the different sizes of food processors available.
TIME TO CUT THE CORD
A cordless countertop appliance could be just what you need.
YOUR GUIDE TO STAND MIXER ATTACHMENTS
See your creative capacity amplified with these attachments.
GET THE MOST FROM YOUR TOASTER
Learn what to look for when choosing the right toaster for you.
FIND THE BEST BLENDER FOR YOU
Explore the different blenders and decide which one you need.
WHAT IS A GOOSENECK KETTLE?
See how this kettle's unique design can work for you.
WHAT DOES AN IMMERSION BLENDER DO?
Watch how this precision tool can help you in the kitchen.
EXPLORE THE POSSIBILITIES OF PASTA
With your very own Gourmet Pasta Press, you can say goodbye to pre-packaged pasta.
BAKING MADE BETTER
For baked goods, the Sifter + Scale Attachment is your all-in-one baking tool for fluffy, consistent results.
A FRESH TAKE ON RECIPES
Freshen up classic recipes with the Vegetable Sheet Cutter Attachment with Noodle Blade.
MAKE MORE WITH YOUR MIXER
The Stand Mixer and Pastry Beater Bundle have the capacity and tools for every occasion.
MAKE DOUGH WITH LESS EFFORT
Make handmade quality pastry dough, with less effort, using the Pastry Beater Accessory.
GRIND A VARIETY OF GRAINS
Quickly grind through wheat, oats, rice and other grains with the Grain Mill Attachment.
Key Features
#1 Mixer Brand in the World*
The Power and Durability to Take It All On
5 Quart Capacity for Small or Large Batches
Easily add Ingredients with the Tilt-Head Design
10 Speeds for Nearly any Task or Recipe
Sign in to unlock lower pricing
You will be redirected to PayPal, an independent third party, after which you will have a chance to Review your order.
Protection Plans (Optional)
Flexible Appliance Protection Plans for Your Needs Learn More
Overview
Product Description
Artisan® Series 5 Quart Tilt-Head Stand Mixer
Whether you need 9 dozen of your signature chocolate chips cookies or shredded chicken for Taco Tuesday with friends and family, the KitchenAid® Artisan® Series 5 Quart Tilt-Head Stand Mixer has the capacity for every occasion. This durable tilt-head stand mixer was built to last, and features 10 speeds to gently knead, thoroughlymix and whip ingredients for a wide variety of recipes and comes in over 20 colors to perfectly match your kitchen design or personality. Get creative and make more with your mixer with over 10 optional hub-powered attachments, from food grinders to pasta makers and more. Using the flat beater; 28g dough each sold separately.
What's in the box
Model KSM150PS includes
(1) 5 Quart Stainless Steel Bowl
(1) Coated Flat Beater
(1) Coated Dough Hook
(1) 6-Wire Whip
(1) Pouring Shield
#1 Mixer Brand in the World*
*Source: Euromonitor International Ltd. for retail sales revenue, USD, all retail channels. More information, including date ranges available at: mixerclaim.kitchenaid.com
The Power and Durability to Take It All On
Durable and built-to-last metal construction, with 59 touchpoints around the mixer bowl for great mixing results.
5 Quart Capacity for Small or Large Batches
5 Quart Stainless Steel Bowl with comfortable handle to mix up to 9 dozen cookies1 in a single batch. Dishwasher-safe. Using the flat beater; 28g dough each
Easily add Ingredients with the Tilt-Head Design
You'll have better access to the bowl when adding ingredients or attaching your preferred accessory. Lock the head in place while mixing.
Additional Features
10 Speeds for Nearly any Task or Recipe
From mixing ingredients together on stir speed, to whipping cream at speed 8, you'll get thorough ingredient incorporation every time.
Match your Style with Over 20 Colors Available
Choose from a full palette of color options to best match your style and personality.
10+ Attachments Available to Make More with your Mixer
A variety of versatile attachments to make everything from fresh pasta to burgers, veggie noodles, ice cream and more.
Model KSM150PS includes
(1) 5 Quart Stainless Steel Bowl, (1) Coated Flat Beater, (1) Coated Dough Hook, (1) 6-Wire Whip, (1) Pouring Shield
Certifications
Dimensions
Features
Details
Electrical
Rated

5

out of

5
by
lcakit
from
works like a charm
We love the new mixer. this mixer replaced our previous 20 Plus year old KitchenAid mixer.
Date published: 2023-11-29
Rated

5

out of

5
by
Aline50
from
Great features
Very happy with my purchase. It makes great pound cakes and chocolate chip cookies.
Date published: 2023-11-28
Rated

5

out of

5
by
Lilmissmarried
from
Love it!
Best gift I ever received! I use it all of the time!
Date published: 2023-11-28
Rated

5

out of

5
by
Kay L
from
Strong
I was able to use the grinder attachment that I had. I was able to make stiff cookie dough that I hadn't made in quite some time.
Date published: 2023-11-21
Rated

5

out of

5
by
Hilfloste
from
Sturdy and efficient
Love it! Makes baking a breeze. Wish I had more countertop space so it could live in sight. Easy to clean. Easy to put together, happy!
Date published: 2023-11-21
Rated

5

out of

5
by
Ghost Dog
from
Great features and good quality
I bought the mixer a month or two ago. My old mixer developed a problem with it's speed control. I aquire this mixer because of it's tilt up feature which I like very much. It is also a bit smaller and lighter than my old mixer.
Date published: 2023-11-18
Rated

5

out of

5
by
Jcbd
from
Easy to use
The is thec2nd stand mixer that I have bought. Very satisfied with how good it works
Date published: 2023-11-13
Rated

5

out of

5
by
Richard07
from
I absolutely love this mixer , the color is great! Works really well.
Date published: 2023-11-13
Rated

5

out of

5
by
Mixing happiness
from
Great quality mixer
Great mixer! I love Kitchen Aid stand mixers and this purchase was to replace my old mixer (25 years old). The new mixer is beautiful, works great and is such a wonderful time saving device for baking.
Date published: 2023-11-13
Rated

5

out of

5
by
Ongdy
from
Love it!
Loving it!!!! Can't wait to make some bread and test out the dough hook.
Date published: 2023-11-13
Rated

5

out of

5
by
B17grif
from
I love Big Red
This was a gift and I love it. My bread making skills have dramatically improved.
Date published: 2023-11-12
Rated

5

out of

5
by
Undertaker1129
from
I love this mixer and all the attachments!
I've been wanting to buy one for years! Finally found one at a great price.
Date published: 2023-11-11
Rated

5

out of

5
by
Shelbs96
from
GREAT PRODUCT!!
I love my kit hair mixer! I will never use anything different now :)
Date published: 2023-11-10
Rated

5

out of

5
by
Rich465
from
Terrific upgrade over older model
Much quieter than our old mixer, lots of power, very smooth operation, nice accessories
Date published: 2023-11-09
Rated

5

out of

5
by
CalCat
from
Kitchen Aid means Kitchen Art!
I have been baking more often in the last few years because of being at home more, but had resisted investing in a stand mixer because of both price and size. I didn't think I baked enough to warrant having a mixer on my counter all the time, or spending hundreds of dollars. I was happy with the nice hand mixer I had....until I realized how some doughs and batters needed a bit longer or slower mix than the little beater heads were capable of. Plus, my arm or hand would get tired of holding the mixer and the bowl, or it would get awkward in trying to maneuver both. At 65 years old, I finally decided I would entertain the idea of a stand mixer and started to do the research. I knew Kitchen Aid would be the way to go because of its great reputation stand mixers, and I wasn't interested in the cheaper brands and off-brands. I liked the tilt-head design over the bowl-lift because it seems to give more access to the bowl and beater for scraping or adding ingredients, plus the slightly smaller footprint and height was better for my needs. The Empire Red color is absolutely gorgeous and is a perfect match with my red quartz countertops, so it's perfect to stay out on the counter - the beautiful design and contours make like an art piece! As to the functionality, having never used a stand mixer before, I found it very easy to learn and use, and it mixes very effectively. I love how I can put in the ingredients, turn on the beater and step away to to do something else in the kitchen - no more standing there with my arm getting tired or wrestling with holding the bowl steady. This is wonderful. The only thing about this set that could be better is the coated flat beater and the aluminum whisk that comes with it. The coating on my beater came chipped and although KA replaced it promptly, I noticed something I didn't like - when I slid the beater onto the mounting, there would always be a little puff of aluminum powder coming off the raw aluminum inside the hole. The mounting post would scrape the inside of the beater hole and you'd see the little puff of powder. I didn't like that at all, didn't want any aluminum in the air or in my food, no matter how small. My other issue was with the aluminum whisk - you can't put it in the dishwasher because of the oxidation and it would turn it dark - so you're supposed to hand wash it. It is very difficult to wash batter and dough off a whisk and even when it arrived brand new, it was covered with a sticky grime that was really unappetizing. Even hand washing that wasn't easy because it was hard to reach all parts of all the wires and wanting to make sure I got all that grime off. So, because of these two issues, I had to invest more money to buy the stainless steel whisk and stainless steel flat beater which are both dishwasher safe and no worries about coatings coming off or the wires oxidizing. It's too bad the original whisk and beater are useless to me, I hated to waste them, but I didn't want to use them and just donated them. I think KA should just provide an upgrade option when purchasing this mixer so you can choose to upgrade the beaters you want, at a nominal fee, so they don't have to waste sending out the lower end ones that many people seem to be complaining about in the reviews. Overall, I am extremely happy with my new stand mixer, and just seeing it on the counter makes me want to make something just to use it!
Date published: 2023-11-09
Rated

5

out of

5
by
Kimber1988
from
Amazing but a little loose
I'm happy with this, when I make buttercream frosting it shakes and I have to hold onto it until I start thinning out the mixture, not sure if I need to tighten something on it? But other than that ots great!
Date published: 2023-11-08
Rated

5

out of

5
by
Texerdeb
from
A Kitchen Aid winner!!!
I have had 2 Kitchen Aids (now 3). My first one I was very pleased with but it had a smaller bowl, so I gave it to my daughter and bought myself another one with a bigger bowl. I had a love hate relationship with it from the start. The white enamel of the accessories chinked and were replaced three times, the whisk attachment had oxidation that I could not get off, the contents at the bottom of the bowl wouldn't mix in (but I found out how to adjust and fix that). The bowl came unlocked and flailed around on the stand. I was starting to bake more bread, so I gave that KA to my son and his wife and bought a totally different mixer (which I love for baking bread). However, I really missed a KA for mixing up fillings, cookie dough, whipped cream, etc., (and my husband liked the KA better for mixing up his pizza dough). So, I ordered this new one I am reviewing and I LOVE IT. It's been wonderful. No problems. I've used it several times. Very pleased. Highly recommend.
Date published: 2023-11-06
Rated

5

out of

5
by
KMac1961
from
Very Happy
I have wanted one of these for ages, and when they went on sale I couldn't resist! So far I've only used it once, for mixing the ingredients for meatballs, but I'm very impressed. It's quiet and powerful, and I can't wait to add some attachments. I have a feeling I'll be using this for a very long time!
Date published: 2023-11-06
Rated

5

out of

5
by
Mustard 75
from
Thank you
What a dream! Why did I wait so long! I bought a small cart on wheels from William Sonoma and it fits perfectly.
Date published: 2023-11-04
Rated

5

out of

5
by
MLZ1
from
Love my Kitchenaid!
I bought this one for our vacation home. I have a Kitchenaid at home and was very frustrated with my mixer at our vacation home. Now I can mix my bread dough while there without any problem!
Date published: 2023-11-04
Rated

5

out of

5
by
bob273
from
Beautiful mixer
Beautiful mixer and a name I can trust. Works as expected
Date published: 2023-11-03
Rated

5

out of

5
by
shanchels
from
High quality worthy investment
Best addition to my kitchen. I have heard from many that their stand mixers have lasted for years and years, so I'm excited to use it for a long time. This is a high quality worthy investment for every baker!
Date published: 2023-10-31
Rated

5

out of

5
by
charlotte m.
from
Kitchen Aid is the best!
This is my second Kitchen Aid mixer. My last one lasted for 30 years. I would be lost without one, and would never buy another brand.
Date published: 2023-10-30
Rated

5

out of

5
by
Annnnnnna
from
Love love love
Best baking tool ever!!!!!!!!!!!!!!!!!!!!!! !!!!!!!!!!!! !!!!!!!!!!!!
Date published: 2023-10-27
Rated

5

out of

5
by
Denijo12
from
Kitchen aid mixers are world Class products
I bought this mixer a month ago and I can honestly say it's exceedi g my expectations. The motor is much more powerful than my last kitchen. It operates very smoothly too easily blending everything I've tried. Although a very consistent product many of the "newer to me" features are outstanding. The blending blades with their white coating and the ingredient funnel have quickly re-earned my loyalty to kitchen aid mixers. Great job!
Date published: 2023-10-22
Rated

5

out of

5
by
Sofimp
from
Love it!
Love this stand mixer, it makes my life in the kitchen easier. I also love the color and how nice blends with my kitchen.
Date published: 2023-10-22
Rated

5

out of

5
by
brenlaff68
from
New Red Mixer
I purchased this as a replacement for one I have had for 40 some years! The old one was starting to give out on me (the motor wasn't sounding very good anymore) and I love to bake. I was able to purchase a red one, my favorite color. They only had white back when I bought my first one. This one is a little bigger and I will enjoy that as many times I like to make 1-1/2 recipes of cookies as they seem to go very fast in our house!
Date published: 2023-10-21
Rated

5

out of

5
by
Margieandjerry23
from
Awesome mixer
We bought this for ourselves as our wedding gift and love it . We use it alot especially great for making mashed potatoes
Date published: 2023-10-18
Rated

5

out of

5
by
Dolores47
from
A Real Workhorse!
I recently replaced my 1993 KitchenAid Mixer with a new model. This was the easiest decision I ever made. This product stands the tests of time and heavy usage. I did not have to purchase new accessories as they are designed to work on the new mixer. The agent was terrific. By the way, my husband re-greased the old model and it is now working hard in a friend's kitchen. 40 years!
Date published: 2023-10-16
Rated

5

out of

5
by
mommyksg
from
Very sturdy
I love it so much! Makes baking so much easier for me
Date published: 2023-10-15
y_2023, m_12, d_10, h_7
bvseo_bulk, prod_bvrr, vn_bulk_3.0.37
cp_2, bvpage2n
co_hasreviews, tv_398, tr_23873
loc_en_US, sid_KSM150PSSC, prod, sort_[SortEntry(order=RATING, direction=DESCENDING), SortEntry(order=SUBMISSION_TIME, direction=DESCENDING)]
clientName_kitchenaidbrand
bvseo_sdk, java_sdk, bvseo-4.0.0
CLOUD, getReviews, 50ms
REVIEWS, PRODUCT
Bundle summary&nbsp (&nbspitems)
If Purchased Individually*
*Offer subject to change. Limit one use per order. Valid for bundles delivered to a single U.S. address. Bundle savings based on current pricing available from KitchenAid.com. Only valid for new orders on KitchenAid.com.
See how we handle Returns
.
Similar Products
Related Products
WHY SHOP KITCHENAID® APPLIANCES
*Your rate will be 0% or 10–36% APR based on credit, and is subject to an eligibility check. Payment options depend on your purchase amount, and a down payment may be required. Payment options through Affirm are provided by these lending partners: affirm.com/lenders.