Fruit and Vegetable Strainer
Model: KSMFVSP
Model: KSMFVSP
Fruit and Vegetable Strainer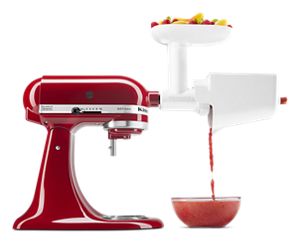 DOES IT FIT IN YOUR SPACE?
Use your camera to view in your room.
Key Features
Specially designed to work with the KitchenAid® Food Grinder*
Create Smooth Sauces, Purees and More
Sign in to unlock lower pricing
Protection Plans (Optional)
Flexible Appliance Protection Plans for Your Needs Learn More
WHY SHOP KITCHENAID® APPLIANCES
*Your rate will be 0% or 10–30% APR based on credit, and is subject to an eligibility check. Payment options depend on your purchase amount, and a down payment may be required. Payment options through Affirm are provided by these lending partners: affirm.com/lenders.
Overview
Product Description
Fruit and Vegetable Strainer
Create fresh jams, sauces, baby foods and more. The KitchenAid® Fruit and Vegetable Strainer attaches to the KitchenAid® Food Grinder Attachment*, and uses the power of the KitchenAid® Stand Mixer**, to help you create incredible homemade applesauce, jam or baby food in minutes. Once ingredients have passed through the grinder, the strainer cone removes any peels, leaving you with finely pureed fruits or vegetables.* Model KSMFGA, sold separately. Not compatible with discontinued FGA Food Grinder. ** sold separately.
What's in the box
Model KSMFVSP Includes
(1) Fruit and Vegetable Strainer
Features
Specially designed to work with the KitchenAid® Food Grinder*
To help you puree and strain fruits and vegetables for jams, sauces, baby food and more.*Requires Food Grinder model KSMFGA, sold separately. Not compatible with discontinued FGA Food Grinder.
Additional Features
Easy to Clean
All parts are dishwasher safe.
Create Smooth Sauces, Purees and More
The strainer attachment removes seeds and reduces prep time to neatly create smooth sauces, purees and more.
Model KSMFVSP Includes
(1) Fruit and Vegetable Strainer
Specifications
Certifications
Configuration and Overview
Mixer Type
Fits Household Mixers
Features
Dishwasher Safe Components
Strainer Cone, Strainer Shield, Food Pusher, Collar, Removable Tray, Splash Lid
Fits Power Hub - All Stand Mixer Models
Yes
Fits Stand Mixer Models
Tilt-Head & Bowl-Lift
Mixer Type
Fits Household Mixers
Reviews
Rated

5

out of

5
by
crazyolgrandma
from
Works well
I use it mainly for straining tomatoes to make sauce. It works really well
Date published: 2020-09-14
Rated

5

out of

5
by
HappyInIndiana
from
Excellent sauce
Very happy with the fruit and vegetable strainer (even though I had to re-buy the grinder attachment because my grinder was the older model that didn't work with this strainer even though they were purchased on the very same day). Certainly made quick work of a boatload of tomatoes needed to be processed. I disassembled and cleaned mine out twice during the process just to ensure no problems and I had none. I, for one, am very thankful for this attachment!
Date published: 2020-09-08
Rated

5

out of

5
by
ralph803
from
Good tool
We've used the strainer on Italian tomato sauces, Mexican moles, and, today, a smooth gazpacho. It can be a bit messy to use, but it's less messy than what we had with a manual tomato press and sieves. And it's satisfying to see the refuse -- seeds, skins, and other less tasty bits-- push out and drop into the waste bowl, while the flavorful pulp goes in another. I would like to see cones that could be used for other textures.
Date published: 2020-08-21
Rated

5

out of

5
by
Farm wife mom of 3
from
LOVE THIS!
You have to have food grinder attachment to use this. Apparently people aren't realizing that BUT I have both and this thing is superb! Makes homemade applesauce in no time! Cooking the apples down takes the longest.
Date published: 2020-07-08
Rated

5

out of

5
by
DenSanAZ
from
Fantastic!
I make my own marinara sauce but have always used canned tomatoes, I also make berry jelly but don't care for seeds. I bought this (already had the grinder which is required) and immediately ran 15lbs off Roma tomatoes through it. No peeling or seeding needed - just quarter the tomatoes and shove them through. Voila, 9 quarts of tomato sauce (very runny, took 8 hours to cook down, but excellent! ). I made blueberry/raspberry/blackberry jam yesterday - just dumped the fruit down the chute and instantly had beautiful, seeded but pulpy fruit juice which made the best jam I've made yet. Can't wait to try homemade applesauce next. Cleans up quick, too (I handwash all my Kitchenaid parts).
Date published: 2019-11-29
Rated

4

out of

5
by
SuzieQ2
from
Love this attachment!
I've had this attachment for years. I use it to process tomatoes into juice for canning. So much easier than the hand crank sieves. I just wish the top was deeper where the tomatoes go.
Date published: 2022-09-12
Rated

4

out of

5
by
Left with Grape on Face
from
Disappointment in Kitchen Aid
I've had my kitchen aid for many years, in fact I'm on #2 after 60 years of marriage. I love the fruit and vegetable strainer for doing tomatoes, grapes and apples. Well yesterday while straining grapes for jam the section that hooks up to the mixer cracked and broke throwing hot juice and grapes all over the kitchen and me. I went to the computer to order another unit. Now there are a few parts that go with this strainer, all I need is the basket part that hooks up to the mixer, to my surprise I have to order the entire set which is $80 I can't buy just the basket. There is nothing wrong with the other parts which means if I ordered this I would have to throw good parts in garbage. Makes no sense to me. I do not have $80 for this part. But now if the basket was sold separately say for $20-25 that's doable.
Date published: 2021-08-17
Rated

4

out of

5
by
Linnea F
from
Tips for FG model grinder owners
I have the old school metal food grinder attachment and this didn't work well with the strainer because of the nubs on the retaining screw-see picture. Hubby ground off the 3 small nubs and its perfect... hoping it helps others!
Date published: 2021-04-10
Rated

4

out of

5
by
Anonymous
from
Great alternative to a juicer
The great thing about the strainer attachment, and why I'm giving it 4 stars, is that it not only juices, but it takes out the seeds and separates the pulp. I have an Omega masticating juicer (which I love,) but it squeezes the seeds along with the fruit, which influences the flavor of the juice that comes out. With this attachment, you can make purees and coulis easily, which removes the seeds, and the pulp that comes out is fairly dry - so it does a good job. BUT the plastic sleeve attaches loosely and awkwardly to the food grinder - there is no way to secure it on, it just sits on top of the food grinder. On more than one occasion, I've bumped the sleeve while using it and juice and other fruit parts went everywhere. All in all, if you have the KitchenAid and the food grinder, this is a low cost add-on, and more space efficient than buying a special piece of equipment to do the work. It does the job well, even if it is a little finicky to work with. If KitchenAid were to make a higher quality attachment that is more securely fastened, I would probably trade up.
Date published: 2020-11-05
Rated

3

out of

5
by
K2Manor
from
It makes perfect pasta sauce. No seeds, no skin.
I bought the vegetable strainer last month (Aug 2022) to process fresh tomatoes into sauce. The strainer cone split on the second day of use. I truly love the product and the sauce produced was perfect. Sadly it broke and I cannot find a replacement strainer cone.
Date published: 2022-09-04
Rated

3

out of

5
by
Yooper1
from
It Ain't a Squezzo
I've used a Squeezo for over 50 years and it's always worked. I got the Kitchenaid (KA) because cranking the Squeezo got to be too much, I've had both shoulders replaced and cranking got to be too hard. The KA works fine but it's limited. There needs to be more than one screen to deal this different foods. Squeezo had three screens, so you pick the screen for the food you're processing. If KA had two more screens with different hole sizes and a more robust screen seam, they might be as good as Squeezo. Oh: https://www.squeezostrainer.com/Product/squeezo-strainers/deluxe-original-all-metal-squeezo-manual-tomato-strainer/31827?1=1
Date published: 2022-08-13
Rated

2

out of

5
by
Tim503
from
Cone problem
This was the first time using it and it was great through most of the 6 gallons of tomatoes we were processing, but occasionally seemed to slow or speed up here and there. Frankly, seemed to generally work great, but then the seam on the cone popped just a little. This was purchased through kitchenaid and is registered, so called customer service and they sent the wrong part as a replacement. Tried calling again about it and they hung up on me. Right now, the rating is based on the part breaking and struggling to get it replaced. Marked no about recommendation because this is clearly an ongoing issue according to reviews, despite how well it worked at actually processing tomatoes.
Date published: 2021-09-27
Rated

2

out of

5
by
Don in Virginia
from
Catastrophic Failure
I've had this attachment for years and it generally does a good job for what I've used it for in the past…juicing soft fruits and vegetables. Today, for the first time, I was running a batch of blackberries for seedless jam. It seemed to be working well until it didn't…juice was flowing and the seeds/skins were being ejected as usual and then there was a loud pop. I immediately stopped the machine and disassembled the parts. Much to my dismay and horror, I saw that the sieve weld had failed! I will readily admit that the blackberries were the "seediest" fruit I had ever attempted to strain and apparently that is what ruptured the seam. Bottom line…for a company known for making heavy duty, last-a-lifetime appliances, this attachment failed the first time it was asked to perform a job more difficult than juicing a few oranges or summer tomatoes. I'm a life-long KitchenAid user and fan, but in this case, I am more than disappointed!
Date published: 2021-07-09
Rated

1

out of

5
by
RobertKw
from
Still can't use it
I bout the fruit and vegetable strains and the large food tray. Neither of them come with the middle attachment that you you need to make it work.
Date published: 2023-01-23
Rated

1

out of

5
by
Deebz2
from
Manufacturers Defect
This works pretty well but it is not durable enough. Others have made comments on this same issue. The strainer cone plastic tip will crack and the metal strainer will split at the seam. This is not from misuse but from what one would consider to be the normal pressures of the vegetable juice being strained and the skin/seeds being forced down through the center of the funnel and out the end. Ours lasted only TWO uses. KitchenAid should replace for free under a manufacturer defect but they do not. They sell the replacement part but it is not in stock anywhere. One is forced to buy the entire assembly again.
Date published: 2022-12-13
Rated

1

out of

5
by
scged7sedsggdfsct
from
Beware
Beware, this strainer only works with a certain model of the KitchenAid meat grinder and this info is buried on the website. I didn't realize this and when I tried to use the strainer 60 days after purchase and it didn't fit the meat grinder I reached out to KitchenAid to return. After waiting 40 minutes to chat with someone (the wait to speak with someone by phone was even longer) I received word that they have a strict policy of no returns after 30 days so I am stuck with a strainer that I can't use. A word of caution to others so you don't fall into the same trap. Won't be purchasing from KitchenAid again given these strict policies. Really disappointing.
Date published: 2022-11-14
Rated

1

out of

5
by
andy87
from
don't buy
Just got it on 09/08/2022 and the attachment is already broke very upset have a lot of tomatoes to do It is coming apart along the seme of the strainer
Date published: 2022-09-20
Rated

1

out of

5
by
Anonymous
from
Misleading Advertising
Just bought this without reading the reviews. Thought Kitchen Aid was a good company and I didn't realize that I needed another part to do what the box said it would do. I had a meat grinder that I had bought from Kitchen Aid years back and it appeared that it was going to solve the missing part problem. Even though it was the same part, it was just slightly different so as not to work. This is incredibly misleading and is what makes me not want to buy any future Kitchen Aid products. Y'all will make a little extra money now, but I intend on never buying any Kitchen Aid products in the future.
Date published: 2022-09-17
Rated

1

out of

5
by
Lisa Newc
from
fruit and vegetable strainer
I bought this but only came with 3 parts and no-one available at kitchen aide to call for spare parts. not the the part that attaches to the mixer. I have a ton of Roma tomatoes and no way to strain. In called and was getting a callback the following day but when I answered they hung up. good luck to all
Date published: 2022-07-31
Rated

1

out of

5
by
SheHasNoName
from
Doesn't Come with All Parts
The attachment doesn't come with all the parts needed to use it. You have to buy them separately. Unfortunately I can't use the item yet because I have to buy more pieces. They should be more upfront about this instead of suckering you in for money, it's already expensive enough.
Date published: 2022-03-23
Rated

1

out of

5
by
wanted this to work
from
FGA-2 not compatable
Contrary to the Kitchenaid Review Team's answer to the question "is it compatable with the grinder FGA-2" it isn't. I ordered the strainer based on that yes answer and had to return the strainer because it does not fit the FGA-2 grinder.
Date published: 2022-02-28
Rated

1

out of

5
by
billybob455
from
Lies, only comes with half the kit.
What a ripoff, you have to buy a whole other kit in order to get the parts you need as pictured.
Date published: 2021-09-15
Rated

1

out of

5
by
Michele in Oregon
from
Drive shaft broke with berries
Like others have said. This works great for tomatoes and I have used it a bunch for apples. However blackberries were too much. Like others, I expected more from a kitchen aid product.
Date published: 2021-08-29
Rated

1

out of

5
by
Call me JB
from
A lesson in planned obsolescence
I have several kitchen aid mixer accessories. When using my vegetable strainer to strain the seeds from blackberries, the main housing unit broke and the auger got stuck so tightly, I could not disassemble it. I looked online and hurriedly ordered a replacement strainer attachment because I have bushels of tomatoes to process. Today, I had several big bowls of tomatoes ready to process. I opened the new attachment and to my sad surprise, I learned I could not use it without the main housing unit — sold separately! I also had a meat grinder attachment, so tried using the main housing unit from it, but it would not fit it— a fraction of an inch difference in size. I called my son who has a newer meat grinder attachment than mine, and his was also not the right size. I am pretty disappointed in this whole expensive mess. Now I have a bunch of parts that I cannot use.
Date published: 2021-08-09
Rated

1

out of

5
by
Big Waste
from
A True Disappointment
I bought this attachment recently. I got it out of the box this morning to make fresh tomato juice. You know what? The box did not contain all the parts shown and I found out I have to buy the other necessary parts separately.. Nowhere did I see that this was the case before I purchased it. Had that been the case, I would not have purchased this attachment and now I want a refund..
Date published: 2021-08-08
Rated

1

out of

5
by
matter
from
Black Raspberry seeds broke the drive shaft !!!
I have used this attachment before to seed black raspberries with no issues but today it broke the drive shaft. This is a robust piece of metal! Lucky it didn't break the Kitchen Aid Mixer! I just used it as normal, putting soft berries in the hopper. It jammed 3 times and made a concrete like blockage of seeds. Almost impossible to clean and clear out. The 4th time it broke the drive shaft. I seed the black raspberries to make jam. It made jam all right -- JAMMED the machine! It should be able to seed black raspberries. No idea why it broke this time. And you can't buy just this part. The attachment doesn't work without the drive shaft. I have to buy the entire thing if I want another one. Not happy.
Date published: 2021-06-02
Rated

1

out of

5
by
Jon68
from
Lies about comparability
I bought this and already had the grinder. It literally doesn't fit and doesn't work. So don't waste your time or money and honestly kitchenaid sucks.
Date published: 2021-05-20
Rated

1

out of

5
by
Ginnylyn2008
from
Cone split on second use
My husband bought me this food strainer this fall to make tomato sauce and the strainer cone split at the seam near the end of the cone the second time I used it. The split is an inch long and leaves it unusable. Disappointed with the quality of a 50$ attachment that we realized after getting it that we needed another 50$ attachment (grinder) to be able to use it. Expected more from Kitchenaid
Date published: 2020-10-03
Rated

1

out of

5
by
MyraDB
from
Not compatible - Read the model numbers!
I received the strainer as a christmas gift and didn't realize until I bought a bussell of tomatoes that I also needed the grinder attachment. i went to the same store (and I try to avoid stores these days, you know, covid) where the strainer was bought and rolled out the dough to buy the grinder attachment. Got home, with the tomatoes still waiting, and the parts are incompatible! During a chat with Kitchen Aid, all I received was I am sorry this is confusing and that this is my fault because i should have done my research, including looking up compatibility of model numbers, on their website and since i didn't buy buy direct from them I was not eligible for a refund or exchange. I inquired their policies of informing their 3rd party sellers of this incompatibility, but they were not willing/able to tell me. But from the numbers of disgruntled people, I think maybe they didn't inform our local retailers. I feel very deceived! The Strainer box DOES NOT specify that it needs to be used with an additional sold separately attachment and once you figure this out, it is only compatible with certain food grinders that are still being sold.
Date published: 2020-09-17
Rated

1

out of

5
by
Terina
from
More Equipment Needed
When looking at the pictures, you would be under the impression that when you are buying the whole product... that would be incorrect. I took out my $50 fruit and vegetable strainer to make sauce today and found out I only had half of the equipment I needed.... and now I have to purchase an additional part....
Date published: 2020-09-13
y_2023, m_1, d_27, h_22
bvseo_bulk, prod_bvrr, vn_bulk_3.0.34
cp_2, bvpage2n
co_hasreviews, tv_0, tr_45
loc_en_US, sid_KSMFVSP, prod, sort_[SortEntry(order=RATING, direction=DESCENDING), SortEntry(order=SUBMISSION_TIME, direction=DESCENDING)]
clientName_kitchenaidbrand
bvseo_sdk, java_sdk, bvseo-4.0.0
CLOUD, getReviews, 40ms
REVIEWS, PRODUCT
Bundle summary&nbsp (&nbspitems)
If Purchased Individually*
*Offer subject to change. Limit one use per order. Valid for bundles delivered to a single U.S. address. Bundle savings based on current pricing available from KitchenAid.com. Only valid for new orders on KitchenAid.com.
See how we handle Returns
.