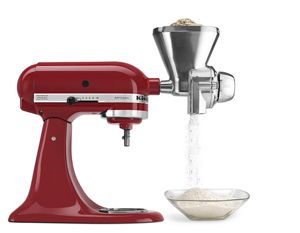 DOES IT FIT IN YOUR SPACE?
Use your camera to view in your room.
Key Features
Works with all KitchenAid® Stand Mixers*
Easily Grind a Variety of Grains
12 Grind Levels for Your Ideal Texture
Sign in to unlock lower pricing
Protection Plans (Optional)
Flexible Appliance Protection Plans for Your Needs Learn More
Accessories & Attachments
Items frequently bought together
WHY SHOP KITCHENAID® APPLIANCES
*Your rate will be 0% or 10–36% APR based on credit, and is subject to an eligibility check. Payment options depend on your purchase amount, and a down payment may be required. Payment options through Affirm are provided by these lending partners: affirm.com/lenders.
Overview
Product Description
All Metal Grain Mill
With freshly-milled grains or flour you can easily add a hearty taste and texture to your delicious baked goods. The all-metal KitchenAid® Grain Mill Attachment attaches directly to the power hub of any household KitchenAid® Stand Mixer* to grind wheat, oats, corn, rice, and other low-moisture, low-oil grains. And this attachment provides the versatility you need with a variety of grind levels to choose from - easily go from 'cracked' to extra-fine consistency. Use the provided cleaning brush as you transition between different grains and after each use. *sold separately.
What's in the box
Model KGM Includes
(1) Grain mill attachment
(1) Cleaning brush
Features
Works with all KitchenAid® Stand Mixers*
Connect to any household KitchenAid® Stand Mixer* power hub and use the power of the motor to run the All Metal Grain Mill Attachment. *sold separately.
Easily Grind a Variety of Grains
Quickly and easily grind non-oily grains such as wheat, oats, rice, corn, barley, buckwheat, millet and other cereals.
12 Grind Levels for Your Ideal Texture
Select one of the 1 of the 12 levels on the dial to grind to your desired texture - from a very coarse "cracked" to a fine grind.
Easy to Clean
Simply use the provided brush to clean the unit after each use when changing types of grains
Additional Features
Model KGM Includes
(1) Grain mill attachment, (1) Cleaning brush
Specifications
Certifications
Refinements
Features
Pasta Attachments
Model
Stand Mixer Type
Bowl Lift, Tilt Head
Dimensions
Reviews
Rated

5

out of

5
by
Evaliz
from
sturdy
I have been using Kitchen products for ages. Need a grain mii now. i saw this add. i have a question, from grinding will the finished product spread all over the place? I definitely need one .
Date published: 2021-03-15
Rated

5

out of

5
by
Manning Fam
from
After a 4 year wait
I have been lolking to buy the mill for 4 years now and went to loom at it when the pandemic hit they was sold out. Found on amazon on v day this year and to my suprise it was cheaper than here by 30 bucks... Now just have to wait til i get my long weekend off to mill flour to make cookies and bread. Next up is ordering other attachments thats going to make cooking even better for my young kids.
Date published: 2021-02-18
Rated

5

out of

5
by
Carnivore
from
Great product.
This does the job. Overall, I'm very happy with this attachment, however,you need to check the retaining nut's tightness after turning it on. I've had the nut work loose twice, and the mill spin off if I don't check the nut right after I turn it on.
Date published: 2020-10-30
Rated

5

out of

5
by
Tammy 79
from
Wonderful
Bought it last year on amazon I use it everyday I love it I use it for my breakfast
Date published: 2020-06-20
Rated

5

out of

5
by
Risbat
from
Works Great
Bought grain mill attachment to mill my own flour, trying to find a bag of flour these days it almost impossible lol. Mill works great a little loud at full speed with the kitchen aid
Date published: 2020-04-20
Rated

5

out of

5
by
Starcat
from
Professional Quality
I tried making flour from wheat berries and was surprised with how easy it was to set up and grind. The Grain Mill is as sturdy as I expected, and it worked flawlessly. Simple to adjust the grind even while the machine was running. This takes a bit of getting used to, but the first try went so well I am looking forward to being able to make my own cereals and flours!
Date published: 2020-03-18
Rated

5

out of

5
by
BirdWatcher
from
A Substantial Workhorse!
The weight of the mill is a indicator of the design and robustness of its functionality. Upon my first use in grinding Rye Berries (which are an extremely hard grain), the mill went through the berries flawlessly. I absolutely love this item!
Date published: 2020-01-29
Rated

5

out of

5
by
Patmihlfeld
from
excellent grain mill
I bought one several months ago but didn't get around to really using it till September. Since then I've milled more than 30 lbs of grain with it. It works very well and Mills a variety of grain from course to very fine. I've milled cake flour with milk mine several times and the flour works great in fine pastries. Very well made and should last for many years. The warranty is very good and the customer service is excellent.
Date published: 2020-01-10
Rated

5

out of

5
by
teacherlady82
from
East to use; great results
I've always wanted to try making bread with very fresh grain. I expected the "process" of milling to be a bit of a chore but this attachment with the power of the base - wow ! Instant. And the bread was incredible. This is a wonderful investment.
Date published: 2019-09-19
Rated

5

out of

5
by
RM29
from
So simple and easy!
I use this mill to grind my home grown flint and flour corns as well as sometimes grinding oats or rye. It could not be easier to attach it, pour the grain in and switch it on. Using fresh grain makes a world of difference in the final flavor of the meal.
Date published: 2019-09-17
Rated

5

out of

5
by
DJGLENN
from
Does What's Needed-Grind Away
I just love having this piece of equipment- it just does grinding al items so easy and with few mess been made
Date published: 2019-06-24
Rated

5

out of

5
by
Amandapanda
from
Just What I Wanted!
This grain mill was a Christmas gift from my wonderful and generous father-in-law. I like to grind my own flour that I then use to bake bread. The grain mill makes it so much easier than the old method I used previously. Thanks, Larry! You're the best!
Date published: 2019-02-21
Rated

5

out of

5
by
Mikgee
from
Works great
I am very pleased with this.. I'm new at baking bread and I'm excited to be able to grind my own flour for a healthier alternative to commercial flours.
Date published: 2019-02-13
Rated

5

out of

5
by
Tyken
from
Great attachment!
I bought this few weeks ago and have been using it for my dry grains. Great outcome so far!
Date published: 2018-12-13
Rated

5

out of

5
by
Mr Lakay
from
5 stars but mixed reviews
I really love the grain mill. it does its job i want to make spelt grain bread and noodles and other assorted grinding tasks. the mill is great Mixer #1 was a costco 475 WATT motor worked great till i made 6 loaves of bread and then the machine got hot and the worm drive failed... so i ordered a new 7 quart model and thought my grinding will be pure bliss... of course Kitchen aid lady on the phone insisted on free shipping which meant that the box took over a month to arrive... well finally yesterday it arrived... i attached the Grain Mill Attachment ... was a little jiggly but so was the first smaller mixer... i did notice the thumb screw on the 7 quart had a pointy tip and the knob was shiny smooth and didnt feel like i could get it tight as i would like but i made it tight as i could without using vise grips or channel locks ... loaded up with spelt and slid the lever to 10 for Fast speed. Man oh man it was smoth steady and much quieter than the little mixer, the Mill did a great job as i expected... so i started moving around the kitchen to prepare some other items while the grinder worked the first hopper load for me... dream come true.... then BANG... CRASH ... I turn around and see the mill on the floor, grain and flour All over the floor and the counter and unimaginable places, and the little flapper that covers the attachment drive port was on the floor.... end of joy and happiness.But, Not the blame of the Grinder itself. so I closely examined the parts and see that the tip on the thumb screw is quite pointed, while the divot on the attachment is more rounded, and when i re-attached it and jiggled it i see the screw will start loosening, so i think there may be a solution with a better thumb screw perhaps larger with knurling to allow for a better non slip grip to tighten better, and the tip of the threaded end shaped to be compatible with the divot on the implement.As for the little flapper cover, i was able to push in at an angle and twisted it back on and it seems fixed. The attachment is great for its purpose does a fine job, i loved my flour. better for me to have the counter space not taken by an additional flour mill. it is a little slow to gring but sometimes we need to slow down a bit and smell the roses along the way dollar for dollar i give it 2 thumbs up....
Date published: 2017-12-17
Rated

5

out of

5
by
Joe
from
Great!
Great! Solid construction, light weight, easy to clean. A Kitchen Aid stand mixer has plenty of power. I highly recommend, you cannot beat the price for value.
Date published: 2017-05-25
Rated

5

out of

5
by
asedapa
from
Grain Mill is great
Its fantastic to sit back and watch the mill grind wheat berries fresh for the baking. It was easy to attach the grinder. No mess no fuss.
Date published: 2017-01-30
Rated

5

out of

5
by
Jan
from
Good Worker!
This mill is a workhorse! It does the job, and you can regrind the product if you want your flour even finer. So far, I have had no problem with it heating up too much, either. Nice tool!
Date published: 2017-01-06
Rated

5

out of

5
by
SueBee
from
Great Grain Mill!!
This is an excellent product for grinding my grains for gluten-free bread. I can even make some of my flours finer than I purchased. My husband loved it too and he even took over grinding my grains! Worth my purchase!!
Date published: 2016-12-10
Rated

5

out of

5
by
Whole cook
from
Works great!
It takes a little longer when on the finest grind setting when I did winter wheat but that is understandable. Gets a little warm from the friction but the flour turned out great. The manual said that it would be a little more coarse than conventional flour because they sift out the berries but I could even tell when I compared the two.
Date published: 2016-11-17
Rated

5

out of

5
by
David
from
Excellent product
I bought this over 6 months ago and have been extremely pleased. The machine is easy to operate. My family has enjoyed all of the freshly made breads, pancakes, waffles, pies, and cakes that I have made grinding grain with this machine. The dial gives ample options for the fineness of the grain from very fine to coarse. Clean-up takes just a little time and effort, but you don't have to wash it each time, so it's no problem whatsoever. The process itself is loud, but that is to be expected. It is more quiet than the coffee grinders my parents' use to use. The flavors from freshly ground grain have been superior.
Date published: 2015-10-08
Rated

5

out of

5
by
Dave
from
A great attachment
I was all set to buy a single purpose mill grinder when I happened upon this attachment at a store. It work fantastic and is easy to clean. I like the fact that in could be modified to be driven manually if the need ever arose for it. Designed with basic mechanics and durable. Everything you need and nothing you dont
Date published: 2015-05-28
Rated

5

out of

5
by
briteleaf
from
Dependable mill
My brother in law gave me this mill many years ago. We bake all of our breads and so we bought some hard red winter wheat and voila, flour. The mill is easy to clean and is as dependable as the rain here in NW Oregon. We grind flour and make all our baked goods about once a week and have been doing so for about 5 years. It connects to the Kitchenaid in a few seconds and is always ready to mill flour. I run it on 7 and by the time I have all the rest of the bread ingredients out and measured, the flour is done.
Date published: 2014-11-28
Rated

5

out of

5
by
sanantoniobluesman
from
Fantastic options and features!
I have thourghly enjoyed using my new stand mixer!
Date published: 2014-05-27
Rated

5

out of

5
by
kandiek
from
Love this attachment!
This gives me added features for my mixer, and I love it!
Date published: 2014-05-18
Rated

5

out of

5
by
DaniD
from
works great!
I got this as a gift for christmas and use it all the time!
Date published: 2014-05-17
Rated

5

out of

5
by
Paul5630
from
Retired police officer turned amateur baker.
I'm a retired police officer (38 years) and a chef / baker wannabe. This machine is the ultimate culinary power tool . I find myself looking for things to do that would require the use of the mixer. I give it two thumbs up.
Date published: 2014-05-16
Rated

5

out of

5
by
Terisue
from
The Best!
I absolutely love my kitchenaid mixer makes everything easier
Date published: 2014-05-15
Rated

5

out of

5
by
kitchenaid
from
Kitchenaid products
I have several Kitchen aid products, the double oven Selectra Suprebra which I love the convection oven. It works well when baking and roasting. I have the Kitchen aid dishwasher that clean very well. I must say that the products I just mention are over 10 years. I have the mixer which is over 15 years and works as well as when I pruchased it. I have the single blender which Ilove. The products are durable and sturdy for the years of use. I also have a refrigerator.
Date published: 2014-05-15
Rated

5

out of

5
by
cefs
from
Easy to use!
This product as all of my Kitchen Aide attachments are so useful and easy to use. It makes life in the kitchen so much easier.
Date published: 2014-05-15
y_2023, m_3, d_21, h_22
bvseo_bulk, prod_bvrr, vn_bulk_3.0.34
cp_2, bvpage2n
co_hasreviews, tv_3, tr_286
loc_en_US, sid_KGM, prod, sort_[SortEntry(order=RATING, direction=DESCENDING), SortEntry(order=SUBMISSION_TIME, direction=DESCENDING)]
clientName_kitchenaidbrand
bvseo_sdk, java_sdk, bvseo-4.0.0
CLOUD, getReviews, 14ms
REVIEWS, PRODUCT
Bundle summary&nbsp (&nbspitems)
If Purchased Individually*
*Offer subject to change. Limit one use per order. Valid for bundles delivered to a single U.S. address. Bundle savings based on current pricing available from KitchenAid.com. Only valid for new orders on KitchenAid.com.
See how we handle Returns
.