Stainless Steel Flat Beater for KitchenAid® 4.5 and 5 Quart Tilt-Head Stand Mixers
Model: KSM5THFBSS
Model: KSM5THFBSS
Stainless Steel Flat Beater for KitchenAid® 4.5 and 5 Quart Tilt-Head Stand Mixers
KSM5THFBSS
Model: KSM5THFBSS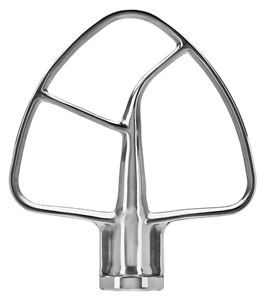 DOES IT FIT IN YOUR SPACE?
Use your camera to view in your room.
Key Features
For KitchenAid® 4.5 and 5 Quart Tilt-Head Stand Mixers
Model KSM5THFBSS includes
Sign in to unlock lower pricing
You will be redirected to PayPal, an independent third party, after which you will have a chance to Review your order.
Protection Plans (Optional)
Flexible Appliance Protection Plans for Your Needs Learn More
Overview
Product Description
Stainless Steel Flat Beater for KitchenAid® 4.5 and 5 Quart Tilt-Head Stand Mixers
Stir all of your mixtures, even heavier ones, like biscuits, mashed potatoes and pie crust with this flat beater; Made with 100% stainless steel for quick clean up and long lasting durability. Fits all 4.5 and 5 Quart KitchenAid® Tilt-Head Stand Mixers, sold separately.
What's in the box
Model KSM5THFBSS includes
(1) Stainless steel flat beater
Long-lasting Durability
100% stainless steel material is hard-wearing for long-lasting durability.
Easy To Clean
100% stainless steel material is dishwasher-safe for quick cleanup.
For KitchenAid® 4.5 and 5 Quart Tilt-Head Stand Mixers
Fits all 4.5 and 5 Quart KitchenAid® Tilt-Head Stand Mixers, sold separately.
Model KSM5THFBSS includes
(1) Stainless steel flat beater
Additional Features
Configuration and Overview
Features
Fits Stand Mixer Models
Tilt-Head
Rated

5

out of

5
by
Baking Stuff
from
Dishwasher safe
After going through several of the chipping/flaking coated beaters, I was frustratingly looking for something more durable. I almost didn't buy this because of the reviews, but I took a chance anyway because the claims didn't make sense. There are a lot of folks giving one star because the beater is "not dishwasher safe," however, if you look at the pictures of their "defective" product, they have the burnished beater, not the stainless steel. I have no idea why Kitchenaid ever made a non-dishwasher safe burnished beater (it now shows out of stock), but this stainless steel beater is definitely fine in the dishwasher (like anything else that is a single piece of stainless steel). It is more expensive, but definitely worth it.
Date published: 2019-05-15
Rated

5

out of

5
by
jcastilleja
from
Flat Beater And Dough Hook
So the beaters that came with my mixer are not stainless steel, and washing them in the dishwasher creates a black film. The product manual clearly states this, but I ignored it. However, the film is pretty easy to remove with a little scrubbing. There is no need to throw the beaters away. Just wash them by hand and dry carefully. I love my mixer. I did not have a stand mixer until I was in my 60s, and now I don't know how I lived without it!
Date published: 2019-04-22
Rated

5

out of

5
by
up a creek with no paddle
from
this will outlast me!
This is stainless steel. A magnet will not stick to it. I used to have the white, enamel ? coated beater and over time the enamel finish would chip off. Not with this bad boy. For those folks who did the reviews on a beater bar that turned colors in the dishwasher, well, it wasn't this one. It must have been another flat beater. I've run it through the dishwasher with no problems. I should have purchased this a long time ago!
Date published: 2019-03-30
Rated

4

out of

5
by
KarenDe/NJ
from
Love my Kitchen Aid but.......
This Kitchen Aid was my Christmas gift about 20 years ago. It's the Professional model. I only use it about twice a year at Christmas and Easter for baking cookies, pies and cakes. But recently I have been using it quite often because of the pandemic. I have replaced the beater earlier because of chipping issues and started using the stainless steel which was great until recently I notice this gray stuff appearing in my cake batter and my cake when done has a dark swirl in it. I always had wash. Is this harmful? Can I get a replacement. Was there ever a recall on this product? Is it lead? Help....
Date published: 2020-11-28
Rated

3

out of

5
by
Kevin P
from
Professional 600 Mixer is great but……
I have the Professional 600 stand mixer and had always washed the blade by hand and had no issues until my daughter put it in the dishwasher. The blade discolored and had a black dust on it. I called to inquire about this and was told the blade oxidized from the detergent and I should clean with baking soda and lemon juice solution every time it is washed even if washed by hand. There is no stainless option for the 600 only the white coated option that other reviews say it flakes off over time. This is very disappointing that a stainless option is not available
Date published: 2021-09-17
Rated

3

out of

5
by
Kelly001
from
I want to cry
My husband purchased the professional Kitchenaid for me, which I love, but my dough hook and flat beater have both turned gray and gets all over everything. I have tried to remove this, to no avail. I miss my shiny attachments and unfortunately parts for the professional model are hard for me to find.
Date published: 2020-12-26
Rated

3

out of

5
by
Anonymous
from
Flat beater became gray after the dishwasher!!
Someone bought the the stand kitchenaid mixer for my wedding in the end of 2018. But I barely use it cause it's little heavy and take up spaces. So I always have it in the box and only use maybe 3-4 times. Just recently due to Covid-19, I have to work from home and bake a lot lately. And my flat beater became gray charcoal, after one wash in dishwasher cause I thought it's stainless steel like the wire whip. So I don't know what I did wrong cause I put the wire whip in dishwasher too and nothing was wrong with it. I was looking to buy the new one, but then after I looked around and ran into this page where a lot of people have the same problem as mine. So I don't know if it's ours fault That we put it in the dishwasher or the product is defected.
Date published: 2020-04-16
Rated

3

out of

5
by
DoNoHarm
from
I love my Kitchen Aid mixer, but....
The beater and whisk attachment HAVE TO GO. That black stuff you see is a big problem. These KA attachment pieces were tested at 445 ppm for LEAD. Safety levels for children tops out at 90 ppm. https://tamararubin.com/?s=kitchenaid Serving cookies and cakes to the children? Gee, this is oversigh is a bad mistake.
Date published: 2020-02-28
Rated

3

out of

5
by
cindylynnie
from
Not truly dishwasher safe
After going through the dishwasher, it came out tarnished to a charcoal black. Upon using it for cookie dough, the tarnish came off in the dough! I would not advertise that it is dishwasher safe.
Date published: 2018-12-17
Rated

2

out of

5
by
StuckWithoutAPaddle
from
Unknown features, they don't make the size I need
Kitchenaid does not make a stainless steel paddle for the Professional 5 lift bowl model, even though they know their coated paddles all eventually start chipping, mine has been bubbling almost since I got it. I've seen several requests for it just in this Q&A, not sure why this particular size appears to be the only size you don't make in stainless steel. But if the ratings are as bad as they appear to be, maybe I'm better off without it.
Date published: 2023-11-19
Rated

2

out of

5
by
Edshamom
from
Flat beater unusable after dishwasher
I used my kitchen aid mixer last week to make brownies. It worked well but after the flat beater was washed it leaves gray pow der on hands and towels. Now I ant use the machine. What can be done. My grandchildren want cookies and muffins! I got the stand mixer to make bread and now wonder if the dough hook will have the same problem. So disappointed. My ratings are based on the beater issue. Otherwise I love the mixer.
Date published: 2022-07-07
Rated

2

out of

5
by
Trude AZ
from
Tarnished beater
I love my Pro 600 (KP26M1XPM) and have been using it for years, but I started noticing that a gray residue would come off the flat beater when I wiped it. Then my hubby accidentally put it in the top rack of the dishwasher and it came out dark gray with a gritty texture! Is this safe to use? I cannot find a replacement beater. Will the 4.8L flat beater fit KP26M1XPM model? Any help would be appreciated.
Date published: 2021-09-21
Rated

2

out of

5
by
K Clay
from
Functionally great—but ruined in dishwasher
Not DW safe. I put it in the dishwasher and now it has a filmy dark gray residue coming off it, useless as I can't use it to mix baked goods if stuff is coming off of it. It says it's DW safe but now I have to buy a new flat beater. Not sure if I should buy an off brand to solve this or what...? Seems I'm not the only person with this issue. It's a mixer I've had for a couple years and used only 15?times.
Date published: 2020-12-15
Rated

2

out of

5
by
ElizabethL
from
Great for years and then turned black
I've had my mixer for years and have loved it. Recently I pulled out my flat beater, only to have it turn my hand black. I cleaned it as best I could, but I'd like to know if it's dangerous to use now with food. I probably did put it in the dishwasher, but I've done that before with no problem until now.
Date published: 2020-08-09
Rated

2

out of

5
by
Kae71
from
Love my mixer my attachment turned gray and black
My flat beater turned gray and black is rubbing off of it. What is it made of and why can't we put it in the dishwasher. The white ones chip and this one is unusable. Soooo instead of just asking us to contact you can you tell us what are our options are to safely use our mixers. Thank you!!! We are in a pandemic my family wants cookies!
Date published: 2020-07-30
Rated

2

out of

5
by
Gmomma35
from
Doesn't fix KSM5PSWW mixer
The blade probably deserves 5 stars as it is SS and very heavy-duty. Unfortunately, I can not use it b/c it doesn't fit my mixer. I could have sworn when I ordered this, it indicated it was the right blade for my mixer. (Model #'s both start with KSM5..). But this blade's stem is too short. The product data on this page does NOT indicate which model mixer it is for & KA had SOOO many different model #'s.
Date published: 2020-05-03
Rated

2

out of

5
by
areharte90
from
Lost it's tarnish in the dishwasher
I received a mixer for my wedding shower in 2018 and recently my husband ran the beater through the dishwasher - normally I would hand wash it just out of an abundance of caution, however, after run through the dishwasher it was as if it lost the silver coating and it was a dark, ashy grey. It also smelled like metal and I ended up throwing it away as it seemed as if it would taint the flavor of anything I used it with. When I did use prior to this, it worked well.
Date published: 2020-04-29
Rated

2

out of

5
by
tom1561
from
The tools work well but they are discoloring
We bought the blending tools about 2 years ago but have not used them much until recently. I have been making several batches of dough and at times I would find grayish residue on my hands and in the dough after investigating we discovered the dough hook and flat beater both are discoloring and shedding a grayish black film, very concerning. We are concerned that are food has been contaminated by this residue. please advise
Date published: 2020-04-28
Rated

2

out of

5
by
Mandi G
from
Works great but what's this discoloration?
I finally used my mixer and it came with this attachment. When I made cake for the first time by beautiful white cake had a silverish/ grey hue to it. I'm nervous about making bakery items for non family now if it's going to be discolored from the metal rubbing on metal.
Date published: 2020-04-27
Rated

2

out of

5
by
quarantine cook
from
does not for 5qt Pro unit. blade is too small.
Nice beater. The stainless is too small for our 5qt pro mixer.
Date published: 2020-03-29
Rated

2

out of

5
by
RWal421
from
Disappointing
My KitchenAid is my best friend in the kitchen. I use it all the time. I was so disappointed when my flat beater started turning EVERYTHING black. I thought I may have done something wrong but then read the multiple reviews. This was the main attachment I used so until I find a replacement my KitchenAid just sits.
Date published: 2020-03-29
Rated

2

out of

5
by
kekoa79
from
Needs A Big Sign Saying NOT DISHWASHER SAFE
I bought this for my wife, years ago at Costco. I think it was the first or second time using it and she threw the flat beater in the dishwasher. It's oxidized like everyone elses. We continued to use it, even though it's ugly. Not sure if it's safe to use. It would help if there was a big "NOT DISHWASHER SAFE" tag on it when we bought it.
Date published: 2020-03-19
Rated

2

out of

5
by
CookieWalker
from
Sub standard attachment.
Since I learned to love cooking as a young person, I was always envious of my Aunt's K5A mixer. Finally I was able to procure my own and love the machine and general Kitchenaid quality. WHY o WHY is this flat beater of such poor quality. Certainly, it works fine, but when first I noted the black buildup on it after washing, well I was greatly disappointed, to say the least. After scrubbing and immediately drying this item I convinced myself it wasnt toxic and could be used, grudgingly. This event caused me to survey my other KitchenAid products to search for hidden flaws or defects. It amazed me that such a fine mixer would come with such a sub-standard part. Ceertainly not dishwasher safe, and requires immediate drying!
Date published: 2020-02-20
Rated

2

out of

5
by
Deedee323
from
Love my mixer but the attachments don't hold up
I love my mixer, however this beater and Emmy whisk have both gone black after going in the dishwasher. I literally coated a paper towel in black.
Date published: 2019-09-03
Rated

2

out of

5
by
Nursemom86
from
Not Dishwasher safe
I'm so angry, I should have know better but was short on time and put my flat beater in the washer. Like everyone else it turned black and got all over everything. Definitely not stainless steel. Basically just threw $300 plus dollars in the trash. Not cool!
Date published: 2019-07-04
Rated

2

out of

5
by
Dana1919
from
Turns black after years of use
I've proudly used my kitchen aid bowl lift stand mixer since I got married 15 years ago, but recently the blade is oxidized and coated in a black substance. I can no longer use it. I wish kitchen aid would fix this issue. Disappointing.
Date published: 2019-04-22
Rated

1

out of

5
by
Cldsmit
from
Moldy residue
I came to this site to replace my flat beater and dough hook because there is this residue on them that is gray and impossible to wash off. When you do get it off, it "grows" back. I thought this was an isolated incident because KitchenAid is/was great but there's another review stating the same issue. I can't find replacements anywhere and now will have to purchase another mixer from another brand.
Date published: 2023-11-26
Rated

1

out of

5
by
lifetime multi generation
from
poor quality w/ chipping & aluminum oxide tarnish
poor quality w/ chipping & aluminum oxide tarnish I to paid a lot for the attachments and they all have the same problems as the other reviewers: tarnishing chipping andvthe like. regardless of KitchenAid saying "we test them third-party" my family does not want to use the attachments with chiped paint. hopefully by simply not buying KitchenAid anymore they will return their quality to the high standards of the old days in order to convince us to trust them once again. you built a strong name with quality. Please return to your roots. or, since you are selling items with reduced quality, why don't you make the mixer $50 and attachments $5?
Date published: 2023-06-03
Rated

1

out of

5
by
Linh T.
from
Not recommended… bad quality
I wish I had read these reviews before getting my KA stand mixer. quality has gone down. just like these reviews my dough hook and this beater had oxidized and left gray residue that i can't wash off. i can't find the replacement anywhere and can't use the machine anymore. i am going to tell family and friends not to buy these machines anymore and go with a different brand. so so disappointed with KA
Date published: 2023-02-26
Rated

1

out of

5
by
Deetl
from
Poor quality
First thing is that my mixer sounds like a jet taking off, my moms older version doesn't sound like that. Second, the flat beater and dough hook that came with it the white porcelain chipped almost immediately, and now come to find out there is lead used in the product and I have been using them to bake cookies and cakes for my kids and grandkids l. Im quite disgusted with this, I'm not sure why you don't get stainless steel for all of the products and my wire whip is tarnished and nasty. For as expensive as these items are the quality and craftsmanship is not what it use to be, you would think with technology you would do better and not worse. Just the world we live in today, quay is obsolete l.
Date published: 2023-01-26
y_2023, m_12, d_10, h_7
bvseo_bulk, prod_bvrr, vn_bulk_3.0.37
cp_2, bvpage2n
co_hasreviews, tv_0, tr_80
loc_en_US, sid_KSM5THFBSS, prod, sort_[SortEntry(order=RATING, direction=DESCENDING), SortEntry(order=SUBMISSION_TIME, direction=DESCENDING)]
clientName_kitchenaidbrand
bvseo_sdk, java_sdk, bvseo-4.0.0
CLOUD, getReviews, 39ms
REVIEWS, PRODUCT
Bundle summary&nbsp (&nbspitems)
If Purchased Individually*
*Offer subject to change. Limit one use per order. Valid for bundles delivered to a single U.S. address. Bundle savings based on current pricing available from KitchenAid.com. Only valid for new orders on KitchenAid.com.
See how we handle Returns
.
WHY SHOP KITCHENAID® APPLIANCES
*Your rate will be 0% or 10–36% APR based on credit, and is subject to an eligibility check. Payment options depend on your purchase amount, and a down payment may be required. Payment options through Affirm are provided by these lending partners: affirm.com/lenders.