Pastry Beater for KitchenAid® Tilt Head Stand Mixers
Model: KSMPB5
Model: KSMPB5
Pastry Beater for KitchenAid® Tilt Head Stand Mixers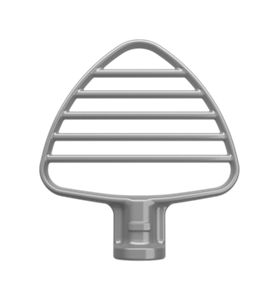 DOES IT FIT IN YOUR SPACE?
Use your camera to view in your room.
Key Features
Fits all 4.5 and 5 Quart KitchenAid® Tilt Head Stand Mixers*
Substitute for a Handheld Pastry Cutter or Blender
Easily Cut Butter into Flour for Flaky Pastries
Also Great for Shredding and Mashing
Cleaning is Easy with the Included Scraper
Sign in to unlock lower pricing
Protection Plans (Optional)
Flexible Appliance Protection Plans for Your Needs Learn More
WHY SHOP KITCHENAID® APPLIANCES
*Your rate will be 0% or 10–36% APR based on credit, and is subject to an eligibility check. Payment options depend on your purchase amount, and a down payment may be required. Payment options through Affirm are provided by these lending partners: affirm.com/lenders.
Overview
Product Description
Pastry Beater for KitchenAid® Tilt Head Stand Mixers
Make handmade quality pastry dough, with less effort, using the KitchenAid® Pastry Beater Accessory. This accessory fits all 4.5 and 5 Quart KitchenAid® Tilt Head Stand Mixers* and was specifically designed for the challenging task of cutting cold butter into doughs for light and flaky pastries, which is often done by hand. In addition to cutting cold butter, this accessory is great for shredding meats, mashing fruits and vegetables and more. *sold separately.
Features
Fits all 4.5 and 5 Quart KitchenAid® Tilt Head Stand Mixers*
Simply attach the pastry beater accessory, secure your bowl, and you're ready to mix, cut, shred, mash and more. * Sold separately.
Substitute for a Handheld Pastry Cutter or Blender
The beater design works seamlessly with the bowl to break cold butter into small pieces, creating a consistent texture and even distribution, minimizing the risk of overmixing.
Easily Cut Butter into Flour for Flaky Pastries
Make pastry dough for a variety of dishes, such as biscuits, scones, tarts, empanadas, with less effort.
Also Great for Shredding and Mashing
The pastry beater can also be used to shred meats and mash fruits and vegetables - great for applesauce, mashed pinto beans, chunky jam, egg salad, mashed potatoes and more.
Cleaning is Easy with the Included Scraper
Quickly and easily remove dough from the beater with the included scraper. Dishwasher-safe as well.
Additional Features
Specifications
Certifications
Features
Mixer Type
Fits Household Mixers
Dimensions
Reviews
Rated

5

out of

5
by
James t
from
Great and easy to use
I love this attachment because it does just as good of a job mixing dough as I usually do by hand. if I am making pastry dough I usually have several things going on with the recipe and this makes everything quicker and easier.
Date published: 2021-11-02
Rated

5

out of

5
by
CindyF1977
from
Great addition for the holidays!
I got this attachment for my KitchenAid Stand Mixer a couple weeks ago and couldn't wait to put it to use! I was wondering when they would come out with something like this and than they did so I knew I had to jump on the opportunity! The attachment came packaged well with no issues at all. It is extremely easy to attach to the stand mixer. I used the attachment in a trial run before the busy holiday cookie season and it did not disappoint! It performed well and did a great job of cutting the butter into my dough no problem! Before I would have issues with all the dough getting caught into a big ball. This attachment serious put a end to that! And will be a huge help this cookie season. I love that they included the scraper! It's ideal and perfect for getting any dough off the beater. I would absolutely recommend to anyone looking for a great pastry attachment for the upcoming holiday season! You will not be disappointed! This is a true blessing and will make things so much easier!
Date published: 2021-10-31
Rated

5

out of

5
by
Chicago Dad
from
Great convenience
The first thing we made with our new pastry beater was biscuits. The pastry beater cut down several steps in the preparation process, greatly reducing the time to go from zero to tasty biscuits. This is a must have addition if you're going to use your mixer to make pastries. It just makes it so much easier and more convenient.
Date published: 2021-10-31
Rated

5

out of

5
by
cmjn
from
Great features!
I have had this for awhile and love using it! It really makes blending my pastry recipes easier! I have used it for cookie and pie dough and mashed potatoes so far. I love that it scrapes the sides of the bowl for me so I don't have to do it myself!
Date published: 2021-10-31
Rated

5

out of

5
by
Jooe
from
Love KitchenAid
Got this for my wife because she's obsessed with her KitchenAid products and guess who is the best husband ever? That's right! Me! I love to watch her use it knowing it comes in handy. She hasn't complained and loves using this mixer for mashed potatoes. Greta gift!
Date published: 2021-10-28
Rated

5

out of

5
by
Koko86
from
Pastry dough without all the effort
A must have attachment for everyone who owns a kitchenaid lift stand mixer with stainless steel bowls. This saves me from having to cut cold butter into flour by hand when I'm making any pastries that have a flaky dough. It helps keep me from over mixing and ending up with dough that has to be tossed. It comes with a scraper so cleanup is a breeze and it's dishwasher safe. You can use this for many other things, I make my own baby foods at home and this is good for mashing upon shredding meats, fruits and veggies too. With the holiday season coming up and all the baking I do this will get plenty of use and I'm so glad I have this to make it easier on me!
Date published: 2021-10-26
Rated

5

out of

5
by
Bblott
from
Great product
I love my Kitchen-aid mixer. I've had it for over 30 years and any additional attachments I can find I am super happy about. This pastry blender is perfect for just about any mixes I use. Easy to attach, very sturdy and works perfectly.
Date published: 2021-10-26
Rated

5

out of

5
by
Evuci
from
Great
Great accessory. It's very easy to attach to the machine and do a great smooth and fast job. It makes pastry lump free in no time. It very easy to clean after use.I love it. I can recommend it to anyone who loves baking.
Date published: 2021-10-26
Rated

5

out of

5
by
Anonymous
from
High Quality
KitchenAid only deals in quality and they did again with the pastry beater. I make a Maltese flakey pastry called pastizzi that requires beating in cold butter. The pastry beater has noticeably sped up the process and gives me a more consistent dough more quickly. I also appreciate the seamless joints in the beater. Nothing can get stuck if there are no real corners!
Date published: 2021-10-23
Rated

5

out of

5
by
JinxB
from
Excellent addition to KitchenAid
My wife and I love watching baking shows. We've been trying to perfect our pie crust making skills. The pastry blender from KitchenAid takes this to a new level. It blends the crust without melting the butter which makes for a flaky perfect crust. We can't wait to see what else this pastry blender can do. This is a must have product for any baker.
Date published: 2021-10-22
Rated

5

out of

5
by
Dave Thor
from
Perfection!
We tried out our pastry beater for our KitchenAid mixer and it was fantastic. My girlfriend tried it out with her grandmothers croissant recipe, and man, I didn't think they could get any better. They were way more flaky than normal and had a consistent flavor until the last bite. I also tried it out with my grandmothers pie crust recipe and it was great. I always have a hard time getting the dough to stick together while not over mixing. This really simplified the process. And again, the dough was mixed to perfection. (it's not set it and forget it - make sure to keep an eye on it! Overall, highly recommend. It can really take the frustration out of mixing pastry dough!!
Date published: 2021-10-20
Rated

5

out of

5
by
Abugna
from
Great Addition!
I love making pie dough and biscuits and this attachment has really made it easier to bring the dough together for all these things! I have also really enjoyed using this for cookie dough and anything else dough like. I highly recommend adding this to anyone's collection.
Date published: 2021-10-20
Rated

5

out of

5
by
Jbubman
from
High Quality, comes with instructions
Admittedly, I'm a novice baker. I was a little worried that I wouldn't be able to properly figure out how best to use this attachment. Thankfully, it came with instructions/procedure on how to put together a pie crust. Worked very well and is an alternative to how I traditionally make pie crusts (food processer). This fit easily in my stand mixer and was very sturdy.
Date published: 2021-10-20
Rated

5

out of

5
by
Hondo17
from
Pastry pro
I love that this attachment cuts through butter. It saves me lots of time and effort. I have also used it to break up apples for applesauce. It's sturdy like most Kitchen Aid equipment and it cleans easily. A nice addition to my mixer.
Date published: 2021-10-20
Rated

5

out of

5
by
Lisa Re
from
Awesome attachment!
KitchenAid offers another awesome attachment with this great pastry attachment. I've made several pie crust using this attachment making it so easy to make my homemade crust. You won't be disappointed with this pastry attachment it so easy to use and offers simple cleanup!
Date published: 2021-10-19
Rated

5

out of

5
by
Pwitchy1
from
My Holiday Baking Just Got Easier !
The KitchenAid Pastry Beater For Tilt Head Stand Mixers has been a great addition to my baking tools ! It really stands up to stiff batters and cuts in butter with ease. Im enjoying all the different ways to use this attachment , mashed potatoes , shredded pork and chicken for BBQ, and of course my sweets that I bake. The attachment cleans up easily , I just toss it on the top rack of my dishwasher. I highly recommend this product , it's going to ba an essential tool for my holiday baking !
Date published: 2021-10-18
Rated

5

out of

5
by
Gbduck
from
Wife loves it
My wife loves having an extra pastry beater for her kitchen aid. Super easy to install, use and clean. It makes working on double pastry recipes easy as she can just switch outs the heads and clean once everything is done.
Date published: 2021-10-18
Rated

5

out of

5
by
EddyB
from
Great for Cookie Dough !!!
I got the Pastry Beater For KitchenAid® Tilt Head Stand Mixers for making it easier to make the Pie and Cookie Dough, but i actually use it for all kinds of things, to make mash potatoes, Biscuits, etc. It cuts and blends nicely the heavy doughs like the butter and flower. Making Christmas Cookies is now so easy.
Date published: 2021-10-17
Rated

5

out of

5
by
C.mado
from
Excellent
This is an excellent attachment stop. I was not expecting it to work as good as it does, I am very impressed. We tried mashed and shredding meat it worked perfectly I also tried dough for pie with cold butter and to my surprise it work nicely though I still prefer the food processor for that, highly recommend. Does the job in a minute for either mashed potatoes, took about three minutes for the dough. The scraper is also handy, mainly for the dough or other job I do with my mixer. I love the small size and rigidity of it,
Date published: 2021-10-15
Rated

5

out of

5
by
Olivia27
from
A great mixer attachment
With this attachment, I don't dread working with cold butter cubes anymore. It fits on the kitchen aid perfectly, and works great even though my mixer is a very old model (probably 20 yrs). It also came with a scraper that makes cleaning it a lot easier. I would definitely recommend this attachment for making your pastries.
Date published: 2021-10-14
Rated

5

out of

5
by
Messmith
from
It works!
I had never made a pie crust with a Kitchen Aid mixer before. I used the recipe that came with the instructions and the pie crust came out perfectly. I t was easy to roll out and handle. I made two one crusts a few days apart. You can't see the crust, but I made a Dutch apple pie.
Date published: 2021-10-14
Rated

5

out of

5
by
DevinM
from
Great addition to the KitchenAid
The product itself is excellent. It is heavy and beautifully crafted. It washed well in the dishwasher, and the material did not dull when washed. I am very pleased with this Pastry Beater. The Pastry Beater is far superior-no paint to chip. I was very satisfied with the easy way it was attached to the mixer. it is easy to detach & clean. I don't 'have to be concerned with it rusting. I use it at least once a week, and it goes in the dishwasher. It's a game changer. I bake a lot and I was using a different mixer with a HEAVY glass bowl all these years. Handling it, cleaning it, and using it was a hassle. With the light weight silver bowl with a handle that this comes with, just wow. Not to mention, it makes very LITTLE noise. The design and functionality of this beater is excellent.
Date published: 2021-10-13
Rated

5

out of

5
by
Hooman
from
Great addition to Kitchen Aid Stand Mixer
The pastry beater is such a great tool for making high quality pastry dough, it allows you to create the artisan pastries with a lot less effort. Cutting cold butter into doughs have never been so easy, absolutely love this attachment, I've been getting so many compliments on the light and flaky pastries that I've created with this little helper.
Date published: 2021-10-12
Rated

5

out of

5
by
seanrr
from
Timesaver!
My wife has recenty used the pastry beater to make cookies and pastries and said it not only speeds up the prep process but the end result was just as good if not better than doing the job by hand. It didn't take her long to learn how to best use the beater. She'll never go back to her old prep ways now. Going to try pizza dough and mashed potatoes next. It's sturdy, easy to clean & well made. With all of the upcoming holidays there will be a lot of baking in our home and she's thrilled about this saving her time and effort.
Date published: 2021-10-12
Rated

5

out of

5
by
jrax2021
from
High quality tool for backing
I got this for my wife because she loves to bake in the fall. I specifically got this for her pie crusts. They are already amazing but his tool helps speed up the process. If you can't make a good crusts without this... it won't help you make a great ones. But, if you know what you are dinging, this is a great tool in your tool box. Like all things Kitchenaid, it's very high quality and sturdy.
Date published: 2021-10-12
Rated

5

out of

5
by
chillea
from
I can't believe it
I received it a few days ago and made a pan of biscuits and I noticed the difference right away they were light and fluffy (delicious) I made 2 sweet potatoes pies I honestly the crust was excellent very soft and flaky. I was impressed the batter is awesome.
Date published: 2021-10-12
Rated

5

out of

5
by
PatFa
from
Makes work easier!
WOW! Totally made mixing pizza dough and pie crusts so much easier! This is for tilt head stand mixers. Attaches very easily and it cleans just as easy! I used it on mashed potatoes also and works just as well. Steel coated and is dishwasher safe! Did I mention that it has a 10 year warranty?
Date published: 2021-10-11
Rated

5

out of

5
by
Wayne12
from
Great product
This is the best so far. I got this after years of constantly replacing my beater, was quite sceptical at first but this beater surpassed my expectations. So easy to use, perfect weight, easy wash and I love the added touch of an
Date published: 2021-10-11
Rated

5

out of

5
by
Backlog
from
Easy to use, and it works well
This pastry beater fits perfectly into my KitchenAid Mixer and was really simple to use. Once I connected it up, I made some cookies and this thing mixed everything up so well and quickly. I was very happy with how well it mixed. Clean up was simple as well, and this will definitely be a go-to when making pastries.
Date published: 2021-10-10
Rated

5

out of

5
by
Mcantuh
from
Great Addition to my KitchenAid Mixer!
This is a great addition to my KitchenAid mixer. It attaches like any other attachment, however, one thing you notice right away is the quality. This Pastry Beater is built to last. I highly recommend for anyone looking for a pastry beater attachment.
Date published: 2021-10-08
y_2023, m_3, d_22, h_22
bvseo_bulk, prod_bvrr, vn_bulk_3.0.34
cp_2, bvpage2n
co_hasreviews, tv_0, tr_54
loc_en_US, sid_KSMPB5, prod, sort_[SortEntry(order=RATING, direction=DESCENDING), SortEntry(order=SUBMISSION_TIME, direction=DESCENDING)]
clientName_kitchenaidbrand
bvseo_sdk, java_sdk, bvseo-4.0.0
CLOUD, getReviews, 61ms
REVIEWS, PRODUCT
Bundle summary&nbsp (&nbspitems)
If Purchased Individually*
*Offer subject to change. Limit one use per order. Valid for bundles delivered to a single U.S. address. Bundle savings based on current pricing available from KitchenAid.com. Only valid for new orders on KitchenAid.com.
See how we handle Returns
.