4.8 L Tilt-Head Polished Stainless Steel Bowl with Comfortable Handle
Model: K5THSBP
Model: K5THSBP
4.8 L Tilt-Head Polished Stainless Steel Bowl with Comfortable Handle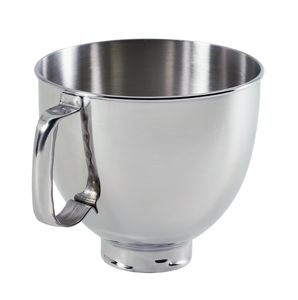 DOES IT FIT IN YOUR SPACE?
Use your camera to view in your room.
Key Features
The flat base keeps bowl steady on counter
Sign in to unlock lower pricing
Protection Plans (Optional)
Flexible Appliance Protection Plans for Your Needs Learn More
WHY SHOP KITCHENAID® APPLIANCES
*Your rate will be 0% or 10–36% APR based on credit, and is subject to an eligibility check. Payment options depend on your purchase amount, and a down payment may be required. Payment options through Affirm are provided by these lending partners: affirm.com/lenders.
Overview
Product Description
4.8 L Tilt-Head Polished Stainless Steel Bowl with Comfortable Handle
Offers enough capacity to mix dough for 9 dozen cookies, 4.5 loaves of bread or 3.17 Kilograms of mashed potatoes in a single batch. The bowl is also dishwasher-safe for quick and easy cleanup. Fits models KSM150PS, KSM152PS and KSM155GB.
What's in the box
The flat base keeps bowl steady on counter
The flat base keeps bowl steady on counter
Features
Ergonomics
Polished stainless steel bowl with ergonomic handle
Dishwasher Safe
Dishwasher safe for easy cleaning
Additional Features
The flat base keeps bowl steady on counter
The flat base keeps bowl steady on counter
Specifications
Certifications
Model
Stand Mixer Type
Tilt Head
Reviews
Rated

2

out of

5
by
rmba
from
Frustrating When Kneading Dough
I love using the KitchenAid stand mixers that my parents have, so was extremely excited to get one of my own. However, after only a few months of using the bowl that came with the mixer, it started to come loose when mixing thicker batters or kneading bread dough (my primary use case), even on the lowest setting. A couple of times, the bowl even came off its base in the middle of kneading, leading to panicked moments trying to get the machine turned off while the bowl was tilting wildly and then frustration as I had to knead my bread dough by hand. None of the bumps on the bottom of the bowl seem pushed in, nor do the ones on the base plate. I've checked the mixer head height and everything seems to be in order there. My only conclusion is that the bowl is poorly or improperly made.
Date published: 2020-06-28
Rated

1

out of

5
by
NMSarah
from
Another bad fit
I received my tilt mixer as a gift from my kids and took a long time to adjust from my old hand mixer. I see now that I'm not alone in having the bowl come loose with just cookie dough mixing. I came to your sight to buy a new bowl thinking I somehow damaged mine or I had a bad one. Is there a better version I can buy? Why do I have to when it's clearly a defective design? So sad b
Date published: 2023-02-04
Rated

1

out of

5
by
Blizz13
from
Cannot use for bread dough
I am so glad others have commented on this bowl. My original bowl that came with my Tilt-head, Artisan mixer has never worked when making dough. It is now 10 years old and I am so limited in how to use it. Even cookie dough is proving to be a problem and if I don't hold the bowl down, it will projectile -fly out of the base and across the room. I can't figure put if it is the bowl or base it is meant to fasten into. So disappointing.
Date published: 2022-12-10
Rated

1

out of

5
by
dough56
from
machine cannot handle dough or cookie batter!!
I have had this machine for maybe 2 years. initially all was okay. the last year I have noticed that the bowl comes loose when making anything semi-thick like a bread dough or cookie batter. AWFUL! I have had kitchen aid for 35 years and this was a recent upgrade for me. shocked to see others had the same issue - I thought I just had a lemon! I just came on this site to buy a new bowl but am upset that it won't help. it is almost like the bowl's ridges are not deep enough to stay put when any sort of resistance it met.
Date published: 2022-04-13
Rated

1

out of

5
by
tommyd123
from
Poor design, stay away from this one!
Like most users on here, mine worked well for a while, but after about 6 uses making cookies, the bowl broke away from the locking plate (thick cookie dough, lowest speed setting). Obviously they've opted for a material that's too thin to handle the intended purpose, but haven't done anything to address it. Going to look for another option with better-made construction.
Date published: 2021-05-12
Rated

1

out of

5
by
Lydie
from
Doesn't stay in place
I've been so excited to get my own kitchenaid mixer. All of the ones I have used before are the kind that click or latch into place, I didn't even think about the twisting into place to be a problem. It is. If you use anything about a medium speed it slips right out of place and nearly gives you a heart attack as it goes flying around. Such a bummer! I contacted kitchenaid, hopeful they would help, but just recommended that I buy a replacement bowl. If the first one wasn't good why would the next $50 bowl be any better?
Date published: 2021-01-15
Rated

1

out of

5
by
SteveCT
from
Under-engineered bowl attachment lugs
This is the second Kitchen Aid mixer we have owned and the first lasted for ever but was too small so we upgraded to the 5 quart model a year ago. It worked well until my daughter took an interest in baking cookies - she was mixing a dough and the bowl started shaking wildly (it really jammed her hand). I assumed that she had not attached the bowl properly but I could not get it to stay in place either. I inspected the bowl and saw that two of the four lugs (or whatever they are called) that lock the bowl into its base had compressed and were no longer engaging properly with the base. My wife and daughter are not strong enough to have damaged the bowl, so I initially concluded that it must either be a defective bowl or the lugs were under engineered for their purpose. After going into the Kitchen Aid website and reading all the other similar accounts, I have to conclude the latter.
Date published: 2021-01-14
Rated

1

out of

5
by
Frustrat-Ed
from
Bowl can't handle dough!
Finally started using the mixer for making bread this year. The KSM150 mixer itself seems powerful enough to deal with kneading the dough, but not the bowl. The bowl got knocked around so much the first time, that it now does not fit in the base. I had to hold it down forcibly to keep it from destroying the mixer or the kitchen. Since I had to use both hands,. it was tough working the control settings while holding the bowl. Could not get it going past power setting #2 before the thing goes nuts. BTW, this bowl is made in India, while my older bowl (which is smaller (4.5qt) but looks better made) was made in Korea. Comparing the base indents on the base, the India version's are hard to see, and not stamped clearly, while the Korean one looks sharp. Definitely evidence of quality going downhill. Makes me hesitant of getting a replacement, but like the higher sides to keep the mess in.
Date published: 2020-12-08
Rated

1

out of

5
by
TStinnett
from
Do not buy this bowl.
My wife loves her kitchenaid, but out of nowhere when she was making cookies the bowl started flying around. In all of the commotion she ended up getting her hand bruised and a huge mess in the kitchen. Upon further inspection, the threads on the base of the bowl are insufficient to hold firmly to the mixer. With a replacement bowl over $50, it is disheartening, as likely this will just happen again.
Date published: 2020-09-17
Rated

1

out of

5
by
Zami
from
Pathetic design
Brought this to have some kitchen comfort. Looks like it takes away energy holding it down during operation. Base does not fit properly. Clearly a design flaw. Called customer care and they send the base plate which is of no use. They clearly know it is Bowl flaw but still they sent base plate. Cheap tricks. Very disappointing. Bought this knowing Kitchen aid is leader in Kitchen appliances turned out pathetic experience.
Date published: 2020-06-19
Rated

1

out of

5
by
SallyV
from
Pay attention to reviews!
Nope, does not stay in base when mixing. Kitchen Aid needs to make a bowl that actually works & stays in place when mixing! This is a bust- do not buy.
Date published: 2020-06-07
Rated

1

out of

5
by
Angela Marie C
from
Not functional for making dough
As many others have noted, this bowl is not up to the usual kitchen aid standards I am used to. I started to make dough using my mixer and, just like many others, the bowl no longer stays attached to the base. Instead, I find myself having to use all my strength to try and keep the bowl in place while it is on. It is indeed hazardous and honestly, just not practical. I most definitely have not abused my mixer in any way so to see this happening after such a short amount of time really stinks. To boot, since the warranty has expired, it seems my only option is to purchase another bowl (to most likely have the same issue). Frustrating for sure.
Date published: 2020-04-22
Rated

1

out of

5
by
Chtorp
from
Low quality
I am disheartened that what used to be the gold standard of kitchen mixers has chosen to go the route of cutting corners. Our mixer bowl would not stay attached due to the lugs on the base of the bowl being unable to lock in security. After many frustrating attempts to use the bowl we bought another. We just received the new bow and the lugs don't look much better than the previous bowl's. If this one does not work then what? Please bring your standards up. I have seen photos on the internet that clearly show the difference between the old style and the new style. Very sad indeed.
Date published: 2020-03-25
Rated

1

out of

5
by
Lollyla
from
Bowl does not work for bread dough
There is definitely a design flaw in the manufacturing of this bowl. After owning it for only a few months the bowl started to not function properly. The notches at the base do not keep the bowl attached to the main machine, and it is almost impossible to knead dough without the bowl coming detached, even at speed 1. Since it's very expensive to replace, I have avoided mixing dough too often since I received this product as a gift. I'm not sure if I will be able to use my stand mixer to mix dough ever again! I would not recommend this product :(
Date published: 2020-01-07
Rated

1

out of

5
by
Cgladf2
from
Unfortunate Piece for Versatile Machine
Love the machine, good size for a home cook, good torque and power in the motor. I have used and abused for years working with the different accessories (meat grinder, pasta extruder, various hooks and paddles). I appreciate them all. It can overheat when ruggedly working with the dough hook or meat grinder but for the price I would purchase again. Unfortunately it is complimented by a poorly crafted or designed bowl. The SS bowl cannot stand up to the forces generated by making bread/pasta/pizza dough. I end up having to hold the bowl in place with my hands. The ring at the bottom of the bowl that rotates into the base to fasten it ends up warping and denting. I am going to end up ordering a replacement bowl for it. Recommend the machine and the brand but cannot recommend this specific model #.
Date published: 2019-12-10
Rated

1

out of

5
by
Nomix
from
Bowl does not stay in base
I bout the stand mixer with this stainless steel bowl and it does not stay in the base when the mixer is on. It pops out very easily especially with heavier doughs. It's rendered the mixer functionality pretty much useless, and a little dangerous.
Date published: 2019-07-16
Rated

1

out of

5
by
Grace2623
from
Black residue
I bought this in April, and the times that I've used it I get a black residue that comes off in whatever I'm mixing. And I clean it thoroughly between uses.
Date published: 2019-07-08
Rated

1

out of

5
by
SantaCruzTodd
from
Unstable on KMS150 mixer
I thought I had treated this bowl too roughly kneading dough, but from what I read here it's a common problem. The bowl no longer is secured to the base of the mixer.
Date published: 2019-06-29
Rated

1

out of

5
by
S Paulson
from
Does not lock securely into mixer base
The original bowl that came with my mixer several years ago ("MADE IN KOREA" engraved on the bottom) still works, but the second bowl I bought ("MADE IN INDIA" engraved on the bottom) will easily spin past the notches that are meant to hold the bowl. I use the original bowl for bread dough and everything else -- it has started to wobble a little, but still stays in the base. The second bowl I bought can only be used with thinner batters or frostings and even then I keep a hand on the bowl and the other hand on the speed selector, just in case. Trying to make cookie dough or bread dough will result in the bowl being knocked loose and flung around. HAZARDOUS to people and the machine itself. Disappointed (but not surprised) to see so many people experiencing the same issue. KitchenAid used to be better than this!
Date published: 2019-05-17
Rated

1

out of

5
by
BronxYanks
from
Brand new 2 uses and the bowl rattles and moves
Purchased this kitchen aid about a month and a half ago. Used it twice to make cake frosting. After the first use, at a higher speed the bowl rocks, rattles and moves around like crazy! This is certainly not was I was expecting from a mixer so high in price. Very disappointed and should just return it! It seems to me with all the comments below, this is a common issue. Why not fix the problem or stop including these bowls with the mixer! Also, have tried using three different mixing attachments, including the scraper and nothing reaches the bottom of this bowl. There is always a big lumpy mess at the bottom you have to scrape the bowl yourself, mix some more, remove the bowl, hand scrape and so on. I think this defeats the purpose of having a mixer. I could have the same headaches with a much less expensive hand mixer!!!
Date published: 2019-04-08
Rated

1

out of

5
by
Bread_lover
from
Very disappointed
One of the main reasons why I bought a kitchen aid stand mixer was for kneading a dough. I have heard about the excellent quality of KitchenAid stand mixer and now I am very disappointed because of the mentioned issue before. After not even 2 years the plate doesn't hold the bowl anymore. The only way for using the stand mixer is to buy a new bowl. But it looks that is just a temporary solution and I am definitely not willing to buy a very expensive bowl every two years.
Date published: 2019-03-22
Rated

1

out of

5
by
fcgomez
from
Bowl comes off base
I agree with the other reviews here, and am extremely disappointed. After eyeing the kitchenaid mixer for years, I get this model and the bowl keeps flying off the base. I had taken to a kitchenaid authorized repair center since kitchenaid customer service said I am out of warranty. They too just replaced the base and now it still keeps flying off the base. I cannot knead dough in this mixer anymore. Based on the reviews here, replacing the bowl is probably not worth it either. Disappointed about this expensive purchase.
Date published: 2019-02-18
Rated

1

out of

5
by
Bette31
from
Not for heavy duty mixing
I bought this bowl a while ago as a spare since I use my KitchenAid mixer so frequently. The weight is far less than my original bowl and when I try to mix cookie dough the bowl flies off the base. This has never happened with my original bowl. I bake a lot of cookies and bread and feel that this bowl cannot be used for these tasks. Very disappointed in KitchenAid.
Date published: 2018-10-25
Rated

1

out of

5
by
DMF092609
from
Unlocking bowl
I'm so disappointed with my stand mixer and the bowl. I've had it for only 2 years and after 6 months in the bowl would rattle like crazy when in use. Only a few months later and the bowl does not stay out at all anymore. Since it no longer locks, I feel I have loss complete use of this very expensive purchase. It's important to note that I probably only use the mixer about 1x per month so for this to happen so quickly after so little wear makes me frustrated. I would not recommend this bowl or this mixer for those reasons.
Date published: 2018-08-26
Rated

1

out of

5
by
Food For Thought
from
5 qt tilt head mixing bowl
Bought the artisan stand mixer in Nov 2017 the mixing bowl comes unlocked and can no longer use for making dough, which was the reason I bought the stand mixer. Major disappointment
Date published: 2018-03-31
Rated

1

out of

5
by
MLTriton
from
Base eventually lets go
Used for a couple years. As others have said, the threads on the bottom of these shiny stainless bowls weaken and the bowl starts coming out of the base, at which point you can do still do cake batter, but not cookie dough. The matte, brushed stainless bowls are tanks, mine is 20+ years, but they don't have a handle and are smaller.
Date published: 2017-12-20
Rated

1

out of

5
by
BriC
from
Won't stay locked in place
After only 2 months of use the clips on the bottom of the bowl have worn out. I can only mix very light things now, kneading bread is out of the question. This model bowl needs the bottom redesigned to have deeper indentations for the clips. I chose the metal bowl over glass for the durability and this bowl did not cut it. Needs replacing already.
Date published: 2017-12-19
Rated

1

out of

5
by
Bxtorr19
from
Not Sturdy Enough
This is the second bowl I used. The Mixing Bowl that came with my Artisan Stand Mixer started popping out of the stand within weeks. I called Kitchen Aid and they sent me this one as a replacement. It lasted about a year and now this one is popping out of the stand also. I do make a lot of breads but the bowl should be able to stand up to home baking use. When I looked at the bottom it appears that the Stop/Lock gage has only 2 sides to hold it in. I am thinking I should replace it with a ceramic or heavy duty glass bowl.
Date published: 2017-09-29
y_2023, m_3, d_22, h_22
bvseo_bulk, prod_bvrr, vn_bulk_3.0.34
cp_2, bvpage2n
co_hasreviews, tv_0, tr_34
loc_en_US, sid_K5THSBP, prod, sort_[SortEntry(order=RATING, direction=DESCENDING), SortEntry(order=SUBMISSION_TIME, direction=DESCENDING)]
clientName_kitchenaidbrand
bvseo_sdk, java_sdk, bvseo-4.0.0
CLOUD, getReviews, 59ms
REVIEWS, PRODUCT
Bundle summary&nbsp (&nbspitems)
If Purchased Individually*
*Offer subject to change. Limit one use per order. Valid for bundles delivered to a single U.S. address. Bundle savings based on current pricing available from KitchenAid.com. Only valid for new orders on KitchenAid.com.
See how we handle Returns
.