4.8 L Tilt Head 6-Wire Whip
Model: K45WW
Model: K45WW
4.8 L Tilt Head 6-Wire Whip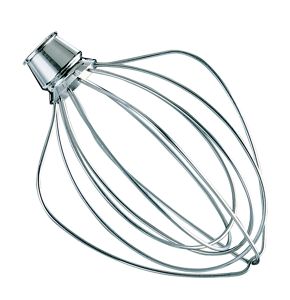 DOES IT FIT IN YOUR SPACE?
Use your camera to view in your room.
Key Features
For KitchenAid® Tilt Head Stand Mixers*
Sign in to unlock lower pricing
Protection Plans (Optional)
Flexible Appliance Protection Plans for Your Needs Learn More
WHY SHOP KITCHENAID® APPLIANCES
*Your rate will be 0% or 10–36% APR based on credit, and is subject to an eligibility check. Payment options depend on your purchase amount, and a down payment may be required. Payment options through Affirm are provided by these lending partners: affirm.com/lenders.
Overview
Product Description
4.8 L Tilt Head 6-Wire Whip
The 6-Wire Whip quickly incorporates air into ingredients for fluffy whipped cream, perfect boiled frostings and cakes with whipped egg whites. Fits models K45SS, KSM75, KSM95, KSM150PS, KSM152PS and KSM155GB.
What's in the box
For KitchenAid® Tilt Head Stand Mixers*
Fits models K45
K45SS
KSM75
KSM90
KSM95
KSM100
KSM103
KSM110*. *sold separately.
Features
Fits Models:
Fits Models: K45, K45SS, KSM75, KSM90, KSM95, KSM100, KSM103, KSM110, KSM150, KSM 155
Additional Features
For KitchenAid® Tilt Head Stand Mixers*
Fits models K45, K45SS, KSM75, KSM90, KSM95, KSM100, KSM103, KSM110*. *sold separately.
Specifications
Certifications
Model
Stand Mixer Type
Tilt Head
Dimensions
Reviews
Rated

5

out of

5
by
srhodes
from
Love it!
This was a Christmas gift. I have been wanting a kitchen aid mixer for years. One happy Mom.
Date published: 2019-01-09
Rated

5

out of

5
by
Babernathy
from
I love the Color
I Got my kitchenaid for Christmas from my boyfriend and its AMAZING! I couldnt wait to start using it. I have used it now a couple of times and i cant wait to get more attachments! Also i cant get over how many colors there are to choose from! Kitchenaid has my heart and i cant wait more stuff!
Date published: 2019-01-04
Rated

5

out of

5
by
Dayneech57
from
Works great if you read the cleaning instructions!
Many reviewers have complained of gray residue or flaking when they washed this attachment in the dishwasher. The instructions clearly state that you should NOT wash the attachments or bowl in the dishwasher! The gray in egg whites happens if you whip them too long--which can happen with the excellent speed at which a Kitchenaid stand mixer can go! Use a stabilizer (cream of tartar), check frequently to see if the whites are whipped enough without over-whipping--and you won't have the problem! I've been baking for over 50 years, and this is the best stand mixer with a whisk I've ever used.
Date published: 2018-02-24
Rated

5

out of

5
by
beth72
from
Great Product
Works great and does excatly what I need it to do.
Date published: 2018-01-29
Rated

5

out of

5
by
stay
from
FANTASTIC!! If egg whites become gray = overbeaten
There is ABSOLUTELY NOTHING WRONG WITH THIS WHIP!!! Julia Child references the greyness result in her book "Mastering the Art of French Cooking" regarding egg whites and other baking batters containing eggs that include the whites. GREY RESULT = over beaten!!!!! Which, considering the speed of the mixer is EXTREMELY EASY TO DO!!! I suggest to all that are feeling that this attachment is to blame for their baking disappointments to try the following before you put Kitchenaid and, MOST IMPORTANTLY - YOURSELF through a lot of headache for absolutely no reason. Those reviewers who've gotten replacements will experience the same exact outcome. 1.) When beating egg whites in a stand mixer (especially if your recipe calls for hand whisking) YOU MUST add a pinch of Cream of Tartar - a powdered spice sold everywhere - to stabilize the egg whites prior to mixing!!!! 2.) Due to the lightning-fast speed of the mixture YOU MUST STOP IT FREQUENTLY to check their consistency!!! If you do not, the whites will become grey in color and grainy, - reference Julia Child. She explains this in GREAT DETAIL in her PHENOMENAL BOOK, Mastering the Art of French Cooking. She devotes an entire chapter to eggs and another to equipment and the most engenius part is that she explains in GREAT AND GRAPHIC detail what happens if you underbeat, overbeat, don't add a stabilizer and another EXTREMELY IMPORTANT aspect - when to add the sugar or salt WHICH - BELIEVE IT OR NOT - IS ABSOLUTELY CRITICAL, detailing the undesirable results that will happen if you do not add these ingredients at precisely the right time. What I have discovered about baking, compared to regular cooking, IT IS AN EXTREMELY PRECISE ENDEAVOR. EACH AND EVERY PROBLEM LISTED HERE IN THE BAD REVIEWS IS ADDRESSED ABSOLUTELY as a problem/undesirable outcome of not being PRECISE - hardly the fault of the person attempting the creation as 99.9% of the recipes out there DO NOT WARN YOU ABOUT THIS STUFF. 3.) Go out and get yourself the aforementioned book by Julia Child. I have been cooking my whole life (I'm now 49) and reading this book has taught me SO MANY THINGS I didn't know myself. The book is a MASTERPIECE and is unlike any other book - it is a TEACHING BOOK - NOT JUST A COLLECTION of recipes. I am not a publisher, book seller and have no interest other than my sincere interest in helping others. I bought my stand mixer because although I considered myself a great cook, I had little experience baking, was told of the precision necessity and was a little nervous. NO NEED IF YOU BUY THIS BOOK. I am a Customer Service Manager and if I were in charge of the Kitchen Aid call center, I'd have a few copies of this book handy for my reps. EVERY SINGLE EXAMPLE listed here is written in the book. THESE WERE NOT APPLIANCE OR ATTACHMENT FAILURES - the failures listed here were preventable if the persons were following a recipe that FAILED THEM!!! Every last one!! LADIES, ARM YOURSELVES WITH JULIA'S BOOK, She revised it when the stand mixer came out and she listed EVERY SINGLE FAILURE she had IN AMAZING DETAIL while attempting & revising the recipes in it. YOU'LL NEVER HAVE THE PROBLEMS LISTED HERE AGAIN!!!
Date published: 2018-01-08
Rated

5

out of

5
by
Lisa1234
from
Great
Works great. Best purchase this year. Wonderful!!!
Date published: 2017-12-17
Rated

4

out of

5
by
Sandystwin
from
Great but wire whisk?
This mixer is wonderful but if you use the wire whisk that comes with it, it turns everything grayish black, including your fingers and your recipe. I find it hard to believe that Kitchenaid would provide such a poor quality whisk and thenput one out there for extra cash that is better quality. Bummer!
Date published: 2020-04-13
Rated

4

out of

5
by
cjaeger
from
Whisking Away
I love my new wire whip. I use it to beat the eggs and liquids when baking, then switch to my mixing blade. I think it helps fluff everything up.
Date published: 2020-01-21
Rated

4

out of

5
by
Cweik
from
Works just like it should
As long as you remember that it does not belong in the dishwasher and should be hand washed only. It works great and you get no residue. Dishwashers take off the finish.
Date published: 2018-12-02
Rated

3

out of

5
by
Carrie S
from
Wire Whip broke after 2 years- not under warranty
I love my kitchen aide mixer. I also have had no issues with the Wire Whip, which i use quite often, until one of the spokes broke :( I never had a problem w/ residual or flaking of the metal because i would hand wash immediately after every use. But unfortunately there is nothing you can do with a broken wire. The warranty is only good for a year so i guess i'll have to replace on my own. Disappointed in that. Use it for baking all the time.
Date published: 2018-03-16
Rated

2

out of

5
by
Hroux
from
Grey substance left on my hands
After 26 years my original wire whip broke and I bought this one that apparently isn't all stainless and it is YUCK! The hub is made of something else and it leaves marks. Why would kitchenaid make this?? I ended up buying another one from Williams-Sonoma that was entirely stainless steel. I'm not sure why the KitchenAid website doesn't have an entirely stainless steel whip. Or did I miss it? At any rate, I'm kind of annoyed at having to buy it twice.
Date published: 2022-11-28
Rated

2

out of

5
by
Lop-earedBunny22
from
Paid $350 for a cheap remake.
I ordered the Professional 600 Series model after waiting 40 years to finally buy myself a KitchenAid mixer. I received with a chipped mixer blade and was surprised how light the base unit was. My friend has a 6 year old Artisan and it is much heavier. Her mixing and beating utensils are much heavier too.
Date published: 2022-10-13
Rated

2

out of

5
by
Unhappy Sue
from
Lousy job on whipped cream
Why sell a whip that doesn't get close enough to the sides of the bowl? No matter how long I whip heavy cream, it doesn't do as good a job as my 25 year old 5 qt mixer and whip did. So now I have to buy a larger whip?? Nasty trick Kitchenaid
Date published: 2022-02-21
Rated

2

out of

5
by
Lazlo84
from
Easily ruined
I love my mixer and use it several times a week. My whisk needs to be reshaped everytime I wash it. The wires have all shifted so that they don't line up anymore. I'm not going to pay $25+ for a new one, so I guess I'm stuck with this method. Buyer Beware.
Date published: 2018-11-21
Rated

1

out of

5
by
BHar
from
Wire Whip- Unacceptable
I just bought my 1st kitchenAid and discovered residue pealing off the Whip. I called in to see if I can get a stainless steel replacement and was told they do not have a solution or a replacement product. I truly disappointed with residue coming off the whip but I'm disappointed the company knows this and do not have a solution. I would not recommend getting this product until you do your research…
Date published: 2022-12-21
Rated

1

out of

5
by
AllyK
from
Aluminum top leaves residue
Disappointed that the top of the whip is aluminum and doesn't fully get clean. Tarnished and leaves residue when cleaning.
Date published: 2022-12-03
Rated

1

out of

5
by
Anonymous
from
Gray Substance Gets in Food and on Hands
The wire whip that came with our tilt head kitchen aid is awful. Just like everyone else is saying, gray residue falls into food when mixing, ruining food. I don't feel confident using the whip to make food at all because I don't want people to be served contaminated food. KA should be fixing this issue and providing customers with a whip that is sanitary.
Date published: 2022-11-26
Rated

1

out of

5
by
Not happy about this
from
Gray stuff come off the top part and gets all over
I have only had my kitchenaid for 9 months. Unfortunately grey stuff comes off on the top part of the wire whip and gets all over my hands. It is very annoying. I went through about 10 paper towels to get most of it off, but it continues to come off. Super annoying.
Date published: 2022-11-21
Rated

1

out of

5
by
MonicaShadow
from
Wire Whip
I received this about almost a year ago and am soo disappointed the whip has blackish gray coming off every time I pick it up...I wipe it and STILL all the same!?!? I have owned KitchenAid for 30+ years now and absolutely LOVE the products BUT this one.....I am sooo upset since I CANNOT even use the whip, for fear that it will transfer into my food...HELP
Date published: 2022-11-06
Rated

1

out of

5
by
Henawy
from
Not Recommended, Super Cheap Quality
I love my Pro Series 500 stand mixer, but I cannot believe that they'd ship this awful piece with it. I washed it once, just once, and now it's all black and has black residue on my hands every time I touch it, I can't use it for making any food of course. Apparently I'm not the only one with this issue either.
Date published: 2022-09-02
Rated

1

out of

5
by
KristiH0965
from
Wires broke away from base on 2nd use
I bought in fall of 2020. I was mixing softened butter, egg and sugar and it broke. Previously used one time to mix pancake batter. I think its past warranty and I never registered it, but for the cost of the appliance and what I used it for, should have lasted more than 2 uses.
Date published: 2022-07-31
Rated

1

out of

5
by
Bakes4fun
from
I have had THREE of these wire whisks break on me
I have had THREE of these wire whisks break on me. For such an expensive product this should not be the case. My last one that just broke had two of the wires snap at the top. And not just come out of the holes, the metal itself snapped. I have a big project that needs to be completed using the whisk attachment that is not doable by hand. So disappointed in this attachment quality :(
Date published: 2022-07-24
Rated

1

out of

5
by
Cheryl J
from
Turns my fingers gray
I received a KitchenAid Artisan Stand Mixer for a gift. I really like the mixer, however the Metal 6-Wire Whip TURNS MY FINGERS GRAY. Seems like a HEALTH HAZARD. I called the support line and without a receipt....they were not able to help me. So disappointed, since it is obviously a FAULTY PART - MANUFACTURING DEFECT. I noticed several other reviews with the same issue. It's unfortunate that KitchenAid does NOT stand behind their assessors.
Date published: 2022-05-05
Rated

1

out of

5
by
JodyU1234
from
They should not make aluminum whisks
I spent a lot of money buying my KitchenAid mixmaster and various sized bowls and attachments. I purchased the whisk. I had no idea the problem with the aluminum whisk. I never put it in a dishwasher. I had it stored in my cabinet with all my various bowls and attachments. I went to take it out and it was black (and so were my fingers for touching it.) I tried cleaning it, but it still looks disgusting. When I saw they have a stainless steel one, I wondered why I was sent the aluminum one...And, of course, they are out of stock, so I can't even buy a replacement. Very disappointing considering how much I spent on all this...
Date published: 2022-04-23
Rated

1

out of

5
by
Pickgirl
from
Disappointed!
I've had my mixer for a Total of 4 months and used the mixer a total of 4 times and the wire whip is turning black, I always hand wash my attachments and the wire part of the whisk is now broke! This is such a disappointment, because I love to use my mixer and now I have to use a hand whisk in the mean time.
Date published: 2022-03-12
Rated

1

out of

5
by
ShannonJ7
from
Wire whisk turns my hands black!
I have the K45 series mixer, which I love. I have used it a handful of times, but I've noticed the whisk now turns anything the metal touches BLACK. Super disappointed!
Date published: 2021-12-17
Rated

1

out of

5
by
Debbie_ex-kitchenaid_fan
from
Horrible engineering
This whisk is an insult to the Kitchenaid brand. I love my mixer and my baking has truly improved by ~500+%. Then I used the included whisk for the first time. Not only is it turning black BUT it required my husband and a prayer to remove it from the mixer. The other attachment worked like a charm, but this one is just plain trash. Obviously KitchenAid now has a problem with quality control. Very sad, very disappointed.
Date published: 2021-12-09
Rated

1

out of

5
by
Bluskitchen
from
Came with the stand mixer
It came with the stand mixer and only one accessory was properly packaged and the whisk is bent like it was smushed i tried using it because that's the main feature i needed and it's hard to get the stuff out of the whisk the way it's bent up
Date published: 2021-06-25
Rated

1

out of

5
by
Luvs2Bake
from
terrible accessory
So disappointed with this attachment. I love my stand mixer and waited years before being able to afford a Kitchen Aid, but the top of the attachment is aluminum, not stainless, and the aluminum just rubs off black on everything (even after hand washing as suggested) - simply disgusting! I finally bought a comparable attachment off of Amazon and it is much better quality (and dishwasher safe)!!
Date published: 2021-06-09
Rated

1

out of

5
by
Adeg
from
Not a Great Product
Used whisk 6-7 times. After washing my whisk, it felt chalky, and had a grayish powder coming off of it. Had to throw it away because it didn't look food safe.
Date published: 2021-04-14
y_2023, m_3, d_30, h_21
bvseo_bulk, prod_bvrr, vn_bulk_3.0.35
cp_2, bvpage2n
co_hasreviews, tv_0, tr_57
loc_en_US, sid_K45WW, prod, sort_[SortEntry(order=RATING, direction=DESCENDING), SortEntry(order=SUBMISSION_TIME, direction=DESCENDING)]
clientName_kitchenaidbrand
bvseo_sdk, java_sdk, bvseo-4.0.0
CLOUD, getReviews, 57ms
REVIEWS, PRODUCT
Bundle summary&nbsp (&nbspitems)
If Purchased Individually*
*Offer subject to change. Limit one use per order. Valid for bundles delivered to a single U.S. address. Bundle savings based on current pricing available from KitchenAid.com. Only valid for new orders on KitchenAid.com.
See how we handle Returns
.