2022 Color of the Year Beetroot K400 Blender
Model: KSB4026BE
Model: KSB4026BE
2022 Color of the Year Beetroot K400 Blender
KSB4026BE
Model: KSB4026BE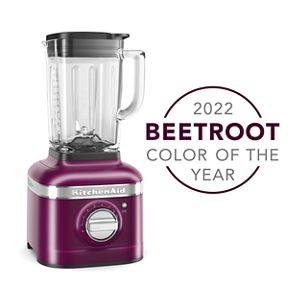 DOES IT FIT IN YOUR SPACE?
Use your camera to view in your room.
BUYING THE RIGHT BOWL
From capacity to design and finish, find out which bowl to choose.
ADD VERSATILITY TO YOUR COUNTERTOP
Find out all the different things you can do with a countertop oven.
NEW POSSIBILITIES WITH MEAT GRINDERS
Learn all the things you can do with a meat grinder attachment.
FIND THE RIGHT FOOD PROCESSOR FOR YOU
Break down the different sizes of food processors available.
TIME TO CUT THE CORD
A cordless countertop appliance could be just what you need.
YOUR GUIDE TO STAND MIXER ATTACHMENTS
See your creative capacity amplified with these attachments.
GET THE MOST FROM YOUR TOASTER
Learn what to look for when choosing the right toaster for you.
FIND THE BEST BLENDER FOR YOU
Explore the different blenders and decide which one you need.
WHAT IS A GOOSENECK KETTLE?
See how this kettle's unique design can work for you.
WHAT DOES AN IMMERSION BLENDER DO?
Watch how this precision tool can help you in the kitchen.
Key Features
Blend the Toughest Ingredients
90-Day Money-Back Guarantee1
Create a Variety of Textures
Unlock More Possibilities with your Blender
Sign in to unlock lower pricing
You will be redirected to PayPal, an independent third party, after which you will have a chance to Review your order.
Protection Plans (Optional)
Flexible Appliance Protection Plans for Your Needs Learn More
Overview
Product Description
2022 Color of the Year Beetroot K400 Blender
Beetroot, the 2022 Color of the Year for the KitchenAid® K400 Blender - a rich magenta with an energizing and uplifting hue, inviting adventurous cooks of all skill levels to make every day more vibrant by feeding their insatiable appetite for new experiences in the kitchen and beyond.
What's in the box
Model KSB4026 includes
(1) 48 oz Glass Blender jar
(1) Blender jar lid
2022 Color of the Year
KitchenAid has championed the power of color to fuel creativity since introducing the first Stand Mixer colors in 1955. Today the brand's Color of the Year taps global trends to capture the current moment and inspire makers around the world. Beetroot, a rich magenta is our pick for 2022. This energizing and uplifting hue invites adventurous cooks of all skill levels to make every day more vibrant by feeding their insatiable appetite for new experiences in the kitchen and beyond.
Blend the Toughest Ingredients
Easily to take whole foods to smoothie in 20 seconds* *Recipes incl. carrots, chia seeds & kale
90-Day Money-Back Guarantee1
The K400 is built with the power and lasting durability you expect from KitchenAid. We know you'll love the great taste of your smooth blended creations, so try it out for yourself under our 90-day money-back guarantee1. Should you decide to return it for any reason in your first 90 days of ownership, you'll be reimbursed your full purchase price.
Create a Variety of Textures
From smooth to chunky, with the variable speed dial that offers a full assortment of precise speeds. Or choose one of the 3 preset recipe programs Ice Crush, Icy Drink and Smoothie.
Additional Features
Unlock More Possibilities with your Blender
6-oz. Small Batch Jar Expansion Pack (KSB2040BBB) or 16-oz Personal Blender Jar Expansion Pack (KSB2030PJB) accessories available2, sold separately.
Soft Start® Feature Avoids Splatter
Starts the motor at a slower speed to pull food into the blade, then quickly increases to the selected speed setting.
Model KSB4026 includes
(1) 48 oz Glass Blender jar, (1) Blender jar lid
Certifications
Features
Electrical
Rated

5

out of

5
by
PoppysMom
from
Loving my new blender
I had been looking for a new blender for some time to replace my Osterizer. I love making blended veggie soups in the Fall/Winter and so far I've made 3, (a beet, coconut milk, ginger soup), a roasted califlower, leek soup) and a wicked greens soup. They were fabulous and so much easier to make with this blender. I love the glass jar and as the beetroot color is beautiful.
Date published: 2022-10-16
Rated

5

out of

5
by
MOMICA
from
Beeting All Other Blenders!
I bought the new KitchenAid blender in the 2022 Color of the Year Beetroot K400 and am beyond happy with my purchase. This blender is a replacement of a KitchenAid blender I bought back in 1998.This blender is 10 times stronger. It whipped up my morning smoothie which included frozen banana, strawberries, spinach greens, chia seeds and ice cubes in a fraction of time! I love the Beetroot color! It's such a happy color that brings a smile to my morning. While the appliance is heavy it's well worth its weight. I love that the machine has a glass pitcher as I believe the other option would possibly or dull after use.
Date published: 2022-07-21
Rated

5

out of

5
by
Cookie Cakes
from
Love, LOVE, LOVE!
Just unboxed my new addition. I have not used it as of yet, but I love it already. The color is amazing. The only downside is, Fed-Ex delivered to the wrong address. Thank goodness for my eagle eyes.
Date published: 2022-03-16
Rated

5

out of

5
by
John Belegrin
from
Love it strong, reliable and easy to use
The Beetroot color looks great on the counter. It is quiet and easy to use. I now make delicious smoothies daily. Easy to clean by popping into the dishwasher. You can't go wrong with buying the K400, you'll love it.
Date published: 2022-03-04
Rated

5

out of

5
by
Reg P
from
Great mixer! Lovely look!
This blender is a great addition to my kitchen lineup. Not only does it blend well, but it has a quieter motor and is very smooth in performance. The color is dynamic and the turn dial function is a nice change from the push button blenders.
Date published: 2022-03-03
Rated

5

out of

5
by
Lyraez
from
Blender of Splendor
This item is truly remarkable. I used it this a past week for a recipe and it thoroughly surprised me. I was due for a new blender and to be honest, I wasn't expecting much. This blender blends well and thorough. It had power when I needed it and wasn't like my old blender that didn't blend so well. Highly recommend!
Date published: 2022-03-03
Rated

5

out of

5
by
Sundayfunday
from
Superb Blender!
This rich vibrant color blender is a wonderful addition to my kitchen. The KitchenAid K400 blender performs beautifully and much better than I expected. The motor is powerful and isn't as loud as other blenders I've used before. I love all the different settings and have been using the smoothie setting most mornings with no issue and all with frozen fruits. Cleaning has been a breeze as well with the self clean cycle setting. So far I can say this is a top quality and well made blender. I plan on getting many more uses out of this!
Date published: 2022-03-01
Rated

5

out of

5
by
AGlenn
from
Love the look and performance!
I love the beautiful berry color of this blender. The color and it's semi-retro look make it very stylish and standout. I keep it on the counter because I like the look so much. I was curious about the turn dial for settings and concerned that it would ratchet through the settings when turned on. Instead, it has a power button that also works like a start/stop button once you have the right setting. The motor is powerful and I am very happy with the size of the glass container on top.
Date published: 2022-02-28
Rated

5

out of

5
by
Dianalyn
from
Beautiful, high quality blender!
I've been loving my KitchenAid blender! I have the beetroot color blender and it looks really pretty. This blender is incredibly easy to use and my kids love using it too! It has a sleek design that looks and feels of high quality. I adore the glass jar, as it's nice and very durable. This appliance is quite powerful and I was very pleased how well it performs. It can crush ice in seconds and blend those tough ingredients with ease. It's not super quiet but it's not a super loud blender either, and I'd say it's as loud as a blender should be. I've made smoothies and they come out perfect every time. My blender came with the glass jar and lid, a quick start guide, and a more detailed safety and product guide. There's a very simple dial that controls the blender and it has several settings like pulse, smoothie, ice crush, and a self-clean cycle. You can customize your blender too as there are other jars sizes, lids, citrus press, and other accessories available. I'm very happy with this blender and I know it'll be in my kitchen for years to come!
Date published: 2022-02-23
Rated

5

out of

5
by
FrauSmoothie
from
Cleaning Setting is a Game Changer!!
I've always admired KitchenAid products and have always wanted a mixer, despite not being a baker but I digress. I needed to get my nutrition on track after gaining weight during the pandemic. This blender could not have arrived at a better time. With previous blenders, I dreaded the cleaning process, which often deterred me from making my daily smoothies. Taking the blender apart, washing the blade--all that was such a chore. The K400 eliminates that laborious process. Just add a few drops of soap to the jar and run the clean setting for a few minutes. Rinse the glass jar thoroughly and, bam, the jar is clean! That's worth 5 stars alone! While the Beetroot color doesn't match the color scheme in my kitchen, it is still a nice color. I absolutely love this blender. I wish my model came with a tamper. That minor issue aside, I have had no issues with the blender. This is a very well made product. Bravo, KitchenAid!!
Date published: 2022-02-20
Rated

5

out of

5
by
zacherio
from
Awesome Blender
I always assumed that more buttons meant better blender! That is apparently not the case! This simple blender fits the needs of my house wonderfully. The girlfriend uses it for her coffee mixes and her smoothies. I use it to make ice cream and other goodies. Love the unique color as well. Fits right into my coffee bar.
Date published: 2022-02-18
Rated

5

out of

5
by
Theophilus
from
Outstanding features!
I acquired this beautiful blender several weeks ago.Let me tell you;not only is it aesthetically pleasing to the eyes, it performs extremely well,making it easy to blend and at the same time I have noticed that cleanup is even easier than my prior blender. As a smoothie lover I can honestly say this is the best blender I have used thus far! Kitchen Aid, well done! I highly recommend this wonderful Beetroot stand Blender KSB40- you won't be disappointed!
Date published: 2022-02-13
Rated

5

out of

5
by
Annk42
from
Awesome Color, Superior Quality of the product!
This Product is awesome! i saw this new color but when you see it in product its awesome very well designed and the quality of this product is super awesome. Jar is a glass jar super tight and speed adjustment is very smooth. I enjoy using this product very much and definitely recommend it to buy. it will go along with the Kitchen and very usefull
Date published: 2022-02-13
Rated

5

out of

5
by
Shubham671
from
Powerful, Not that loud!!
Excellent value for money. I've never used a better blender. My only complaint is that it lacks an easy pour lid/cap. (First-world issue) Aside from that, it's simple to operate, has an auto-timer shutdown feature, and offers industrial power in a little package. People who complain that the controls are too confusing should definitely avoid using a blender or anything with sharp edges. In fact, if you don't read the instructions, the settings will be incredibly complicated, and you may want to keep that booklet (written on kitchen-unfriendly newspaper paper) available for reference on less-used features. And God forbid if a visitor to your house (who hasn't read the handbook) tries to use this blender. What seems to be a basic speed control dial contains multiple preset functions that govern the speed, mixing time, and pulsating. Because no ordinary person can be depended on to handle all of those factors while breaking ice, producing a smoothy or frozen drink, or even cleaning the blender jar. For those intricate and dangerous tasks, you must defer to your blender's greater judgment. This blender creates an excellent first impression. It appears to be as substantial as a tank, with a large and massive motor compartment. At first appearance, the controls appear to be wonderfully simple: an on/off button and a speed control dial. But, in the end, this is a well-made blender that will do the job.
Date published: 2022-02-13
Rated

5

out of

5
by
Nika23
from
Very very Impressed!!
Ohhhh how I love this elegant beautiful glass blender. The color is so rich and the blender itself is heavy duty. I've been using this blender for about a month and I love making margaritas and smoothies with crushed ice so this was perfect. I add carrots, beets, pineapples, nuts, spinach and there wasn't any fruit, vegetable, or nut that gave me any problems. This glass blender is easy to clean with using the self cleaning function. I received so many compliments already. I would highly recommend this blender. It's a great purchase and you won't be disappointed
Date published: 2022-02-12
Rated

5

out of

5
by
sheryl477
from
Best product ever!!
Wow is all I can say about my new KitchenAid blender!!! This is now by favorite appliance in my kitchen. Since I bought I use it to blend all my salsas, sauces. I have the juice attachment and now can juice all my the oranges on my tree with literally a flip of the switch. Now I can also free up alot of space with the appliances no longer use. Also, I had a party last week and this new blender crushes ice like no other. The ice was as fine as a snow cone, with no big chunks and we made the perfect blended frozen Margaritas. This blender was the hit of the party and I think just about everyone is off to get one!! Can we talk color? The beetroot color matches my kitchen perfectly and I can leave it on the counter as as decorative display item. I can't sing high enough praises about this work horse blender. I highly recommend this to everyone!
Date published: 2022-02-11
Rated

5

out of

5
by
Tytyler
from
My new favorite blender for soup and smoothies
I love to blend smoothies in the morning and soups for lunch and dinner. This blender helps me make the best smoothies and the best soups. All my friends call me the smoothie and soup king. Its a party starter for sure. Nothing like a Saturday night with all your friends gathered in the kitchen for some blended soup. 10/10
Date published: 2022-02-11
Rated

5

out of

5
by
JessB427
from
Perfect addition to our kitchen!
This is SO easy to use, straight from the box to the counter and making smoothies! Straightforward easy to understand buttons and functions. The color is beautiful and it looks great as a pop of color on our counter without being too overwhelming or out there. The quality is top notch and it's heavy and sturdy so no worries about that. Can't wait to continue finding new recipes and things to make!
Date published: 2022-02-11
Rated

5

out of

5
by
Christina83.
from
Best blender
This blender is absolutely one of the best I have ever used. The quality is amazing. Its easy to use has beautiful design and absolutely love the color. Blades will cut through anything very easily making every you make taste delicious. Has so many different features and is very easy to use. The glass jar is very sturdy and durable. This is my family's go to all the time for the perfect milk shake or smoothies. Would definitely recommend to anyone looking for a amazing blender!!!!!!
Date published: 2022-02-10
Rated

5

out of

5
by
GFVS
from
great blender!
I had the chance to pick this up for review and I'm glad I did. It's got a permanent spot on my kitchen counter now. Any kind of smoothie or drink goes in here no problem and comes out great. Size and shape are great with a good capacity. The control knob is a lot nicer than the blenders with a bunch of buttons. Definitely recommend.
Date published: 2022-02-08
Rated

5

out of

5
by
Wbkalai
from
Amazing Blender!!
I purchased this about 2 weeks ago and I must say this blender is amazing. I have used and bought many different blenders and this one has been the best . It has many speed settings with the speed dial, it also preset recipes and it's very powerful. It's really easy to clean with the clean function . I would recommend this if you you are like me and use the blender a lot .
Date published: 2022-02-08
Rated

5

out of

5
by
Chelle71
from
Very cool color and amazing blender!
First off the color is amazing. I have to admit one of the coolest colors and looks amazing out on the counter. Adds to the kitchen. This is a very large blender with a glass blending part. It I'd heavyweight but surprisingly quiet. It crushes ice and blends very smooth and even. Love that you can clean it easy. The square design makes cleaning much easier too. I would highly recommend it.
Date published: 2022-02-08
Rated

5

out of

5
by
Atina@1974
from
I love this work horse!
I am suprised at how well this blender works.  The first thing I blended was some cooked cranberries that were pretty dry. I filled the blender over 1/2 full and this machine blended them so evenly without my needed to push the berries down onto the blades. I love the glass jar which has the handle attached at both the top and bottom.  Both of these features make this unit very valuable to me.  The unit runs quietly and efficiently.
Date published: 2022-02-08
Rated

5

out of

5
by
Amybixler
from
Blender
I absolutely love this blender! I love everything about it. It works amazing and it so easy to clean up. It's super durable and the color is so pretty. I would recommend this to anyone! I love KitchenAid products.
Date published: 2022-02-07
Rated

5

out of

5
by
TimW67
from
Great product!
We've had this blender for several weeks now, and have had the opportunity to use it a number of times. The primary use of this blender has been for smoothies and breakfast shakes. We have been pleased with it's performance so far, and have had no issues in that capacity. The unit is heavy and appears to be well built, so think it should last a long time. We've run the jar through the dishwasher with no issues, and it cleans out well. The blender is somewhat louder to operate that we were expecting, but only a minor compliant. Overall a good appliance.
Date published: 2022-02-07
Rated

5

out of

5
by
Idaho125
from
Beats all blenders-hands down!!
First off, I love the color of this new blender. It looks so good on my counter and I don't give many things space on my counter. I wasn't sure if this would crush and pulverize my frozen fruit and ice. It did and much more. I love the soft start which makes it grab whatever is in there and then get up to maximum speed. It's so nice to have pre-chosen button and also different speeds on the machine. The best part is it is heavy duty, made with glass parts and no plastic. This makes me love kirchenAid even more!!
Date published: 2022-02-07
Rated

5

out of

5
by
brvsfan
from
Powerful bleder
I used this blender to crush ice as it seems this is a difficult task for blenders I have used in the past. I was amazed at how fast and easily this blender accomplished this. It has a large base but if that is what is needed to house a powerful motor that is fine. I also like the ability to add ingredients to the blender when in use through the removable plug in the lid.
Date published: 2022-02-07
Rated

5

out of

5
by
Nidnus
from
Multi-purpose Blender
I recently replaced my old blender with a KitchenAid K400 blender. I am amazed at it's heavy duty craftsmanship and restaurant quality. The beetroot is an attractive addition to my kitchen and I am finding myself reaching for it for everything from delicious smoothies in the morning to hot soups later in the day. Another attractive feature is that it cleans up easily in my dishwasher and I no longer find it difficult to grind ice for entertaining purposes. It is now the first thing that my friends compliment me on when entering my kitchen.
Date published: 2022-02-06
Rated

5

out of

5
by
Llr0708
from
Powerful, easy to use blender
This kitchen aid blender is incredible! It is the highest quality blender I have ever owned and worth every penny. KA thought of everything to make this the most efficient, all encompassing blender that meets all needs. It is sturdy and the base is actually metal and not cheap plastic. There are settings for everything you could possibly use a blender for and the settings actually do what they are supposed to. Smoothie setting makes the smoothest, fully blended drink, just like at the restaurant. The blender is so efficient that I never have to stop and scoop out the bottom to get an even blend, as it blends perfectly the first time. A small detail that I love is the way the blender slowly starts to reduce splatter, which is such a simple addition, but makes the blender stand out. I love the cleaning mode which makes it so much easier to clean after use. The blender is noticeably quieter than my previous one as well. The beet root color is stunning and definitely the showstopper in my kitchen. It compliments my black granite perfectly.
Date published: 2022-02-06
Rated

5

out of

5
by
Claudia R
from
Beautiful Blender!
When I saw this blender I knew I needed it in my life. My old one was on its last leg so it was time for a replacement. I love how strong it is and the glass pitcher is awesome! What caught my eye though was the beetroot color. It matches my new bar perfectly! I see many margaritas in my future!
Date published: 2022-02-06
y_2023, m_12, d_10, h_7
bvseo_bulk, prod_bvrr, vn_bulk_3.0.37
cp_2, bvpage2n
co_hasreviews, tv_0, tr_61
loc_en_US, sid_KSB4026BE, prod, sort_[SortEntry(order=RATING, direction=DESCENDING), SortEntry(order=SUBMISSION_TIME, direction=DESCENDING)]
clientName_kitchenaidbrand
bvseo_sdk, java_sdk, bvseo-4.0.0
CLOUD, getReviews, 62ms
REVIEWS, PRODUCT
Bundle summary&nbsp (&nbspitems)
If Purchased Individually*
*Offer subject to change. Limit one use per order. Valid for bundles delivered to a single U.S. address. Bundle savings based on current pricing available from KitchenAid.com. Only valid for new orders on KitchenAid.com.
See how we handle Returns
.
Similar Products
Related Products
WHY SHOP KITCHENAID® APPLIANCES
*Your rate will be 0% or 10–36% APR based on credit, and is subject to an eligibility check. Payment options depend on your purchase amount, and a down payment may be required. Payment options through Affirm are provided by these lending partners: affirm.com/lenders.