NEW
1200-Watt Convection Microwave with High-Speed Cooking - 30"
1200-Watt Convection Microwave with High-Speed Cooking - 30" is rated out of 5 by 103.
This high power, convection 1200-watt microwave oven unlocks your culinary creativity with the power of a microwave, a convection oven and a broiling element. Furthermore, the Crispwave™ technology and crisper pan allows it to be used for grilling, frying and convection cooking. The interior's CookShield finish wipes clean without harsh chemicals while the exterior is a bold blend of professionally-inspired styling with sleek touches for the home.
Stainless Steel - KMHP519ESS
Features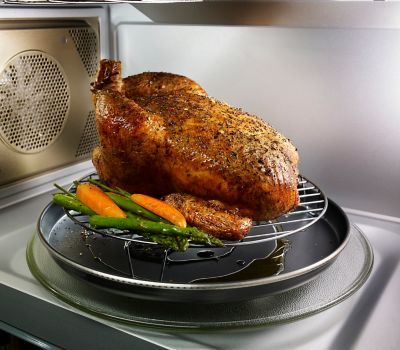 High-Speed Cooking
Expands the versatility of your microwave oven by combining microwave energy, broil element heat, and a convection fan to deliver browning and crisping.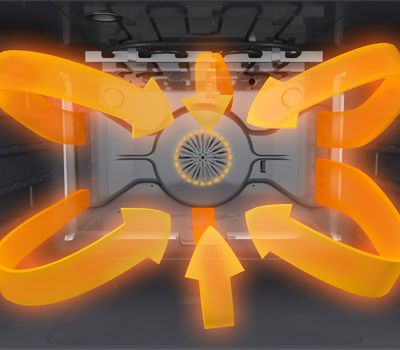 Convection Cooking
Circulates heat around the oven cavity with a 1600-watt convection element that allows baking at temperatures up to 425° F.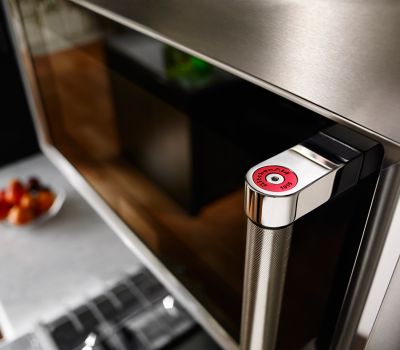 Professionally-Inspired Design Including Handle, Badge, Graphics, Chrome Chamfer.
A bold blend of professionally-inspired styling with sleek touches for the home. This microwave oven features Satin Textured Handles, Precision Glass Touch Controls, a Chrome Inlaid Frame, the KitchenAid® Badge and KitchenAid Brand Medallion.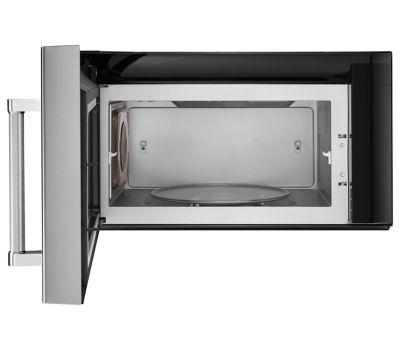 Cookshield Finish
Makes it easy to wipe the interior of the microwave clean without harsh chemicals so it looks clean and bright longer.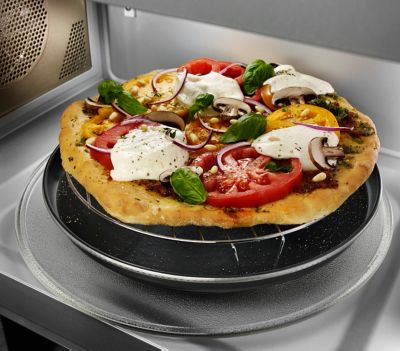 Crispwave™ Technology and Crisper Pan
Allows the microwave oven to be used for grilling, frying, and convection cooking. The specially designed crisper pan can be used to brown, crisp, and pan-fry foods.

1200 Watts Power
Cook your favorite foods quickly and thoroughly with high power.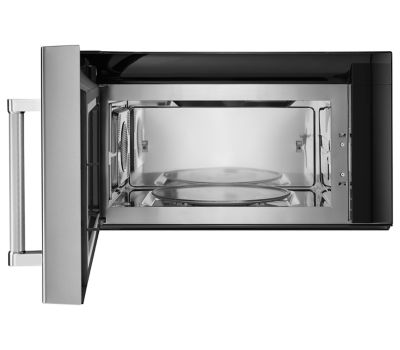 1.9 Cu. Ft. Capacity
Is large enough to comfortably fit different containers and work as a complement to your conventional oven.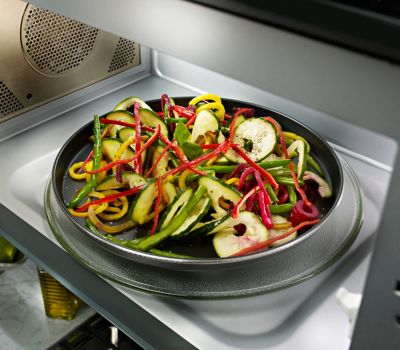 Halogen Cavity Lights and Task Light
Illuminate the interior of the microwave and provide visibility in the work area below with bright yet pleasing lamps.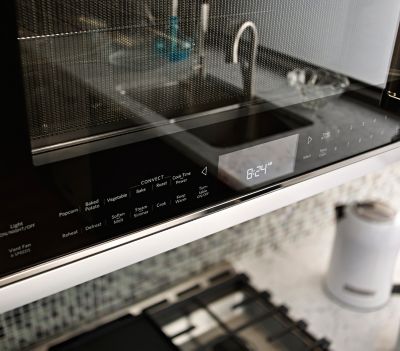 Steam Cleaning Function
Uses the power of steam to release spills and stains so they are more easily wiped away.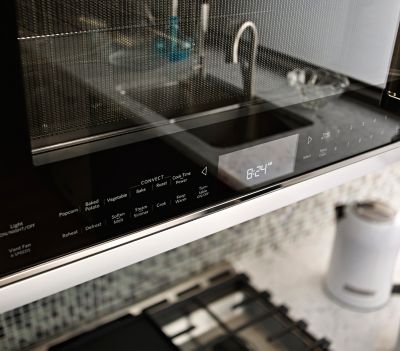 Keep Warm Function
Operates at 10% cooking power to keep cooked foods warm until they're ready to be served.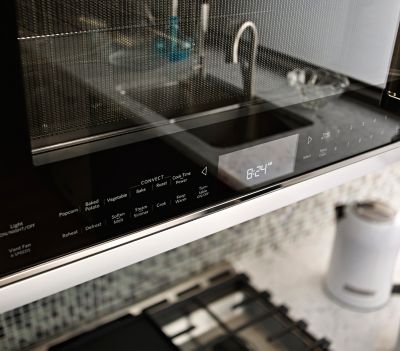 Sound-Based Popcorn Function
Listens to popcorn and uses the sound to know the precise moment it is ready.
Specifications
Configuration
Microwave Type
Over-the-Range
Dimensions|Capacity(FT3,cubic feet)
1.90
Configuration and Overview
Cooking Power Wattage
1200
Quick Touch Settings
Control Lock, Convect, Cook/Start, Cook Time, Crisp, Defrost, Grill, Keep Warm, Popcorn, Reheat, Soften/Melt, Speed Cook, Steam
Vent Type
Exterior or Recirculating
Controls
Filter
Charcoal Odor Removing Filter
Work Surface Light
Halogen
Show More Specifications
Reviews
Rated 1 out of 5
by
The Easts
from
Don't buy this if you need a hood fan option
This microwave should NOT be sold as a over the range microwave with a hood fan. The hood fan operation is laughable. The microwave is wonderful and I love the way it functions, however, the hood fan will barely draw and ultimately my really expensive Kitchenaid range/cook top is going to ruin my microwave and cabinets because every time I use it moisture is dripping off of the microwave and collecting on the cabinets. And to clarify, we had the microwave replaced because we thought something was wrong with the 1st unit but the replacement is no better. The ducting has been checked and it's fine. Like I said, this shouldn't be sold as a hood fan. Buyer be ware.
Date published: 2018-01-15
Rated 5 out of 5
by
DoubleDownOn11
from
Magic Microwave...Seriously!
I needed a new microwave for the new house, and I definitely knew I wanted above-the-range mount, and internal grilling (as my last microwave had this feature). I came across this KitchenAid model, and with the added feature of a convection oven, I figured it had everything I wanted and more. This appliance's menu programs and "automatic sensing cooking" is really a wonder to behold. Thus far I used REHEAT (Casserole, Sauce, and Soup), SOFTEN/MELT (Soften Cream Cheese), COOK (Frozen Meal: Frozen Entree and Frozen Burrito), STEAM/SIMMER (Dried Pasta, Manual Steam (hot dog buns)), CONVECTION BAKE (Frozen Pizza), GRILL (Hamburger Patties, Manual Grill (hamburger buns w/ melting cheese)), & CRISP/SIZZLE (Brownies, Fast, and Frozen Pizza) and every time it has come out near perfect with no time or temperature selection by me (except manual functions). In one example when using the COOK (Frozen Meal: Frozen Entree) program, I inserted the frozen entree selected the appropriate meal size/weight and pressed start. Normally when heating these meals I would ballpark follow the package instructions, ie, heat on high for 5 minutes, then stir and flip foods, continue to heat 2-3 minutes, then let stand 1-2 minutes for it to be heated properly and evenly. I did none of that with this unit, simply selected the proper program and food weight, and it heated the entree perfectly. No stopping in the middle to stir or flip the foods, and when it was done, everything was near evenly heated, not super hot or still frozen parts, no burnt or dried edges. It seems like a minuscule little thing, but it still amazes me. I got a chance to try the RISP/SIZZLE (Brownies, Fast) program this weekend and it worked perfectly. I, per the instructions made the brownie batter per the box instructions, poured into the coated Crisp Pan, and let it run. 15 minutes, no preheating and perfect brownies! I would say my only "issue" with the microwave is the operation of the above-range vent. It has 6 settings (from high to low and 4 speeds in between), but you have to repeatedly press the button to cycle through all of them to turn it off...unless there is a way to turn it on to high, then turn it off instantly which I haven't figured out yet. But other than that I think it's great. I've cooked dried pasta in this unit 4 times with with perfect results. Amazing product!
Date published: 2018-01-03
Rated 5 out of 5
by
P e d
from
Great Features and works great
We bought this microwave about a month ago and had it installed right away. Well worth the money and effort.
Date published: 2018-01-02
Rated 5 out of 5
by
DJFIA
from
Nice upgrade
We purchased this microwave to replace a previous unit that died. I love how quiet this model is and the 6 speed fan is great. We're just starting to explore the convection feature, but so far everything we have tried has been wonderful. A little more documentation on how to use the convection feature would be helpful.
Date published: 2017-12-28
Rated 4 out of 5
by
JulieR
from
Really like this microwave
So far I have really enjoyed using this microwave.
Date published: 2017-12-10
Rated 4 out of 5
by
WoMech
from
Hood venting is minimal
The microwave works great. The style is great, but the venting portion of this microwave/hood combination needs some work. The vent fan has 6 speeds and doesn't vent out steam from boiling water on the stove. We even did a warranty call because it wasn't working and thought that something was wrong, but the certified technician stated that it was working correctly.
Date published: 2017-12-08
Rated 5 out of 5
by
J9Mac
from
Excellent Microwave
It isn't vented to the outside, but it's very quiet. I haven't used all the bells and whistles yet because it was installed just 2 weeks ago. It heats up quickly and there's no clunking from the turntable. It's not noisy at all. I would have preferred LED surface lighting, but the halogen bulbs are not a deal breaker. Did I mention that it's quiet?
Date published: 2017-11-08
Rated 5 out of 5
by
Pattyhl
from
Lots of features
I chose this one for the looks and I got so much more. It does everything even convection cooking. It's like an all in one cooking center.
Date published: 2017-11-07
Rated 5 out of 5
by
Walley World
from
LOVE it!
This is my third Kitchen Aid microwave and my favorite! Options are great . Love the controls on bottom! Haven't used grilling and convection yet but I will!!
Date published: 2017-10-16
Rated 5 out of 5
by
Anonymous
from
Technology home run...
...with simultaneous microwave, convection, and broil, promises to very much improve the quality. BUT there is no cookbook, just a very sketchy plastic folder directing you to the controls on the front. Want to bake a potato combining microwave and convection??? Want to bake an acorn squash and have top browned???? We are left to guess. The machine has been sold for two years and one would suppose by this time some user friendly cooking instructions? Overall the feel of quality is superb, quiet closing door is a big plus. End of cycle tones are a bit dim (and no adjustment for loudness) but they repeat, and we soon became alert to the tones which are actually pleasant. Another comment: the touch pad does not illuminate and the letters and numbers are very small, squeezed in a long line below the front window. I need reading glasses for this machine. Roasting a whole chicken tonight, with some onions inside, and feel pretty confident it will be a home run because cooking a whole roaster is pre-programmed, just right arrow and enter weight. We'll only know how cooking long it will take once we start the program since there is zero such information provided anywhere. The illustration on-line of a chicken cooked this way is mouthwatering vs a chicken simply microwaved. .
Date published: 2017-10-11
Demos & Guides
guides
Installation Guide
Instructions for unpacking and installing your appliance, including electrical requirements and necessary tools.
Dimension Guide
Detailed dimensions of your new appliance with space requirements for the area surrounding it.
Use & Care Guide
Comprehensive information about your new appliance - from getting started to cleaning and maintenance.
Warranty Information
A complete description of your warranty coverage, and contact information for service and support.
In order to read a PDF file, you must have Adobe Acrobat reader installed on your computer. You can download the latest version at the Adobe website.
Show More Guides