NEW
30-Inch 4 Element Induction Cooktop, Architect® Series II
30-Inch 4 Element Induction Cooktop, Architect Series II is rated out of 5 by 104.
This 30-inch induction cooktop uses electromagnetic energy to generate instant heat directly to your cookware without spreading the heat across the entire cooking surface. A bridge function lets you combine the power of two elements into one large cooking zone for specialty cookware such as a griddle or oval pan.
Stainless Steel - KICU509XSS
Features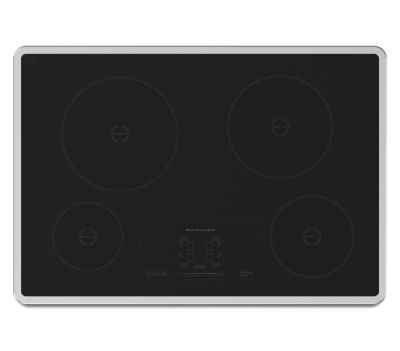 4-Element Cooktop
Provides four independent cooking surface areas.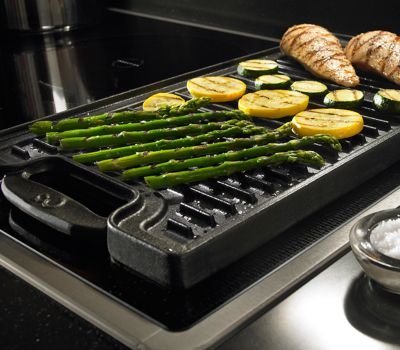 2 Elements with Bridge Function
Allows the flexibility to convert two cooking zones into one large cooking zone which provides additional space to accommodate specialty cookware.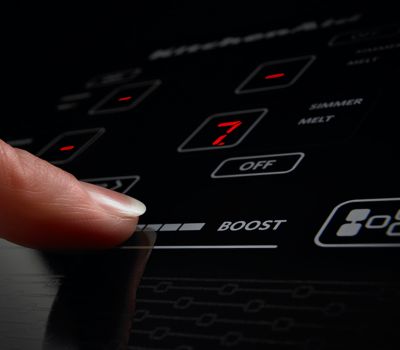 12 Heat Level Settings
Provide various levels of heat to fine tune cooking techniques ranging from melting chocolate and simmering a sauce to searing meat or achieving a rapid boil.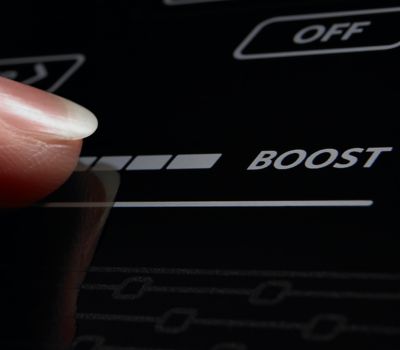 Performance Boost
Allows you to exceed the maximum heat-level setting for up to 10 minutes, perfect for rapid boiling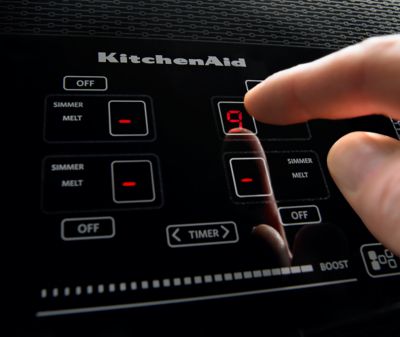 Touch-Activated Controls
Integrate seamlessly into the surface and include a slider for heat-level selection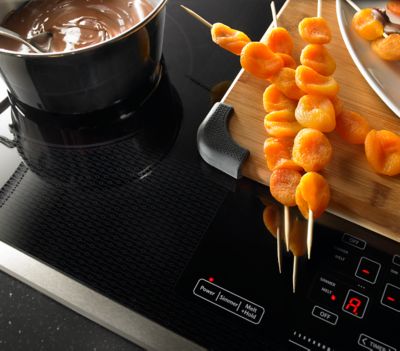 Melt and Hold
Uses low power levels for melting delicate ingredients or keeping cooked food warm without scorching.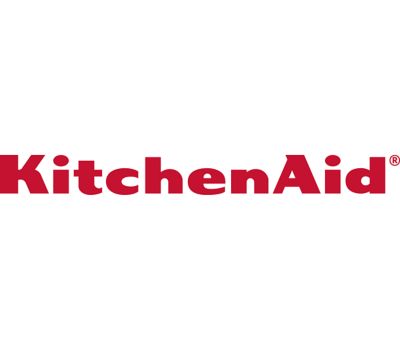 Simmer Function
Automatically selects a low power level to help maintain a constant simmer without boiling over.

Pan Size Detection
Provides feedback on whether pan size is suitable for the selected element.

Control Lock
Helps prevent unintended use and makes it easier to clean the control panel
Specifications
Configuration and Overview
Fuel Type
Electric Induction
Surface Material
Ceramic Glass
Number of Elements-Burners
4
Cooktop Element Style
Induction
Installs Over Built-In Oven
Yes
Cooktop Features
Left Front Power
2500W/1800W
Left Rear Power
2500W/1800W
Right Front Power
1800W/1400W
Right Rear Power
3700W/2300W
Right Rear Element-Burner Type
Single
Controls
Heating Element On Indicator Light
Yes
Hot Surface Indicator Light
Yes
Show More Specifications
Reviews
Rated 1 out of 5
by
Lisa1109
from
Horrible reliability
I have had to have 4 service calls on this cooktop. So far we've replaced the generator, the control board twice and the large burner. This has tied up 4 days between diagnosing the problems and getting it repaired twice. I regret purchasing this and the other kitchen aid appliances. And on top of it all you can't see the burner location and other controls as they are barely visible.
Date published: 2017-10-20
Rated 3 out of 5
by
Harron
from
It's a learning curve for me but I will get used to it
I am enjoying all the nuances on this cooktop. So happy with our decision only wish burners had painted outlines would make it easier to see where burners are situated on your particular cooktop
Date published: 2017-09-14
Rated 5 out of 5
by
Susan
from
Great cooktop
This is our first experience with induction cooking. It has been a very easy transition. It is easy to use and very easy to clean up. I had heard that there could be humming noises with induction cooking. We have experienced very little of that
Date published: 2017-09-08
Rated 5 out of 5
by
Cooktessa
from
Great cooktop
Used this for about a month. Love it. Great response on heat control.
Date published: 2017-09-08
Rated 5 out of 5
by
Cindy E.
from
Excellent induction cooktop
Recently bought this cooktop to replace broken electric one. Couldn't be happier with the induction features as well as the clean look of this premium cooktop. I highly recommend it!
Date published: 2017-08-11
Rated 1 out of 5
by
Mark
from
Does not last. 2 years from the time we bought it.
It came from the builder when we bought the house 2 years ago. Now possible fuse broken. I guess that is why they only warranty it for 1 year, they know that it's not going to last long. Part with shipping cost around $85 +. Repair is ridiculously priced. Just find another brand that would last longer.
Date published: 2017-08-01
Rated 5 out of 5
by
Dee
from
Waiting for installation
Looks beautiful, but haven't installed yet. Waiting on new countertop
Date published: 2017-07-18
Rated 5 out of 5
by
Dibader
from
Beautiful and Easy to use Cooktop!
Bought the full suite of products, and love the induction cooktop! Easy to use, and love the fact that I can use cast iron (and all induction cookware) on top of a silpat! Prevents scratches, and makes clean up a breeze. It does tend to run hotter on the settings, but that's an easy adjustment. It's allowed me to get reacquainted with my cast iron. The cookware does need to be induction ready, other pans won't work. It did take me awhile to figure it all out, but instructions are great.
Date published: 2017-07-17
Rated 4 out of 5
by
TeriA
from
Cooktop is great
Love the cooktop. It is sharp looking and performs nicely.
Date published: 2017-07-11
Rated 5 out of 5
by
KACFLA
from
Very happy we made the switch to induction
We have had this cooktop since March 2017 and couldn't be more happy. The boost feature makes boiling water a snap. The ability to instantly control the heat is as good as gas. Clean up is as easy as it gets on the glass top. We also purchased some Kitchenaid cookware and have not heard any buzzing noises. If you are thinking about induction don't hesitate to get it.
Date published: 2017-07-11
Rated 4 out of 5
by
Marj
from
Only got to use it a couple of times so far, but I love it.
Remodel purchase haven't been able to use much. Snow bird, now. Moving to Az full time. Can't wait to use my new appliances.
Date published: 2017-07-06
Rated 4 out of 5
by
LisaPA
from
Sharpest cooktop in town!!
SO glad Kyle O'Steen at Allentown Applianc thought to show us this cooktop when we were shopping for kitchen remodeling
Date published: 2017-06-15
Rated 5 out of 5
by
Bruce . . .
from
SO easy to keep clean!
We purchased an entire new set of kitchen appliances a month ago, and have fallen in love with our new convection cook top. It is easy to use and heats up as quickly as a gas stove would do. We also love how quickly it cools down. A great purchase!
Date published: 2017-06-01
Rated 5 out of 5
by
demps
from
Induction cooktop = Great
We installed this cooktop 6 weeks ago and use it 3xday. Its great, super fast, accurate temp control, spills clean up easily. It looks great.
Date published: 2017-04-29
Rated 5 out of 5
by
El Titi 15
from
Great product. Excellent features
We Bought this cooktop almost 3 months ago and my wife claims that is easier to cook now very nice looking appliance. Features are very easy to use.
Date published: 2017-04-28
Rated 4 out of 5
by
Aprild
from
Mostly Love It!
I've had the cooktop for 2 weeks now. My only complaint is that the buttons are linear and the cooking rings are not and I get confused on which burner I'm trying to turn on and then it won't come on and I get frustrated.
Date published: 2017-04-13
Rated 5 out of 5
by
Updated at Last
from
Beautiful and Efficient
I have waited a long time to update my kitchen appliances. After researching, I chose the 30 inch - 4 element induction cooktop. I have not been disappointed in my choice! Although induction cooking is new to me, the cooktop is user friendly and it has not taken me long to learn how to use it.
Date published: 2017-03-27
Rated 5 out of 5
by
Dave
from
30 inch
This is the best cooktop that we have ever had, including natural gas models. Works perfectly and easily.
Date published: 2017-03-27
Rated 5 out of 5
by
Debbie
from
Love it!
I'm still learning but I already love it! It boils so quickly you can leave the kitchen to go do a quick chore. I love the game instant response time. May I never cook on an electric cooktop again!
Date published: 2017-03-25
Rated 5 out of 5
by
Den
from
Great product
Remodeled Kitchen. While studying the latest cook tops we came upon induction cooking. Had really never heard of it. Did some studying. It is the best. Works great and our experience so far is just great. One thing that could be improved on is the difficulty in seeing the touch controls. They come pretty close to matching the color of the top. Hard for us to see. But then again we are seniors.
Date published: 2017-03-17
Rated 1 out of 5
by
JerryJ
from
Don't waste your money on this false "Bridge Mode" cook top
I bought the Kitchenaid Induction cook top thinking it was going to be amazing, and with a normal round pan that fits in the space of the burners, it is. Unfortunately for me, I specifically bought a model with the "Bridge Mode" for the burners, and quickly found out that Kitchenaid doesn't feel that people really plan to use this feature. The "Bridge Zone" doesn't actually have any way of heating the pan, so now I have an overpriced cook top that doesn't work as advertised. When I try to use the bridge mode with my griddle, the two round spots where the burners are heat just fine, but the space over the "Bridge Zone" is 200 degrees cooler than the burner zones making it completely worthless. I called Kitchenaid, and the representative I spoke with said it should work fine and scheduled a service call. When the service technician came out, he called their technical department and was told this is normal. If you are looking for a cook top without a Bridge Mode, get a cheaper model, because this isn't worth the extra money.
Date published: 2017-03-17
Rated 5 out of 5
by
Do
from
Heats quickly, super easy clean up!
Heats up quickly. Love the top doesn't cook spills making clean up super easy! Only complaint, pots have to be exact same size of burner.
Date published: 2017-03-16
Rated 5 out of 5
by
VAGentleman
from
Favorite New Appliance
Have had it less than a month but love everything about it so far. Brings water to a boil in no time and extremely easy (and fast) to lower to a simmer - and keep it there!!!. Love the way the cook top cools down so quickly once it is turned off. I'm sure I will enjoy it even more as I use it more and become accustomed to what setting to use for different purposes.
Date published: 2017-02-17
Rated 5 out of 5
by
Jenna
from
Fast Accurate Cooking!
We purchased this appliance to replace an older electric unit that was going out. We had previously been debating on getting gas but now I am glad that we went with induction. It is truly the best of both worlds - FAST, responsive, accurate cooking without the risk of an open flame (we have a little one). The cooktop is easy to clean because spills don't get burned on, as heat is generated inside the pan. I've had beautiful results, no burns, and my kitchen looks cleaner longer. It's also simple to use and has a sleek look with no bulky buttons. I love it!
Date published: 2017-02-14
Rated 5 out of 5
by
Lisa
from
Beautiful looking and easy to use
This cooktop is so beautiful. So glad we went with kitchenaid. It does everything they say it will. I love it.
Date published: 2017-02-06
Rated 5 out of 5
by
Islandlife
from
Like the bridge
We have been using induction for 8 years, needed to replace, wouldn't consider a different type of cooktop, really like the induction. Love the bridge feature between burners, for large batch pancakes or bacon and eggs. Easy to clean surface, nice sleek look in our kitchen.
Date published: 2017-01-27
Rated 5 out of 5
by
The Lipp family
from
Buy an Induction cooktop!!!
We remodeled our kitchen with ALL Kitchenaid black stainless appliances. It is absolutely BEAUTIFUL! We wanted a simple, easy to clean cooktop that complemented our black stainless appliances. We had to special order the cooktop, nobody had it in stock. We didn't get a chance to see one in person before buying it, but we were not disappointed. It is gorgeous and performs AMAZING. This cooktop is the best cooktop I have EVER had. GREAT to cook on and cleans VERY EASY.
Date published: 2017-01-13
Rated 5 out of 5
by
Alexmart
from
Glad we bought the cooktop
When shopping to replace our failed Jenn air cooktop, we were considering all of the leading brands-- GE, Bosch, Jenn air, and Kenmore. I read the reviews of many models within these brands, and found reviewers complaining of problems for all these brands. The leading problem was cookware compatibility. I went to cookware sites like WS, and read what readers shared regarding compatibility of various brands. I saw the fewest issues with kitchen aid. I was a little leery about buying another kitchen aid appliance, given the bad luck I had with one of their refrigerators. We've had the cooktop for a few months now and are very happy.
Date published: 2017-01-04
Rated 2 out of 5
by
Jim
from
Bridging feature, induction cooktop
At the recommendation of the salesman, we purchased a 4 element induction cooktop with largely based on the bridging (oval pan/griddle) feature. The bridging function is useless as there is no cookware manufacturer who sells an appropriately sized griddle. We were persuaded to buy this unit based on the flexibility that the bridging feature seems to provide. I would recommend you taking the time to do web research on user experience with the unit before purchasing. It seems unreasonable to create the bridging function and then not have a suitable griddle available.
Date published: 2016-12-17
Rated 2 out of 5
by
Stacey
from
Not impressed
The cooktop randomly turns off when I'm cooking and won't turn back on until several minutes have passed.
Date published: 2016-12-12
Demos & Guides
guides
Installation Guide
Instructions for unpacking and installing your appliance, including electrical requirements and necessary tools.
Instruction Sheet
Instruction Sheet
Warranty Information
A complete description of your warranty coverage, and contact information for service and support.
Dimension Guide
Detailed dimensions of your new appliance with space requirements for the area surrounding it.
Use & Care Guide
Comprehensive information about your new appliance - from getting started to cleaning and maintenance.
Oven and Cooktop Combinations
Oven and Cooktop Combinations
In order to read a PDF file, you must have Adobe Acrobat reader installed on your computer. You can download the latest version at the Adobe website.
Show More Guides