NEW
15'' Automatic Ice Maker
15'' Automatic Ice Maker is rated out of 5 by 67.
This 15" automatic ice maker uses Clear Ice Technology to produce cube-shaped ice that is perfect for every occasion. Distinctive styling makes this ice maker an appealing complement to other KitchenAid® appliances. The signature handle design opens the ice maker to reveal a storage bin that can hold up to 25 pounds of ice.
Stainless Steel - KUIX505ESS
Product Overview
Learn more about the KitchenAid® Icemakers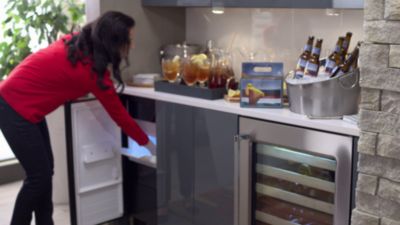 Features

Clear Ice Technology
Provides a uniform 3/4" x 3/4" x 1/2" size and shape that is ideal for daily use or a variety of entertaining needs.

Factory-Installed Drain Pump
Allows installation within 10 feet of a drain, in any direction.

Professionally-Inspired Design
Represents a reimagining of what a true cook's kitchen can be with a bold blend of commercial styling and sleek touches for the home. Handles feature iconic red medallions that speak to our timeless craftsmanship.

Integrated Filter
Helps to remove contaminants to help improve taste and clarity. For best results, the filter must be changed every six months.

Max Ice
Ice is produced 56% faster, compared to normal mode, when ice is needed quickly.

Reversible Door
Offers flexible installation options by allowing hinges to be installed on either side of the door.

Freestanding or Built-In Installation
Creates installation options and opens other areas of your home to supplemental ice storage.

3-Year Limited Warranty
Helps ensure purchase satisfaction with one of the strongest warranties in the industry1.
Specifications
Controls
Control Location
Interior Up Front
Cabinet Material
Prepainted Steel
Handle Location
Horizontal - Middle
Water Filter Location
Interior
Dimensions
Depth With Door Open 90 Degree
36 7/8
Depth Excluding Doors
21 1/2
Depth Closed Excluding Handles
23 1/8
Show More Specifications
Reviews
Rated 5 out of 5
by
Townsend 11
from
Remodel item
This item has been used the most so far. It makes some very loud noises as it is working. I am assuming it is supposed to do that as an ice maker.
Date published: 2017-11-09
Rated 5 out of 5
by
DrC1
from
Perfect Clear Ice
I installed the ice maker a week ago and could not be more pleased with the performance and the perfect clear ice. I only have one concern: The drain hose supplied with the unit has a soft black connector on the end away from the unit. When the unit is pushed into the cabinet the connector falls over and pinches off the drain. I put a short piece of copper tubing in the connector to prevent it from sealing off the drain and causing water damage.
Date published: 2017-10-27
Rated 1 out of 5
by
Anonymous
from
Highly disappointed
Have had kitchenAid ice machine for 17 years. After moving 8 years ago I purchased another new ice machine for my new home. Never had one moment of trouble. All of a sudden it stopped working. Out of warranty I call a repairman who replaced a part which cost me $600. Four weeks latter it stopped working and now mother board needs replacing. Decided to purchase new machine. Waited 2 weeks for order to be installed and machine worked for 4 days before I was told problem with motherboard and needed to order parts for replacement. I was not happy and could not get any communication going with Sewell Appliances to replace with new machine. KitchenAid offered me an extra year warranty or $150 for my troubles and fix the machine. I was insulted to think after buying a new machine to replace my previous one, it lasted 5 days before a repair was needed.
Date published: 2017-10-27
Rated 3 out of 5
by
jessica76
from
my first one had reoccurring problems.
Whirlpool was easy to work with... i wanted a WET ice maker. this isn't wet ice!
Date published: 2017-10-06
Rated 5 out of 5
by
LTD
from
Working as expected
This machine was purchased for the Administrative wing of a college and while we had multiple issues with our previous ice maker, KitchenAid was great to work with so we ordered a second one (an upgrade from the previous). It was delivered when they said it would be and in good shape. When the guys arrived to deliver it they also installed it and hauled away the old one. The new one installed very easily - any mechanically inclined person could do it. We added an inline filter to the water line but this one comes with a place for a filter - though the filter was not included. After being away for the weekend we came in to a full bucket of nice clear ice and it's been working well ever since. We are very happy with this machine so far.
Date published: 2017-08-11
Rated 5 out of 5
by
cool drink john
from
easy install, great ice - love my new ice machine!
replaced old machine with our new KitchenAide - full ice bin in no time. great ice, no noise. summer just got cooler at our house.
Date published: 2017-07-14
Rated 2 out of 5
by
Greencove G
from
Out for repair after a couple months
Love the unit then it stopped working. In shop for two weeks. Iceless and loveless.
Date published: 2017-06-21
Rated 1 out of 5
by
Dee
from
HORRIBLE ICEMAKER AND WHIRLPOOL SERVICE!!!!
I bought this ice maker 02/2016 along with $12,000.00 in other Kitchen Aid appliances for our new home. In June I started having trouble with this icemaker and have had at least 5 service calls on it. On 02/28/2017 I think was the 5th or 6th service call. They pulled the entire ice machine out cleaned it, replaced the ice cutting grid and now they had to come out again today 06/19/2016 and are going to replace the ice sensor????? The motor/pump have also been replaced. Even the repairman wasn't getting anywhere with Whirlpool. How many times do they have to come out to repair this lemon. The mold/mildew buildup is HORRIBLE!!! My friends don't want to use the ice from this icemaker. It's gross!!! The ice in the back of the icemaker turns to slush so when mixing your ice with coke, tea whatever it's watery. I think they just keep sending repairmen to fix it until the warranty runs out. Never buy this icemaker. I am disappointed in Whirlpool and the backup of their appliance. Even the place I bought my appliances is trying to help. It's obvious I got aa lemon. They can't reccommend this icemaker to others knowing about my icemaker and it's problems. We are getting ready to build a camp and will not be using Whirlpool/ Kitchenaid this time. I have had Kitchenaid appliances for many years and I think the quality went down when Whirlpool bought them out. It's obvious their service did also because I never had poor service with Kitchenaid. DON"T BUY THIS ICEMAKER!!!! YOU WILL REGRET IT!!!
Date published: 2017-06-19
Rated 5 out of 5
by
Sally M.
from
Good design and makes perfect ice!
I bought this for my parents and they couldn't be happier! Having a dependable machine has been wonderful.
Date published: 2017-06-14
Rated 5 out of 5
by
Anonymous
from
Great Ice Maker
This is an Ice Maker with a Drain Pump. It makes the great Cocktail sized Ice. Makes ice very quickly and a lot of it. It has been very quiet so far which is unusual for an Ice Maker. I am very pleased although I have only had this up and running for a couple of weeks. So far, it has exceeded my expectations.
Date published: 2017-06-07
Rated 5 out of 5
by
Kathy
from
Makes ice fast
Bought this ice maker and so far so good. I like the Max Ice feature and it does a great job of keeping ice in the bin.
Date published: 2017-05-15
Rated 5 out of 5
by
Mere
from
Great features..love it!
I bought this about 4 months ago and love it. Easy to use, and clean.
Date published: 2017-04-18
Rated 4 out of 5
by
Chiapet
from
Love the ice
Love the ice it makes - our favorite small squares.
Date published: 2017-03-23
Rated 1 out of 5
by
New Homeowners
from
3 Hr Life Expectancy
3 hrs old snd the pump burned out.(And, its very loud) Not happy!
Date published: 2017-03-17
Rated 5 out of 5
by
Rita C
from
I LOVE my new Kitchenaid Icemaker!
I got this as my birthday present and love never running out of ice!
Date published: 2017-03-09
Rated 2 out of 5
by
Builder one
from
Poor performance
This is my second one within a year. Kitchen aide would not replace first one because it didn't have enough of a repair record. The motherboard and water inlet valve went out within 6 months. Very loud function during cycling. The second one is makes only half the ice and what it does makes is wet and is melting as fast as it makes it. I have to keep setting on "rapid mode". Regular mode makes about bowl full between cycles. Retail center swapped out the first icemaker but it was not Kitchaide. I'm a builder and will do what I can to steer my clients away from KA.
Date published: 2017-02-26
Rated 5 out of 5
by
tlowe
from
Ice Maker
I love the ice size and texture. It's not too big and hard. The ice machine does put out a fair amount of heat though. I've had it 6 months and haven't had any problems with it.
Date published: 2017-01-20
Rated 5 out of 5
by
Jeff
from
Great luxury item
We were tired of running out of ice all the time This ice machine has solved this issue for us and our friends.
Date published: 2016-12-10
Rated 5 out of 5
by
Coco
from
Love my new KitchenAid Icemaker
I have remodeled several homes and just finished building a new home in Florida. The first thing I think about in the kitchen area is where is the Icemaker going to be located.
Date published: 2016-11-12
Rated 2 out of 5
by
Ice Queen
from
The ice is great, but it comes with noise and heat
I love having fresh ice readily available, but this ice maker is noisier than a fridge ice maker, and several times a night, I wake up to what sounds like something falling off the counter. It's the ice dropping. It's also very warm. I can feel a difference in temperature just walking by, and sometimes the countertop is warm enough to instantly soften a stick of butter. It even warms the cabinet next to it. I realize it melts the ice in order to keep the ice fresh, but it seems like it could do that half as often and still produce fresh ice. I'm not sure I would have included this in our remodel knowing how noisy it is.
Date published: 2016-11-05
Rated 2 out of 5
by
Ice lover
from
Fresh Cold Ice with bi-products
Please keep in mind we have only had this ice maker for about 6 months. It has consistently produced fresh cold ice for us however the two bi-products of its production are noise and heat. At night the noise is extremely noticeable. The humming of the compressor is tolerable but the noise it makes to produce and drop the ice is very loud! It is also quite hot in the cabinet next to the unit despite the venting at the bottom of the unit.
Date published: 2016-10-31
Rated 5 out of 5
by
Donna
from
So far, great!!
I have only had this installed for a couple of weeks, but so far, great! Love the ice size and it fills up daily!
Date published: 2016-10-15
Rated 4 out of 5
by
Have lots of ice
from
Great ice maker
We had to replace our previous Kitchenaid Icemaker(3 yrs old) because it was frequently springing water leaks & ruined my cabinet. I am pleased so far with this Icemaker but it's value will remain to be seen once we hit the 2 yr mark. It is quieter than our previous model when the pump is sending the water to the sink drain and the crash of ice is still heard but about half as loud. The filling process is a bit quieter but the cycle seems to have a bit longer rinsing sound. This Icemaker produces plenty of ice but I find that all in all, it seems to be melting in the Icemaker almost as fast as it is made. Storage chamber just seems to be warmer & the drawers in the cabinet next to the Icemaker seems to be warmed from the heat of the Icemaker more so than the previous model. Our bedroom is very close to the kitchen and the noise I hear in the middle of the night is nowhere near as bad as our previous Icemaker...I can actually sleep through this one.
Date published: 2016-09-27
Rated 5 out of 5
by
stan
from
Excellent icemaker
Replaced a very expensive icemaker with this less expensive one. Works as good as if not better than the other one. It was easy to install.
Date published: 2016-09-27
Rated 5 out of 5
by
RB
from
working great so far
Working great so far, installed by plumber about 4 weeks ago. Version with the pump and all works well.
Date published: 2016-09-06
Rated 3 out of 5
by
mgm homeowner
from
Expect the usual under cabinet ice maker issues
1)Installation was tough into an existing kitchen. There is a plastic piece along the top edge and side that catches if the space is a tight fit so two men are required to pull it out if connection or repair is needed. 2)For whatever reason my plumber did not install the filter. I had to buy a new filter. 3)The water valve broke about a month after installation and the ice maker ran without water for a few days. The plumber that replaced it said this is a new valve, he's never seen one like it. 4)In order to clean the coils, I had to go buy a new screwdriver with a T20 star head! I had already bought a special screwdriver that removed the cover screws on my old ice maker. Why do you make it so hard for the average customer to perform routine maintenance? You have to be a contortionist to get the ice maker cleaner fluid poured in also. I am used to the difficulty for the benefit of nice ice, but really a new screwdriver plus cleaner fluid that should be done regularly is difficult to find except by ordering it online.
Date published: 2016-08-26
Rated 5 out of 5
by
Shannon
from
Love it
I have 2 new ice makers and I love them both. The ice is perfect size and the machine is nice and quiet
Date published: 2016-08-15
Rated 5 out of 5
by
PMY
from
LOVE this ice machine
This ice machine replaces an ice machine of a different brand which was trouble from day one. This Kitchen Aid has WONDERFUL ice that looks and tastes great. It has an integrated water filter (which is new to me) and the quality of the ice is great. It is also much quieter than my previous model. We live in Houston, Texas so we use a lot of ice and I am looking forward to many years of great ice production.
Date published: 2016-08-05
Rated 5 out of 5
by
Frank
from
Great tasting ice
Have had our ice machine for 1 month. Makes great tasting ice and the cubes are the perfect size. Cubes also last a long time once your beverage is poured.
Date published: 2016-07-22
Rated 5 out of 5
by
Robyn
from
15" Automatic Ice Maker
I love this ice maker. We are replacing our Kitchenaid ice maker with the same model. The prior ice maker lasted 12 years. It makes clear perfectly square ice cubes with no funny taste! We always have enough ice even on those 106 degree days! I would definitely recommend this product to anyone who is looking for an ice maker for a large group.
Date published: 2016-07-05
Demos & Guides
guides
Installation Guide
Instructions for unpacking and installing your appliance, including electrical requirements and necessary tools.
Dimension Guide
Detailed dimensions of your new appliance with space requirements for the area surrounding it.
Use & Care Guide
Comprehensive information about your new appliance - from getting started to cleaning and maintenance.
Warranty Information
A complete description of your warranty coverage, and contact information for service and support.
In order to read a PDF file, you must have Adobe Acrobat reader installed on your computer. You can download the latest version at the Adobe website.
Show More Guides
(1) See warranty certificate for more details.