15'' Automatic Ice Maker
15'' Automatic Ice Maker is rated out of 5 by 29.
This automatic ice maker uses Clear Ice Technology to create a uniform cube size and shape that is ideal for everyday use. And because it produces up to 50 pounds of ice per 24 hours, there will always be enough ice for entertaining.
Stainless Steel - KUIX305ESS
Product Overview
Learn more about the KitchenAid® Icemakers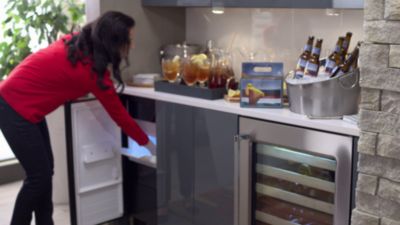 Features

Clear Ice Technology
Provides a uniform 3/4" x 3/4" x 1/2" size and shape that is ideal for daily use or a variety of entertaining needs.

Integrated Filter
Helps to remove contaminants to help improve taste and clarity. For best results, the filter must be changed every six months.

Professionally-Inspired Design
Represents a reimagining of what a true cook's kitchen can be with a bold blend of commercial styling and sleek touches for the home. Handles feature iconic red medallions that speak to our timeless craftsmanship.

Max Ice
Ice is produced 56% faster, compared to normal mode, when ice is needed quickly.

Freestanding or Built-In Installation
Creates installation options and opens other areas of your home to supplemental ice storage.

3-Year Limited Warranty
Helps ensure purchase satisfaction with one of the strongest warranties in the industry1.
Specifications
Controls
Control Location
Interior Up Front
Cabinet Material
Prepainted Steel
Handle Location
Horizontal - Middle
Water Filter Location
Interior
Dimensions
Depth With Door Open 90 Degree
36 7/8
Depth Closed Excluding Handles
23 1/8
Show More Specifications
Reviews
Rated 4 out of 5
by
JGAL
from
Very Quiet
This is our second ice maker, replacing a similar one we had for 7 years before it blew up (not sure why). This one is much more quiet operation, which is a major plus. The only negative so far is the door to the controls won't stay up, which is the only reason I gave an overall rating of 4! Ice Makers are notorious for failure, but this one came with 3 yr warranty and we purchased the extended warranty just in case.
Date published: 2017-11-28
Rated 1 out of 5
by
Anonymous
from
Useless
We bought a Kitchenaid ice maker 1 year ago along with a refridgerator, an in-wall oven and a gas cooktop, all Kitchenaid. So far we are on our 3rd Ice-maker and the 3rd repair for this ice maker. I can't believe that an appliance company like Kitchenaid dont know how to make ice. We moved into our new home in November of 2016. 2 weeks after we moved in, the ice maker stopped working. It took 2 weeks to get a repairman out to work on it. They received the part but it was the wrong one. They did not return until January to fix it. We went through the holiday celebrations without the ice maker. The reason we bought the ice maker is because we are always entertaining and always needing to go get ice. Now we are almost $2000.00 out and still going to get ice. The repairman came back 2 or 3 more times and the ice maker still did not work. RC Willey, where we bought the appliances, returned the ice maker and sent out another one that looked to be refurbished. It worked for about a month and stopped. The service man came out once again, made a repair and it worked for another few weeks. It stopped again so we demanded a new ice-maker. RC Willey delivered a brand new ice maker. We plugged it in, made all of the connections, turned it on and water was running down the inside of the door. The repairman returned again and found a plastic fitting was cracked in the weld and was spraying water all over the inside. We opted to just get the replacement part. He replaced the part in June or July and the ice maker worked until last week. It will not hold ice. The ice is melting faster than the maker will make it and the design for the drain is the worst design I have ever saw. Since it slides under our counter, i had to modify a funnel to catch th water for the drain otherwise it is flooding our kitchen floor. We are looking into other brands that are dependable and are true ICE-MAKERS not just a waste of water, electricity, time and money! One star is too many for this product
Date published: 2017-11-14
Rated 4 out of 5
by
GarryV
from
Mostly good, but maintenance is no fun
We've had this ice maker for about 10 mos and it has mostly been great. Lots of crystal clear ice. The bad: maintenance is difficult, at least the first go around. I've always heard ice makers are a real pain to maintain and this one does not disappoint. We started to develop the same mold issue mentioned in some posts. If you look at the manual, the unit requires some disassembly and cleaning every 9 mos. It's not easy! Do you yourself a favor and get yourself a 1/4" nut driver as that is what most of the fasteners are. Also, carefully note how things are assembled before you disassemble as the manual does not do a great job of listing out the steps. Once disassembled, you can clean all parts up good as new. I know how things go together now, so next time won't be so bad. One last hint: when working on this unit put something in the drain hole because the nuts are the perfect size to drop in there and never be seen again. I learned that tip the hard way.
Date published: 2017-11-13
Rated 1 out of 5
by
Judy K
from
Disappointed
We had a Kitchenaode Icemaker similar to this model for ELEVEN years with minimum repair. These machines are notorious for high maintainencevsovwexwere well aware of what it meant for maintainence. We had few complaints & loved the ice. It came time to replace the old model with a new one. We called Kiychenaide & was told that the old model was no longer available so we took their recommendation & got this one. It is not working! So, now we are awaiting a replacement & are hoping this was just a lemon. Very disappointed & very inconvenienced. Where is the quality that Kitcheaid brand stands for?
Date published: 2017-11-09
Rated 5 out of 5
by
Icing
from
Great at making all the ice we need!!
We had one like it for 7 years and it quit working. So went to find another just like it
Date published: 2017-10-24
Rated 4 out of 5
by
Anonymous
from
Awesome Ice Maker
I am really glad we bought this, it is great to have an icemaker in our kitchen, we enjoy it. Its great for parties and gatherings.
Date published: 2017-10-16
Rated 5 out of 5
by
dkdesign
from
Great Ice
I love my new Kitchen Aid Ice Maker. The new feature I like the most is the location of the handle at the top perpendicular to the machine. It makes it so easy to open. My last Kitchen Aid Ice Maker had the handle parallel on the left side, but did last me 17 years!
Date published: 2017-10-13
Rated 2 out of 5
by
BP
from
Great except for the mold
We love our ice maker, other than the constant buildup of black and red mold in the back of the unit where you are unable to reach it. When we had a repairman out for a separate issue (that was taken care of under warranty), he indicated ours was cleaner than most and that there's no way to clean it other than by completely disassembling the unit. He tried to convince us that it doesn't touch the ice, but during the cleaning process today, it's clear the mold is spreading to areas touched by water/ice. I live in a very dry state with no added humidity in the air and the mold formed before the first cleaning cycle, and we run the cleaning solution through it more frequently than recommended. I've had the unit for almost three years now and love the ice, but am concerned about the health effects of ingesting moldy ice.
Date published: 2017-09-21
Rated 5 out of 5
by
Mud Duck
from
Great ice maker!
I bought this ice maker to replace the one that broke down and it is great!
Date published: 2017-08-31
Demos & Guides
guides
Dimension Guide
Detailed dimensions of your new appliance with space requirements for the area surrounding it.
Use & Care Guide
Comprehensive information about your new appliance - from getting started to cleaning and maintenance.
Warranty Information
A complete description of your warranty coverage, and contact information for service and support.
Installation Guide
Instructions for unpacking and installing your appliance, including electrical requirements and necessary tools.
In order to read a PDF file, you must have Adobe Acrobat reader installed on your computer. You can download the latest version at the Adobe website.
Show More Guides
(1) See warranty certificate for more details.