NEW
44 dBA Dishwasher with Window and Lighted Interior
44 dBA Dishwasher with Window and Lighted Interior is rated out of 5 by 33.
This beautifully designed top control dishwasher has a Window with Lighted Interior and Advanced Racks so you can inspect dishes before removing them. It features the Dynamic Wash Arms providing complete water coverage. The unique design sprays water everywhere in the dishwasher, including hard-to-reach places. It also uses Clean Water Wash System that continuously cleans the water for superior performance, even with the heaviest loads.
Stainless Steel - KDTM804ESS
Features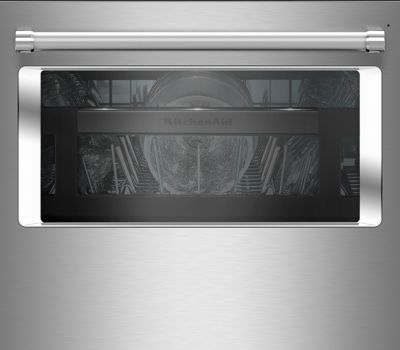 Window with Lighted Interior
allows you to view the dishwasher interior and inspect your dishes to ensure they are sparklingly clean even before removing them.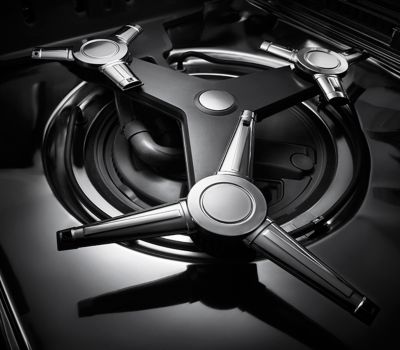 Dynamic Wash Arm
features nine wash arms in one for 3 times better coverage. This unique design directly sprays water everywhere in the dishwasher, including hard to reach places. This means dishes get a powerful clean no matter where they are placed in the rack.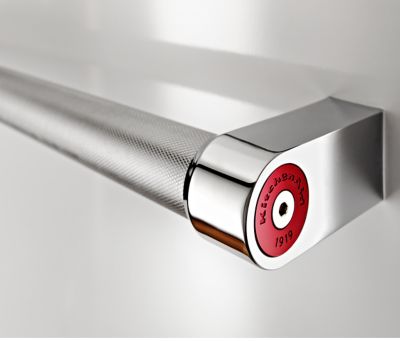 Professionally-Inspired Design
combines a bold blend of professionally-inspired styling with sleek touches for the home. This beautiful dishwasher features Satin Textured Handles and the KitchenAid® Badge, a symbol of uncompromised quality.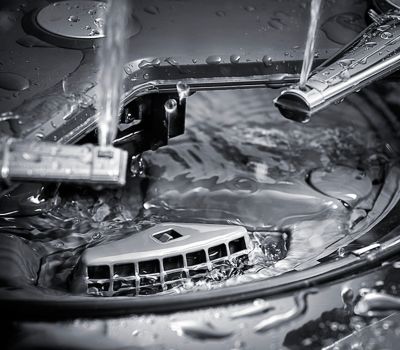 Clean Water Wash System
continuously removes food particles from the wash water. The result of this exclusive technology is clean wash water for excellent performance. Plus, there's no need to ever remove and clean the filter.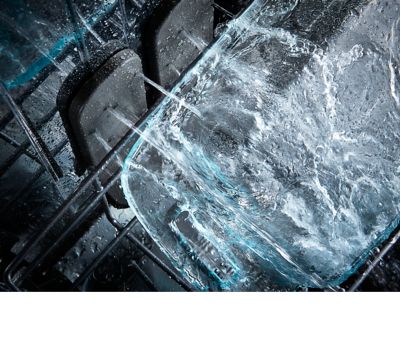 ProScrub™ Option
Helps eliminate soaking or pre-scrubbing with 40 targeted spray jets that help remove stubborn messes like seared or baked-on foods.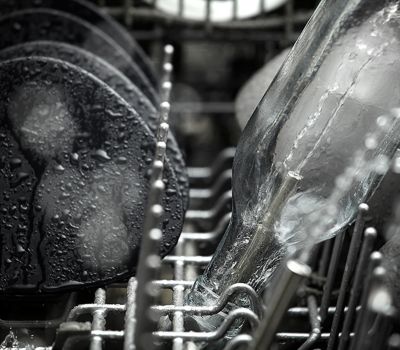 Bottle Wash
provides four dedicated spray nozzles in the upper rack that can be placed deep inside tall glasses and bottles to thoroughly clean even deep and odd-shaped dishes. Each nozzle is adjustable and can be bent down to accommodate a wide variety of dishes.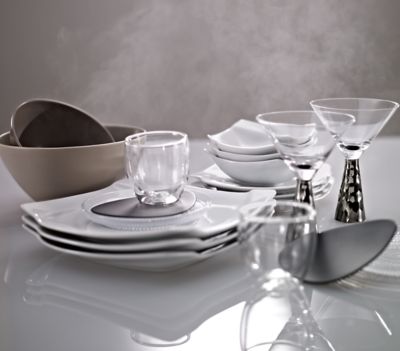 ProWash™ Cycle
Determines the ideal cycle for washing dishes based on soil level and then makes real-time adjustments to achieve the best cleaning performance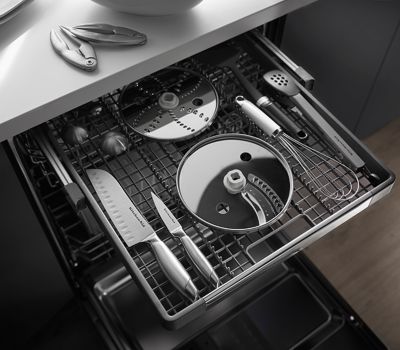 Third Level Rack
makes it easy to clean hard-to-place items such as spatulas, serving utensils and measuring cups, freeing up space in the lower two racks.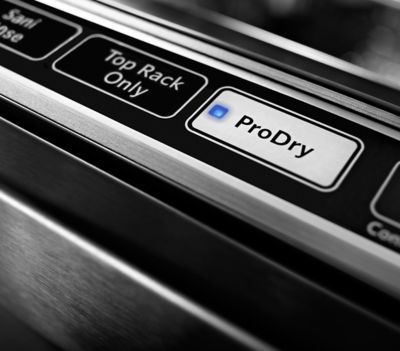 Advanced ProDry™ System
Delivers the best drying1 performance without rinseaid using a recessed heating element and a fan to draw moisture out of the wash tub giving you better drying results.

SatinGlide® Max Rails (Upper and Lower Racks)
Creates a smooth, premium feeling when pulling out the upper and lower racks, particularly with heavy loads.

Sliding Tines in the Lower Rack
provides the ideal fit for deep and narrow dish sizes. The adjustable tines let you customize the spacing between the rows.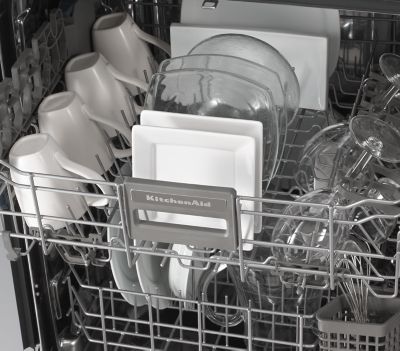 2 Fold-Down Cup Shelves with Integrated Stemware Holders
Provides extra room in the upper rack to hold additional cups, wine glasses, or long items such as utensils and spatulas.

Express Wash
quickly and effortlessly handles the heaviest soils, even stubborn baked and seared-on messes in less time.
Specifications
Configuration and Overview
Energy Star® Qualified
ENERGY STAR® Qualified
Cycle Selections
Express Wash, Light/China, Normal, ProWash™, Rinse Only, Tough
Option Selections
1-24 Hour Delay, BottleWash, Control Lock, Heated Dry, Hi Temp Wash, ProDry™, ProScrub®, Sani Rinse®, Top Rack Wash
Water Filtration System
Maintenance Free Microfilter
Extras
2-Plastic Cup Shelves, 4-Light Item Clips, 8-Stemware Holders
Adjustable Upper Rack
2 Position
Number of Place Settings
16
Controls
Exterior Status Light
Multi-Color
Dimensions
Depth With Door Open 90 Degree
49 1/2
Show More Specifications
Reviews
Rated 5 out of 5
by
Di
from
Best dishwasher
Only want a kitchenaid dishwasher; it's the best!
Date published: 2017-08-31
Rated 5 out of 5
by
Dishpan Hands
from
Excellent performance
My home warranty company suggested this one as a replacement. So far I love it and the 3rd rack is very handy.
Date published: 2017-07-17
Rated 5 out of 5
by
Tab380
from
Best of the best
This model dishwasher seems to have answered and fixed all the issues I have had with all the other dishwashers I have owned. Shelving issues, noise issues, door issues, all gone.
Date published: 2017-07-15
Rated 5 out of 5
by
Dr. Young 02
from
Love It
Love this dishwasher, I don't know why I waited so long to purchase a new one. This dishwasher cleans efficiently. THe light feature is cute but I barely get to admire it because it automatically comes on after the wash is done and automatically shuts off. There are a number of colors that appear on the door throughout the wash cycle however I was not completely sure what each color meant. Blue is for washing, red I assume is for drying and white I understand now that the wash cycle is done. Overall an excellent addition to our kitchen
Date published: 2017-06-08
Rated 3 out of 5
by
Jason
from
Washes dishes great, but why no light with window?
We purchased this dishwasher about two weeks ago. It is as wonderful as described and as you probably saw in the showroom. IT's the top of the line and the most expensive model, so you've probably got a lot of expectations. So did we. We sprung for having the lights inside, the window in the door, the pot scrubber, the bottle washers, etc. And it does a bang up job of cleaning dishes. But, a few things that weren't thought of (and that makes how much we paid for it annoying): 1) there's lights and a window, but the lights can't be manually turned on and they don't come on during washing. What's the point of that? There's a window but I can't see inside. Why did you put a window for me to look through? Yes, the light comes on at the end of the wash for about ten minutes. Nice, but since it takes the dishwasher about 3 hours to do a load of dishes, I'm not around to see the light come on. Not the most well thought out approach. Instead, kitchenaid, add a button like on the oven so i can turn the lights on and off at my leisure. let us see how your cool new appliance works. 2) the tines in the lower rack point straight up (that seems normal, right?) but, dinner plates usually need to lean back or else they fall over. So, i've manually bent the tines to keep the dinner plates from falling all over themselves. The bottom rack looks haphazard and i'm afraid i'll break the rack. Anyhow, seems easy enough to just manufacture the rack to accommodate dinner plates. 3) if you open the dishwasher during a cycle to add a dish, you have to press START then shut the door. IT doesn't start back up automatically. (grrr...) Overall, cleans and dries dishes great. I probably would have bought a cheaper model in kitchenaid and not paid for the cool new features because not everything was fully thought out.
Date published: 2017-05-18
Rated 5 out of 5
by
Sue B
from
Just fabulous!!!
I purchased this dishwasher for my new home and it is just fabulous. Aside from how great it looks in my kitchen, it is also the quietest dishwasher ever. I am living all the amazing features especially bottle cleaners in the top rack. I can't say enough good things about this appliance.
Date published: 2017-05-01
Rated 5 out of 5
by
Rocky
from
Good cleaner
We replaced another Kitchen Aid with this unit. We preferred the old top mounted utensil holder to the new basket holder on the bottom rack.
Date published: 2017-03-07
Rated 5 out of 5
by
Gracie the weinerdog
from
The Best IN ANY PRICE RANGE
We love the ball bearing slides,machine quietness,window,and over all quality of this machine.The led interior lighting is a nice touch also.Dishes look the best ever.
Date published: 2017-02-27
Rated 5 out of 5
by
mplsal
from
Fun and Functional
Silent superb cleaning of anything in the dishwasher. The window is even fun to look at when the dishwasher is not running. The instructions say it requires a rinse aid for everything to dry well. That's correct--with added rinse aid, everything, including all plastic, is perfectly dry at the end of the cycle.
Date published: 2017-02-23
Rated 3 out of 5
by
Elk Hunter
from
Top of the Line KitchenAid Dishwasher
We've tried Several Cycles on this dishwasher. Pro Cycle with Pro Heat and the dishes are not dry unless you wait an hour before opening the Door. It does the same thing on all cycles. When you do open it, there is water all over the window. It is extremely quiet. You cannot even hear that it's running. The Window is just a gimmick and has no functional value. The LED Lights are very bright.
Date published: 2017-02-14
Rated 2 out of 5
by
BY
from
Not happy with this dishwasher
The third tray/cutlery tray is too shallow to wash spoons (spoons that put on their side)or anything that is bigger than 1 and 1/4 inch tall, and on the center of tray, you can't even put anything bigger than 3/4 inch because the small wash arm is in the way. Also the tine on the tray is too short, so that can't hold and separate spoons or forks. The cutlery basket also not good to use, as the little holes can't fit my soup spoons' handle. So it is useless too me. It takes me double the time to load the dishes. And it takes forever to finish washing (more than 2 hours without drying function and more than 3 hours with drying), even after almost 1 hour of drying by use both heat and pro dry, the dishes only 85% dry. I suspect there is something wrong with this machine because I did not hear the fan blowing, there was no sound during the drying and was noisy during washing (noisier than the Asko I had last). I am being very patience with this new dishwasher as I understand it might take awhile to get use too. But so far, this is the only dishwasher I have ever hate.
Date published: 2017-02-12
Rated 4 out of 5
by
Doting Daddy
from
Nice Dishwaser
This is a very nice, quiet dishwasher. A few words of caution: * The owner's manual doesn't exist. * The dishwasher makes a rapid clicking sound during the first cycle. The lack of an owner's manual is my biggest concern.
Date published: 2017-02-07
Rated 3 out of 5
by
Warriorpoet
from
Cleans well, but doesn't close very easily
First, the dishwasher cleans well. That is the main thing in a dishwasher, right? It's quiet and, frankly, looks good. However, it does not shut well. The door seems to be slightly off so that it catches on one side as we try to close it. We'll be contacting Kitchenaid about this, since when you pay this much for a machine you should get a machine that is in completely good condition.
Date published: 2016-12-12
Rated 5 out of 5
by
S. Whitehall
from
Very Effective Machine
I bought this dishwasher three weeks ago and I'm extremely glad I did. I no longer have to wash my dishes by hand before putting them in the dishwasher. Every item comes out clean. I also use to wash my utensils by hand, because they would touch and rust in my old dishwasher. I now use the utensil holder in this new machine and it's like magic. The instructions are very easy to follow. Everything is explained in plain English and pictures. A bit expensive for a dishwasher but works great.
Date published: 2016-11-29
Rated 5 out of 5
by
Tshahbazi
from
Solid with excellent cleaning power
I have just upgraded to this dishwasher from a Kenmore Elite model I've had for about 10 years. This Kitchenaid model is miles above what I had always thought was a pretty good dishwasher. It is solidly made, impressive looking, and due to some pretty innovative internal action, cleans my dishes without leaving residue or spots. I thought my old dishwasher was quiet, but this is so quiet, I've had to have a talk with my family about looking for the indicator light before opening it. They have interrupted my washing cycle several times because they just didn't hear a sound or feel any vibration. This feels solid, looks amazing and cleans great. What more could a girl ask for? This is the dishwasher of my dreams.
Date published: 2016-10-02
Rated 5 out of 5
by
Katy
from
Awesome for washing cups, bottles and wineglasses!
I have a baby and a toddler so we go through a lot of cups and bottles. This washer is specifically designed to address those types of dishes so it works great. The cycles can take a long time if you start stacking up special functions like power dry, bottle wash, etc., but they dishes are always super clean and I never have to go back over them with a manual wash.
Date published: 2016-09-11
Rated 5 out of 5
by
Mar
from
Awesome!
Super quiet and outstanding options for cleaning dishes. I don't know why I put up with a builders grade dishwasher for the last 10 years. This is sooooooo quiet can barely hear it when it is running
Date published: 2016-09-11
Rated 3 out of 5
by
Light It UP
from
Wonderful idea, poor execution
My feedback is based on this model only. KitchenAid dishwashers are functionally the best around. Quiet and dependable. I built a new home and decided to indulge myself with a dishwasher with a window. Who wouldn't want to see the mysterious cleaning process, especially the kids. It would be like a 2 hour babysitters. Well, I'm sad to report the light doesn't stay on during the wash cycle. Even though it's an efficient LED light, some engineer decided to only have it go on AFTER the cycle is complete. Totally stupid. Everyone that comes over talks about the window and wants to see the inside while it's washing. Flashlights are the only way. Bottom line, great idea, horrible, not think customer execution. Save your money and pass on this model. Sorry KitchenAid - you failed on a great idea!!
Date published: 2016-08-26
Rated 4 out of 5
by
Ben
from
Supper Quite/Supper cleaning
The machine is supper quire with great features with the dishes come our supper clean. The product I got has a fault the control panel goes out once the load is done and the only way to get it back is to turn the house power on and off. They are trying to fix it.
Date published: 2016-08-19
Rated 3 out of 5
by
Liberti
from
No light during wash....
Thanks for the earlier review. I wanted the dishwasher with the light to stay on. I will wait and hope that they make the light stay on. During the entire wash..
Date published: 2016-05-20
Rated 4 out of 5
by
Chris
from
Excellent all around Dishwasher!
My wife and I have had this dishwasher for a week now and it is without question the quietest most beautiful and best cleaning dishwasher we have ever owned in over 30 years. I would have given this dishwasher 5 Stars if it were not for the fact that I was very disappointed about one factor. This dishwasher has a window (which is very unique among other dishwashers on the market). This model also has an internal light. The thing that disappointed me was the internel light does not stay lit while the dishwasher is washing the dishes. The way I look at it is why have a window if you cannot see what is going on inside the dishwasher while it is running. This makes the window for looks ONLY. The window servers no other purpose. I am very disappointed in this aspect of this amazing dishwasher. Why Kitchenaid did not have the internal light stay lit while it is running is beyond me OR, why didn't they make it n option is also beyond me. In the description of this model, they make it seem like the light stays lit while the dishwasher is running. This is very deceiving and misleading. Shame.
Date published: 2016-03-15
Demos & Guides
guides
Installation Guide
Instructions for unpacking and installing your appliance, including electrical requirements and necessary tools.
Energy Guide
Information about the efficiency of your appliance, including energy consumption and annual costs to operate.
Dimension Guide
Detailed dimensions of your new appliance with space requirements for the area surrounding it.
Use & Care Guide
Comprehensive information about your new appliance - from getting started to cleaning and maintenance.
Warranty Information
A complete description of your warranty coverage, and contact information for service and support.
In order to read a PDF file, you must have Adobe Acrobat reader installed on your computer. You can download the latest version at the Adobe website.
Show More Guides
(1) Among leading premium brands, with rinse aid.