NEW
44 dBA Dishwasher with Panel-Ready Design
44 dBA Dishwasher with Panel-Ready Design is rated out of 5 by 74.
This beautiful top control dishwasher has the high-end look of Panel-Ready Design. It matches your cabinets with a custom-made front panel and handle (not included). It features Dynamic Wash Arms to provide complete coverage. The unique nine arm design sprays water everywhere. It also has Clean Water Wash System that cleans the wash water for superior performance, even with the heaviest loads.
Panel Ready - KDTM504EPA
Features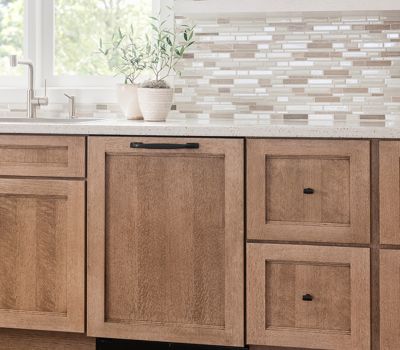 Panel-Ready Design
allows you to match your dishwasher to your kitchen cabinets for a high-end look, seamless look. A custom front panel and handle (not included) can be affixed to the dishwasher.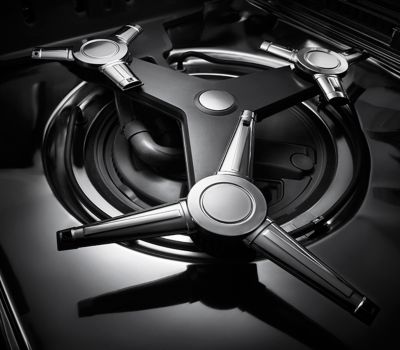 Dynamic Wash Arm
features nine wash arms in one for 3 times better coverage. This unique design directly sprays water everywhere in the dishwasher, including hard to reach places. This means dishes get a powerful clean no matter where they are placed in the rack.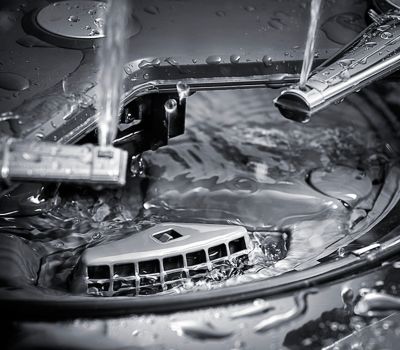 Clean Water Wash System
continuously removes food particles from the wash water. The result of this exclusive technology is clean wash water for excellent performance. Plus, there's no need to ever remove and clean the filter.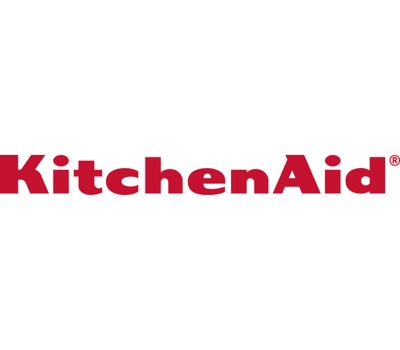 ProScrub® Option
Helps eliminate soaking or pre-scrubbing with 40 targeted spray jets that help remove stubborn messes like seared or baked-on foods.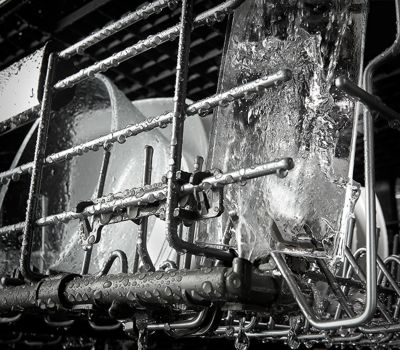 ProScrub™ Upper (was Trio)
Provides 39% more coverage with targeted wash action. In addition to the 40 spray jets at the back of the dishwasher, you get two concentrated spray zones in the upper rack to clean deeper or oddly shaped items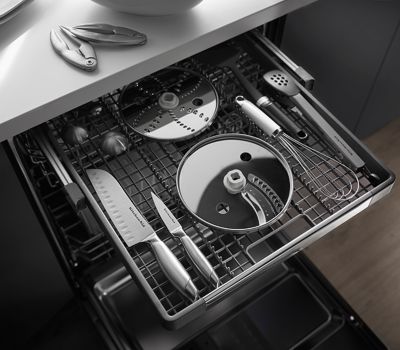 Third Level Rack
makes it easy to clean hard-to-place items such as spatulas, serving utensils and measuring cups, freeing up space in the lower two racks.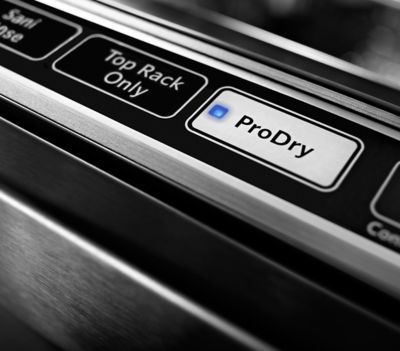 Advanced ProDry™ System
Delivers the best drying1 performance without rinseaid using a recessed heating element and a fan to draw moisture out of the wash tub giving you better drying results.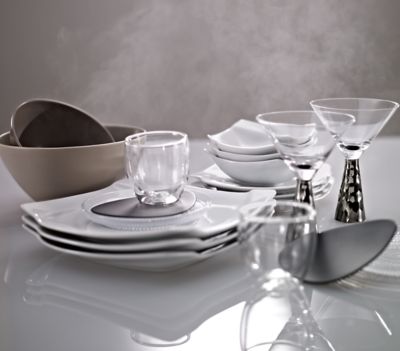 ProWash™ Cycle
Determines the ideal cycle for washing dishes based on soil level and then makes real-time adjustments to achieve the best cleaning performance

SatinGlide® Max Rails (Upper and Lower Racks)
Creates a smooth, premium feeling when pulling out the upper and lower racks, particularly with heavy loads.

2 Rows Fold-Down Tines in Upper Rack
adjustable tines can be shifted into one of three positions to accommodate deep or wide dishes.

Fold-Down Tines in the Lower Rack
can be adjusted in one of three positions so water can clean inside deep or wide dishes.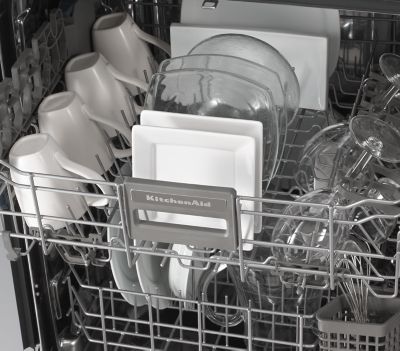 2 Fold-Down Cup Shelves with Integrated Stemware Holders
Provides extra room in the upper rack to hold additional cups, wine glasses, or long items such as utensils and spatulas.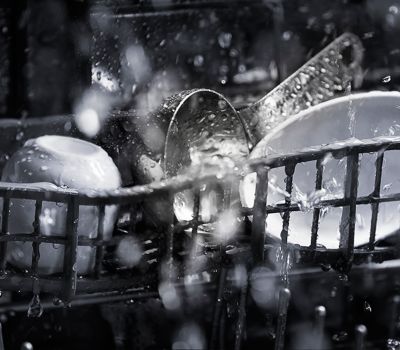 Utility Basket (Upper Rack)
provides a dedicated space for small items such as small lids and utensils.

Express Wash
quickly and effortlessly handles the heaviest soils, even stubborn baked and seared-on messes in less time.
Specifications
Configuration and Overview
Energy Star® Qualified
ENERGY STAR® Qualified
Cycle Selections
Express Wash, Light/China, Normal, ProWash™, Rinse Only, Tough
Option Selections
4 Hour Delay, Control Lock, Hi Temp Wash, ProDry™, ProScrub®, Sani Rinse®, Top Rack Wash
Water Filtration System
Maintenance Free Microfilter
Extras
2-Plastic Cup Shelves, 4-Light Item Clips, 8-Stemware Holders
Adjustable Upper Rack
2 Position
Number of Place Settings
16
Controls
Exterior Status Light
Multi-Color
Dimensions
Depth With Door Open 90 Degree
49 1/2
Show More Specifications
Reviews
Rated 5 out of 5
by
Anonymous
from
super quiet!
This is the most quiet dishwasher ever! I love the layout of the racks
Date published: 2017-10-06
Rated 5 out of 5
by
DCkitchen
from
best dishwasher I've ever owned
We have been more than happy with this dishwasher. It is so quiet that often times when it is running guests don't even realize it's in the middle of a cycle and open the door to load it! It cleans dishes without needing to pre-wash and the drying cycle is fantastic. When using the drying agent almost all our dishes come out completely dry. We have also used the top rack only feature to wash crystal and delicate glass and it works perfectly. Would highly recommend this dishwasher and the integrated panel with top buttons is just the icing on the cake.
Date published: 2017-08-31
Rated 5 out of 5
by
Jazer
from
quiet and efficient
It has a lot of options so you can adjust the interior to suit your dish-ware. Nice sturdy interior and door. Does a good job and is so quiet you don't know its running.
Date published: 2017-07-20
Rated 5 out of 5
by
Pepper
from
Very quiet
Nice and quiet. Works well in my new home. Love the way it works.
Date published: 2017-07-17
Rated 1 out of 5
by
Tripp Knightly
from
Fatal flaw in pump design --> failure
Have had this in place for just over a year (just in time for the warranty to expire). A great dishwasher in all respects, but I now realize it has a fatal (and inexcusable) flaw. Two tiny shards of glass made it through the coarse screen in the sump in the bottom to the circulation pump. The pump in turn had no means to prevent these shards from destroying the fine metal mesh screen and plastic workings of the pump impeller assembly. This seems to me a design flaw. The reality is sooner or later, however careful you are, something tiny, a glass chip or some other non-biodegradable object is going to make it into the dishwasher. The filters must not allow something to pass which can destroy the pump. This is a $200 part. What's worse is, unlike prior designs, if a glass breaks you have no way of knowing if you've picked up all the pieces. Prior designs exposed the impeller and fine screen right in the sump, accessible from the tub itself. Now, what are you supposed to do? Pull the dishwasher out and disassemble the pump to look for glass or other objects? I fear that I'm now forced to pay for the new pump and that this may not be the last time this happens. This is awful.
Date published: 2017-07-05
Rated 5 out of 5
by
Ono
from
We loved the ease of transition from our former Kitchen Aid
I replaced a panel ready Kitchen Aid with this one and the ease of installation and panel fit was perfect.
Date published: 2017-06-11
Rated 5 out of 5
by
Andi Jo
from
Love the layout of the dishwasher.
We bought this dishwasher because of the features. And could not be more pleased. I never realized how much I would like the light feature.
Date published: 2017-05-26
Rated 2 out of 5
by
Grands
from
leaves a film on glasses
I have tried several dish detergents but a film is on my stemware that I cannot get off. Many times I have had to wash items that had supposedly been cleaned.
Date published: 2017-05-25
Rated 5 out of 5
by
Tom
from
Great dishwasher
We have had this dishwasher for two months and it cleans great and is extremely quiet compared to our old dishwasher.
Date published: 2017-05-15
Rated 5 out of 5
by
Sharon
from
I Keep Checking To Make Sure It Is On. It Is So Quiet!
Perfect dishwasher. like the light on the inside. I like the basket for flatware with the separators. And the shelf above the top rack for little things.
Date published: 2017-05-09
Rated 5 out of 5
by
Wampy
from
Great Equipment-Looks Great-Runs Well and Quietly
Completely pleased with its operation and good looks...and sooo quiet !
Date published: 2017-05-04
Rated 5 out of 5
by
Drama Mama
from
Happy, Happy!
I bought my new dishwasher after my old one-also a Kitchen Aid-finally bit the dust-after 29 years!! I didn't need any recommendations after that length of time and only 1 repair in all those years. I knew what I was going to get again.
Date published: 2017-04-28
Rated 5 out of 5
by
Homeowner
from
Great dishwasher!
We replaced our older Kitchenaid with this new one and enjoy the new, updated and improved model.
Date published: 2017-03-23
Rated 5 out of 5
by
Gigi
from
I can see clearly now!
We bought this two months ago and our glasses are noticeably clearer than they were with our former premium dishwasher. It is so quiet sometimes we can't tell if it is even on. We also love the length and accessibility of the silverware compartment. Finally , the many ways you can adjust and convert it to accomadate different sizes of pots and such makes it usable in ways we have not experienced. Couldn't be happier with our Kitchen Aid dishwasher.
Date published: 2017-03-02
Rated 5 out of 5
by
Kristi the clean freak
from
Beautiful and quiet!
Love my new dishwasher! The features are amazing and it cleans extremely well. On top of it it is so quiet you for get you even started it!
Date published: 2017-02-10
Rated 5 out of 5
by
My grandchildren call me "RuRu"
from
Just Great
This dishwasher is so quiet, I don't know it is on. It also seems to have some of those Keebler elves inside telling it the amount of dirt and scrubbing needed. Every load (light, medium, heavy) seems to come out perfectly. The cycle might take a little longer than I expected, but for the consistent cleaning results, it is worth it. Lastly, I really like how the inside is configured. I seem to find a really good spot for different shapes and sizes. And I love the silverware tray at the top. It is easy to use and, unlike when silverware is thrown into cup-size bins, fork tines and other pieces are clean.
Date published: 2017-02-06
Rated 4 out of 5
by
Vasquez Family
from
Great design
Purchased a month ago. Happy with all features except the drying cycle. I find lots of residual moisture when the cycle is done.
Date published: 2017-01-22
Rated 5 out of 5
by
kitchen knave
from
Absolutely superb performance.
I'm very happy with the exceptional performance and features of this dishwasher. My dishes are spotless and dry no matter what I throw in it. The interior light is great, the shallow top third drawer is super convenient for spatulas, large serving flatware and miscellaneous small, odd shaped things that might fall through the other two racks. It's very quiet which is wonderful, allowing me to keep entertaining and the guests don't hear it going. I highly recommend this machine.
Date published: 2017-01-13
Rated 5 out of 5
by
Richard the engineer
from
As good as ever
This one replaced a 10 year old Kitchen Aid. That one was great and this one just improves on the theme. The interior light and silverware tray are nice additions. The control flexibility is nice. All around a fine product.
Date published: 2017-01-12
Rated 5 out of 5
by
PurpleJ
from
Wonderful Dishwasher
I love this dishwasher, works wonderfully. I love the built in light so you can see your dishes. I love the adjustable rack, and I really love the third top rack.
Date published: 2016-12-16
Rated 4 out of 5
by
GMan1600
from
Replace my Bosch with Kitchenaid
When my Bosch died after 11 years, which I never cared for because the brackets on the rack system kept falling off and even the wheels. So I researched the KithenAids since I was happy with the one I had in my last home. I am very happy with it. First think you do is throw away all the extra baskets that are hanging on the racks, all they do is take away prime real estate for dishes, pots and pans. I love the top rack that holds knives etc...no chance of cutting yourself when unloading. Also nice is the utensil holder, it is on the side and large. Throw away the cover on it. The only reason it gets 4 and not 5 stars is that even after I raise the middle rack, I can't get my large cutting boards in, like it could in the Bosch. Cleans well, make sure you use the "pro clean & pro dry"
Date published: 2016-12-06
Rated 5 out of 5
by
EllenR
from
So far very happy
I've only used the dishwasher a few times but we've been very happy with it. I especially like the slide out try for utensils. The panel front is just beautiful. Lastly it is so quiet I forget whether I've turned it on.
Date published: 2016-12-04
Rated 5 out of 5
by
JennyE
from
KitchenAid Dishwasher
Probably the best dishwasher I have had. It is quiet and cleans great! The interior design is well thought out and holds a lot. My only complaint is that the motor burned out in the first year. Everything was under warranty and was fixed within a 2 week period.
Date published: 2016-11-30
Rated 5 out of 5
by
Don
from
The Best Dishwasher I have ever had!
I have had more expensive dishwashers, but this one performs the best and is the quitest.
Date published: 2016-11-10
Rated 5 out of 5
by
Cheri
from
Amazing! All dishware is new again!!
I am so happy with the dishwasher. It is silent, and cleans dishes perfectly! I packed my kitchen for a remodel, when I unpacked I washed everything in the dishwasher. I was amazed at how clean and brand new my glasses and dishes looked! The light inside illuminates for loading and unloading makes it so easy to see everything, and I feel like being in my kitchen and doing dishes is fun! I LOVE this dishwasher!
Date published: 2016-11-10
Rated 5 out of 5
by
Marcia J
from
Does the Job
Does what it's supposed to do- very clean dishes and VERY quiet.
Date published: 2016-11-07
Rated 4 out of 5
by
Tess
from
Excellent, But One Little Quirk Raises Energy Costs
We bought this a month ago and it mostly works fine. It is very quiet, as expected, and it cleans. That is what you want from a dishwasher. There is one quirk. Twice now the door of the compartment holding the detergent has failed to open so that the dishes weren't cleaned and it had to be run again. The second time through, the door did open. I'm wondering if there's some trick to closing the door of which I am unaware. I think the price was way too high to get an appliance that does what it is supposed to do, almost.
Date published: 2016-11-02
Rated 5 out of 5
by
Derkca
from
Great product
Great product, super quiet. Actually has way too many operating options, I wish I could buy a model with 1/3 the operations for less money. Really need to spend an hour with the instructions in front of it and then it's fine.
Date published: 2016-10-08
Rated 5 out of 5
by
Cleaner
from
Very happy
We are very happy with our new dishwasher. Very easy to use and does a great job. It is quiet.
Date published: 2016-10-08
Rated 5 out of 5
by
Paulp
from
Excellent
Did Major renovations and replaced all appliances, Works great and quiet.
Date published: 2016-09-20
Demos & Guides
guides
Panel Install Instructions
Detailed panel dimensions of your new appliance.
Dimension Guide
Detailed dimensions of your new appliance with space requirements for the area surrounding it.
Warranty Information
A complete description of your warranty coverage, and contact information for service and support.
Energy Guide
Information about the efficiency of your appliance, including energy consumption and annual costs to operate.
Panel Install Instructions
Panel Install Instructions
Installation Guide
Instructions for unpacking and installing your appliance, including electrical requirements and necessary tools.
Use & Care Guide
Comprehensive information about your new appliance - from getting started to cleaning and maintenance.
In order to read a PDF file, you must have Adobe Acrobat reader installed on your computer. You can download the latest version at the Adobe website.
Show More Guides
(1) Among leading premium brands, with rinse aid.