NEW
30-Inch 5-Element Electric Convection Slide-In Range with Baking Drawer
30-Inch 5-Element Electric Convection Slide-In Range with Baking Drawer is rated out of 5 by 74.
This versatile electric range provides a Baking Drawer that adds more options to the oven. The separate compartment allows you to bake at a different temperature. This range also features Even-Heat™ True Convection, helping you achieve flawless cooking results. The unique bow-tie design and convection fan ensure the entire oven isheated to, and stays at, the perfect temperature.
Stainless Steel - KSEB900ESS
Features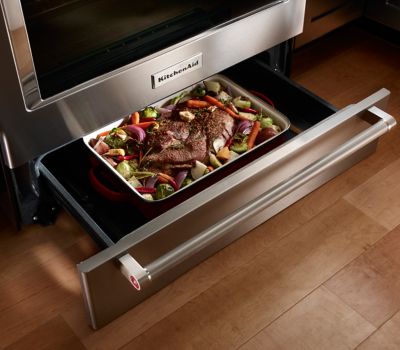 Baking Drawer
Adds more cooking options to the oven. The separate compartment allows you to keep warm, slow cook or bake at a different temperature and keep dishes warm.

Even-Heat™ True Convection
Produces flawless results. The unique bow-tie design and convection fan ensure the inside of the entire oven is heated to, and stays at, the perfect temperature.
Steam Rack
Offers the ability to provide additional moisture to the inside of the oven, enhancing cooking results.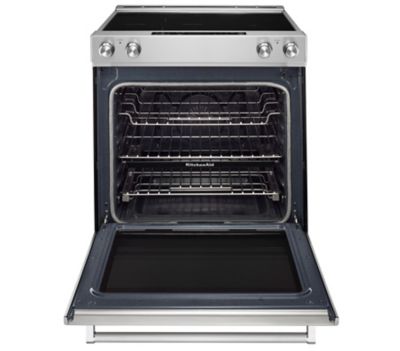 7.1 Cu Ft. Total Capacity
This slide-in range provide an extra-large cooking capacity in the oven for multiple dishes at once and gives you the flexibility of a separate temperature zone in the baking drawer.
5 Cooking Elements Including a Warm Zone
Provides five independent cooking surfaces that allow you to do more on your range. It features a Triple cooking zone of 6, 9 and 12 inches, one 10 inch zone and two 6 inch cooking zones, plus a dedicated warming zone.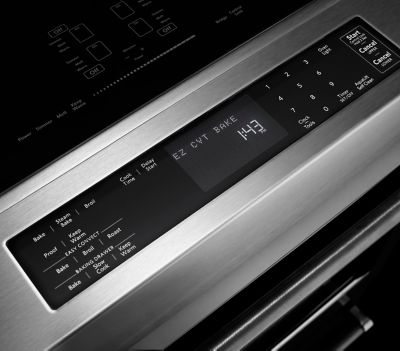 EasyConvect™ Conversion System
Takes guesswork out of convection cooking by ensuring you can get exceptional results when experimenting with new or familiar recipes.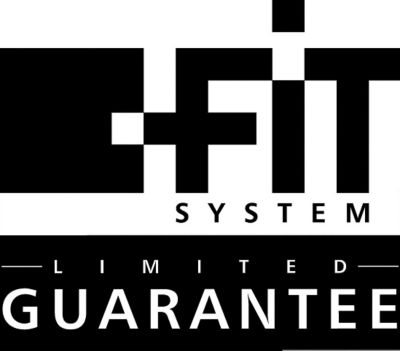 FIT Guarantee
Is our promise to flawlessly fit slide-in ranges designed for an existing cutout of 30" width, countertop depth of 24"-25", cabinet depth of 23"-24" and countertop height of 36".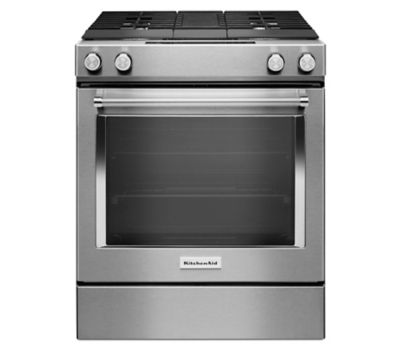 Aqualift®
Cleans your oven in less than an hour without odors and at a temperature below 200°F. This innovative system combines low heat with water to release baked-on spills.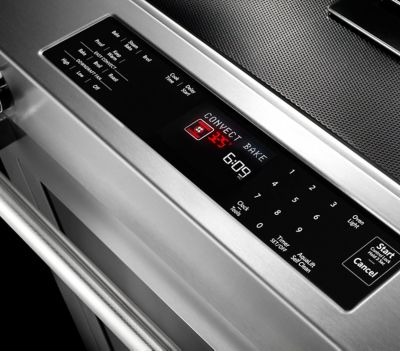 Glass Touch Controls
Offer an intuitive, easy-to-use touch screen experience.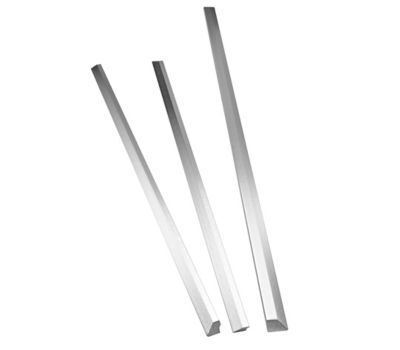 Side Trim Accessory Kit
This optional accessory kit will cover damaged countertops and unfinished edges from an old slide- in range to make them beautiful again. Trim pieces come in black, white and stainless to seamlessly match your new range.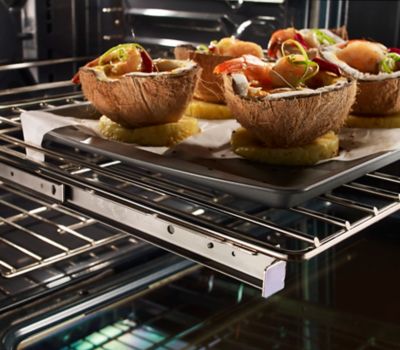 SatinGlide® Max Racks
Move smoothly in and out, allowing effortless loading and unloading, even with large or heavy dishes.
Specifications
Configuration and Overview
Cooktop Features
Cooktop Element Style
Radiant
Cooktop Surface Color
Black
Cooktop Surface Material
Ceramic Glass
Number of Cooking Element-Burners
5
Center Rear Element-Burner Power
100W
Center Rear Element-Burner Size
6"
Center Rear Element-Burner Type
Warming
Left Front Element-Burner Power
3000W/1950W/1050W
Left Front Element-Burner Size
12"/9"/6"
Left Front Element-Burner Type
Triple
Left Rear Element-Burner Power
1300W
Left Rear Element-Burner Size
6"
Left Rear Element-Burner Type
Hyper
Right Front Element-Burner Power
3200W
Right Front Element-Burner Size
10"
Right Front Element-Burner Type
Hyper
Right Rear Element-Burner Power
1200W
Right Rear Element-Burner Size
6"
Right Rear Element-Burner Type
Single
Oven Features
Automatic Convection Conversion Temperature Adjust
Yes
Heating Element On Indicator Light
Yes
Hot Surface Indicator Light
Yes
Power On Indicator Light
Yes
Oven Rack Type
1 Max Capacity, 1 Gliding Roll-Out, 1 Steam Rack
Self-Cleaning 
AquaLift® Self Clean
Oven Cooking System
Convection
Broiler Element Power
4000W
Broiler Location
Top of Oven
Convection Element Power (watts)
3200
Convection Element Type
Fan
Convection Functions
Bake, Broil, Roast
Oven Interior Depth(IN,inches)
20 5/8
Oven Interior Height(IN,inches)
22 1/8
Oven Interior Width(IN,inches)
24 1/8
Controls
Selections
Baking Drawer Bake, Baking Drawer Keep Warm, Baking Drawer Slow Cook, Clock, Cook Time Indicator, Delay Start, Keep Warm Setting, Proofing, Sabbath Mode, Steam Bake, Warm Zone, Wireless Probe
ADA Compliant
ADA Height and Operation Compliant
Show More Specifications
Reviews
Rated 3 out of 5
by
Bake a cake
from
Insufficient baking drawer
The baking drawer cannot accommodate a half sheet pan, only a flat cookie sheet. So much for baking rolls while the turkey is still in the oven or baking a dozen cupcakes in the drawer.
Date published: 2017-03-01
Rated 5 out of 5
by
Jim
from
Best oven I have ever owned!
The stovetop is organized really well. The burner configuration gives many options to do multiple tasks sumultaneously.
Date published: 2017-02-13
Rated 5 out of 5
by
Ben Mills
from
Excellent. Just minor quibbles.
Our new range is beautiful. Stainless steel and glass; very nice to look at. It bakes evenly and our cookies and cakes come out looking so much better than our previous 15-year-old range. The only drawback is the touchpad controls are supersensitive, and wiping off the surface sometime sets the oven or causes some other function to beep at me. It'd be great if there is a way to push a button to disable the touchpad while you wiped it off and then turn it back on again. And when the timer is set, it only beeps once when the alarm goes off. It will beep again after 30 to 60 seconds. But if you aren't listening for it, you'll miss it. It needs to have a louder, more attention getting sound. Other than that highly recommended.
Date published: 2017-02-06
Rated 1 out of 5
by
Mom the cook
from
TERRIBLE
We loved our range for a few months, but then it started to pit, (the finish). It works great, but we are very upset & wish we would have bought something else. All of our other Kitchen Aid appliances are great except this one!
Date published: 2017-02-02
Rated 3 out of 5
by
Lynn O
from
Update - finally a range that works
After a year (13 months to be exact), Kitchen Aid finally agreed that my range did not work as designed and provided a new unit (same model). Imagine, my baking drawer now heats up in a reasonable time (< 20 min)! I love the features for this range (especially the proof and steam bake) and now that the baking drawer actually works, I am very happy. However, since it took a year for Kitchen Aid to finally acknowledge that there was a problem (including 6 months of repeatedly telling me a firmware fix was in development), I cannot recommend this product to anyone else. The customer service was horrible. The new unit was delivered without the probe (I just kept the original one) and a scratched steam resivoir (KA sent a new one). So A+ for the new range working and having all the features that I need as an avid bread baker. F for customer service (especially the one who told me I should have asked before purchasing what the pre-heat time was and that 2 hours was "as designed."). And F for continuing to tell me a fix was in design for 6+ months. Thanksgiving and Christmas were difficult with a non-functioning unit.
Date published: 2017-01-26
Rated 3 out of 5
by
Chris
from
Enjoying it
We bought 2 months ago and we really like the look and features of it. One glitch happened about 2 weeks ago where the control panel froze up and then displayed that there was a problem with the control panel/call for service. I unplugged it and plugged it back in and the problem has not reoccurred since. Love the stove, just a little worried. All of our KitchenAid appliances have been great though.
Date published: 2017-01-22
Rated 2 out of 5
by
Sean Devine
from
Good looking, but what is going to fail next?
The first review that came up mimics our experience. $370.00 repair replacing the cooling fan at 16 months. The repairman from appliance hospital knew exactly which part to bring when I read the error code. He was right. He told me that 95% of his repairs are to almost new appliances. 95%!!!
Date published: 2017-01-20
Rated 2 out of 5
by
Gwa
from
Good looking, but not worth the price.
We have had this range for a year and had to have twice. First, a cooling fan failure. Second, the oven and broiler take way to long to heat up. Third, the bottom oven-drawer is worthless!
Date published: 2017-01-14
Rated 5 out of 5
by
Scott
from
Stylish stovetop
While we have not used all the features on this range, we love everything so far. We really like the size of the burners. We like all the different options of temperature control on the burners. Burners heat and cook fast. So far have only used the oven for baking cookies but had no issues. The one downside is when cleaning the cooktop the control panel is sensitive and will turn something on.
Date published: 2017-01-07
Rated 1 out of 5
by
NCGiGi
from
Very disappointed in this higher-end range.
This is a very good-looking range, matching all my other KA kitchen appliances, but I am very disappointed in the cleaning processes. It bakes and cooks just okay, but even if a little water splatters on cooktop while cooking, I must wait until it is completely cool again and use special cleaner to scrub with special scrubber to get the splatters off! It is a constant big-deal clean-up. For cleaning the oven, I must pour water in the bottom of the oven while the "Aqua-Lift" (steam) works, and although the oven isn't very soiled, and I run the process twice, I still have to use a lot of elbow grease, a non-abrasive cleaner and scrubber, and not nearly all the soil can be removed. I've owned this range for a year, and I cannot imagine how soiled it is going to look over time. The oven door window is great for looking inside while baking with interior light, but is extremely easily soiled and unable to remove all the spots, streaks, etc., by using many different safe and unabrasive cleaning processes. KA should not be distributing an appliance so difficult to clean. I love all my other matching KA appliances, but not this one!
Date published: 2017-01-07
Rated 2 out of 5
by
Laura
from
Disappointed and frustrated
I am disappointed and frustrated with my new Kitchen Aid Range. I had the same oven for 9 yrs and loved it - Which is why I bought another one. After 30 days I had to "Call for Service" for the convection oven. It was not turning on for the week before Xmas when I was trying to get baking done. I am very frustrated with the heat of the burners. They are too hot. When on low everything is burning.
Date published: 2017-01-06
Rated 5 out of 5
by
CJ
from
Christmas Cookie Champ!!!
Christmas cookies are a family tradition that spans 3 generations and this range passed the test with flying colors. The oven baked evenly and beautifully, keep in mind this tradition is not just a few cookies and for 1 day of baking. The tradition is baking thousands of cookies over several days. I was worried my new range would pass this test. I had nothing to worry about, I recommend this range.
Date published: 2016-12-04
Rated 4 out of 5
by
Ronda
from
Food cooks quicker
Updated my appliances and cose the kitchenaid refrigerator, stove, dishwasher and trash compactor. This stove is so much more efficent tgen my old stove. Sleek design ans ease of use. My first big meal was Thanksgiving dinner. I especially enjoyed having the lower oven unit.
Date published: 2016-11-26
Rated 1 out of 5
by
ellie
from
Aqua Clean
I love the stove in many ways it heats quickly, gooks evenly, controls are a little too sensitive. I am a big kitchenaid fan everything in my old house was kitchen aid and the same when we moved. And this is the first time i feel I need to write a review. The aqua clean does not work I ran it 4 times and the dirt around the probe will not come off no matter how hard i try to clean it, it is awkward to see, because the lights are shining in my eyes. There are other areas that are the same. I do not want to use chemicals can you recommend another way to get this clean like the old days when it just got hot and when done perfectly clean?
Date published: 2016-10-20
Rated 5 out of 5
by
jimnnancy
from
Great performer!
Thus far the stove top and oven(s) work great. We absolutely love the baking drawer; just the right size for the two of us without having to use the large oven on hot days. The only drawback is the hyper sensitive control panel on the top of the range. It makes it hard to clean the stove top after each use and is always turning something on making us scramble to locate the cancel control.
Date published: 2016-10-17
Rated 4 out of 5
by
Ma
from
Great features
The burners definitely burn very hot and love how the convection oven works. The cooktop is more difficult than our last glass cooktop to clean. Overall very happy.
Date published: 2016-10-14
Rated 5 out of 5
by
Jim the engineer.
from
Works to perfection!
A great new appliance. Absolutely love the baking drawer as it is perfect for just the two of us almost anytime but more so in the warmer months without using the big oven and all that heat.
Date published: 2016-10-14
Rated 4 out of 5
by
Christina
from
New oven
I love the quality of the range so far! I do wish the oven would preheat faster though but so far it's produced great food. Also I wish the timer was either louder or continued beeping for longer than just one beep. I can hardly hear the one beep when the timer goes off making it basically unusable
Date published: 2016-10-09
Rated 4 out of 5
by
Sil
from
Great Features
I bought this about a month and a half ago and I love this stove with convection. There is one feature with convection that is a little different from my last stove. I did not have to wait for convection to pre-heat on my old stove like I do with this one, but even with that small annoying feature I love this stove. It cooks quickly and evenly all around.
Date published: 2016-09-25
Rated 5 out of 5
by
Loligag
from
Just AWESOME!
This is THE most awesome appliance ever! TWO ovens, and several different options on the range top. This is the most versatile range I've ever used, and it cooks evenly, and bakes perfectly! I combined this with the microwave/convection oven on the wall and a second wall oven, soI've got FOUR gorgeous ovens in my kitchen! I can do ANYTHING, and plenty of it!
Date published: 2016-09-06
Rated 5 out of 5
by
PD
from
Great range
The window in the oven door large and the light so bright, it make the oven seem much larger.
Date published: 2016-08-20
Rated 4 out of 5
by
Reno Gal
from
Really Nice Range
Very stylish in our new kitchen. The cook top is nice with the adjustable burners to pan size. Heats quickly. Paid up for the convection model, but not convinced it was worth it - doesn't save that much time. Bakes everything perfectly and the lowest time setting. Happy with it.
Date published: 2016-08-15
Rated 5 out of 5
by
Lora Lou
from
Great looks and Great performance
This is a great looking stove that performs great too. I love the features of this stove there is nothing like baking with a convection oven. The stove top gives you options with its multi-use burner and a warming element. I have not had a chance to use the baking drawer but it will solve problems with holiday meals giving me extra room to bake while the oven bakes the turkey.
Date published: 2016-08-14
Rated 5 out of 5
by
Denise the Burlap Wreath Maker
from
Great features
We did a total remodel of our kitchen, and I knew what features I wanted in my new kitchen appliances. This range fit the bill exactly. I love to cook so I wanted a few of the special features as the melt setting on one of the burners, the keep warm burner as well. I love the options of the size of the burners. I wanted a second oven for warming up items without having to warm up the large oven and the baking drawer is perfect.
Date published: 2016-08-13
Rated 1 out of 5
by
Dot
from
Buy something else
This is not a self-cleaning oven, so be prepared to get on your hands and knees to scrub it without the help of Easy Off If you cook with a lid on your pot and the evaporation spills under your pan, it will embed that water stain into the glass and you will be scrubbing with the weiman daily cleaner, granular cooktop max, scrubbing pads and a razor tool they provide, just to get the water stain up. Not to mention, spilled food, oil, etc that might occur. The heavy cleaning is also a daily routine. The baking drawer is a joke. 1-1/2 hours to cook a pie. It's more of a warmer. The locked position for the controls keeps shutting off by itself.
Date published: 2016-07-21
Rated 4 out of 5
by
friend
from
looks great
Very happy with my purchase. My only complaint is about the owners manual. Wish it were more detailed.
Date published: 2016-06-27
Rated 4 out of 5
by
Granny
from
Great features/great value!
So far, I love my new Range! i haven't had it very long so haven't used all of the features and settings yet. It was a display model so didn't come with an instruction guide, I wish it would've. (Yes, I've downloaded one but.........)Or provided an online video on how to use everything. It has fantastic features like professional models but at an affordable price. I love the huge oven, my old one was teeny and I had to bake pizzas one at a time. Last night, I made 4 at the same time! The only thing so far that I have noticed wasn't really user friendly is the delay bake. My old one was so simple, set the temp, the cook time and the stop time. It did all the calculations for you. With this one you have to calculate the start time. I also wish the timer would ring more than one ding in case I'm in another part of the house and miss it. Other than that I'm enjoying it so far.
Date published: 2016-06-20
Rated 5 out of 5
by
Tim
from
American Made!!! Great product
Nice features. Only thing I would change is a lip where pots could not just slide off.
Date published: 2016-06-10
Rated 5 out of 5
by
Trilby
from
Nice features
Still learning all of the features. I think the oven is a bit slow to preheat. Would still recommend.
Date published: 2016-06-10
Rated 3 out of 5
by
NC GiGi
from
Only complaint is the cooktop surface!
My new range works well, and my only complaint is about the cooktop surface--which marks even if just a little water sprays out of a pot/pan. Seems I'm always cleaning it. When it's clean it looks fabulous, but takes constant care. Surely there is a better option for the surface! Haven't used the second baking drawer but a couple times so far, but seems to work fine.
Date published: 2016-05-21
Demos & Guides
guides
FIT System Guarantee
FIT System Limited Guarantee
Dimension Guide
Detailed dimensions of your new appliance with space requirements for the area surrounding it.
Installation Guide
Instructions for unpacking and installing your appliance, including electrical requirements and necessary tools.
Use & Care Guide
Comprehensive information about your new appliance - from getting started to cleaning and maintenance.
Warranty Information
A complete description of your warranty coverage, and contact information for service and support.
In order to read a PDF file, you must have Adobe Acrobat reader installed on your computer. You can download the latest version at the Adobe website.
Show More Guides