NEW
30-Inch 5-Burner Dual Fuel Convection Slide-In Range with Baking Drawer
30-Inch 5-Burner Dual Fuel Convection Slide-In Range with Baking Drawer is rated out of 5 by 172.
This versatile dual fuel range provides a Baking Drawer that adds more options to the oven. The separate compartment allows you to bake at a different temperature. This range also features flawless cooking results from Even-Heat™ True Convection. The unique bow-tie design and convection fan ensure the entire oven is heated to, and stays at, the perfect temperature.
Stainless Steel - KSDB900ESS
Features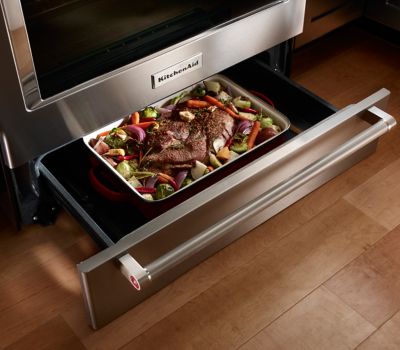 Baking Drawer
Adds more cooking options to the oven. The separate compartment allows you to keep warm, slow cook or bake at a different temperature and keep dishes warm.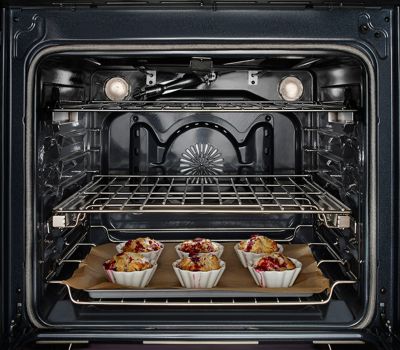 Even-Heat™ True Convection
Produces flawless results. The unique bow-tie design and convection fan ensure the inside of the entire oven is heated to, and stays at, the perfect temperature.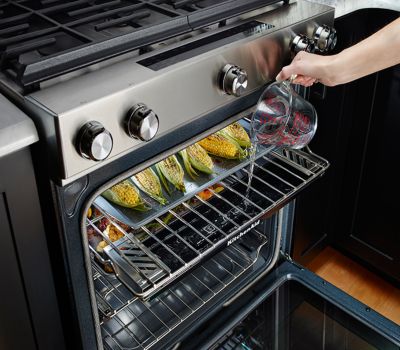 Steam Rack
Offers the ability to provide additional moisture to the inside of the oven, enhancing cooking results.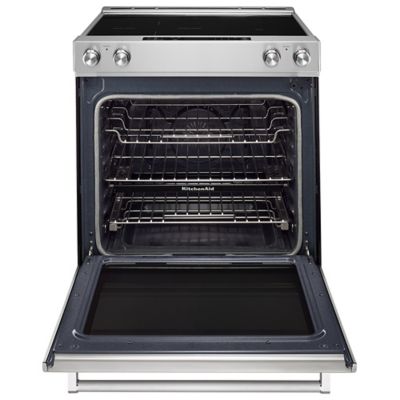 7.1 cu ft Total Capacity
This electric slide-in range provide an extra-large cooking capacity in the oven for multiple dishes at once and gives you the flexibility of a separate temperature zone in the baking drawer.
5 burners (5k, 8k, 9.2k, 15k and 19k)
Provides the perfect range of cooking power from 5,000 to19,000 BTU, so you can go from a rolling boil to a delicate simmer.
8K Center Oval Burner
Fits large griddles and other longer cookware on this 8,000 BTU fifth burner so they heat evenly on the range top.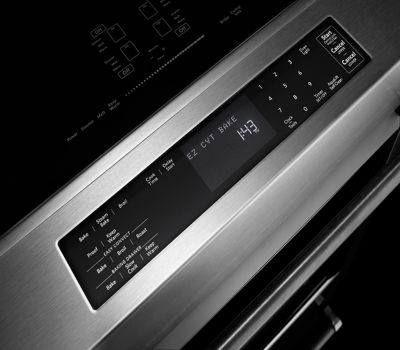 EasyConvect™ Conversion
Takes the guesswork out of convection cooking by converting conventional settings for recipes to convection settings for you.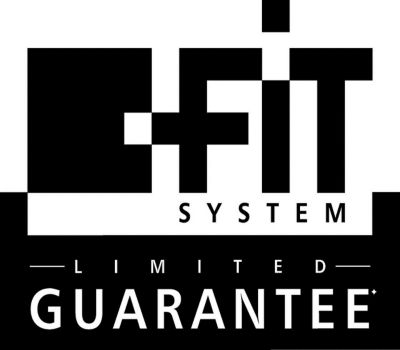 FIT Guarantee
Is our promise to flawlessly fit slide-in ranges designed for an existing cutout of 30" width, countertop depth of 24"-25", cabinet depth of 23"-24" and countertop height of 36".
Aqualift®
Cleans your oven in less than an hour without odors and at a temperature below 200°F. This innovative system combines low heat with water to release baked-on spills.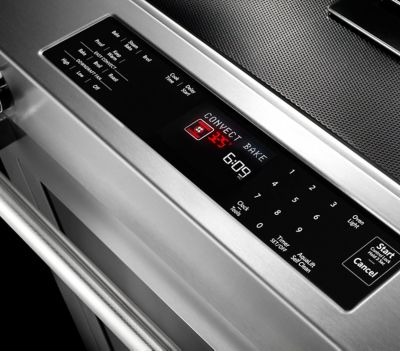 Glass Touch Controls
Offer an intuitive, easy-to-use touch screen experience.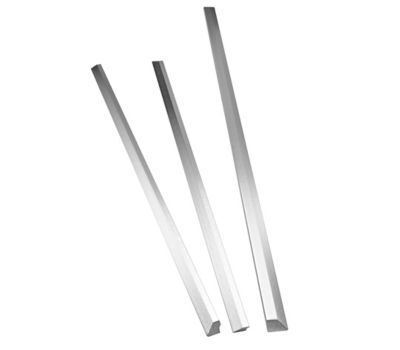 Side Trim Accessory Kit
This optional accessory kit will cover damaged countertops and unfinished edges from an old slide- in range to make them beautiful again. Trim pieces come in black, white and stainless to seamlessly match your new range.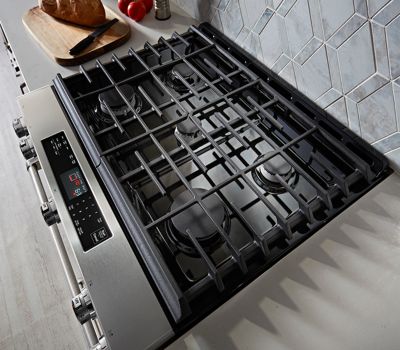 Continuous Interlocking Grates
Provide a level cooking surface that lets you easily change burners and move pots and pans across the entire range.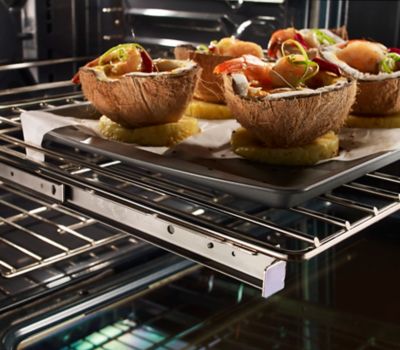 SatinGlide® Max Racks
Move smoothly in and out, allowing effortless loading and unloading, even with large or heavy dishes.
Specifications
Configuration and Overview
Cooktop Features
Cooktop Element Style
Gas Burner
Cooktop Surface Color
Color Coordinated
Cooktop Surface Material
Stainless Steel
Number of Cooking Element-Burners
5
Center Rear Element-Burner Power
8000 BTU
Center Rear Element-Burner Type
Sealed Burner
Left Front Element-Burner Power
19,000 BTU
Left Front Element-Burner Type
Sealed Burner
Left Rear Element-Burner Power
5000 BTU
Left Rear Element-Burner Type
Sealed Burner
Right Front Element-Burner Power
15,000 BTU
Right Front Element-Burner Type
Sealed Burner
Right Rear Element-Burner Power
9200 BTU
Right Rear Element-Burner Type
Sealed Burner
Grate Details
Cast Iron Grates, Continuous, Dishwasher Safe, Matte Finish
Oven Features
Automatic Convection Conversion Temperature Adjust
Yes
Heating Element On Indicator Light
No
Hot Surface Indicator Light
No
Power On Indicator Light
Yes
Oven Rack Type
1 Max Capacity, 1 Gliding Roll-Out, 1 Steam Rack
Self-Cleaning 
AquaLift® Self Clean
Oven Cooking System
Convection
Broiler Element Power
4000W
Broiler Location
Top of Oven
Convection Element Power (watts)
3200
Convection Element Type
Fan
Convection Functions
Bake, Broil, Roast
Oven Interior Depth(IN,inches)
20 1/8
Oven Interior Height(IN,inches)
22 1/8
Oven Interior Width(IN,inches)
24 1/8
Controls
Selections
Baking Drawer Bake, Baking Drawer Keep Warm, Baking Drawer Slow Cook, Clock, Cook Time Indicator, Delay Start, Keep Warm Setting, Proofing, Steam Bake, Warm Zone
ADA Compliant
ADA Height and Operation Compliant
Show More Specifications
Reviews
Rated 4 out of 5
by
Houston David
from
Great Looking Appliance with Solid Results
Wow. This range looks amazing. The gas burners take some getting used to because the front burners burn really hot. It takes no time to boil water but makes using the front burners a bit of an art for any thing else. I am sure we'll get used to it. The oven seems to have some areas that are hotter than others when not using convection, but it also may be user error. The self-cleaning oven is a little bit disappointing because it doesn't help if you need to use it for Passover - still need to kasher the oven manually. Overall, we're very happy despite the learning curve and self-cleaning issue.
Date published: 2017-12-04
Rated 5 out of 5
by
Tall and good
from
It's gas burners what else do you need to say
I haven't had a gas stove in 10 years, Forgot how nice they are and how easy it's to control cook temp.
Date published: 2017-11-25
Rated 5 out of 5
by
BoxerMom
from
Nice Replacement
I previously owned an all gas KitchenAid range that I had to replace a few weeks ago. I wasn't happy with the gas oven, so I purchased the dual fuel range. I'm so happy I made the change. Having 5 burners versus 4 is a great feature. The top of the range with stainless is much easier to keep clean--easy wipe up. I found the convection oven a gem. I'm a little disappointed with having to purchase a broiler pan--back in the day they came with a new range and I also had to purchase the KA strip kit to fill in the cutout gaps from the previous stove. Other than those two issues I'm very happy with my purchase.
Date published: 2017-11-23
Rated 1 out of 5
by
jl140
from
not recommended
I bought this range along with three other major KitchenAid appliances for a new house, and rather disappointed with both the range and KitchenAid's customer service. The cooling fan will stay on for 2.5+ hours after using the over for 20 minutes at 350 degrees. I've already had the installers and a repair technician out and they say that the product is vented properly. The service technician mentioned that the fan should turns on at 170 degrees and off just below. Mine shuts off at 135, but should NOT take 2.5+ to cool to that temp. Unfortunately, I've dealt with some rather rude people at KitchenAid regarding this issue. It's a shame as I expected much more from KitchenAid
Date published: 2017-11-16
Rated 4 out of 5
by
MadOwls
from
Looks good and cooks and bakes well.
Overall does well, but I'm disappointed in 500 degrees as top oven temp.
Date published: 2017-11-11
Rated 4 out of 5
by
Misl1
from
Another great Aid product.
Oven works awsome.....gas range heats very fast....love the look.
Date published: 2017-11-10
Rated 5 out of 5
by
Renogrl
from
Pretty Cool!
When I renovated my kitchen I wanted a gas range. The appliance guy at the showroom showed me the dual fuel convection range. I really like the flexibility of gas on top and electric in the oven. I have not tried it yet, but the warming drawer can be used to bake casseroles, etc. We will see how it works during the holidays.
Date published: 2017-11-07
Rated 5 out of 5
by
Lwampler
from
I bake and loved the dual fuel option.
I am a baker but love cooking with gas. I've always wanted a dual fuel range and thought I would have to pay a ton of money for one. I love this range, the look, the way it bakes and the five burner stove is wonderful.
Date published: 2017-11-05
Rated 5 out of 5
by
Capitol remodeler
from
Love it.
No complaints. The more we cook, the more we appreciate this range.
Date published: 2017-11-05
Rated 5 out of 5
by
Marc59
from
What difference a gas stove makes
Did a complete update to our kitchen. Purchased this dual fuel stove. It such an improvement from the induction stove we had which was a very dependable Whirlpool stove. We love all the features.
Date published: 2017-10-27
Rated 5 out of 5
by
WillV.
from
Great performance and great looking!
This is a new range for us. We have had it for two weeks and have used it daily. So far, we love it.
Date published: 2017-10-20
Rated 3 out of 5
by
Zed53
from
Love the burners and oven self cleaning not at all
Aqualift self-cleaning is useless, look at the reviews online. It takes 3 hours to clean the oven mostly by hand. Everything else is great.
Date published: 2017-10-19
Rated 2 out of 5
by
Cydne
from
So disappointed!
After our house flooded, we decided to upgrade our kitchen. I was so excited to finally get my dream kitchen, top of the line appliances! Shortly after we got everything finished, the fan motor sensor went out. Had it replaced under warranty. I thought I was good to go. Happened again. I admit, I didn't call because I was making do with stovetop and microwave and grilling outside. Then the controls wouldn't come on or light up at all. THEN, then light inside the oven started flickering on and off, sounded like the fan would try to come on. Clicking and flashing, we turned the breaker off so our house wouldn't burn down! Service call, probably mother board. Cost to repair? Over $800.00. I am sick about it.
Date published: 2017-10-14
Rated 1 out of 5
by
Bonnielou1
from
Kitchen Nightmare
We purchased this stove, refrigerator, microwave/convection oven and dishwasher for a dream kitchen remodel. Less than a year into it the oven cavity is filthy and won't come clean. I had 3 service calls and a the service reps have no idea on how to clean it. You read the manual and you can't use anything but Kitchen Aides, afresh, can't put foil on racks or bottom, can't use oven cleaner, can't , can't, can't. Afresh doesn't work even after using before and after augalift cleaning. Washed my racks in the tub and they rusted. Kitchen Aides response is to send me afresh cleaning kit and replace the racks. Our refrigerator is a similar story, doesn't produce ice, multiple services calls all costing me more time and money as I sit and wait. So far we are happy with the dishwasher and microwave but kinda on edge, waiting for the ball to drop.
Date published: 2017-10-11
Rated 5 out of 5
by
Buffy12P
from
Stove
Fabulous fabulous look and style Great feature of combo gas and electric and wouldn't want a warming drawer
Date published: 2017-10-06
Rated 4 out of 5
by
Kimmy
from
Love My Nre Range
I love my new range. It's been a little to hot this summer, so I haven't done much baking yet. But all of features seem to be working well. The probe was missing when delivered still waiting for it. Also I wish the manuel had more information on how to use the convection mode.
Date published: 2017-09-07
Rated 1 out of 5
by
carol
from
Skip this one
So disappointed in the performance of this. The burners go from really high to really low with little adjustment in between. One burner has never started properly from the very first day. WE've had it looked at many times by our dealer's service folks and it never gets better. The oven is off by at least 50 degrees. It barely gets to 450. Really a shame that a pricey range is such a poor performer. If it was $500 I could accept it, but at it's price, no way. Skip it.
Date published: 2017-08-23
Rated 5 out of 5
by
LS
from
Really Great Range
Buying a new range was a big decision for me for my new kitchen. I've never had a gas range before. I love that this range has the baking oven/warming drawer at the bottom. Love the 5 burners, love the convection - everything. Also, it looks very cool and fits perfectly in my modern kitchen!
Date published: 2017-08-22
Rated 4 out of 5
by
Skeats
from
Excellent Cooking space
We upgraded from a wall oven unit and separate cooktop to this and I have to say I love all the cooking space. Just installed so I'm still learning the ins and outs of the range, but so far I have to say it is meeting all my needs. Love the ease of cleaning as well.
Date published: 2017-08-17
Rated 5 out of 5
by
wp
from
Professional quality
Easy to clean, works beautifully and I love the 2 ovens.
Date published: 2017-08-16
Rated 5 out of 5
by
OlyWa
from
KSDB900ESS well worth the price
Owned this range about 2 years and love it. It replaced a KDRS505XSS Dual oven range (which was also great). Stove top cooks and controls very well. Love the convert bake to convection feature and the baking drawer. And unlike the previous one we can use the gas during a power outage! The knobs and controls are well situated and easy to read. Only things that might lean towards a con are that the oven is large, so can take a little longer to heat up and the grates are a little further away from the burners than the other model we had so you can end up taking a little longer to heat or you can run the gas a little higher. Niether of these would tempt me to give it up. It's solid and well built and feels more like a commercial appliance rather than one for home, but it's really not any bigger. If something happened to it would buy the same one in an instant.
Date published: 2017-08-14
Rated 5 out of 5
by
Patm406
from
Great features and value
We bought this appliance last month because of the Kitchenaid name and it has not disappointed.
Date published: 2017-08-14
Rated 5 out of 5
by
Rod
from
Excellent stove
Had to have Propane installed to the house so the wife could have Gas to cook with. Convection Oven is still Electric, Lower draw is also a bake oven or you can use it as storage. So long as you don't turn it on :). Cost of having Propane installed $1000 to the bill and takes about a week with permit. New range hood and stainless back splash adds another $800 - but well worth it. Wife loves it ,
Date published: 2017-08-11
Rated 4 out of 5
by
Marc
from
Great Cooktop!
Have had this a few weeks and absolutely love the gas cooktop. Very responsive and can maintain a simmer very nicely. The only negative I notice is that the oven takes longer to preheat than my precious KitchenAid oven.
Date published: 2017-08-09
Rated 5 out of 5
by
Freshstart
from
Nearly perfect!
I've been cooking on this gas range now for three months and I really love it. My entire appliance decision-making process was primarily focused upon finding the right range. Then I just went with all the other appliances in the suite to match. We were looking for a number of gas range features that weren't available on some higher end (more expensive) ranges, but this stove had them all. (We literally did a spreadsheet to compare cost of several other contenders and their features and cost). I love that this has the 5th burner and second baking drawer, a temperature probe, a timer (not all professional ranges do), the convection option, gliding rack and self cleaning ability. The burners are certainly powerful enough for my purposes and I find the entire top easy to clean. And, I think it is a very attractive looking range. My only minor complaints are that it does feel like it takes longer to pre-heat than my last stove, the timer only quietly beeps a couple times and then stops entirely (making it easy to miss if you've stepped out of the room) and the cool down fan runs for an extremely long time after you turn off the oven. While I suppose these could be annoying turn-offs to someone, I find that the many pros on this range far outweigh the relatively minor cons and I would buy it again in a heartbeat. I couldn't be happier given the price paid for this compared to other "professional" ranges that offered far fewer features.
Date published: 2017-08-02
Rated 4 out of 5
by
MJ
from
This is my second one
The reason I gave the range 4 stars, is we had to have the first one replaced. It didn't function properly and had to be replaced. The new one is functioning perfectly, so far.
Date published: 2017-08-01
Rated 1 out of 5
by
Honolulu Baby
from
Ours was a lemon
Our Kitchen Aid dual fuel gas range has been a source of grief from the very start. Needless to say, I've been very disappointed since the unit has required multiple service calls, multiple replacement parts (this unit is nearly brand new with all of the replacement parts that have gone into it) and little dependability since it breaks down when needed (like family gatherings). To add insult to injury, because I wanted to replace an electric range with a gas range (that was my dream for 30 years), I had the added expense of installing gas tanks and lines to bring in this Kitchen Aid unit. Fourteen months later, now I'm wondering why I even bothered.
Date published: 2017-07-29
Rated 5 out of 5
by
Busy cook
from
Love it!
Works beautifully -- plenty of power in cooktop burners!
Date published: 2017-07-29
Rated 5 out of 5
by
Bonnie
from
Love everything about it!
I haven't had a chance to try out all the features on this range yet, but so far - I love everything about it. The quick boil burner work s so quickly and also isnthe perfect summer. Can't wait to try each feature!
Date published: 2017-07-19
Rated 5 out of 5
by
EK
from
Workhorse Range with Show Kitchen Looks
After using this KitchenAid range for nearly 6 months, I can say we do NOT regret our decision to purchase. We are a family of 6 but cook for 9 to 11 routinely, so the large capacity of the main oven, 5 burners and fully functioning baking drawer have not let us down! Oven features: other reviews have pointed to slowness in preheat--which we have found to be somewhat true. I would not let this discourage you from this range though. The oven cooks amazingly even, even with multiple, different sized and food type items in it. The steam bake feature is so easy to use that you actually do! Convection conversion is perfect when in a rush--hint: use convect roast to cut time! We have also used the delayed start feature several times with great results. The proof feature can be used to make yogurt. The Aqualift works like a charm and I tend to run the cycle routinely making for a clean oven! The baking drawer: We do wish the rack insert's handles were placed differently, because when you put a 9 x 13 casserole in the handles can be awkward. That said, this is a very minor complaint. We do like how you can lift the whole insert out with your casserole though. The "keep warm" can be set as low as 145. The slow cooker feature is AWESOME. It won't replace your crock pot, but it's perfect for briskets and other roasts. The cooktop: If you were a smaller family, the griddle would allow you to not purchase a stand alone appliance. We were able to put away our electric kettle as the powerful left burner boiled water in the stove top kettle at nearly the exact same speed. The continuous grate comes off for easy cleaning and has tolerated gentle dishwasher cycles making for an easy clean up. *Note: The manual says you may experience discoloration from dishwasher cleaning but we have not.
Date published: 2017-07-16
Demos & Guides
guides
Installation Guide
Instructions for unpacking and installing your appliance, including electrical requirements and necessary tools.
FIT System Guarantee
FIT System Limited Guarantee
Warranty Information
A complete description of your warranty coverage, and contact information for service and support.
Use & Care Guide
Comprehensive information about your new appliance - from getting started to cleaning and maintenance.
Dimension Guide
Detailed dimensions of your new appliance with space requirements for the area surrounding it.
In order to read a PDF file, you must have Adobe Acrobat reader installed on your computer. You can download the latest version at the Adobe website.
Show More Guides