30-Inch 4-Element Induction Slide-In Convection Range with Baking Drawer
30-Inch 4-Element Induction Slide-In Convection Range with Baking Drawer is rated out of 5 by 243.
This versatile induction range provides a Baking Drawer that adds more options to the oven. The separate compartment allows you to bake at a different temperature. This range also allows you to achieve flawless cooking results thanks to Even-Heat™ True Convection. The unique bow-tie design and convection fan ensure the entire ovenis heated to, and stays at, the perfect temperature.
Stainless Steel - KSIB900ESS
Features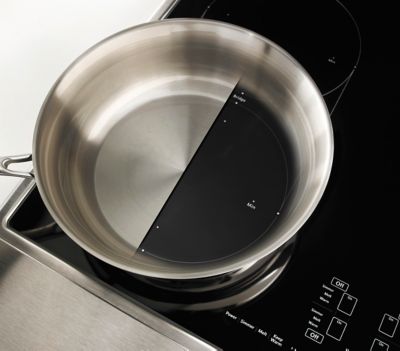 Induction Cooking Elements
Ranges with induction elements offer quick, efficient response similar to gas burners. By using electromagnetic energy to generate instant heat directly to your cookware, you are able to rapidly boil water and get more precise results.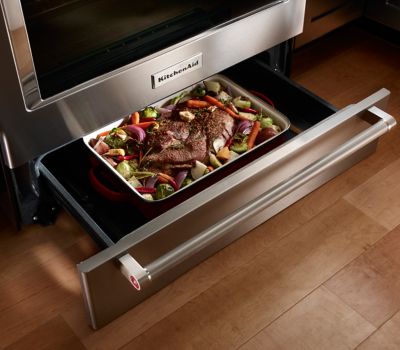 Baking Drawer
Adds more cooking options to the oven. The separate compartment allows you to keep warm, slow cook or bake at a different temperature and keep dishes warm.

Even-Heat™ True Convection
Produces flawless results. The unique bow-tie design and convection fan ensure the inside of the entire oven is heated to, and stays at, the perfect temperature.
Steam Rack
Offers the ability to provide additional moisture to the inside of the oven, enhancing cooking results.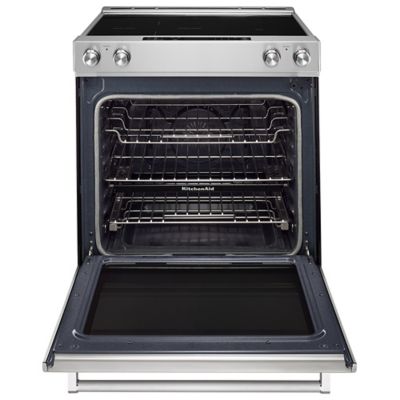 7.1 cu ft Total Capacity
This electric slide-in range provide an extra-large cooking capacity in the oven for multiple dishes at once and gives you the flexibility of a separate temperature zone in the baking drawer.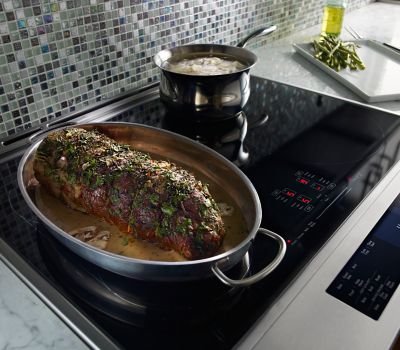 4 Induction Elements With A Bridge Zone
Provides four induction cooking surfaces that allow you to do more on your range. It features two 7 inch cooking zones with a bridge element that combines them into one large surface. The range also has a 6 and 11 inch cooking zone.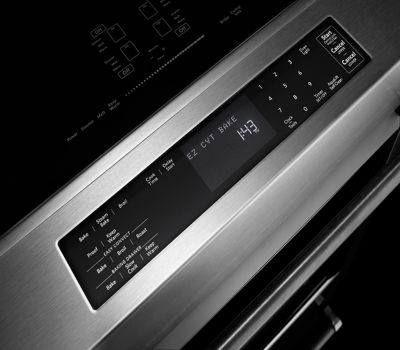 EasyConvect™ Conversion
Takes the guesswork out of convection cooking by converting conventional settings for recipes to convection settings for you.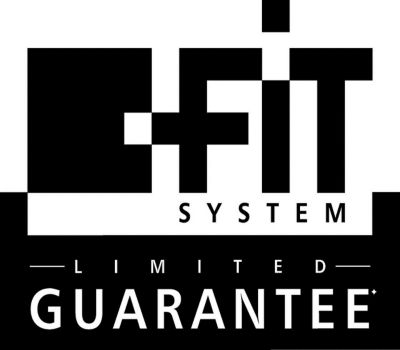 FIT Guarantee
Is our promise to flawlessly fit slide-in ranges designed for an existing cutout of 30" width, countertop depth of 24"-25", cabinet depth of 23"-24" and countertop height of 36".
Aqualift®
Cleans your oven in less than an hour without odors and at a temperature below 200°F. This innovative system combines low heat with water to release baked-on spills.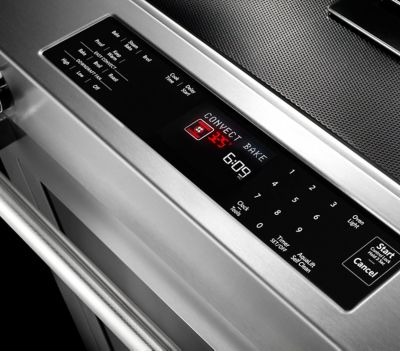 Glass Touch Controls
Offer an intuitive, easy-to-use touch screen experience.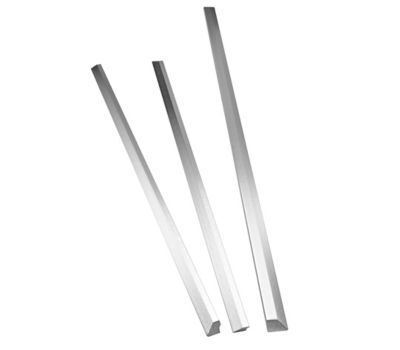 Side Trim Accessory Kit
This optional accessory kit will cover damaged countertops and unfinished edges from an old slide- in range to make them beautiful again. Trim pieces come in black, white and stainless to seamlessly match your new range.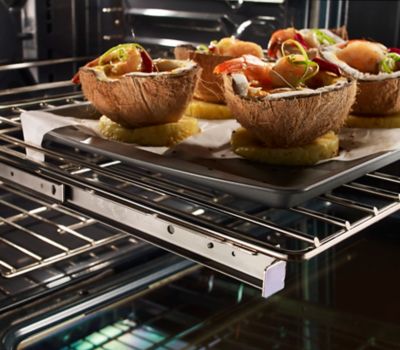 SatinGlide® Max Racks
Move smoothly in and out, allowing effortless loading and unloading, even with large or heavy dishes.
Specifications
Configuration and Overview
Fuel Type
Electric Induction
Cooktop Features
Cooktop Element Style
Induction
Cooktop Surface Color
Black
Cooktop Surface Material
Ceramic Glass
Number of Cooking Element-Burners
4
Left Front Element-Burner Power
2500W
Left Front Element-Burner Size
7" Bridge
Left Front Element-Burner Type
Induction Bridge
Left Rear Element-Burner Power
2500W
Left Rear Element-Burner Size
7" Bridge
Left Rear Element-Burner Type
Induction Bridge
Right Front Element-Burner Power
3600W
Right Front Element-Burner Size
11"
Right Front Element-Burner Type
Induction Single
Right Rear Element-Burner Power
1800W
Right Rear Element-Burner Size
6"
Right Rear Element-Burner Type
Induction Single
Oven Features
Automatic Convection Conversion Temperature Adjust
Yes
Heating Element On Indicator Light
Yes
Hot Surface Indicator Light
Yes
Power On Indicator Light
Yes
Oven Rack Type
1 Max Capacity, 1 Gliding Roll-Out, 1 Steam Rack
Self-Cleaning 
AquaLift® Self Clean
Oven Cooking System
Convection
Broiler Element Power
4000W
Broiler Location
Top of Oven
Convection Element Power (watts)
3200
Convection Element Type
Fan
Convection Functions
Bake, Broil, Roast
Oven Interior Depth(IN,inches)
20 5/8
Oven Interior Height(IN,inches)
22 1/8
Oven Interior Width(IN,inches)
24 1/8
Controls
Selections
Baking Drawer Bake, Baking Drawer Keep Warm, Baking Drawer Slow Cook, Clock, Cook Time Indicator, Delay Start, Keep Warm Setting, Proofing, Sabbath Mode, Steam Bake, Warm Zone
ADA Compliant
ADA Height and Operation Compliant
Show More Specifications
Reviews
Rated 4 out of 5
by
Dhuff
from
Great oven and cooktopl
I bought this oven a month ago. Love the induction cooktop it responds very well to temp changes. The oven bakes and roast fabulously. It takes an extremely long time to come to temp, though. The warming drawer is way to small to be of any value, it is a shame because I would use it to cook side dishes but most baking dishes are to tall. I a French bread rolled in aluminian foil to make garlic bread was to tall for the door to shut sitting only on the rack to give you a visual of the lack of height. It also takes the same length of time to heat up that small space as the large oven. Which is about 25 minutes. These two negatives don't out way the best baking and roasting I have experienced in an oven. And the induction top is fabulous!!
Date published: 2018-01-30
Rated 5 out of 5
by
SPS_531
from
Chef-quality induction range
This range was installed almost a month ago as a replacement for another brand of induction range that failed after 3 years. I loved the slide-in style of this range and that was the primary motivator behind the purchase. But so far, I can already tell the performance is superior to the one I replaced. The temperature is more even and the range seems better powered. The controls are conveniently located and precise. Due to the large upper oven size, the baking drawer is a little short for keeping a plate with a tall stack of pancakes warm. It's a worthwhile sacrifice, though. If you happen to put a pan over the control panel, the range will beep until you move the pan off the controls. It took me a minute to figure this out, panicked and unable to determine what was causing the beep.
Date published: 2018-01-30
Rated 5 out of 5
by
Customer802
from
Great oven/range
I learned about induction ranges when I was shopping for a range. This appliance is perfect. The induction stove top is so easy to clean. If you fry bacon, you can put paper towels under the pan and it catches all the grease. The oven has easy to pull out racks and has 2 lights making it very easy to see how things are cooking. This is my favorite appliance out of all that I bought from Kitchenaid.
Date published: 2018-01-30
Rated 5 out of 5
by
Anonymous
from
Price-Quality ratio is great
Just got all of the Kitchen-Aid appliances installed and so happy to have induction for a reasonable price point.
Date published: 2018-01-29
Rated 5 out of 5
by
bblack
from
Love it!
This induction range boils the water so quick that it's amazing. And the warming/drawer is a wonderful feature.
Date published: 2018-01-26
Rated 2 out of 5
by
jenniferh
from
not loving it
All of the controls are located in between the two front burners, so for those of us who are used to placing lids on the stove top or sliding a pot to the middle area momentarily, you will become very annoyed as you inadvertently turn off burners and cover controls that make the stove beep at you in alarm. I do like the induction component but wish I had knob controls like my mother's induction range. The push controls are not comfortable for your finger because although they are sensitive to being controlled inadvertently by your pots and lids, you have to use a lot of pressure. The oven controls are fussy too...when using convection, you have to choose the amount of time that you want to cook the item for, which I thought was just a barometer for an alert, but it actually turns the oven off after that time. As as result, I've spent more time cooking an item after realizing it was not done and the oven had been off for a period of time and I had to restart to continue cooking. Defeats the purpose of convection cooking. Now I am starting to overestimate how long it will take to cook something to avoid this shut off/restart problem, even so, there is not an appreciable difference between convection versus regular in regard to cooking time.
Date published: 2018-01-07
Rated 5 out of 5
by
BlondieMom
from
Very impressed
I bought this range and had it installed the day before Christmas. I was unable to give it a trial run. However, it worked like a charm during it inaugural workout! I baked a delicate almond cake, bread pudding, roasted a prime rib, baked scalloped potatoes and carrot pudding. I had no hot spots, everything cooked evenly and beautifully. Being a virtual novice with induction, I was very pleased with the ease of making gravy, vegetables and desert sauces. I am an experienced cook and know my way around the kitchen, but it was still a pleasure working with this KitchenAid. I would like to follow up after using it for a good solid period of time; but right off the bat I would highly recommend it.
Date published: 2017-12-30
Rated 1 out of 5
by
Disappointed In AZ
from
Poor performance
Upgraded our appliances to KitchenAid when we built 2 years ago this month. Last night oven stopped working. Called and waited more than an hour on hold with KitchenAid service and support. No help at all except to tell me who in our area will come out to give us a quote to fix whatever might be wrong. I could have done that on my own in way less than an hour. I have never had an oven in 65 years that stopped working. Not worth the price. DO NOT UPGRADE TO KITCHENAID. SERVICE AND PRODUCT NOT WORTH THE PRICE. Very disappointed in product and service.
Date published: 2017-12-28
Rated 1 out of 5
by
Mimigeg
from
Awful, not even a year old
I made the worst decision ever with this one. The oven is 25 degrees off, the range just sucks. Every time you lean over to stir, you cancel the oven, turn on the warmer, ugh. I got a drop of water on the flat screen and it immediately went into "call service" error. I hate that you have to answer questions before convicting. Worst range ever.
Date published: 2017-12-27
Rated 5 out of 5
by
DaveQ
from
Nice Stove
I haven't had a chance to use all the features yet, but everything I've used works great!
Date published: 2017-12-26
Rated 5 out of 5
by
Elise
from
great pricing and functionality
Very pleased with this purchase. Retailer has given great customer support.
Date published: 2017-12-23
Rated 5 out of 5
by
jv03
from
Love how fast it heats water!
It's the next level of oven technology. I have never seen water come to a boil so fast.Can't wait to explore the convection ability of the oven.
Date published: 2017-12-23
Rated 4 out of 5
by
Gazzer
from
Great look and features
Looks so good in our kitchen we bought matching refrigerator.
Date published: 2017-12-17
Rated 5 out of 5
by
Sparkylou
from
Sleek and professional
Looks great in our kitchen. Great upgrade over dual fuel
Date published: 2017-12-13
Rated 4 out of 5
by
tpos03
from
looks and cooks great!
I bought this 2 weeks ago. With my purchase I was eligible for a free 10 piece cookware set. I am told this could take 4-6 weeks. I have not ONE pot or pan that is suitable for the stove top, and do not want to invest any more money....I did purchase a small induction compatible diffuser disk, and it is ok. I love the oven and the ease to set it according to what my needs are. I am looking forward to cooking a big meal with the stove top as well as the oven!
Date published: 2017-12-10
Rated 5 out of 5
by
Erwinny
from
Finally! An electric range as good as a gas one!
We have waited for this for a long time -- an electric range that adjusts the temperature as quickly and easily as a gas range. This range does that, and it has intelligent features like a proof setting.
Date published: 2017-12-09
Rated 4 out of 5
by
Tinh
from
marvellous
after one month, so far so good; must clean every day !
Date published: 2017-12-07
Rated 5 out of 5
by
sparhawk
from
Very nice features and functions.
We purchased this range two weeks ago and couldn't be happier. We upgraded from a smooth top electric to the induction cooktop. Boils water in seconds.
Date published: 2017-12-04
Rated 4 out of 5
by
new2induction
from
Pleased
We've only had this range for a week or so, but are pleased so far. The burners are incredibly responsive, and boiling water very fast. It's a real pleasure. We're new to both induction cooking, and convection baking, and it will take some getting used to, learning to dial everything in and make adjustments from how we cooked on our old electric range.
Date published: 2017-12-04
Rated 4 out of 5
by
Andy T
from
Kitchen Aid 30" Induction Range
I purchased this and had it delivered 2 day before Thanksgiving. All the food cooked quickly and evenly Nice unit. A lot better than our 6 year old Sears Induction unit. Cook top controls on top front center limits surface usage and beep if you put pans from oven to stove top. We are getting used to it.
Date published: 2017-12-01
Rated 2 out of 5
by
Experienced diy renovator
from
Finicky controls
Pros: sleek design, fast water to boil. Cons: controls are finicky, slow preheat on oven, Controls are slow to respond, any spot of water dust or food splatter shuts the stove top off and it beeps at you incessantly. Overall not very pleased with the range
Date published: 2017-11-30
Rated 5 out of 5
by
SteveNPat
from
Great new range.
We just remodeled our kitchen and our new induction convection range looks and works great. It is the focal point of our kitchen.
Date published: 2017-11-27
Rated 5 out of 5
by
Udrive63
from
Very nice
Very happy Wasn't sure after having a gas stove before
Date published: 2017-11-25
Rated 4 out of 5
by
Sadsack
from
Awesome Range
Our induction range was delivered on Nov. 7th. Other than the fact that the range came with a four prong electrical cord, which I had to change since our other range was wired for a three prong cord. Since Whirlpool has no Tech Support, I called my electrician friend who walked me through how to connect the three prong cord. thus the reason for only a four star rating. The subdivision we have moved to does not have natural gas available. My wife has hated the electric range we had. I did a lot of re-search prior to purchasing an induction range. So far we have not experienced any of the loud fan noise that some of the reviews reported. Some people complain about the preheat time for the oven. This range doesn't take any longer to preheat than our old electric range. My wife is very happy with the performance thus far. The first meal she cooked was done in record time. It really does bring water to a boil fast. (just a little over one minute to a rolling boil.) In fact I have been demonstrating how fast it boils water to my friends when they come over. So far we love our new range. If you want an electric range that responds similar to a gas range, get you an induction range. Just remember your pots and pans need to have magnetic bottoms.
Date published: 2017-11-19
Rated 5 out of 5
by
ojc1
from
Over the moon!
So, I've been a gas range gal forever. Always hated electric when I was forced to cook on it. Switching to an induction range was a HUGE leap for me. I resisted at first but couldn't be happier that I went with this choice. The range/oven is awesome and I've already recommended it to friends. It delivers on every promise and then some. Love it, love it, love it!
Date published: 2017-11-16
Rated 5 out of 5
by
Alan
from
Just what I was looking for
I had gotten use to using gas for cooking, but gas is not available in this area so someone suggested induction electric. So I started looking and decided on this KitchenAid. It is faster than gas, more controllable, and cools faster. The extra baking oven is a great feature.
Date published: 2017-11-09
Rated 4 out of 5
by
Anonymous
from
Replacement unit
purchased this unit as a replacement for a 13 year old electric range. Still learning the nuances of induction cooking and features of the ovens.
Date published: 2017-10-18
Rated 5 out of 5
by
Anonymous
from
So Far - In Love with the Range
It's been three weeks now and I LOVE the cook top. We replaced a gas stove that kept getting left on simmer as the controls were opposite the one we had for 20 years. Was a bit afraid of all controls on the glass, but they are easy to use even with wet hands. Have yet to try the oven.
Date published: 2017-10-07
Rated 4 out of 5
by
Dog park
from
New kitchen
If you don't lace anything warm to hot on the top burner surface it will incessantly beep to indicate some hot is still on the cooktop. Annoying. If you cook something on call ok too then take the of burner then try to heat again, the cooktop will lock you out. Also the oven seems to run hot and frozen pizzas for example overlook when following box instructions. When taking items from oven and placement ng on cooktop to cool, I have scratch the stainless steel oven panel on the horizontal side. Scratches easily and looks worn after a few uses
Date published: 2017-09-10
Rated 5 out of 5
by
Peggy
from
My Favorite
I've been thoroughly enjoying this stove. At first I was nervous about induction cooking, but it is so easy to use (and clean) that I wish I hadn't waited so long to try it. A true pleasure to cook on.
Date published: 2017-09-07
Demos & Guides
guides
Use & Care Guide
Comprehensive information about your new appliance - from getting started to cleaning and maintenance.
FIT System Guarantee
FIT System Limited Guarantee
Installation Guide
Instructions for unpacking and installing your appliance, including electrical requirements and necessary tools.
Warranty Information
A complete description of your warranty coverage, and contact information for service and support.
Dimension Guide
Detailed dimensions of your new appliance with space requirements for the area surrounding it.
In order to read a PDF file, you must have Adobe Acrobat reader installed on your computer. You can download the latest version at the Adobe website.
Show More Guides