NEW
24.8 Cu. Ft. Standard Depth Side-by-Side Refrigerator with Exterior Ice and Water
24.8 Cu. Ft. Standard Depth Side-by-Side Refrigerator with Exterior Ice and Water is rated out of 5 by 122.
This sleek 24.8 cu ft. side-by-side refrigerator includes the Preserva® Food Care System. Its two independent cooling systems help keep food fresh while the FreshFlow™ Air Filter minimizes odors, and the Produce Preserver delays over-ripening. The Professionally-Inspired Design features Satin Textured Handles and KitchenAid® Medallions. Its Energy Star Tier 2 rating exceeds the minimum federal energy efficiency standard by 25%.
Stainless Steel - KRSF505ESS
Features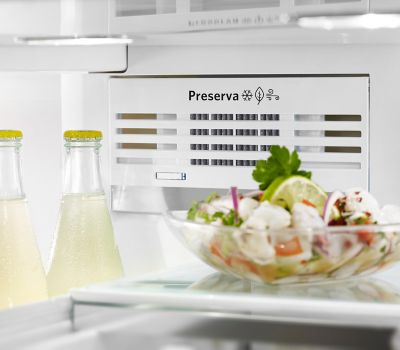 Preserva® Food Care System
Two independent cooling systems provide a dedicated refrigeration unit to help keep food fresh longer, and a separate system for frozen food. The FreshFlow™ Air Filter helps minimize odors while the FreshFlow™ Produce Preserver helps delay over-ripening.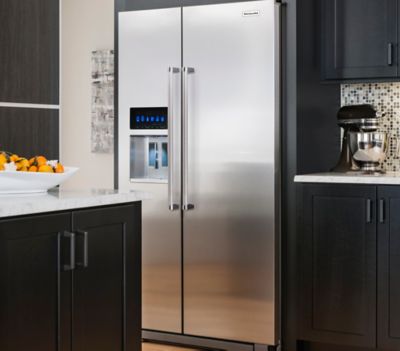 Professionally-Inspired Design
Combines a bold blend of professionally-inspired styling with sleek touches for the home. This beautiful side-by-side refrigeration unit features Satin Textured Handles and the KitchenAid® Badge, a symbol of uncompromised quality.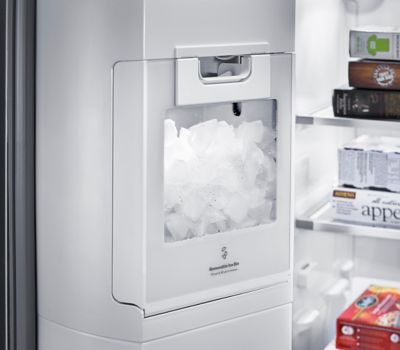 In-Door-Ice® System
Adds interior room in the refrigerator with an ice bin that mounts on the inside left door of the refrigerator, keeping it out of the refrigerator compartment and allowing for extra shelf space.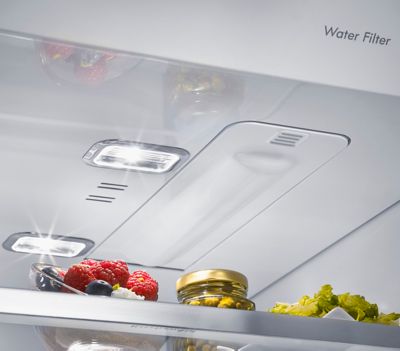 LED Lighting
Uses less energy than incandescent bulbs. Multiple lights are purposefully placed throughout the refrigerator and freezer, making it easy to find items at a glance.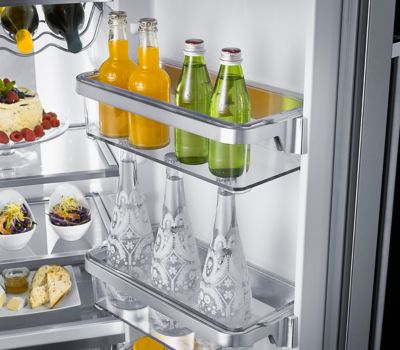 Adjustable Spill Resistant Shelves
Prevents messes from spilling over into other parts of the refrigerator. In place of a lip that can trap foods, the shelf edges are nano-etched with a finely texture surface that contains spills and lets you use the whole shelf from edge-to-edge.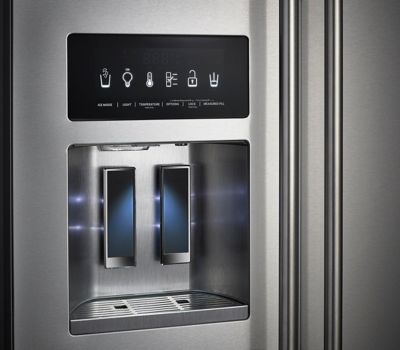 Exterior and Ice and Water Dispenser
Provides freshly filtered, great tasting water and ice that can be conveniently found right in the refrigerator door.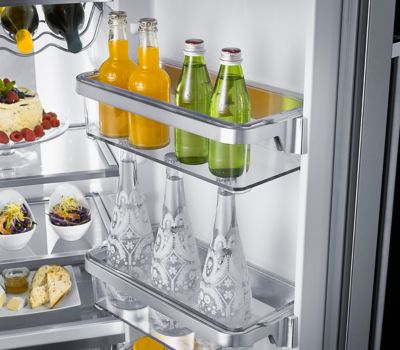 Clear Door Bins with Metallic Accents
Allow you to see labels right through the bins, helping you keep condiments and other items organized. Each bin is removable, making it easy to pull out, chop up and store an amazingly fresh produce, and simply slide back into the fridge.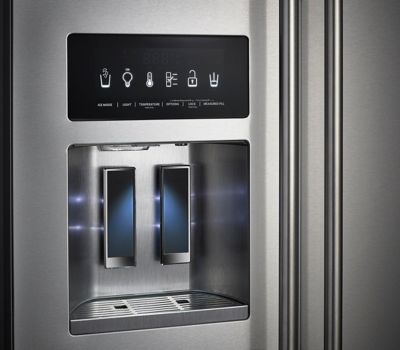 Measured Water Fill
Displays and automatically dispenses water in ounces, cups, or liters. It can be programmed to pour a measured amount, helping make food prep easier. It can even be set up to fill essential items on a daily basis like a coffee pot or a water bottle.
Specifications
Configuration and Overview
Refrigerator Type
Side-by-Side
Refrigerator Capacity
15.91
Energy Star® Qualified
ENERGY STAR® Qualified
Dimensions
Height To Top Of Cabinet
68 3/8
Depth With Door Open 90 Degree
50 1/2
Depth Excluding Doors
29 3/4
Depth Closed Excluding Handles
32 1/8
Width with Doors Closed
35 3/4
Capacity
Refrigerator Capacity
15.91
Features
Number of Interior Shelves
4
Spill-Proof Glass Shelves
1 Fixed Full Width, 3 Adjustable Full Width
Humidity-Controlled Drawers
1 Full-Width
Temperature-Controlled Drawers
1 Full Width
Non Climate-Control Drawers
1 Full Width
Door Bins
1 Dairy, 2 Adjustable Gallon, 2 Adjustable Two-Liter
Freezer Features
Interior Shelves
1 Fixed Full Width Glass, 3 Adjustable Full Width Glass
Freezer Drawer-Basket
1 Full Width Lower Plastic, 1 Full Width Upper Plastic
Door Bins
3 Fixed Full-Width
Filtration and Dispensing
Dispenser Type
Exterior Ice and Water
Dispenser Options
Control/Child Lock, Filtered Water, Measured/Metered Fill
Ice Maker
Factory Installed
Show More Specifications
Reviews
Rated 4 out of 5
by
dehudson
from
Fast freeze
I bought this about a month ago. The Ice Maker is a little loud but only when it filling with water
Date published: 2017-11-26
Rated 4 out of 5
by
Onecent
from
Loving it
I love the lighting inside. I believe it could use at least one more door bin but 2 would be better. The only other concern I have is the inability to adjust glass shelf heights. Water line makes more noise than I like during filling.
Date published: 2017-11-17
Rated 4 out of 5
by
jlg28
from
looks good very quite
only objection after 2 weeks of use is that the ice maker does not produce enough ice ever for two people
Date published: 2017-11-16
Rated 4 out of 5
by
Ken H.
from
Not exactly as advertised.
For the most part I like this refrigerator. I am perplexed by one thing. The example that I saw at the ABT store in Glenview IL had beautiful brushed aluminum wrapped shelves and the photos in the Kitchen Aid website also show the same shelves. The refrigerator that I recieved has a cheaper version of the shelves with only Aluminum on the front and not wrapped all the way around (not as aesthetically pleasing or physically strong in my opinion) My only other complaint is the small size of the ice that is produced by the ice maker. Love the handles and the LED lighting. Runs very quiet.
Date published: 2017-10-22
Rated 1 out of 5
by
Tara from Farmingdale
from
Horrible waste of hard earned money
I bought this refrigerator less than 4 years ago. It needed several service repairs within the limited one year warranty period, and then several after that. We finally decided not to spend another dollar on the lemon that we bought, and were forced to buy a new refrigerator. We had already lost hundreds of dollars worth of food several times as well. Each time we reached out to kitchenaid, they refused to do anything because we were out of warantee. When I finally reached out to them seeking some kindness of reimbursement for the lemon they sold me, the refused to stand behind their product. The freezer was full of snow. The outside rusted from the condensation that kept occouring on the outside of the fridge. The refrigerator part never really was cold, just humid. Don't waste your money!!
Date published: 2017-10-16
Rated 5 out of 5
by
susan17
from
Love it!
Nice features ...fresh crisper, wine rack, interior lighting is just right, love the features on the water and ice dispenser, easy access for ice from freezer,
Date published: 2017-10-06
Rated 5 out of 5
by
Manny
from
Great fridge!!
We just love our side by side refrigerator, as we have always had a side by side. Love the lighting and is keeping the temperature accurately. SO happy we replaced our GE!!
Date published: 2017-09-16
Rated 3 out of 5
by
Bev.
from
Great lighting
I just bought this refrigerator to replace my other one (exact same model). It is stainless steel. I already do not like the finish. My old one was a flat silver color like my dishwasher (kitchen aid). This one has a slight swirl effect. Much harder to clean. It smudges and I cleaned it with stainless cleaner and micro fiber towels and rubbed with the grain. Which is what I was told to do. Not happy with the stainless. Why do they change things when they don't need to be. Now I am stuck with this.
Date published: 2017-09-05
Rated 5 out of 5
by
Sandra
from
Great Features
Kitchen Remodel
Date published: 2017-08-30
Rated 5 out of 5
by
Bargain shopper
from
Great design
We are very pleased with this refrigerator. The shelving arrangement is perfect and the lighting is great. I love the pyramid shaped ice cubes!
Date published: 2017-08-30
Rated 5 out of 5
by
k2
from
Excellent: KRSF505ESS Refrigerator
So pleased with our new KRSF505ESS Refrigerator. The inside is so spacious and the lighting is excellent! Able to view all stored items with ease.
Date published: 2017-08-17
Rated 5 out of 5
by
Vicki
from
Great features.
Love the interior lighting, the automatic water fill feature, the fresh veggie air filter, and the touch screen for ice/water dispenser. Over all I am completely satisfied with its total operation.
Date published: 2017-08-04
Rated 5 out of 5
by
Chef
from
I can see what's inside
I am most impressed with the lighting in the refrigerator. The door lights really make it easy to see what's inside.
Date published: 2017-08-04
Rated 2 out of 5
by
SAM
from
Kitchenaid Not So Great Anymore
I purchased this refrigerator less than two years ago. I believe this was a new model at the time. I have had 2 previous KitchenAid refrigerators 1993 and 2000 models. Both were still working, but we replaced the 1993 model thinking it could go out at any time. Early this year the ice maker quit working, but everything else worked properly. Since we didn't even use the ice the refrigerator make because it was so small we did not worry. We were thinking of moving in March and had the ice maker replace . It still did not make ice. After 4 calls for service, it was determined that the wiring in the door was faulty and the entire door needed to be replaced. I contacted KitchenAid and they said they would replace the door without any charge, but it would take 6 weeks for it to arrive here. It arrived at the appliance store where we purchased it and it was dented, so they contacted KitchenAid and they were sending another door which also arrived dented. We are still waiting for a door to arrive and not feeling real secure using the refrigerator with faulty wiring in the freezer door. What ever happened to KitchenAid quality?
Date published: 2017-08-04
Rated 5 out of 5
by
Happy DAys!
from
Great refrigerator!!
We love this new refrigerator! We had one that had a bottom freezer and half the time the door wouldn't close. I love the side by side so much better!
Date published: 2017-08-02
Rated 3 out of 5
by
LJ
from
All new appliances
I like everything except the refrigerator door does not close as tightly as the freezer door.
Date published: 2017-07-27
Rated 5 out of 5
by
Nursenicky
from
Stylish and functional
Sleek and stylish... love the wine rack inside. The front ice/water system is great. We love that the ice is stored in the door as opposed as taking up a shelf in the freezer.
Date published: 2017-07-20
Rated 4 out of 5
by
Russ
from
Very nice refrigerator
Very spacious and attractive. Only problem is the ice maker can't keep up with our usage.
Date published: 2017-07-18
Rated 5 out of 5
by
Marty
from
Very quiet and great features
Purchased all new appliances to replace those that were over 12 years old.
Date published: 2017-07-13
Rated 4 out of 5
by
Phil
from
like interior lighting
Happy with this selection, limited side by side options and this was the most appealing model
Date published: 2017-07-12
Rated 4 out of 5
by
Kim
from
A nice product with a couple design flaws
I do love this fridge. And my food looks lovely inside and keeps for ages. I am not thrilled with the ice maker. I did see other reviews that it's noisy. But, for me it's also that my ice has ALWAYS got frost on it. No matter if I take the whole ice maker apart and dry it completely and then use up ice in a week. I don't have smooth ice cubes and I am ALL ABOUT THE ICE MAKER. That has been the one technical issue I have been dismayed about with this fridge. The other issue is the doors do not line up and neither do the handle bars they are just slightly off and I am particular about having things level or balanced so every time I look at the fridge I see that one thing. It bothers me and it looks wrong. Besides these two things everything else about the fridge is very nice. Beautifully laid out inside and the freezer is not an after thought as in other similar class fridges. It's just as nice as the refridgerator section. I love having the two drawers in the freezer. I keep my food in glass storage containers and it's just so easier to see everything at hand. This fridge is very deep. It is NOT counter depth so if you don't want extension then I strongly suggest buying the counter depth but you will probably lose square footage in storage. So decide what is more important for you a fridge that hangs out from counters a good 6" or sleek counter fronts.
Date published: 2017-07-12
Rated 3 out of 5
by
Ellie the legislator
from
Keeps produce and fruit fresh!
I have used Kitchen aid products for years and have enjoyed items made by Kitchen aid. I do not like the change in the what is used for the stainless steel front and the metal shelf front of shelves in the interior The Refrigerator runs well and produce and fruit last longer
Date published: 2017-07-11
Rated 4 out of 5
by
Justbeachy0107
from
Perfect ice!
Love the new fridge so far, especially the ice cubes. The right ice makes the drink!
Date published: 2017-07-03
Rated 5 out of 5
by
Bob
from
This refrigerator is excellent. Well made
We replaced our 21 year old Kitchenaid with this new one. Very well made and has operated flawlessly I like the controls on the front panel and the water filter is easier to change than our old one.
Date published: 2017-07-01
Rated 4 out of 5
by
Mike
from
Great price on "scratch & dent", brought cost within reason
Overall, satisfied with features, performance and design. One key complaint. The design of the movable compartments in the door greatly limits their positioning. To get maximum use of space, we aren't able to put those compartments in the ideal location, as they "hit" or interfere with the shelves in the fridge.
Date published: 2017-06-16
Rated 5 out of 5
by
Velina
from
Fabulous Fridge
We love our new refrigerator. The filtered water and crushed or cubed ice from the door are a big hit. Fruit and vegetables stay fresh much longer, eliminating the need to run to the store for green onion or celery, which had been continuously frozen and ruined in our old refrigerator. The visibility and lighting are good. The shelf and drawer design are conveniently set up. It's also very quiet.
Date published: 2017-05-30
Rated 5 out of 5
by
DLS
from
Works Great
A couple weeks in and all is well..the only thing is the Ref. wide door tray have additional mounting locations..Looking Good
Date published: 2017-05-27
Rated 5 out of 5
by
Speed Racer
from
Very well designed, with commercial styled handles
We love how much room there is on the inside. The icemaker on the door is nice as well, it gives more room in the freezer. The bins for the door are deep so they will hold most anything. They measured fill feature is nice, but I wish that it had a pull out tray to set larger containers on while filling.
Date published: 2017-05-15
Rated 4 out of 5
by
Vace
from
Excellent appliance only lacking extra interior space
This is an excellent working appliance however there are times when we go shopping and have o be fighting to allocate space to put all out groceries
Date published: 2017-05-09
Rated 5 out of 5
by
Lanie
from
Great features.
I bought this 3 months ago and I am so glad that I did. Love it.
Date published: 2017-05-02
Demos & Guides
guides
Use & Care Guide
Comprehensive information about your new appliance - from getting started to cleaning and maintenance.
Energy Guide
Information about the efficiency of your appliance, including energy consumption and annual costs to operate.
Installation Guide
Instructions for unpacking and installing your appliance, including electrical requirements and necessary tools.
Dimension Guide
Detailed dimensions of your new appliance with space requirements for the area surrounding it.
Warranty Information
A complete description of your warranty coverage, and contact information for service and support.
In order to read a PDF file, you must have Adobe Acrobat reader installed on your computer. You can download the latest version at the Adobe website.
Show More Guides