20 Cu. Ft. Counter Depth Side-by-Side Refrigerator with Exterior Ice and Water
20 Cu. Ft. Counter Depth Side-by-Side Refrigerator with Exterior Ice and Water is rated out of 5 by 67.
The sleek design of this 20 cu ft. side-by-side refrigerator features the Preserva® Food Care System. Its two independent cooling systems help keep food fresh while the FreshFlow™ Air Filter minimizes odors, and the Produce Preserver delays over-ripening. The counter-depth gives the high-end look of built-in refrigerators and the Professionally-Inspired Design features Satin Textured Handles and the KitchenAid® Medallion.
Monochromatic Stainless Steel - KRSC500ESS
Features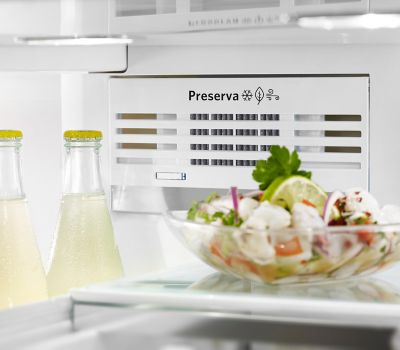 Preserva® Food Care System
Two independent cooling systems provide a dedicated refrigeration unit to help keep food fresh longer, and a separate system for frozen food. The FreshFlow™ Air Filter helps minimize odors while the FreshFlow™ Produce Preserver helps delay over-ripening.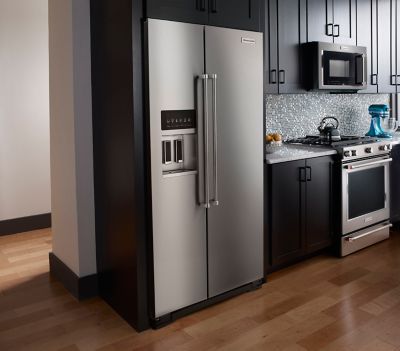 Counter-Depth
Gives the high-end custom kitchen look of a built-in refrigerator.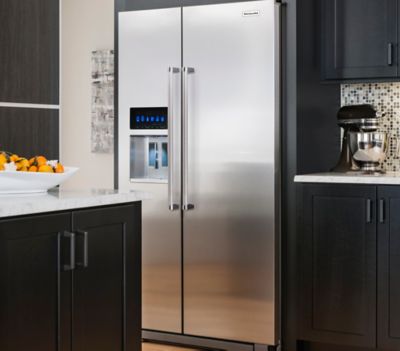 Professionally-Inspired Design
Combines a bold blend of professionally-inspired styling with sleek touches for the home. This beautiful side-by-side refrigeration unit features Satin Textured Handles and the KitchenAid® Badge, a symbol of uncompromised quality.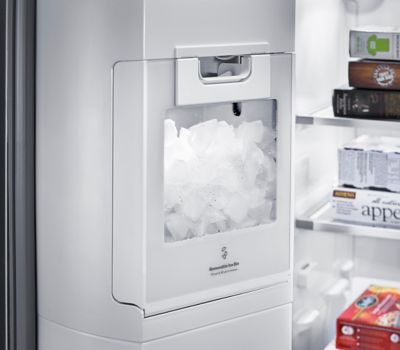 In-Door-Ice® System
Adds interior room in the refrigerator with an ice bin that mounts on the inside left door of the refrigerator, keeping it out of the refrigerator compartment and allowing for extra shelf space.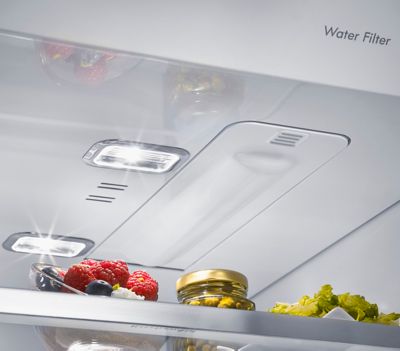 LED Lighting
Uses less energy than incandescent bulbs. Multiple lights are purposefully placed throughout the refrigerator and freezer, making it easy to find items at a glance.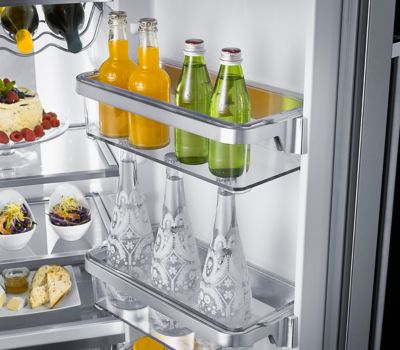 Adjustable Spill Resistant Shelves
Prevents messes from spilling over into other parts of the refrigerator. In place of a lip that can trap foods, the shelf edges are nano-etched with a finely texture surface that contains spills and lets you use the whole shelf from edge-to-edge.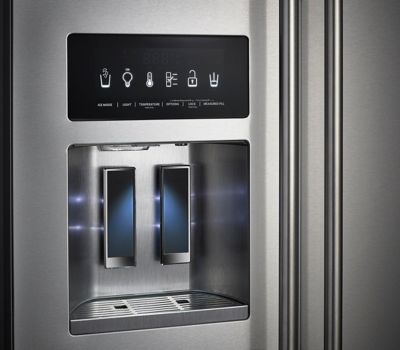 Exterior and Ice and Water Dispenser
Provides freshly filtered, great tasting water and ice that can be conveniently found right in the refrigerator door.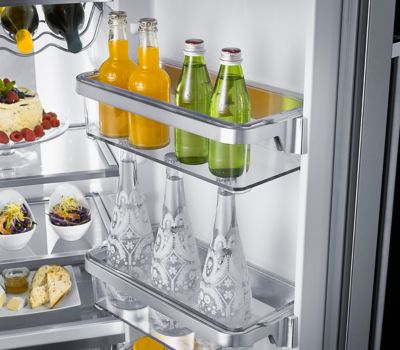 Clear Door Bins with Metallic Accents
Allow you to see labels right through the bins, helping you keep condiments and other items organized. Each bin is removable, making it easy to pull out, chop up and store an amazingly fresh produce, and simply slide back into the fridge.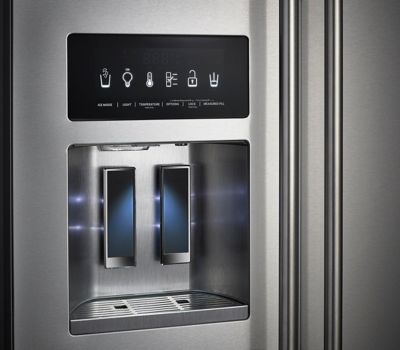 Measured Water Fill
Displays and automatically dispenses water in ounces, cups, or liters. It can be programmed to pour a measured amount, helping make food prep easier. It can even be set up to fill essential items on a daily basis like a coffee pot or a water bottle.
Specifications
Configuration and Overview
Refrigerator Type
Side-by-Side
Refrigerator Capacity
12.87
Energy Star® Qualified
No
Dimensions
Height To Top Of Cabinet
68 7/8
Depth With Door Open 90 Degree
45 7/8
Depth Excluding Doors
24 1/2
Depth Closed Excluding Handles
27 1/2
Width of Cabinet Only
35 1/2
Capacity
Refrigerator Capacity
12.87
Features
Number of Interior Shelves
4
Spill-Proof Glass Shelves
1 Fixed Full Width, 3 Adjustable Full Width
Humidity-Controlled Drawers
2 Full-Width
Temperature-Controlled Drawers
No
Non Climate-Control Drawers
1 Full Width
Door Bins
1 Dairy, 2 Adjustable Gallon, 2 Adjustable Two-Liter
Freezer Features
Interior Shelves
1 Fixed Full Width Glass, 3 Adjustable Full Width Glass
Freezer Drawer-Basket
1 Full Width Lower Plastic, 1 Full Width Upper Plastic
Door Bins
3 Fixed Full-Width
Filtration and Dispensing
Dispenser Type
Exterior Ice and Water
Dispenser Options
Control/Child Lock, Filtered Water, Measured/Metered Fill
Ice Maker
Factory Installed
Show More Specifications
Reviews
Rated 3 out of 5
by
JimW
from
small ice cubes
my water supply is fine but my ice cubes are smaller than my french door KitchenAid as well as a LG model. I have not seen this type of icemaker before. It makes for lousy drinks as the glass is full of small cubes and they melt fast. Is this normal with this model and is there a cube size adjustment and if so where can I find instructions. I could not recommend this product only because of the cube size unless it can be adjusted. The quantity of production is fine. l
Date published: 2017-12-29
Rated 5 out of 5
by
Barb7777
from
Side by side
I like this refrigerator because of the ice and water feature on the front. The freezer is ok. I am having trouble getting used to the space on the refrigerator side. She nice I live alone it is not problem but probably not big enough for family.
Date published: 2017-12-28
Rated 5 out of 5
by
BobB101
from
Great features and styling.
We bought this for FL after buying one for MI. Great choice.
Date published: 2017-12-10
Rated 5 out of 5
by
Happy1949
from
Good design
Got my new refrigerator a week ago and love it. Ice maker completely in door is a benefit.
Date published: 2017-11-22
Rated 2 out of 5
by
Lisa J
from
Loud, tiny, and horrible placement of racks!
The ice maker in this unit is so noisy that we must turn it off overnight or it wakes us a floor away, and on the other side of the house. The racks are hardly adjustable, and it doesn't hold much of anything. If you have sauce jars, soy bottles or anything like that, which we all do, you must take out one of the racks just to fit these products in. The drawers are ricketty. Holds almost nothing! We used to have a Whilpool Gold refrigerator which held 3 cubic feet more, I don't understand why you needed to lose those 3 feet in the Kitchen Aid.
Date published: 2017-11-16
Rated 2 out of 5
by
KitchenDiva
from
Not My Grandfather's Fridge
We chose Kitchenaid because we were pleased with our old KitchenAid appliances. But this refrigerator does not stand up to our previous (10-year old) refrigerator. The drawers are quite poorly made and engineered - dont stay firm in place and wriggle all over when you open and close them. Also, it came with only 4 door bins and to my surprise, adding another door bin would cost 5% of the total cost of the fridge. If I knew how flimsy the drawers were and how costly the accessories were, I would not have chosen this refrigerator. Very disappointed with this KitchenAid fridge.
Date published: 2017-11-13
Rated 3 out of 5
by
Sonoran777
from
Ideal design, easy to reach everything
Had it for one month great product, easy bro clean, and most of looks terrific in my kitchen.
Date published: 2017-11-10
Rated 1 out of 5
by
Patty xyx
from
Stay far far away from this frig
We bought this frig about 2 years ago. Within 1 year, the teeny tiny water dispenser tray on the outside of the frig began filling and dripping down the refrigerator door leaving streaks in the finish. That gets me to my major complaint. We have tried everything and the streaks all the way down the door are still there. . All around the dispenser tray, which is plastic, the silver color has worn off. That leaves my 2 year old refrigerator looking just awful. I am sure that the kitchen aid reply to this review will be to clean the door with a mild detergent. I have tried that and it did nothing.
Date published: 2017-11-07
Rated 5 out of 5
by
Suzanne12
from
Perfection!!
Our trio refrigerator(thorn in my side) finally went out, and I was happy to see it go. We went to 3 different stores and found this KitchenAid, the first plus was the ice and water dispenser on the outside. On the freezer side, I liked that the ice maker is on the door and not taking up valuable shelf space, and unlike the trio refrig, the side by side I can see all my items in the freezer. On the refrigerator side I liked how all the glasses has a protective metal bank around, and because I went with a smaller cubic foot, I can keep the refrigerator cleaner, because I can see everything. Also the stainless steel is easier to clean than I originally thought it would be. Overall, I love my new refrigerator!!
Date published: 2017-10-07
Rated 4 out of 5
by
No nickname
from
Food stays fresh longer than with old refer
Have not owned it long. To early to tell how it will measure up.
Date published: 2017-08-17
Rated 5 out of 5
by
IT
from
Love it!
Love this fridge. Great lay out. Love the lighting. Fits a lot of products, more so than our old, similarly sized fridge. Ice maker and water dispenser work well. Would buy again!
Date published: 2017-08-17
Rated 4 out of 5
by
Scott
from
Happy Home
Looks great and very commercial like at a lower price. Some door bins could have been made less deep in order to allow for deeper shelves, since it is a counter depth model.
Date published: 2017-08-17
Rated 1 out of 5
by
Whitey
from
Please do yourself a favor, RUN don't WALK away!
As I write this I am having the service technician come out for I believe the 4th time for the same issue. Something as simple as making ice can not be accomplished by this product. We have replaced parts for the ice maker, we have even replaced the entire freezer door. Yet again it has stopped making ice. So if you enjoy taking time off work to wait and deal with service technicians please buy this product.
Date published: 2017-07-26
Rated 5 out of 5
by
Mark
from
Perfect fit for my kitchen
Found this refrigerator while doing research to find a stylish non-commercial level set of appliances for a kitchen update. The looks and features are great; being a counter depth unit it is a bit smaller than my previous unit but easy enough to get used to. Have only had it installed for about 1 week now and it works well. Seems to keep the vegetables better than the previous unit. Measured water feature and controls are nice to have.
Date published: 2017-07-18
Rated 2 out of 5
by
John, a homeowner
from
Disappointed
This is not the quality of fridge I expected from KitchenAid. I purchased a suite of four KitchenAid appliances due to appealing design and brand reputation. However, after install I found the interior quality of the side-by-side (model: KRSC500ESS) did not meet my expectations. Each drawer is not easy to use and rough to pull-out, the butter compartment lid is flimsy. On the fridge side, the top draw and only the top has a built-in roller wheel to help slightly reduce friction when pulling out the drawer – of which after one month the drawer wheels collapsed and had to be replaced. The drip tray below the water/ice dispenser is also too shallow.
Date published: 2017-06-28
Rated 3 out of 5
by
Queenie
from
New Home
I bought this for our new home. It arrived scratched and dented. It is too small. I would not recommend it.
Date published: 2017-05-03
Rated 3 out of 5
by
Codhunter
from
Disappointed
We purchased this fridge as a floor model slight blem on the door but 100% warranty no problems no problem it was for the garage we had purchased a KA for our home 15 years ago and still running great. This one not the same that goes with (green house effect ) buy it then throw away in a couple of years but this one only lasted 12 days with a service tech already. Returned it before it was to late tried of paying the way of big corporations. So with that being said most likely going to not post my review.
Date published: 2017-04-17
Rated 5 out of 5
by
Hop
from
Great Features, Sleek Design
Great Fridge, i've owned Kitchenaid for quite some time. Could not be happier!
Date published: 2017-04-06
Rated 5 out of 5
by
Lucy
from
Great Side by Side Refrigerator
My refrigerator was installed on Feb. 17, 2017 and I love it. It is good looking and I like the various features on the beverage keeper. I like the storage unit for ice cubes giving me more room inside for frozen items. I like the space to keep wine bottles and I like the over all space inside the refrigerated area.
Date published: 2017-03-09
Rated 2 out of 5
by
Bill
from
Beautiful design, poor initial quality.
Have owned for 6 weeks, 4 service calls due to freezer not meeting coldness spec and ice maker not functioning. Service tech seemed competent, but we still don't trust that the latest repair the problem.
Date published: 2017-02-23
Rated 4 out of 5
by
Lisa
from
Good features
I ended up with this particular refrigerator because the original kitchAid refrigerator I originally ordered was discontinued. I was sent the new model of the French door counter depth one. The new model was made 1 inch taller and it wouldn't fit beneath my cabinet. So I had to settle for this side by side counter depth one. It is fine and seems to have plenty of room with some new features. My main complaint is the ice maker is very loud.
Date published: 2017-02-06
Rated 1 out of 5
by
Emily
from
Never Plan to Buy KitchenAid again!!
KitchenAid appliances came with my new house and within the last two years of owning, I have had the service people out five times to fix the same exact issue, the condenser was icing up and the sensor didn't know what to do to make it stop I guess. The latest service appointment happened today where they told me that my two-year old refrigerator could no longer be fixed, that I need to buy a new one!! For the money that you pay, there has to be a better fridge out there...found out from my technician that I am not the only one with this same issue and when I called customer service all they way to do is sell me a crazy expensive warranty. Buyer beware!!
Date published: 2017-02-06
Rated 5 out of 5
by
Buff
from
Clean great look and functions that fits in a smaller space
Our Side-by-Side KitchenAid refrigerator was purchased and installed about a month ago to go with a KitchenAid stove top, combo microwave and oven and dishwasher. We are extremely pleased with how these appliances fit in the kitchen we remodeled which had a little less space than some kitchens. The look and functionality are great.
Date published: 2017-01-25
Rated 1 out of 5
by
Julie
from
Water dispenser never works out. It is just out of control
Wish I could return this refrigerator since the water dispenser never works properly. I have to lock it up since a day one of delivery because the water just comes out on and one without touching anything. If I knew it works like this, I would have never thought of buying this. PLEASE DO NOT BUY THIS PRODUCT.
Date published: 2017-01-12
Rated 2 out of 5
by
Boiseman
from
Buyer beware
Exactly one year in the refrigerator started leaking water. A service tech came out and discovered the water line was frozen, his explanation was it needs to be clean regulary ? I have never had to clean a water line with any other brand. He did wave the service call because it was one year to the day. Now three months later the ice maker quit working, service guy says it has to be replaced, 15 months old and we had to replace the ice maker $200. I really think it should have lasted longer. This is not the only Kitchen Aid problem we have had the 36" gas range had to be replaceed after 8 months and numerous service calls with no fix. The new range just had to have the main mother board replaced because it also would not hold a temperature or took forever to preheat. So much for buying "Made in the USA" I will not purchase KA products again and will not recommend them to anyone.
Date published: 2017-01-08
Rated 4 out of 5
by
Dick
from
Ice maker,LED lighting
Reviewed five other products & happy i picked Kitchen Aid
Date published: 2017-01-07
Rated 1 out of 5
by
Todd P
from
Buyer beware!
Since purchasing this refrigerator, I have had nothing but problems. (over 6 repairs/services) I would NOT recommend this refrigerator or brand. For the price, I would choose from ANY of the other Brands on the market. Their customer service service is really bad as well. Actually, they are of ZERO help!!!!
Date published: 2016-12-21
Rated 5 out of 5
by
Elaine
from
I love this refrigerator.
I have always owned kitchen aid appliances. This refrigerator is so quiet you cannot hear the motor running. There is plenty of room in the freezer and refrigerator. It has a sleek exterior design and is easy to clean. The only suggestion I would make is that the designers add one more shelf in the refrigerator door, or make the shelves movable. The water quality is excellent and I no longer buy bottled water.
Date published: 2016-12-10
Rated 2 out of 5
by
lmm
from
Stay far, far away
We purchased this expensive refrigerator 15 months ago in part for its capacity, in part for its stainless doors, and mostly for the Kitchenaid name. All I can say is: RUN WAY, QUICKLY. We realized that the drawers don't open more than 1/3 of the way when we tried to put a package of romaine lettuce away, and couldn't easily. The wheels snapped off the drawers in 2 places within the first month. When things were not uniformly cool, the repairman told us that basically the top refrig shelf shouldn't be stacked - the most that should be there is "yogurt height"; who makes a large refrig for a house full of teenagers and then tells folks they can't use the largest-capacity shelf in the fridge? We tried to trade in almost immediately for a model that has drawers that open fully, but were told that Kitchenaid wouldn't help with that. Called today because the doors have pesky rust stains on them (as do the beautiful handles) that we can't get rid of, and were to.d that because the "color" is cosmetic, nothing is covered (and they don't know how to help us get rid of them!). We have a dishwasher from another manufacturer that has a finish to die for - never a spot on that! We are stuck with this awful refrigerator and no Kitchenaid support. Find anything else and there is little doubt you will be glad you did.
Date published: 2016-12-05
Rated 5 out of 5
by
Clancy the Fly Fisherman
from
Excellent Features
My wife and I have enjoyed the many features of the KitchenAid Side by Side Refrigerator. We like the easy access, the lighting that reaches all corners of the shelving, the well organized compartments for fruits, veggies, cheeses, etc. The freezer is also well laid out for easy storage and access. I would highly recommend!
Date published: 2016-12-03
Demos & Guides
guides
Installation Guide
Instructions for unpacking and installing your appliance, including electrical requirements and necessary tools.
Use & Care Guide
Comprehensive information about your new appliance - from getting started to cleaning and maintenance.
Warranty Information
A complete description of your warranty coverage, and contact information for service and support.
Dimension Guide
Detailed dimensions of your new appliance with space requirements for the area surrounding it.
Energy Guide
Information about the efficiency of your appliance, including energy consumption and annual costs to operate.
In order to read a PDF file, you must have Adobe Acrobat reader installed on your computer. You can download the latest version at the Adobe website.
Show More Guides