25.8 Cu. Ft. 36-Inch Multi-Door Freestanding Refrigerator
25.8 Cu. Ft. 36-Inch Multi-Door Freestanding Refrigerator is rated out of 5 by 275.
This uniquely versatile refrigerator offers 5 doors, including 2 soft-close drawers; to deliver optimized organization. It features the Preserva® Food Care System which uses two independent cooling systems to help keep food fresh longer. A dedicated herb storage compartment takes good care of fresh herbs to give your recipes the flavor you deserve.
Stainless Steel - KRMF606ESS
Features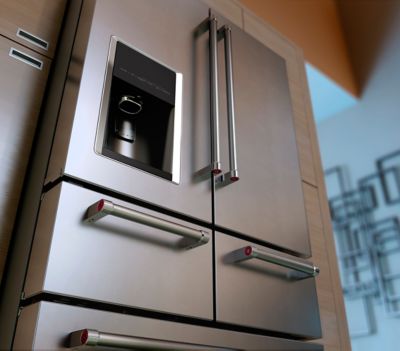 5-Door Configuration
is a KitchenAid innovation and industry first. This revolutionary configuration is a breakthrough in organization that puts all your food in ready sight and easy reach. It features soft close pantry doors to provide an additional level of convenience.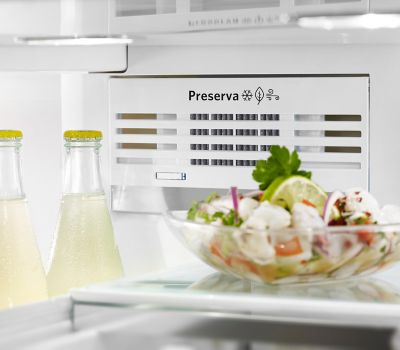 Preserva® Food Care System
Two independent cooling systems provide a dedicated refrigeration unit to help keep food fresh longer, and a separate system for frozen food. The FreshFlow™ Air Filter helps minimize odors while the FreshFlow™ Produce Preserver helps delay over-ripening.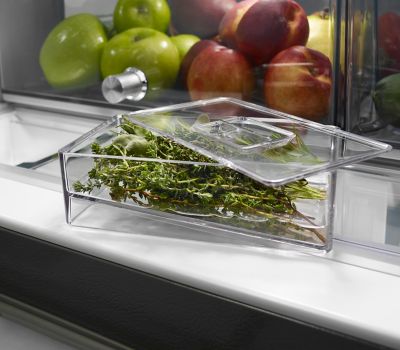 Herb Storage
keeps herbs like rosemary, oregano and thyme fresh in a dedicated storage compartment. An angled floor keeps the stems wet without covering the leaves, so your herbs bring all their flavor to your recipes.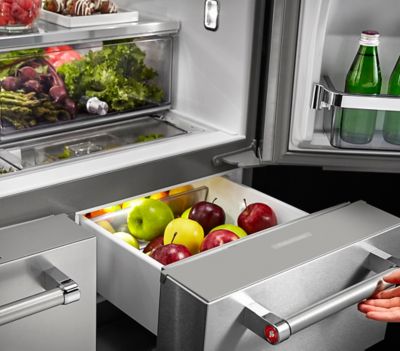 2 Soft-Close Drawers
offer optimized storage and are a first for freestanding refrigeration. The left drawer features 5 preset temperatures; meat/fish, drinks, greens/herbs, deli/cheese, thaw/marinate. The right drawer includes a Produce Preserver and is ideal for produce.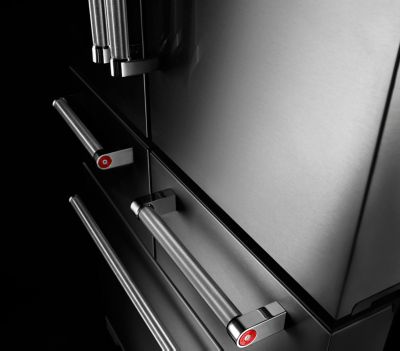 Professionally-Inspired Design
A bold blend of professionally-inspired styling and sleek touches for the home. This refrigerator features Satin Textured Handles with iconic KitchenAid Brand Medallions, a beautiful chrome frame surrounding the exterior water and ice dispenser and the KitchenAid® Badge.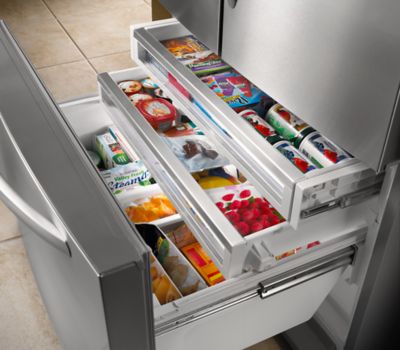 3-Tier Freezer Drawer with Storage Divider
Allows you to organize frozen items on three levels, making them easier to access, and includes a storage divider in the lower basket to help keep smaller items organized.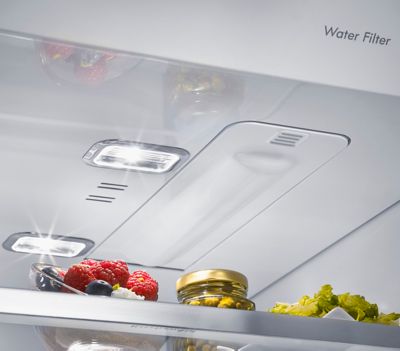 LED Lighting
Uses less energy than incandescent bulbs. Multiple lights are purposefully placed throughout the refrigerator and freezer, making it easy to find items at a glance.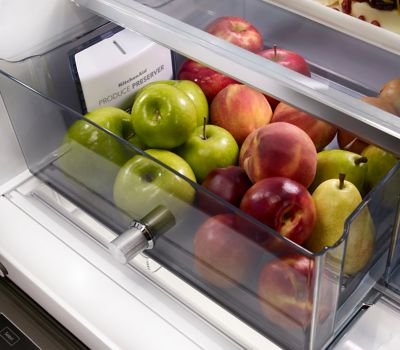 SatinGlide® Crispers
Add a smooth experience to the crisper drawers. The rollers allow effortless in-and-out movement even when fully loaded.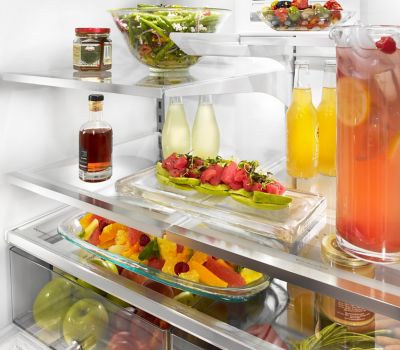 Adjustable Spill Resistant Shelves
are easy to clean and help prevent messes from spilling over into other parts of the refrigerator. The shelf edges are nano-etched with a finely textured surface that helps contain spills, and lets you use the whole shelf from edge-to-edge.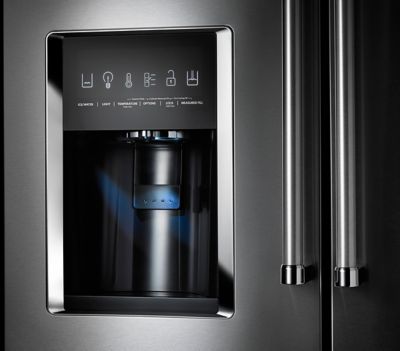 Exterior Ice and Water Dispenser

Measured Water Fill
Displays and automatically dispenses water in ounces, cups or liters. You can choose from three programmed settings to pour a measured amount. Plus, two custom presets can be programmed for items you frequently fill like a coffee pot or water bottle.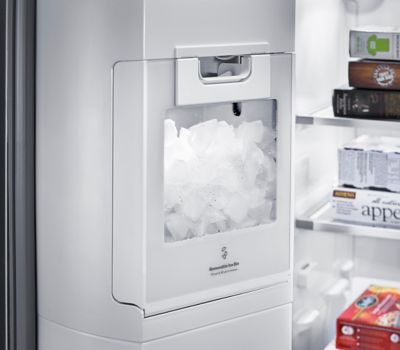 In-Door-Ice® System
adds interior room in the refrigerator with an ice bin that mounts on the inside left door of the refrigerator, keeping it out of the refrigerator compartment and allowing for extra shelf space.
Specifications
Configuration and Overview
Refrigerator Type
French Door
Refrigerator Capacity
18.15
Energy Star® Qualified
No
Dimensions
Height To Top Of Cabinet
68 3/8
Depth Closed Excluding Handles
34 1/2
Width with Doors Closed
36
Capacity
Refrigerator Capacity
18.15
Features
Number of Interior Shelves
5
Spill-Proof Glass Shelves
1 Adjustable Fold, 1 Fixed Full Width, 3 Adjustable Half Width
Humidity-Controlled Drawers
2 Half-Width
Temperature-Controlled Drawers
2 External Refrigerated Drawers
Non Climate-Control Drawers
No
Door Bins
1 Fixed Full-Width, 3 Adjustable Gallon
Freezer Features
Freezer Drawer-Basket
1 Full Width Lower Plastic, 1 Full Width Middle Plastic, 1 Full Width Upper Plastic
Filtration and Dispensing
Dispenser Type
Exterior Ice and Water
Dispenser Options
Control/Child Lock, Filtered Water, Measured/Metered Fill
Ice Maker
Factory Installed
Show More Specifications
Reviews
Rated 5 out of 5
by
Jans oven
from
Love the individual draws
Just a great refrigerator with all of the space that we need and it`s nice to have the individual drawers throughout
Date published: 2018-01-29
Rated 4 out of 5
by
Gabor
from
Nice high-end fridge
Desired features: Measured fill, separate produce door
Date published: 2018-01-29
Rated 1 out of 5
by
Blakesouth
from
poor quality
I have had this fridge for 18 months, and the fridge started having issues. The fridge started warming up and we had to trash our food. we keep having temperature problems, water flow problems, and ice issues. We are waiting for a new control board. We will see if the parts fix the issues. But $3500 for a fridge that needs $500 in parts and labor, after 18 months, is a bad product.
Date published: 2018-01-24
Rated 2 out of 5
by
GaryA
from
Kitchenaid has lost it's quality
Two years ago I purchased all Kitchenaid appliances for my new home. Kitchenaid was always known for it's quality products, but not anymore. I've had my stove repaired, my dishwasher repaired and my refrigerator repaired to fix ice build up in the bottom drawer. The repair helped, but did not fix the problem and now the ice maker has stopped making ice.
Date published: 2018-01-18
Rated 1 out of 5
by
BusyMom
from
Faulty electronic panels
Less than 1 yr old. Freezer doesn't maintain temp. & repeatedly thaws and refreezes. Water/ice dispenser nonfunctional. Lights don't work. Door open indicator sounds randomly and for extended periods (no door actually open). Fridge drawer control panel non responsive. The main control board in the unit is going to be replaced. The front left door is also going to be replaced. Total wreck of a unit. We redid our kitchen and all appliances are now Kitchenaid - mistake. Thumbs down from a lifelong customer.
Date published: 2018-01-16
Rated 1 out of 5
by
Dnieblas
from
Don't buy it
We bought this refrigerator because it was nice and thought u got what you paid for instead I got junk it started with the doors not closing the wouldn't make ice,and know I have ice build up I hate the fact that we paid so much and it's not worth it I will not buy anymore kitchen aid appliances!!!!!!very disappointed
Date published: 2018-01-08
Rated 2 out of 5
by
baearle
from
Terrible ice maker
We have had a problem with the ice maker from the beginning of purchase. It stops dispensing ice and leaks water from the dispenser. We purchased it from Home Depot, and I wish I had read the reviews before purchasing. There is obviously a huge problem with the ice maker.
Date published: 2018-01-06
Rated 1 out of 5
by
hvasvill
from
Beautiful but not Good Quality
I fell in love with the look of this fridge, we bought it along with the range and dishwasher...I love the look and although the look is important function is more important. This fridge is a lemon. Shortly after purchase we started having issues with the freezer accumulating ice and the ice maker not making ice as it should. Now a new issue...water leaking all over the floor. We cannot seem to figure out where the water is coming from and i am not talking about a few drops, its like a bucket full of water is dumped out. I cannot afford new appliances nor want to pay $200-$300 for repairs. :(
Date published: 2018-01-03
Rated 2 out of 5
by
SM-SHPG
from
Freezer iced up. Malfunctioned drawer
I purchased this refrigerator for a remodel. The sales person said it was the best I like the looks and the amenities. It is very large inside. From the moment it was plugged in the freezer iced up. A tech was out and ordered a new freezer drawer. That was October 3rd. I have not heard back. I don't understand why a new refrigerator wasn't ordered to replace this one.
Date published: 2018-01-02
Rated 2 out of 5
by
Krist
from
Storage not great
It's hard to arrange to hold larger items when you have more than one gallon of milk or other drinks-- the top freezer drawer front fell off and will not reattach - I really wish we had not gone with this fridge.
Date published: 2018-01-01
Rated 3 out of 5
by
Jon R
from
Lots of Space!!! Ice maker is the worst!!!
I have had it for a year and we really like the space it has but the ice maker has had issues right from the beginning. We had service guy out 3 times and it still does not work. Ice melts in the bucket and clumps up, it leaks underneath getting the motor wet and it freezes up. Biggest piece of junk I've owned. I do not recommend this fridge. I own the whole kitchen set and know I'm faced with getting something else. Waste of $3500....
Date published: 2017-12-31
Rated 5 out of 5
by
LyndaKal
from
Great features
I got this 3 weeks ago and absolutley love it, great product
Date published: 2017-12-30
Rated 5 out of 5
by
Jennywi
from
Huge
Great features! Lots of space! Vegetable bin keeps produce very fresh!
Date published: 2017-12-29
Rated 4 out of 5
by
MGL7
from
So far so good
We have only had it a month but it is working well. The fit and finish is solid and it looks great. The interior lights are not bright enough and the door storage could be better, but the freezer compartment is very flexible and the ice maker works well.
Date published: 2017-12-28
Rated 3 out of 5
by
Holleyw
from
Stop working
I bought this refrigerator 18 months ago as a special gift for myself, It worked fine until a week ago and it just stopped working. We called costumer service and they sent a repairman out today. They ask a lot of questions when we called so I assumed they would bring the part that were needed to fix it. My husband had to take a day off work to be here. However they didn't have the parts and now he has to take another day off tomorrow so they can come back to fix it. Not only have we lost all the food in the refrigerator and freezer but 2 day pay and we still don't have a refrigerator that works. Oh did I mention it is Christmas week.
Date published: 2017-12-20
Rated 1 out of 5
by
K. L.
from
Just quit working
I bought this in August 2017. In December it has already quit working. I just had to throw away over $200 worth of food.
Date published: 2017-12-19
Rated 1 out of 5
by
MDLGTO
from
Beautiful, unreliable refrigerator
The fan for the icemaker/freezer gave out after five months of use. I could forgive Whirlpool-Kitchenaid this if they were able to get the part out and fix it in a timely manner. Nope. I've waited three weeks and still have no freezer, let that sink in to fellow avid cooks. (I am in Mexico, that said, this is unacceptable when you want to create a world class luxury brand + I live 15 miles from a Whirlpool factory (even though Fridge says made in USA)). Other than the fatal flaw, the appliance is terrific--functionality great, design & aesthetics stunning (price performance vs. other high end brands beyond compare). Trouble is, the thing just doesn't work...
Date published: 2017-12-09
Rated 4 out of 5
by
MTwain
from
Like it BUT...
Like the frig but... The water dispenser sprayed water all over the place. We called for service on the day we got it. A few days later the service man said we have too much water pressure. Interesting that we didn't have too much pressure for the dispenser in our last frig which worked great. Anyway, the serviceman put something on the water line to the frig to reduce the pressure. The water no longer sprays all over but it dispenses annoyingly slow. This we were told we had to live with. We are not happy.
Date published: 2017-11-30
Rated 2 out of 5
by
dave1964
from
Ice maker and self closing drawers sub par
We bought all KitchenAid appliances for our new home 18 months ago. Love the way they look, wish they performed better. The ice maker stops working for a few days, then starts back up. I followed all the trouble shooting advice, doesn't seem to make any difference. The soft close drawers don't close properly and you have to always check behind yourself to make sure there closed. Of course its out of warranty now when everything is going bad.
Date published: 2017-11-30
Rated 5 out of 5
by
hdhjr
from
Spacious
The interior space in both the refrigerator and freezer sections is exceptional. Great replacement of former 24 cu. ft. model.
Date published: 2017-11-29
Rated 1 out of 5
by
Jodee
from
Lights stopped working
I bought the fridge 13 months ago. The water leaks on to the drawer below it. Problem is the water shorted the panel on the draw and the setting on the draw stopped working. Today woke up to all the lights not working. Fridge is completely dark and ice and water will not work either. Very upsetting. The fridge is beautiful but i think i bout a $3000 lemon.
Date published: 2017-11-27
Rated 1 out of 5
by
Dileep
from
ZERO
we bought a refrigerator and doors are not aliening properly. ASI Technician came and he does not have patience and time.
Date published: 2017-11-27
Rated 5 out of 5
by
Celene
from
Impressive
Renovating kitchen have not used yet. Will start to use in a couple weeks
Date published: 2017-11-25
Rated 4 out of 5
by
Gadget
from
Beautiful Machine-Problematic Dispensing System
Love this organizing system for all different foods. Lots of bins, drawers, temperature settings, 3 filters for air, water & smell, soft closing drawers, nice big freezer with dividers, quiet. The water dispenser leaks water down the front and ices up inside. In 5 months have had two services. Last time they replaced the entire dispenser unit. Hope this solves the dripping. Love it otherwise.
Date published: 2017-11-22
Rated 5 out of 5
by
Cheryl 52
from
Great refrigerator
This was installed 2 weeks ago. Love it. So happy with it.
Date published: 2017-11-13
Rated 5 out of 5
by
SheilaF
from
Love this refrigerator
We made the purchase about 6 weeks ago for our new home. We love it
Date published: 2017-11-04
Rated 4 out of 5
by
jjkallies
from
Love the self closing drawers
I bought this about a month ago and really like it. The separation of the vegs and meats from the main area of the refrig. is a great concept and works really well for us. Only dislike - water shoots out pretty hard and does not stop right away - just need to get used to that and adjust our use.
Date published: 2017-11-04
Rated 5 out of 5
by
RonG
from
Beautiful exterior.
Drawers for deli and veggies are great! Double opening doors are super convenient! Well worth the price.
Date published: 2017-11-02
Rated 5 out of 5
by
cheimbig
from
KitchenAid 25.8 Multi door refrigerator
Bought nearly a month ago. A bit smaller than our last one, but the best purchase we have had in a long time.
Date published: 2017-11-02
Rated 4 out of 5
by
okki
from
Plenty of space ..but some problems from the start
Upon arrival the freezer lights did not work. The refrigerator handles rusted after 2 weeks and we are told Kitchen Aid may not replace them. A $3000. piece of equipment and the company won't replace rusting handles after 2 weeks....makes me wonder what else the company will default on. I have purchased a 3 year service insurance and hope for the best. As far as the refrigerator goes...plenty of space,,,love the vegetable draws being separate, and they close on their own after gentle push...oppps the freezer is suppose to do that also but it doesn't.
Date published: 2017-11-01
Demos & Guides
guides
Dimension Guide
Detailed dimensions of your new appliance with space requirements for the area surrounding it.
Use & Care Guide
Comprehensive information about your new appliance - from getting started to cleaning and maintenance.
Warranty Information
A complete description of your warranty coverage, and contact information for service and support.
Energy Guide
Information about the efficiency of your appliance, including energy consumption and annual costs to operate.
In order to read a PDF file, you must have Adobe Acrobat reader installed on your computer. You can download the latest version at the Adobe website.
Show More Guides