NEW
26.8 cu. ft. 36-Inch Width Standard Depth French Door Refrigerator with Exterior Ice and Water Platinum Interior
26.8 cu. ft. 36-Inch Width Standard Depth French Door Refrigerator with Exterior Ice and Water Platinum Interior is rated out of 5 by 248.
Experience a fresh design that complements the freshness of your sensitive ingredients. This French door refrigerator features the Preserva® Food Care System. Three distinctive features include an ethylene-absorption cartridge that helps keep produce fresher longer. The Platinum interior design features an industry exclusive silver, glossy walls. The refined interior design features Undershelf LED lighting, and metallic accents add a touch of elegance.
Stainless Steel - KRFF707ESS
Features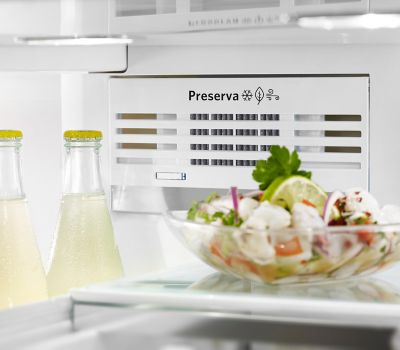 Preserva® Food Care System
Two independent cooling systems provide a dedicated refrigeration unit to help keep food fresh longer, and a separate system for frozen food. The FreshFlow™ Air Filter helps minimize odors while the FreshFlow™ Produce Preserver helps delay over-ripening.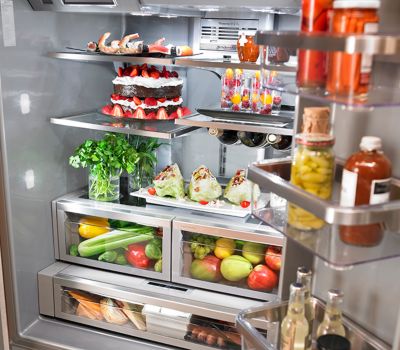 Platinum Interior Design
provides a premium look with silver glossy walls that complement the metallic accents found inside the refrigerator.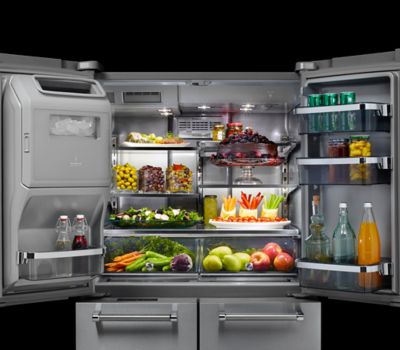 Undershelf Lighting
puts light right where you need it, making it easy to find items no matter where they are inside the refrigerator.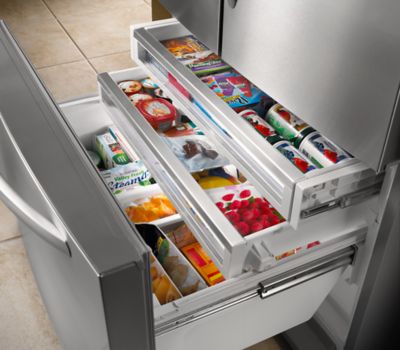 3-Tier Freezer Drawer with Storage Divider
Allows you to organize frozen items on three levels, making them easier to access, and includes a storage divider in the lower basket to help keep smaller items organized.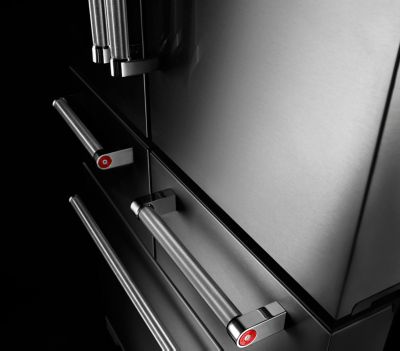 Professionally-Inspired Design
A bold blend of professionally-inspired styling and sleek touches for the home. This refrigerator features Satin Textured Handles with iconic KitchenAid Brand Medallions, a beautiful chrome frame surrounding the exterior water and ice dispenser and the KitchenAid® Badge.
Electronic Temperature-Controlled Pantry
Optimizes freshness for specialized items by providing precise settings for meats, deli items, party platters, and wine.

Metallic Accents on Shelf Trim, Pantry and Crisper Drawers
are satisfying to the touch, highlight the interior of the refrigerator and complement the high gloss finish of the walls.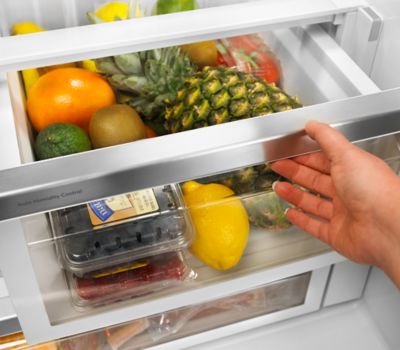 SatinGlide® Crispers and Pantry
Enable the crisper and pantry drawers to open and close with exceptional smoothness.The glides allow effortless movement, even when a drawer is fully loaded with melons or squash.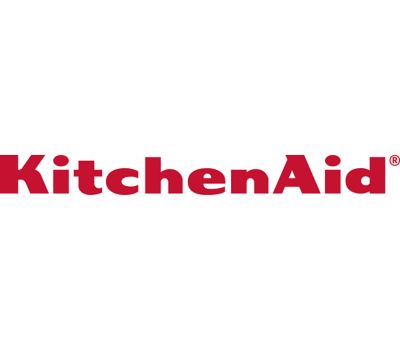 Through-the-Door Ice and Water Dispenser
provides quick and easy access to chilled water and ice.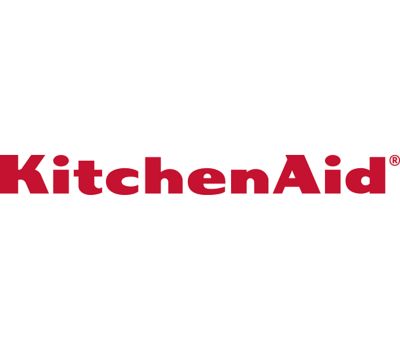 Adjustable Door Bins with Removable Inserts
Keep condiments and other items organized for food prep and serving.

Star-K Certified
STAR-K KOSHER CERTIFICATION for use on the Jewish Sabbath and other religious holidays.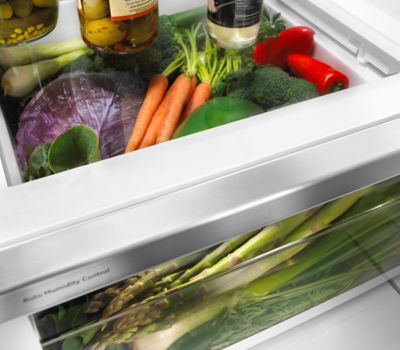 Humidity-Controlled Crispers
Provide a dedicated storage option with adjustable humidity levels. They let you select the high humidity that keeps romaine crisp, or the arid environment that helps figs and apricots stay fresh.

Measured Water Fill
Displays and automatically dispenses water in ounces, cups or liters. You can choose from three programmed settings to pour a measured amount. Plus, two custom presets can be programmed for items you frequently fill like a coffee pot or water bottle.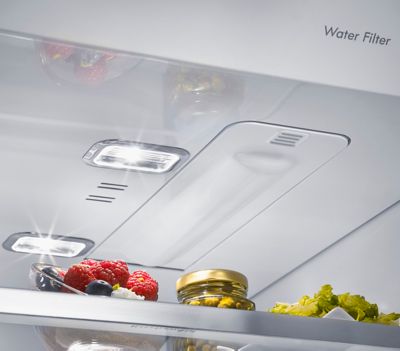 LED Lighting
Uses less energy than incandescent bulbs. Multiple lights are purposefully placed throughout the refrigerator and freezer, making it easy to find items at a glance.

Light Touch Controls
Provides easy operation by providing touch-pad controls for all refrigerator functions.
Slide-Away Split Shelf
Helps maximize the storage space and optimize the organization of your refrigerator. The versatile design lets you retract the front of the shelf to accommodate tall items such as a pitcher of fresh-squeezed juice.

Automatic Ice Maker
ensures a constant supply of ice on hand at all times for entertaining and everyday use.

Max Cool
When selected, automatically adjusts the temperature in the refrigerator and freezer to the lowest setting as needed. This helps keep the refrigerator at the ideal temperature even when you have the doors open for an extended period in order to load all your freshly purchased produce.
Specifications
Configuration and Overview
Refrigerator Type
French Door
Refrigerator Capacity
19.03
Energy Star® Qualified
No
Dimensions
Height To Top Of Cabinet
68 3/4
Depth With Door Open 90 Degree
49
Depth Excluding Doors
29 7/8
Depth Closed Excluding Handles
34
Width with Doors Closed
35 5/8
Capacity
Refrigerator Capacity
19.03
Features
Number of Interior Shelves
5
Spill-Proof Glass Shelves
1 Adjustable Fold, 1 Fixed Full Width, 3 Adjustable Half Width
Humidity-Controlled Drawers
2 Half-Width
Temperature-Controlled Drawers
1 Full Width Pantry
Non Climate-Control Drawers
No
Door Bins
3 Adjustable Gallon, 3 Fixed Full-Width
Freezer Features
Freezer Drawer-Basket
1 Full Width Lower Plastic, 1 Full Width Middle Plastic, 1 Full Width Upper Plastic
Filtration and Dispensing
Dispenser Type
Exterior Ice and Water
Dispenser Options
Control/Child Lock, Filtered Water, Measured/Metered Fill
Ice Maker
Factory Installed
Show More Specifications
Reviews
Rated 5 out of 5
by
Jessgum
from
Spacious!
I simply love how spacious and organized this refrigerator is. I love all the lights. It is so much easier to find things with this kind of layout.
Date published: 2018-01-29
Rated 5 out of 5
by
Brian22
from
Spacious and well organized
We installed about 2 weeks ago. Please with the ease of installation. The refrigerator is very spacious and fresh and frozen goods are easy to see. No dark spots where you forget left overs. Well light. Of course, it hold temperature well - which is to be expected. Stainless appears to be of high quality. However, everyone should not that finger prints are still an issue.
Date published: 2018-01-29
Rated 1 out of 5
by
Coletteg
from
Frustrated in CA
2 issues: 1. The doors don't close unless you slam them...they actually bounce back open, even the freezer. The alarm is too quiet to hear and volume can't be turned up! 2. The 3 drawers in the freezer are too crowded and narrow! I intend to take one out and hopefully this will give me more room.
Date published: 2018-01-23
Rated 2 out of 5
by
Kappaccino
from
Frost Issues
I had this refrigerator for 6 months and the vents for both the refrigerator and the freezer have frosted over. It's gotten so bad the freezer now makes a loud noise. We have a tech coming out that has to replace all the parts but I am not confident that will solve the problem. I checked for gaps in the doors but nothing. Other than that the features are nice and very roomy.
Date published: 2017-12-29
Rated 5 out of 5
by
Jjkennedy
from
It's like art
We bought this after much research & absolutely love it, it's truly a gorgeous machine!
Date published: 2017-12-28
Rated 5 out of 5
by
FordLover
from
Large fridge, so much room!!!!
This is the second fridge of this same model-I love it!!! It's huge and is good looking. Nice LED lighting and overall a great fridge.
Date published: 2017-12-26
Rated 5 out of 5
by
SD68
from
Happy with the large size
I bought this last month to replace another KitchenAid refrigerator. I love the french doors as I'm able to store more food easily. Everything is easier to find and love the Platinum interior.
Date published: 2017-12-26
Rated 4 out of 5
by
CarlottaJ
from
Fridge layout great/freezer poor lighting
It is very roomy and good layout. However, the first week - the freezer frosted up and they are bringing a new sealer. My biggest complaint is with the feezer. The top two shelves - have good lighting - but the larger lower shelf relies on the lighting for the upper two shelves. In the daytime it is ok - but at night - it is very hard to see the larger bottom portion of the freezer. The design of the three shelves though is much better for organization of the freezer. I really wish it had two ice makers - as my previous fridge did. This brand does not come with two icemakers. It is easy to see the contents of what is in your fridge and access them.
Date published: 2017-12-26
Rated 5 out of 5
by
Mecohen
from
I bought this fridge twice
After we renovated our kitchen and sold our home with the appliances, I knew I was this fridge again in our second home. The platinum interior and led lighting are top notch. The amount of space in this fridge is great. And the freezer has 3 drawers which we love.
Date published: 2017-12-21
Rated 5 out of 5
by
Guido66
from
Great quality
I bought this refrigerator 2 weeks ago it complimentsmy kitchen, my whole kitchen is Kitchenaid major appliances and countertop appliances.
Date published: 2017-12-17
Rated 4 out of 5
by
nonicknameplease
from
Good organization
This is a good looking fridge. Door can accommodate gallon milk jugs and juice cartons. I like the two trays in the freezer, all the other fridges I compared to when purchasing this one had only one tray. Crushed up ice is a nice small crush, the water in the dispenser is very cold. The fridge interior has several lights that come on when you open the fridge. These lights went out the very first week we had the fridge, so I am a little concerned about long-term reliability. I ended up buying the extra warranty just in case especially considering this fridge is priced quite a bit higher than similar other brand refrigerators.
Date published: 2017-12-08
Rated 5 out of 5
by
Ptownsdk
from
Just what we wanted.
We purchased this fridge for our kitchen remodel and it's been great. The freezer capacity and multiple pull out drawers work well. Love the extra pocket in the door. Holds loaves of bread well. Lots of compartments so things don't get lost. The fridge has worked well. Love the measured fill feature for water. The shelves are easily adjusted and we're still working on what we want. Went from a side by size freezer/fridge to this and love it.
Date published: 2017-12-03
Rated 5 out of 5
by
mike999
from
Chose this over a much more expensive built-in.
After our house flooded during Hurricane Harvey, we found ourselves having to buy many new items that we really had no idea we would be researching before the flood happened. Looking at the positives of being able to upgrade our kitchen, we researched many high-end built in appliances (Thermador, Viking, etc.), but we were concerned about the high frequency of repairs reported by many people for those brands, so we decided on the KitchenAid and designed our cabinets to give this full size refrig a 'built-in' look, and so far, we are glad we did.
Date published: 2017-11-26
Rated 1 out of 5
by
#waitingonrepairperson
from
Buy the long long long term protection plan
This is the third replacement refrigerator. Sure happy that I bought the extended protection plan. One friend asked if we had leased the refrigerator.
Date published: 2017-11-25
Rated 1 out of 5
by
MullyMom
from
Top price but poor quality
I purchased this refrigerator 4 months ago and have experienced nothing but problems with it. From the start, the ice maker did not work. It would produce just a bit of ice and then stop. Five service people and several calls to KitchenAid (on hold with terrible customer service) later my refrigerator ice maker still does not work. Finally, the business I purchased the fridge from will be sending a new refrigerator to replace it but, after seeing all of the customers with the same ice maker issue, I do not want this model. Do yourself a favor, avoid the stress of repairs and find a different fridge.
Date published: 2017-11-24
Rated 5 out of 5
by
Denise68
from
Love this refrigerator
We love our new kitchen aid refrigerator. The space is absolutely amazing. We are a family of 7 and have plenty of storage space. Love the platinum interior and lighting too. I did extensive research and shopping and I'm so glad I chose this one. After reading many refrigerator reviews with repair issues on all different brands we did purchase a 5 year extended warranty in case we have any problems. I would purchase the extended warranty with any refrigerator purchase. This refrigerator looks beautiful in our kitchen and we would highly recommend it.
Date published: 2017-11-22
Rated 2 out of 5
by
DjlH
from
Lights Out!
I had my first 3 door refer for two years before it started to fall apart. Compressor, evaporator, ice maker. Took 5 service call and damaged floors before Kitchenaid agreed to replace it. Then sent the wrong one and finally got the right one. Now the new one that is two months old has lights that don't work.
Date published: 2017-11-21
Rated 5 out of 5
by
trudylou
from
Thanks to KitchenAid for the Replacement Fridge
Have had the replacement for two weeks. So far, not noisy like the one that was replaced.
Date published: 2017-11-11
Rated 4 out of 5
by
Scott in New Jersey
from
Height restricted
I had to replace a Whirlpool refrigerator with this Kitchen Aid. It works very well. One of the flaws is the limitation of larger bottles and taller items whether on the door or the main storage area.
Date published: 2017-11-11
Rated 5 out of 5
by
Rodman
from
Quality built
When the door closes there is a solid sound as the parts fit together perfectly
Date published: 2017-11-10
Rated 1 out of 5
by
Cmoody
from
So done with this refrigerator
We purchased this fridge back in March 2017, and I've had problems with it ever since. I First noticed that it didn't seem as cool as normal, and there was tons of condensation inside. They came out to fix it, and it did not fix the issue. It got to where it wasn't hardly cooling at all. They came back, and the next time they told me it was because something had frozen up. They fix that problem, and I continue to have issues. They came up a total of five times, and then they really start it with a new one at the beginning of October. This morning I open the fridge to find condensation inside again!! I am so frustrated that I spent so much on this fridge, and I continue to have issues. I wish I would have bought something else.
Date published: 2017-11-07
Rated 5 out of 5
by
bsmith528372
from
Spacious
Love this refrigerator, had plenty of room and the water tastes great and love is measures the amount for you
Date published: 2017-11-02
Rated 4 out of 5
by
Pghluzer
from
Nice space
The adjustable shelving is great. Miss my double ice maker
Date published: 2017-11-02
Rated 5 out of 5
by
Enarc75
from
Perfect addition to our Kitchen Aid dishwasher and
Just finished a complete kitchen remodel and wanted to replace our old refrigerator. We love the new French Door arrangement with the lower freezer compartment. Excited to use all the new features.
Date published: 2017-11-01
Rated 5 out of 5
by
D24lsu
from
Awesome features
I purchased this refrigerator recently. It is as beautiful as it is efficient.
Date published: 2017-10-27
Rated 5 out of 5
by
Gracielegs
from
Refrigerator
The refrigerator looks awesome in my kitchen. It is very roomy inside , Love the bottom freezer, you can fit so much more than the side by side options.
Date published: 2017-10-22
Rated 5 out of 5
by
cjkitchen
from
Everything I wanted.
This refrigerator has it all. Easy to use features, great storage, and energy efficient. Well done KitchenAid!
Date published: 2017-10-21
Rated 5 out of 5
by
mart10748
from
Awesome refrigerator/freezer!
Purchased for our new home. Our previous fridge/freezer were KitchenAid so I knew this was quality. Love the pull out drawers which make storage so convenient.
Date published: 2017-10-20
Rated 5 out of 5
by
Rick C
from
Our new refrigerator
Wow this frig is neat, offers so much organization. Quiet!
Date published: 2017-10-20
Rated 5 out of 5
by
Miles0
from
New refrigerator
Love the upgrades from our 20 year old refrigerator!
Date published: 2017-10-19
Demos & Guides
guides
Dimension Guide
Detailed dimensions of your new appliance with space requirements for the area surrounding it.
Energy Guide
Information about the efficiency of your appliance, including energy consumption and annual costs to operate.
Warranty Information
A complete description of your warranty coverage, and contact information for service and support.
Use & Care Guide
Comprehensive information about your new appliance - from getting started to cleaning and maintenance.
In order to read a PDF file, you must have Adobe Acrobat reader installed on your computer. You can download the latest version at the Adobe website.
Show More Guides