NEW
26.8 cu. ft. 36-Inch Width Standard Depth French Door Refrigerator with Exterior Ice and Water
26.8 cu. ft. 36-Inch Width Standard Depth French Door Refrigerator with Exterior Ice and Water is rated out of 5 by 612.
This 26.8 cu. ft. refrigerator helps maximize the freshness of produce with the Preserva® Food Care System. The system combines three distinctive features including an ethylene-absorption cartridge that helps keep produce fresher longer. The refined interior design features LED lighting, and metallic accents add a touch of elegance.
Stainless Steel - KRFF507ESS
Features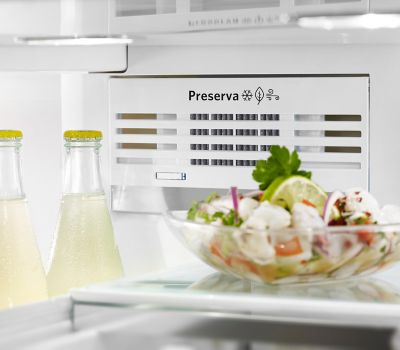 Preserva® Food Care System
Two independent cooling systems provide a dedicated refrigeration unit to help keep food fresh longer, and a separate system for frozen food. The FreshFlow™ Air Filter helps minimize odors while the FreshFlow™ Produce Preserver helps delay over-ripening.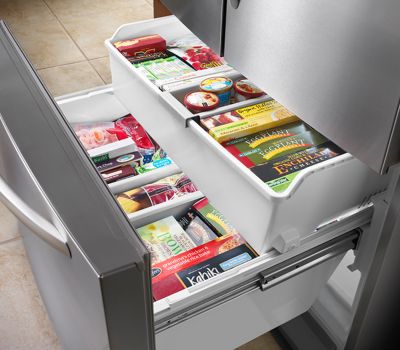 2-Tier Freezer Drawer with Storage Dividers
Allows you to organize frozen items on two levels, making them easier to access. It includes storage dividers in the lower basket to help keep smaller items easy to find, so it's easy to keep the lamb chops separate from the pork chops.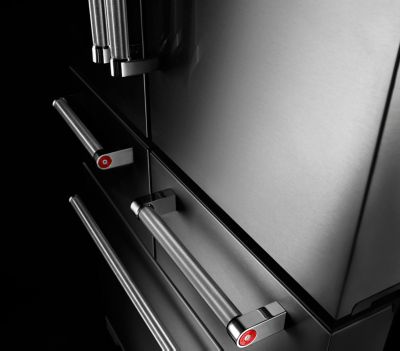 Professionally-Inspired Design
A bold blend of professionally-inspired styling and sleek touches for the home. This refrigerator features Satin Textured Handles with iconic KitchenAid Brand Medallions, a beautiful chrome frame surrounding the exterior water and ice dispenser and the KitchenAid® Badge.
Electronic Temperature-Controlled Pantry
Optimizes freshness for specialized items by providing precise settings for meats, deli items, party platters, and wine.

Metallic Accents on Shelf Trim
Are applied to the leading edges of the refrigerator shelves. These rich accents complement the gloss finish of the interior, to make finding your ingredients as much of a pleasure as using them.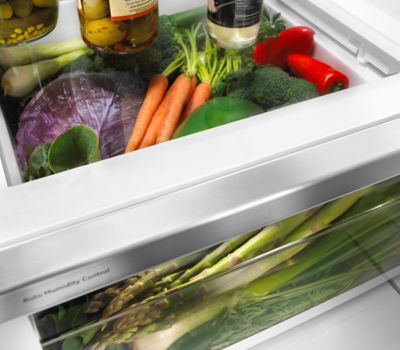 Humidity-Controlled Crispers
Provide a dedicated storage option with adjustable humidity levels. They let you select the high humidity that keeps romaine crisp, or the arid environment that helps figs and apricots stay fresh.

Measured Water Fill
Displays and automatically dispenses water in ounces, cups or liters. You can choose from three programmed settings to pour a measured amount. Plus, two custom presets can be programmed for items you frequently fill like a coffee pot or water bottle.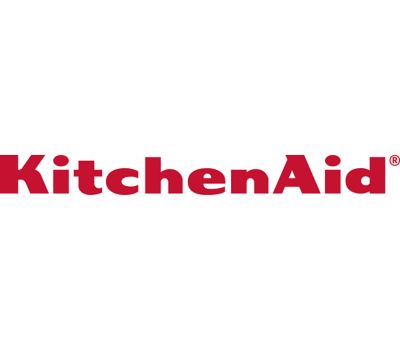 Through-the-Door Ice and Water Dispenser
provides quick and easy access to chilled water and ice.

Star-K Certified
STAR-K KOSHER CERTIFICATION for use on the Jewish Sabbath and other religious holidays.
Slide-Away Split Shelf
Helps maximize the storage space and optimize the organization of your refrigerator. The versatile design lets you retract the front of the shelf to accommodate tall items such as a pitcher of fresh-squeezed juice.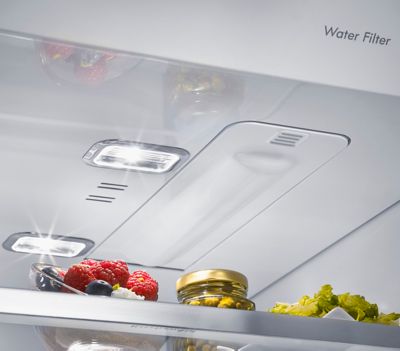 LED Lighting
Uses less energy than incandescent bulbs. Multiple lights are purposefully placed throughout the refrigerator and freezer, making it easy to find items at a glance.

Light Touch Controls
Provides easy operation by providing touch-pad controls for all refrigerator functions.

Max Cool
When selected, automatically adjusts the temperature in the refrigerator and freezer to the lowest setting as needed. This helps keep the refrigerator at the ideal temperature even when you have the doors open for an extended period in order to load all your freshly purchased produce.

Automatic Ice Maker
ensures a constant supply of ice on hand at all times for entertaining and everyday use.
Specifications
Configuration and Overview
Refrigerator Type
French Door
Refrigerator Capacity
19.03
Energy Star® Qualified
No
Dimensions
Height To Top Of Cabinet
68 3/4
Depth With Door Open 90 Degree
49
Depth Excluding Doors
29 7/8
Depth Closed Excluding Handles
34
Width with Doors Closed
35 5/8
Capacity
Refrigerator Capacity
19.03
Features
Number of Interior Shelves
5
Spill-Proof Glass Shelves
1 Adjustable Fold, 1 Fixed Full Width, 3 Adjustable Half Width
Humidity-Controlled Drawers
2 Half-Width
Temperature-Controlled Drawers
1 Full Width Pantry
Non Climate-Control Drawers
No
Door Bins
3 Adjustable Gallon, 3 Fixed Full-Width
Freezer Features
Freezer Drawer-Basket
1 Full Width Lower Plastic, 1 Full Width Upper Plastic
Filtration and Dispensing
Dispenser Type
Exterior Ice and Water
Dispenser Options
Control/Child Lock, Filtered Water, Measured/Metered Fill
Ice Maker
Factory Installed
Show More Specifications
Reviews
Rated 5 out of 5
by
Jbay
from
The best refrigerator EVER
Love everything about it , lots of space in both refidge and freezer.
Date published: 2018-02-06
Rated 5 out of 5
by
Sgtsixpack
from
Extremely satisfied
After 15 years replaced ge profile (. Still running good) to update to ss. Installation was a breeze, everything worked and led lights set you food out like on stage. Very happy with choice only downside is ice cubes are slightly smaller. Thank you KA designers
Date published: 2018-02-06
Rated 5 out of 5
by
Farside
from
Love the lines and look.
Chose for new house installation and it looks great with the set!
Date published: 2018-02-05
Rated 4 out of 5
by
Sville
from
Ice Maker is loud
Great refrigerator. Only (minor) complaint is that the ice maker is very loud and very slow when dispensing ice through the door.
Date published: 2018-02-05
Rated 5 out of 5
by
Deannamike
from
Great features
So far I love this refrigerator. Love the features.
Date published: 2018-02-02
Rated 4 out of 5
by
Aytes
from
Great space
I bought this a month ago , love it . Great space in freezer and organizes well . Lots of space in fridge. The ice maker storage is small and so are the cubes
Date published: 2018-02-01
Rated 5 out of 5
by
AnnaP31
from
Just what we needed!
We had a side by side but wanted more refrigerator space. A few friends had the side by side with the bottom freezer drawer and it really looked like something we would like. The space it provides for the larger and/or taller items is great.The space saving shelves on the doors are great for taller items like coffee creamer and ketchup bottles. The ice bin on the door is a plus, too. Easy access to retrieve large amounts of ice. The measured water feature is nice when cooking or mixing drinks like rehydrate that require one packet to 8 oz of water. The filter is conventiently located at the top of of the refrigerator. Overall, I think it is a wonderful purchase. My husband and I are very pleased.
Date published: 2018-01-31
Rated 2 out of 5
by
rickj506
from
Very dissapointed
Bought all KA appliances for our new home in June 2017. Love the design and features of this frig. Unfortunately, it had very low ice production and problem with freezer compartment not getting cold enough almost from day one. After 4 visits from tech, was told there was probably a refrigerant system leak. Contacted Whirlpool and they agreed to replace the frig with a new one. A few days after getting the new one, the interior light panel went out and had to be replaced. Ice production and freezer temp seemed okay for a week or two, then started having the same problem as with first frig, only worse. Absolutely no ice was being produced and both freezer and refrigerator compartments were way warmer than they were supposed to be. No food was safe in either compartment. Tech came out and said likely has a refrigerant leak. We've contacted Whirlpool and they have agreed to replace this frig, too, but do we really want to go for the same model again after two lemons? After reading the reviews on this site, it sounds like many others are having similar problems. Whirlpool has been very fair in dealing with us so far, but what happened to KA's reputation for high quality products?
Date published: 2018-01-30
Rated 5 out of 5
by
Beth1011
from
Great features !
Bought this refrigerator one month ago to replace a 6.5 year old Kenmore that died on Christmas day. Love the drawer configuration of this model, as well as the measured fill function on the water dispenser.
Date published: 2018-01-29
Rated 4 out of 5
by
oaksfamily345
from
Great features!
I bought this over a month ago and so far it has worked nicely! Just a few little quirks. Still can't figure out why the ice maker can't keep up. I emptied it a while back and now I barely get any ice.
Date published: 2018-01-29
Rated 5 out of 5
by
TMD62
from
Love the lighting
Bought this a couple of weeks ago and there is no doubt we picked the right one for us! Plenty of room and we are amazed every time we open the doors to see how bright it is......
Date published: 2018-01-29
Rated 5 out of 5
by
Queen bee
from
Very happy
LED lights and deli drawer are great. We are very pleased with everything.
Date published: 2018-01-29
Rated 1 out of 5
by
SashaHop
from
Problems
Purchased this along with other appliances in Oct 2017 Had noisy and leaky ice maker one week after delivery Had service come out 5 times from Oct 2017 to Jan 2018 Various parts were ordered and replaced including front panel, fan motor, and finally a whole new left door : ice maker I'm hoping this will do it because I've never had a brand new refrig need so many replacement parts the first 4 months of purchase
Date published: 2018-01-29
Rated 1 out of 5
by
CAL1492
from
Can you do any worse than this ? Probably not
From the beginning, my refrigerator had an a very unusual problem with so much condensation accumulating on this inside that puddles of water would pool anywhere it could inside the fresh food section. Customer service indicated it was normal because of dual evaporators. I didn't think much of it until not too long after, the sealed system failed, refrigerator stopped cooling and the food inside spoiled. The warranty wasn't of much help because only the "authorized repair companies" benefited while I was left without a refrigerator for 1 month. Customer service told me to take a hike when I alerted them what was going on. One would at least a decent level of customer service/warranty/repair company from a refrigerator that retails for $3000. This refrigerator was advertised as state-of-the-art and turned out to be nothing but an expensive 300 pound pile of garbage made from parts outside the USA. Save yourself the stress and stay away from this company. Don't purchase anything from this company. I promise it will take years off your life if you do.
Date published: 2018-01-23
Rated 1 out of 5
by
Mjm49801
from
Junk
Kitchenaide finally lemoned our refrigerator and returned our money. 6 months of misery! Bought a Samsung.
Date published: 2018-01-20
Rated 5 out of 5
by
Carrie3
from
Love my fridge
I've had it for almost two years. I love it. At one point the condenser iced over, but they were great about coming out to replace it and I've had no problems since. People complain about noise but I'm not sure what they're complaining about. I don't hear anything, other than the occasional few second mild noise when the ice maker is working. It has great lighting, great storage, especially on the doors, and the set up allows for easy viewing and access of the contents. The water does run for a split second after you're done filling the cup- you accommodate to it really quickly- or I use the auto-fill most of the time, which is very convenient. I love my fridge.
Date published: 2018-01-11
Rated 5 out of 5
by
WJK77
from
Love this Fridge!
There is so much room in the fridge! I really like the multiple zone temp control as well!
Date published: 2018-01-09
Rated 2 out of 5
by
BooFam
from
Lights failed @ 30 days & Water tray poor design
All of the lights in the fridge and freezer (except meat drawer) went out after 30 days. Have to have a panel replaced. The water tray below the water is a horrible design. Water doesn't stay in the tray since it is angled forward, instead it drains below and leaks out below own the front of the fridge. Horrible design and is horrible to keep clean with stainless steel.
Date published: 2018-01-07
Rated 4 out of 5
by
Ashkitchen
from
Ok
I'll start with the positive things first. The drawers on the door are huge and heavy duty. There's plenty of space and the crispers regulate themselves as far as moisture control. The negative on the other hand is that my husband didn't get the water filter put in as tight as needed and it leaked all over and continued to leak until we had someone come out to fix it. Yes that was human error but my husband is very handy and this is obviously too easy of an error. Also the water dispenser keeps running even after cup is removed. Other than that I'm sure this will be a nice refrigerator.
Date published: 2018-01-06
Rated 5 out of 5
by
Nicee
from
Beautiful
Love this refrigerator especially the exterior Ice and Water Dispenser.
Date published: 2018-01-01
Rated 3 out of 5
by
Hwang1298
from
Got problems
I have same problem of internal lights not working twice in three months.
Date published: 2018-01-01
Rated 5 out of 5
by
Ljstill
from
Replacement
I had problems with my first refrigerator and KitchenAid replaced it with a newer model. Customer service was great!!
Date published: 2017-12-30
Rated 3 out of 5
by
Go go
from
Fridge
Bought this less then 1 month ago and the lights inside have gone off 3 times. Had to unplug to reset. Being serviced in a week. But besides that I love everything else about it
Date published: 2017-12-28
Rated 4 out of 5
by
Babs15
from
great features
Really like features and excellent door storage for condiments, etc.
Date published: 2017-12-24
Rated 1 out of 5
by
#buysomethingelse
from
DO NOT BUY THIS
Bought a complete Kitchenaid appliance package and chose this fridge. Stopped cooling within the first 4 months and after numerous repair visits I called the supplier that I purchased from and they were good enough to pull some strings and replace the unit. Good for them!! Within weeks of the new unit installation, the ice maker started leaking water into the ice maker motor. The motor would freeze and no longer dispense ice. After 4 more repair visits, the ice maker was replaced. I was told that maybe we didn't use it enough. Shouldn't it work regardless? After ice maker replacement, it worked for about 60 days and then, guess what? I started leaking water into the motor compartment again. It looks like the only satisfaction I'll get here will be to expose the fact that this is a piece of junk.
Date published: 2017-12-23
Rated 4 out of 5
by
Mike73
from
Much bigger than it looks
Was worried about space but has been a storage miracle
Date published: 2017-12-23
Rated 4 out of 5
by
joanne12527
from
Lots of room and I love all the drawer space.
We had problems with the first refrigerator but it was replaced immediately with a new one. Love the refrigerator and could not be happier with the service we received. Says a lot about the company!
Date published: 2017-12-22
Rated 3 out of 5
by
KA_KOA
from
noizy - freezer issue
Arrived on time and in good shape, great product except noizy - freezer issue. the refrigerator runs constantly with noise and freezer does not keep ice cream frozen enough. Service person coming to check it .
Date published: 2017-12-17
Rated 2 out of 5
by
Roobear
from
They included nothing but the obvious
I got this refrigerator about a year ago and have been pretty disappointed in the features and overall quality. Things you would think it might have, it does not. I assumed (silly me) that if it had filtered water, it would also have filtered ice...not the case. I have resorted to bringing up bag ice from our downstairs freezer so my water doesn't taste awful after 5 minutes. Yes, I could make my own ice from the filtered water, and I have asked for an ice cube tray for Christmas, but really?? If you aren't going to filter it, don't even include ice. There is not a butter compartment in the fridge. Maybe a silly thing to complain about, but I didn't notice till I had purchased it and went to put in my food and it wasn't there, just annoying. It isn't energy star certified. I'm not sure why I didn't notice this when I went to buy it, but I never would have bought it if I had. The water dispenser will decide when you are done getting water, not you. Sometimes it will continue to dispense up to 1/4 cup more after you have stopped pressing the paddle for water. Super annoying when you are filling up a water bottle and the water decides to keep going making you spill water all over the floor. Overall, it is a fridge, and it is usable, but beyond that it is nothing to be excited about. I still beat myself up about being suckered into buying this awful fridge. I kind of want to sell it, but I would feel bad selling it to anyone.
Date published: 2017-12-13
Rated 5 out of 5
by
SallyinTexas
from
Came as advertised!
I did lots of research for this refrigerator - and selected it as part of a package for our newly constructed home. Love the way the veggies stay crisp, and the sound indicator for the open door is a great feature. Not particularly fond of the size of the ice cubes...a little wimpy - but overall a great appliance.
Date published: 2017-12-11
Demos & Guides
guides
Warranty Information
A complete description of your warranty coverage, and contact information for service and support.
Use & Care Guide
Comprehensive information about your new appliance - from getting started to cleaning and maintenance.
Energy Guide
Information about the efficiency of your appliance, including energy consumption and annual costs to operate.
Dimension Guide
Detailed dimensions of your new appliance with space requirements for the area surrounding it.
In order to read a PDF file, you must have Adobe Acrobat reader installed on your computer. You can download the latest version at the Adobe website.
Show More Guides