48'' 6-Burner with Griddle, Dual Fuel Freestanding Range, Commercial-Style
48'' 6-Burner with Griddle, Dual Fuel Freestanding Range, Commercial-Style is rated out of 5 by 68.
This KitchenAid® commercial-style range, available in a variety of bold colors, brings the tools of restaurant chefs into residential kitchens. Bold, dimensional design and features like two 20K BTU Ultra Power™ Dual-Flame Burners and the Even-Heat™ True Convection System in both ovens allow passionate cooks to reach their gourmet potential, while helping their kitchens achieve their design potential.
Stainless Steel - KDRS483VSS
Features

Dual Fuel Range
Satisfies the culinary needs of the most demanding cooks by combining the precise control of a gas cooking surface with an electric oven.

Even-Heat™ True Convection Oven
Provides consistent heating and even cooking on all racks with a unique bow-tie shaped design and convection fan that helps ensure no burnt edges or undercooked centers.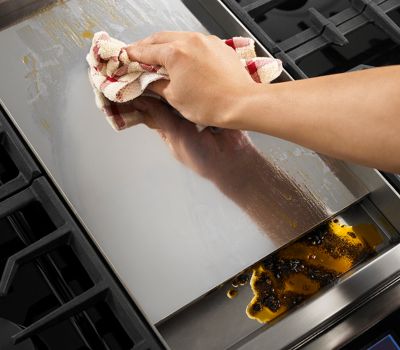 Even-Heat™ Chrome Electric Griddle
Provides exceptional cooking performance and features an easy-to-clean surface.

Two 20K BTU Ultra Power™ Dual-Flame Burners
Dual-flame burner design allows fine-tuned, versatile control for a range of high-to-low heat outputs that let you master a variety of cooking techniques and recipes.
5K BTU Simmer/Melt Burner - Reduces to 500 BTUs
Gives you a wide range of low temperatures so that you can simmer, reheat, or keep sauces warm without having them scorch.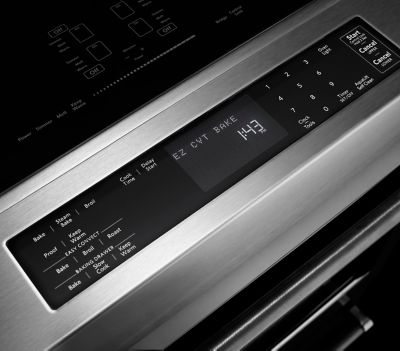 EasyConvect™ Conversion System
Takes guesswork out of convection cooking by ensuring you can get exceptional results when experimenting with new or familiar recipes.

Convect Bake, Roast, and Broil
Intuitive convection settings provide even baking results on all racks, even browning and faster roasting times for meats, and decrease the time needed to get exceptional results similar to outdoor grilling.

6.3 Cu. Ft. Total Capacity
Combined left and right oven capacities provide more room to cook multiple dishes at the same time.

Star-K Certified
Approves the oven for use on the Sabbath and other religious holidays when Sabbath Mode is being used.
Specifications
Configuration and Overview
Cooktop Features
Cooktop Element Style
Sealed Burner
Cooktop Surface Color
Black
Cooktop Surface Material
Porcelain Coated Steel
Number of Cooking Element-Burners
6
Center Front Element-Burner Power
15000 BTU
Center Front Element-Burner Type
Sealed Burner
Center Rear Element-Burner Power
5000 BTU
Center Rear Element-Burner Type
Simmer
Left Front Element-Burner Power
20,000 BTU
Left Front Element-Burner Type
Dual Flame
Left Rear Element-Burner Power
15,000 BTU
Left Rear Element-Burner Type
Sealed Burner
Right Front Element-Burner Power
20,000 BTU
Right Front Element-Burner Type
Dual Flame
Right Rear Element-Burner Power
15,000 BTU
Right Rear Element-Burner Type
Sealed Burner
Grate Details
Cast Iron Grates, Continuous, Dishwasher Safe, Matte Finish
Oven Features
Automatic Convection Conversion Temperature Adjust
Yes
Heating Element On Indicator Light
No
Hot Surface Indicator Light
No
Power On Indicator Light
Yes
Oven Rack Type
1 Gliding Roll-Out, 4 Heavy Duty
Self-Cleaning 
Self-Cleaning
Oven Control Location
Front
Oven Cooking System
Convection Both
Broiler Element Power
5500W
Broiler Location
Top Center Both
Convection Element Power (watts)
1600
Convection Element Type
True
Convection Functions
Bake, Broil, Convection Conversion, Roast
Number of Oven Racks
2 Left-3 Right
Controls
Selections
Clock, Control Lock, Delay Start, Power Outage Compatible, Proofing, Sabbath Mode, Temperature Probe, Timer, Warm Hold
ADA Compliant
ADA Height and Operation Compliant
Show More Specifications
Reviews
Rated 5 out of 5
by
Sandra
from
Beautiful and easy to use.
Remodeled our kitchen and I love it!
Date published: 2017-08-30
Rated 4 out of 5
by
Lovestocook
from
Great range
Great range - very hot burners - had to adjust my way of thinking. Griddle and ovens do take time pre-heat, but again just needed to adjust to it when timing meal prep. The style is beautiful and I get a lot of compliments.
Date published: 2017-08-30
Rated 5 out of 5
by
Maria
from
It's amazing and this griddle...so impressive!
We got this with our new home. It cooks so even and fast and really is so convenient. The double ovens is a major plus especially with kids. We have 3 so cooking is so easy with this thing...meals and deserts cooked at the same time. Makes dinner together very easy. Make sure to get the matching vent hood with the food warning lamps! Makes Party cooking a breeze. Ps the temp gage for cooking meat is amazing and the oven is so quiet.
Date published: 2017-08-11
Rated 3 out of 5
by
Mother
from
Could have several updates, better design
We bought this range for our new construction. Overall we are happy with our purchase but there are few improvements it should have, like oven lights should be separate but currently it lights up both. Also warming time for oven is much longer. Griddle should be cast iron
Date published: 2017-05-15
Rated 5 out of 5
by
Cathy
from
Great features
I love cooking with this range. Food is so moist. Cooks very evenly
Date published: 2017-04-28
Rated 5 out of 5
by
Jeannie
from
Amazing
I love my commercial range, it has made cooking my passion!!!
Date published: 2017-03-17
Rated 5 out of 5
by
Twin
from
Six burner stove with grill
I absolutely love my stove
Date published: 2017-03-16
Rated 1 out of 5
by
Pearl Jam
from
Don't run a self-clean
Ran a self clean cycle on both ovens at 5 years. Smaller oven won't heat at all now. Larger oven won't heat all the way to temperature. $500 to replace one control board. Didn't fix the problem. Being told we need another $700 in repairs to replace both blowers and one door latch. Tech isn't confident that will even fix the problem. We brought in a second tech who recommended different repairs but at similar costs. We decided to pull the plug and just buy a new range. Stay away.
Date published: 2017-03-11
Rated 1 out of 5
by
B&B Lady
from
Bad, Bad purchase
Ovens have not worked properly since day 1. Bought this "high end" range for our busy BNB and has been nothing but a headache. The burners and grill cook like a dream but the ovens, the ovens have ruined meal after meal and causes much unneeded stress and anguish by not getting to temp or keeping temp. I've got paying guests here for meals and my biscuits will "melt" in a 200 degree oven while dial reads 375. Dealt with Sears over and over and they ended up replacing original range after a 9-month headache now 2nd range is doing the exact same thing after only 7 months. I'm frustrated. Angry and disappointed. Why can't Kitchenaid make a proper oven? Never again. Don't buy this. I wish it worked because I like it and I love the griddle. But it's a piece of trash to me if the ovens won't get to temp and keep temp. Oh and the fans on the oven are SO loud. Anytime the oven is on, you have to listen to a rattling, noisy fan.
Date published: 2017-03-07
Rated 5 out of 5
by
Jeni the cook
from
Dream Range
This is as good as it gets, like a fine sports car for the kitchen, bells and whistles!
Date published: 2017-02-24
Rated 5 out of 5
by
Kelle Lin
from
This is my dream
This range has already earned its reputation this holiday season! It allowed two cooks to stand side by side preparing two dishes. Everything had space to cook, roast and bake.
Date published: 2017-01-06
Rated 5 out of 5
by
Sue
from
GREAT GREAT GREAT!
We use the entire range and both ovens. Very convenient, perfect temperatures and easy to use & clean.
Date published: 2016-11-28
Rated 5 out of 5
by
TLCW
from
Smokin' stove!
My family and I love, love this stove! We cook more at home now! It's like cooking in a restaurant.
Date published: 2016-11-25
Rated 5 out of 5
by
Felix the chef
from
Love it
We love our new range. Perfect for our lifestyle. Love the size and the two ovens. Let the fun begin!
Date published: 2016-10-21
Rated 5 out of 5
by
trojan
from
very nice and professional looking
I had this range at my last house and I made sure I bought the same one in my new house. Oven works great and the 6 burners are nice and powerful.
Date published: 2016-10-17
Rated 4 out of 5
by
Enjoy cooking
from
Happy with our purchase
We have been enjoying the stove now for 5 months. So far we are very happy. Fairly intuitive to use. Burners work well, from the Power Burner to the simmer. Sometimes the igniter goes off automatically when you have the simmer set very low. Its is the smallest of flames, performs very well. The griddle we were concerned with from other reviews we read but it has worked great. Mainly use it to cook pancakes and grill vegetables but it cook great and cleans well after use.
Date published: 2016-10-03
Rated 4 out of 5
by
Dan
from
Last Range You'll Ever Need
Includes many handy features for timing preheating oven and timing cooking. Can't think of anything that could be added. Would recommend a rewrite of the manual that comes with the stove - current one is not detailed nor thorough enough. You have to just play with the controls to learn them - not a bad way to do it, but a comprehensive manual would be nice for reference. The griddle cover also needs a handle on it - it's awkward to remove without one.
Date published: 2016-09-13
Rated 5 out of 5
by
Shevak
from
This range is hot hot hot
Plenty of room on this range top to cook for a crowd. The BTUs on the burners are the hottest I have ever used, they boil an entire kettle of water in a jiffy. The 2 separate ovens are also nice. I use the smaller one for small pans and like the energy savings instead of heating up a full sized oven. The chrome griddle is a little more difficult to clean than I'd like and prohibits me using it as often as I thought I would.
Date published: 2016-07-22
Rated 1 out of 5
by
Angie
from
arrived broken
small oven didn't work from day one service man has come knows what it needs but still waiting should of made you send out a new one would of been faster
Date published: 2016-07-01
Rated 5 out of 5
by
Was a Georgian, now from Texas
from
This Range makes your kitchen look impressive!
Bought this for our house just outside Atlanta, Georgia. So wonderful to cook on. Love the fact some of the burners heat at a higher temperature makes heating water for boiling so much quicker and the lower heating burners are great for sauteing. I worried about the smaller oven not functioning the way I've been used to cooking with two wall ovens of the same size but I have to say it wasn't a problem at all. I use it for biscuits and casserole dishes and it doesn't miss a beat. You will not be disappointed with this appliance. We just sold our house in Georgia last week and we have already bought a house from a builder. Because we were so satisfied with it's performance, I'm already redesigning the new kitchen to buy another one of these ranges to replace the awful builder cook top and wall oven. Thank you KitchenAid for making these 48 inch commercial style ovens it really makes our kitchen look impressive and it helped sell our other house in Georgia too!.
Date published: 2016-06-21
Rated 5 out of 5
by
Sher
from
Beautiful dual fuel range. So easy to use.
This unit is just beautiful. Doesn't overtake the kitchen. Very functional and easy to use.
Date published: 2016-05-20
Rated 1 out of 5
by
NP
from
Very disappointed
Purchased a year ago, had service out twice to repair large oven, but still does not work. It has ruined many meals and gatherings. Dealer is checking into this. The oven light does stay on if you don't push door hard after closing, but I could live with that, just would like to have a working oven!!!
Date published: 2016-02-14
Rated 4 out of 5
by
Boatdog
from
48" Dual Fuel Range
Love it. The only problem is cleaning the touch pad on top. While cooking you invariably spill...it's a pain to clean the touch pad.
Date published: 2015-12-14
Rated 4 out of 5
by
Dona loving my kitchenaid kitchen
from
Love cooking with this oven/cooktop
What a joy to use this appliance. The oven cooks so evenly and lots of space with the 6 burners. I'm only giving it 4 stars though as the electrical system seems a bit wonky. The panel quit working one night and kept turning the oven off. Shut the breaker and all returned to fine. Then the light in the smaller over wouldn't turn off even with manually pushing the black latch on the door. Turned the breaker off and all has been fine. And finally the larger over door doesn't recognize it's been closed unless you intentionally push it closed until the black latch registers it's closed. Several times of checking on items cooking only to realize 15 min. later that the oven has quit heating because it thinks the door is open has taught me to make sure the latch has engaged. I do also wish the pans under the burner grates came out for easier cleaning. So far little things that at some point might turn into bigger things but overall a pleasure to use.
Date published: 2015-12-12
Rated 5 out of 5
by
molinken
from
Beautiful and amazing features.
We recently bought this wonderful range a short time ago. For so many years, we have owned only Kitchenaid appliances. They never saw an appliance man. No need. I made the mistake of "upgrading" to a supposedly high end range, et al, when I retired and moved to antoher state. It was fine for about 6 years. Then, what a disaster. After fighting with it for another 5 years, I bit the bullet and did what I should have done in the first place and bought a 48" Kitchenaid range and now I am happy!!!! Come on Thanksgiving! I am finally ready!
Date published: 2015-11-20
Rated 1 out of 5
by
SL
from
Bad choice
This has been the worst choice we ever made in a kitchen. The oven door doesn't close properly at times & the light remains ON. Service person tried to fix, but couldn't. The door has to be closed hardly with a big bang. The flame is not evenly spread out in one of the stoves. The griddle is not non-stick & is not removable. The stove plate started oozing a black stain & discolored. The location of display is inappropriate - cooking spills on the display causing the beeps & too much cleaning. The small oven is the only aspect I like about the whole stove.
Date published: 2015-09-29
Rated 5 out of 5
by
Happy Cat
from
Amazing
I can believe what a joy cooking on this amazing stove!
Date published: 2015-08-09
Rated 1 out of 5
by
m
from
bad design and flaws
The griddle is not removable and therefore clean up is difficult. The oven door does not shut tightly and so the oven light remains on and the oven will not preheat. Kitchen Aid has sent a service repair out four times to repair the oven and it is still not working.
Date published: 2015-08-04
Rated 5 out of 5
by
Joyful mama of 5
from
Just what I was hoping for
Love it! I bake bread every week and needed a great performing stylish unit. This has been perfect!
Date published: 2015-08-03
Rated 5 out of 5
by
Manuel
from
Exatcly what I nedd it
The dual fuel convection oven is one of my favor cooking methods, The small oven come very practical and energy efficient for single simple recipes while the large capacity oven can hold enough pans to cook for a large crowd. The even heat griddle is a healthy way to prepare a variety of meal, My first meal was a fresh salmon steak with a wonderful chard golden color and perfect moist inside, you can prepare an entire meal at the same time, large enough and easy to clean.
Date published: 2015-07-22
Demos & Guides
guides
Dimension Guide
Detailed dimensions of your new appliance with space requirements for the area surrounding it.
Use & Care Guide
Comprehensive information about your new appliance - from getting started to cleaning and maintenance.
Warranty Information
A complete description of your warranty coverage, and contact information for service and support.
Installation Guide
Instructions for unpacking and installing your appliance, including electrical requirements and necessary tools.
In order to read a PDF file, you must have Adobe Acrobat reader installed on your computer. You can download the latest version at the Adobe website.
Show More Guides