#1 RATED
36'' 4-Burner with Griddle, Dual Fuel Freestanding Range, Commercial-Style
36'' 4-Burner with Griddle, Dual Fuel Freestanding Range, Commercial-Style is rated out of 5 by 30.
This 36-inch dual fuel range features commercial styling available in a variety of bold colors. The gas cooking surface includes four burners and the Even-Heat™ Chrome Electric Griddle. The electric oven features the Even-Heat™ True Convection System that allows passionate cooks to reach their gourmet potential, while helping their kitchens achieve their design potential.
Stainless Steel - KDRS463VSS
Features

Dual Fuel Range
Satisfies the culinary needs of the most demanding cooks by combining the precise control of a gas cooking surface with an electric oven.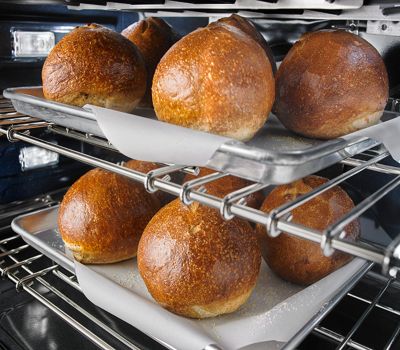 Even-Heat™ True Convection Oven
Provides consistent heating and even cooking on all racks with a unique bow-tie shaped design and convection fan that helps ensure no burnt edges or undercooked centers.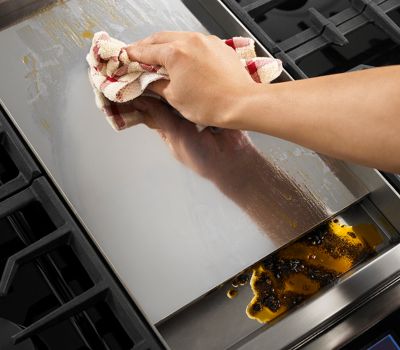 Even-Heat™ Chrome Electric Griddle
Provides exceptional cooking performance and features an easy-to-clean surface.
20K BTU Ultra Power™ Dual-Flame Burner
Dual-flame burner design allows fine-tuned, versatile control for a range of high-to-low heat outputs that let you master a variety of cooking techniques and recipes.
5K BTU Simmer/Melt Burner - Reduces to 500 BTUs
Gives you a wide range of low temperatures so that you can simmer, reheat, or keep sauces warm without having them scorch.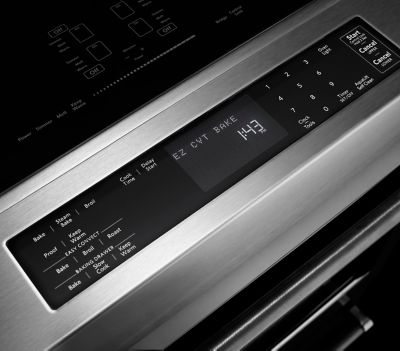 EasyConvect™ Conversion System
Takes guesswork out of convection cooking by ensuring you can get exceptional results when experimenting with new or familiar recipes.

Convect Bake, Roast, and Broil
Intuitive convection settings provide even baking results on all racks, even browning and faster roasting times for meats, and decrease the time needed to get exceptional results similar to outdoor grilling.

5.1 Cu. Ft. Total Capacity
Provides more room to cook large quantities or multiple dishes at the same time.

Star-K Certified
Approves the oven for use on the Sabbath and other religious holidays when Sabbath Mode is being used.
Specifications
Configuration and Overview
Cooktop Features
Cooktop Element Style
Sealed Burner
Cooktop Surface Color
Black
Cooktop Surface Material
Porcelain Coated Steel
Number of Cooking Element-Burners
5
Left Front Element-Burner Power
20,000 BTU
Left Front Element-Burner Type
Dual Flame
Left Rear Element-Burner Power
15,000 BTU
Left Rear Element-Burner Type
Sealed Burner
Right Front Element-Burner Power
15,000 BTU
Right Front Element-Burner Type
Sealed Burner
Right Rear Element-Burner Power
5000 BTU
Right Rear Element-Burner Type
Simmer
Grate Details
Cast Iron Grates, Dishwasher Safe, Individual, Matte Finish
Oven Features
Automatic Convection Conversion Temperature Adjust
Yes
Heating Element On Indicator Light
No
Hot Surface Indicator Light
No
Power On Indicator Light
Yes
Oven Rack Type
1 Gliding Roll-Out, 2 Heavy Duty
Self-Cleaning 
Self-Cleaning
Oven Control Location
Front
Oven Cooking System
Convection
Broiler Element Power
6500W
Broiler Location
Top of Oven
Convection Element Power (watts)
1600
Convection Element Type
True
Convection Functions
Bake, Broil, Convection Conversion, Roast
Oven Interior Depth(IN,inches)
17 5/8
Oven Interior Height(IN,inches)
16
Oven Interior Width(IN,inches)
31
Controls
Selections
Clock, Control Lock, Delay Start, Easy Convect Conversion, Power Outage Compatible, Proofing, Sabbath Mode, Simmer, Temperature Probe, Timer, Warm Hold
ADA Compliant
ADA Height and Operation Compliant
Show More Specifications
Reviews
Rated 5 out of 5
by
Bob
from
Perfection in gas cooking
Simple amazing piece ,my wife has never used gas before this range easy to use and safe simply well contained perfection.
Date published: 2017-06-02
Rated 4 out of 5
by
Bambi
from
LOVE THIS
I love my new 36 in kitchenaid range, it makes me feel like a great cook-because it cooks everything so evenly and perfect.
Date published: 2017-03-23
Rated 5 out of 5
by
CK
from
Season the GRIDDLE!!
Kitchenaid! this means you! you need to put a warning sticker to advise people to season the grill, for customer satisfaction. All the people out there with burnt griddles aren't saying that they seasoned the Griddles First!! before use. Heat it all the way up to expand the metals pores and rub oils (of your choice- eg- Peanut oils) into it. Let it cool, and do it again,... repeat about 3-4 times otherwise things are gonna stick! Wish the grill was removable though!!! Better have it on V.2.0
Date published: 2016-11-13
Rated 5 out of 5
by
Sissie
from
Great stove!
I am very happy with my new range. I love the way the oven adjust the correct temperature for my baking. I am really looking forward to cooking our family Thanksgiving dinner. I usually make 6 pies and the large oven will really help with the baking. I intend to use the grill to keep dishes warm as I am getting other dishes ready for the table. I am also looking forward to making my raspberry jam for Christmas. The large gas burners will really help the process.
Date published: 2016-11-08
Rated 5 out of 5
by
Vicki
from
Low Simmer Option
My husband and I love this stove. The oven bakes evenly and on the stove top area the low simmer is great.
Date published: 2016-11-07
Rated 5 out of 5
by
Laurainoc
from
Happy with our selection!
We replaced an old Viking range with this oven about 2 weeks ago and I am very pleased with our decision. The gas burners are very responsive, and I really like the digital controls as well. I also really like the sliding shelf inside the oven, which makes it easy to check on what I'm baking. We are very happy with this oven so far!
Date published: 2016-09-25
Rated 5 out of 5
by
Hunt & Fish MT
from
Love this stove!
I have had this stove for 5 months and love it! The burners are great and the convection oven will cook 5 loaves of bread at once perfectly. One drawback is the griddle is very slow to heat up (25 minutes), but once it is heated it is very even heat. Another is the stainless steel is hard to clean and remove fingerprints. Overall the benefits far out way the negatives.
Date published: 2016-05-20
Rated 5 out of 5
by
Rod
from
Outstanding Range
This range is amazing. We had a hard time at first deciding what type of top we wanted and went with the griddle option in the end. We are really pleased with it. It is such a high quality and professional appliance. We are extremely satisfied with all of our kitchenaid appliances.
Date published: 2016-03-27
Rated 3 out of 5
by
terrythebaker
from
I love the top burners
The top gas burner are everything I hopped for. I am happy with the workmanship of the product. I am a bit disapointed with the size of the oven. I bake wedding cakes and this is why I wanted the 36" oven, My largest pans do not fit in this oven. I have 9 pans I can not use in this oven. I used to have a DCS all gas and I miss it greatly.
Date published: 2015-12-01
Rated 5 out of 5
by
clwhitehair
from
Works Amazing! Love the griddle!
We installed this range in our home over a year ago. That griddle makes restaurant style rueben sandwiches and Grilled cheese, and toasted burger buns. It does take some time to warm up, so we just had to remember to give it a 20 min headstart. The oven works great and the stove burners are a dream to cook with. I read somewhere to coat them with coconut oil and cook them in the oven to cure them, similar to a castiron griddle, but, I hope kitchen aid would respond to this note to make sure that is a good idea before I try it. There is two things I would improve... sometimes when I walk by the range or lean over to cook something in back, I accidently hit a the control panel and turn the oven off, or change what is on the panel. I know there is a panel lock on this led panel, but I haven't used it...Id just hate the turkey to stop cooking while I've got everything else ready on time! The 2nd thing is that my other KA appliances have the red accents on the handle, and I wish this appliance did too, to match the other appliances.
Date published: 2015-11-16
Rated 3 out of 5
by
Cookin' with Gas
from
Could Use a Griddle Cover Accessory
I just had this installed this afternoon and haven't christened it yet as my kitchen is being renovated. The griddle is daunting! It has a mirror finish, cannot be removed, and there is no cover for it when it is not in use. If anything splatters from the burners, it's all over the mirror griddle. Bad design. Can you come up with a griddle cover, please?
Date published: 2015-11-04
Rated 2 out of 5
by
Lisa
from
Not exactly what we thought.....
We purchased a new home and upgraded our kitchen. This particular range looks nice except the griddle we thought would be a iron griddle to match the other burners. The griddle takes a long to heat up , our food stuck to it and it was way more cleaning effort then I want to deal with. Wished griddle was removable for easy cleaning. We wish we could have a do over.....I wouldn't have picked the griddle range but would have chose a range with the same look but without the griddle. Not a satisfying feeling of paying big $$$$ for upgraded kitchen and now not happy with purchase.
Date published: 2015-08-18
Rated 5 out of 5
by
Steve
from
Griddle is Great!
The design of this Commercial grade freestanding range is on spot. I have had mine for 2 months in our new home along with a 42 inch built-in refrigator and separate stack of an oven, microwave and warming drawer. All work great. The secret to the griddle is it takes time to warm up and most cooking is at 350 degrees. Just like in the Japanese Steakhouses, the greeter turns the grill on when you sit down. Your order is taken, get your soup and salad, then when the chef comes out it is ready. This is really simple. Clean up is the same way as in the restaurant. Use lemon juice cut 50% with water and a light (not metal) scrubbing pad under a pot holder as you do the cleaning when hot not cold. I keep mine in a medium sized squeeze bottle in the fridge. One pass with the lemon juice should release most anything you would cook. I would not do chop-chop on the griddle, do that ahead of time. It holds heat evenly and for a long time after it is turned off. Overall 5 Stars!
Date published: 2015-05-28
Rated 4 out of 5
by
EmilyH
from
Love the functionality and style!
Great dual fuel option. We love the modern style and functionality of the large oven and extra wide cook top. The griddle is difficult to clean since it isn't removable in any way, so we will probably not use it often. We were pleasantly surprised that this model also included a temperature probe that you can insert into meat while it is cooking and it will alert you when it reaches the desired temp.
Date published: 2015-04-04
Rated 5 out of 5
by
Twanda02
from
Oven
New kitchen and a new stove. Very nice product with many features
Date published: 2015-03-08
Rated 2 out of 5
by
DAS68
from
Nice looking, poor functional design
The digital display placed right under the griddle is a mistake. Hard to keep clean and module had to be replaced after one year.
Date published: 2015-01-23
Rated 3 out of 5
by
msaigh
from
Griddle is worthless
We bought this stove because we liked the feature of the griddle in the middle. However, the griddle takes forever to get hot and when it does, it is not the kind of temp you need to cook effectively. Additionally, it is a nightmare to clean. the other features of this over are great, but the griddle is terrible and not worth the expense.
Date published: 2014-11-23
Rated 2 out of 5
by
MjsDC
from
Mixed experience
I have had a problem with my oven door not closing all the way, which means the oven doesn't heat well. I've had it serviced twice but it can't seem to be fixed. Also next time I wouldn't get the griddle - it is slow to heat up and so I end up using a pan on one of the burners instead of the griddle most of the time.
Date published: 2014-04-29
Rated 5 out of 5
by
Northcountycook
from
My wife and I love our new kitche and range.
The range is well designed and we keep learning about its new features. We were especially pleased to discover that the range may be leveled through adjusting screws in the front of the unit, so our kitchen contractor could raise the range about a quarter of an inch higher than the granite countertop in about 3 minutes--no biggie!
Date published: 2013-07-14
Demos & Guides
guides
Warranty Information
A complete description of your warranty coverage, and contact information for service and support.
Dimension Guide
Detailed dimensions of your new appliance with space requirements for the area surrounding it.
Installation Guide
Instructions for unpacking and installing your appliance, including electrical requirements and necessary tools.
Use & Care Guide
Comprehensive information about your new appliance - from getting started to cleaning and maintenance.
In order to read a PDF file, you must have Adobe Acrobat reader installed on your computer. You can download the latest version at the Adobe website.
Show More Guides