NEW
30" Built In Microwave Oven with Convection Cooking
30" Built In Microwave Oven with Convection Cooking is rated out of 5 by 83.
This convection microwave oven can quickly and thoroughly defrost, melt or cook your favorite foods. The EasyConvect™ Conversion System takes the guesswork out of convection cooking, ensuring exceptional results. And its chrome inlaid frame, satin cross-hatched handles, stainless steel oven cooking cavity and touch controls are the perfect balance of elegance and functionality.
Stainless Steel - KMBP100ESS
Features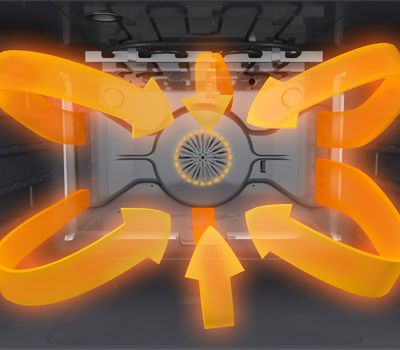 Convection Cooking
Circulates heat around the oven cavity with a 1600-watt convection element that allows baking at temperatures up to 450° F.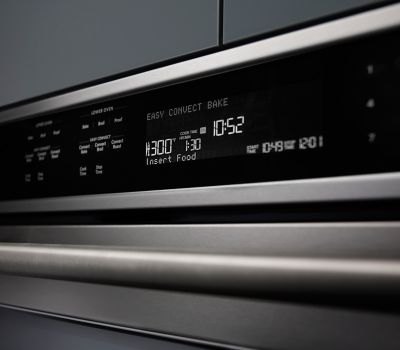 EasyConvect™ Conversion System
Takes the guesswork out of convection cooking by ensuring exceptional results when experimenting with new recipes or familiar favorites.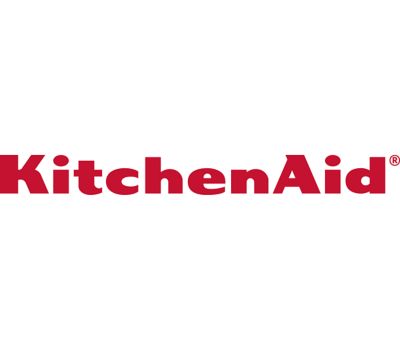 Professionally-Inspired Design Including Handle, Badge, Graphics, Chrome Chamfer
A bold blend of professionally-inspired styling with sleek touches for the home. This stunning microwave oven features Satin Textured Handles, Precision Touch Controls, a Chrome Inlaid Frame, the KitchenAid® Badge and KitchenAid Brand Medallion.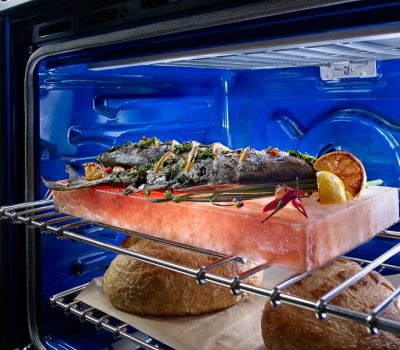 Broil Element
Combines the high power and even coverage needed to achieve results similar to outdoor grilling results.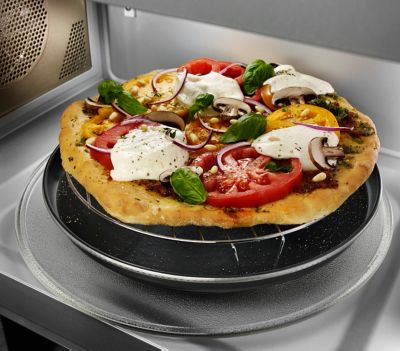 Crispwave™ Technology and Crisper Pan
Allows the microwave oven to be used for grilling, frying, and convection cooking. The specially designed crisper pan can be used to brown, crisp, and pan-fry foods.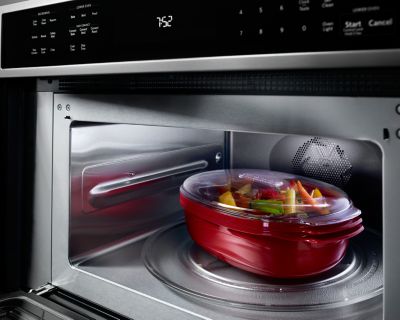 Sensor Steam Cycle with Steamer Container
A sensored microwave oven cycle that allows precise steaming based on the food type and doneness level selected. Includes a steamer container to help you get the best results.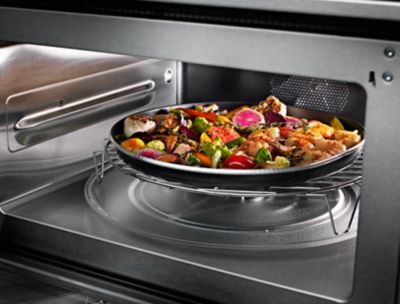 1.4 cu. ft. Capacity
Provides large cooking capacity while complementing your convection oven.
Specifications
Configuration and Overview
Cooking Power Wattage
900
Quick Touch Settings
Add A Minute, Control Lock, Convect, Cook Power, Cook Time, Crisp, Defrost, Easy Convect, Popcorn, Reheat, Soften/Melt, Speed Cook, Steam
Controls
Turntable Diameter
14 1/8
Dimensions
Depth With Door Open 90 Degree
35 5/8
Show More Specifications
Reviews
Rated 5 out of 5
by
chas k
from
sleek and works great
i am very happy with all the features and looks great
Date published: 2017-12-01
Rated 4 out of 5
by
RJD1
from
KitchenAid Convection Microwave Oven
The new microwave works very well; however, there's a glitch when starting it up that will be attended to tomorrow by our KitchenAid vendor (Ferguson). The new microwave replaces the previous model which was only a bit over 2 years old. The "older" unit simply stopped working in August, and the KitchenAid service people eventually determined that a particular part was no longer available from KitchenAid. Despite this disappointment, we've decided to remain KitchenAid fans.
Date published: 2017-11-16
Rated 5 out of 5
by
MommaPru
from
Awesome features
Cooking is awesome, microwave, and double ovens so recommend this to everyone. Thank you kitchenaid.
Date published: 2017-10-26
Rated 5 out of 5
by
Kimbersue65
from
Amazing
I bought this as part of complete kitchen remodel and really glad i did
Date published: 2017-10-09
Rated 3 out of 5
by
Brenda
from
built in microwave
Microwave looks excellent. very high end trim . the only thing i would change is the lighting. inside the unit its very dark. not at all like the oven light. i like to keep and eye on what is cooking and i can not see in this one. only flaw.
Date published: 2017-09-17
Rated 5 out of 5
by
Savanna
from
Best microwave yet!
I have only had this microwave for 3 weeks, so I cannot speak on it's durability over time, but so far I am impressed! I originally was going to do a microwave drawer but just could not wrap my head around how "pulling out" a drawer full of hot soup would be clean and hassle free, especially at the exact height for small kids. I also didn't want a standard, over the stove, microwave. This is so beautifully designed. I have been complimented on it multiple times already! There are many features I haven't even tried yet but I am planning on digging into it and see what this thing can do! Buttons are easy to locate and get started. Design is sleek and modern. I put the warming drawer below this and love how functional my kitchen has become. This blows the awful "drawer" design right out of the water.
Date published: 2017-09-14
Rated 5 out of 5
by
Di
from
Convection is the only way to go!
Best convection microwave on the market!
Date published: 2017-08-31
Rated 3 out of 5
by
Joan
from
I would like the door to open like a traditional microwave.
I only wish the door opened different I don't like it opening like an oven door I'd like it to open like a traditional microwave
Date published: 2017-08-30
Rated 5 out of 5
by
GDC
from
So versatile.
I does so many things. I can wait to explore all if the features.
Date published: 2017-08-19
Rated 5 out of 5
by
Liza
from
Love
I can do everything in this microwave. I just wish it was a little bigger.
Date published: 2017-08-16
Rated 1 out of 5
by
Angry customer
from
Didn't work the first time we tried to use it
Has not worked since we had it installed, waiting for part. Not sure why I am not getting a brand new microwave rather then a fixed one. Not impressed or happy. Feel like I sould get some type of compensation for the price I paid for a non-functioning microwave.
Date published: 2017-08-08
Rated 5 out of 5
by
scrubadubdub
from
heats well, quite when running. finish alarm could be louder
it arrived the day before move in, Thank the Lord for the ELECTRCIANS and my contractor
Date published: 2017-08-05
Rated 5 out of 5
by
Sean
from
Works great
Very happy with the Kitchenaid brand
Date published: 2017-07-28
Rated 3 out of 5
by
CD Mc
from
Great features. Too noisy.
I had a similar model in my previous home and sought out this version. Love the features. Very disappointed in how loud it is, especially based on the price I paid for it.
Date published: 2017-07-23
Rated 5 out of 5
by
Miller2272
from
Love it!
Best microwave I have ever owned. I love the style and the way it keeps things warm if you are not there the second the timer goes off.
Date published: 2017-07-21
Rated 5 out of 5
by
JG
from
Stylish
Easy to use and cooks great
Date published: 2017-07-18
Rated 5 out of 5
by
Chris
from
Love all the features of this oven~
This oven has great capacity and can do everything, microwave, steam and bake! I live alone and this will be the workhorse of my kitchen. I love the look and the features and it is easy to operate.
Date published: 2017-07-03
Rated 4 out of 5
by
jim
from
great
happy
Date published: 2017-05-27
Rated 5 out of 5
by
Dan
from
Looks great
First Convection oven and couldn't be happier
Date published: 2017-05-21
Rated 5 out of 5
by
Cam
from
Beautiful addition to our home
Love the look of this convection microwave. Easy to use. Touch screen controls.
Date published: 2017-05-15
Rated 5 out of 5
by
Potseu Weber
from
Heats up Fast
This device came with my new home appliance package and I'm really happy with it. I just used it last weekend in convection mode and I was really impressed on how fast it came to temperature. With summer fast approaching being able to quickly heat up without heating the whole house is a great feature. My only caveat is the normal operation sound is a bit rattly.
Date published: 2017-05-15
Rated 1 out of 5
by
mntrekker
from
Poor - would never buy it
About six months into ownership, the microwave started "ramping up" to run upon pressing START, just got worse and worse and now it is about 10-15 seconds before it actually gets "up to speed". Additionally, when you microw something, stop it, and then go to start it again, the microwave double beeps and asks you to open the door again instead of just running when you press start. I called kitchenaid/Whirlpool 13th March and got Ref#9904882757, have had no less than six repair calls, multiple replacement parts and it still doesn't work correctly, this last week the repair person called whirlpool and they said replace MORE parts... I just want this dud replaced! Model: KMBP107ESS01, SN D60102698 Manuf date Jan 2016, purchase date 3/16/16. What do I have to do!
Date published: 2017-05-11
Rated 5 out of 5
by
Adnil
from
Great compliment to the KitchenAid oven
Great, not just as a microwave, but as a convection oven. You will love all of its features!!
Date published: 2017-04-22
Rated 2 out of 5
by
AbqCook
from
Disappointed with convection oven cooking capability
I am less than thrilled with the convection oven after two months. The temperature readings on the unit are way off from actual oven temperature. The oven will indicate that it has preheated and reading a temperature of 325, but according to an oven thermometer temperature only 250. Problem is that you have to preset your cook time and have to put your food in the oven immediately after unit says preheat complete or the unit will turn off. So, when you put your food in and cook according to your recipe, the food isn't cooked thoroughly after the recommended times. I have had the unit serviced and they replaced thermostat, controller, all parts associated with convection oven. Still doesn't heat any better, nor cook the food appropriately. Significant temperature differences still exist between what the oven says the temperature is at and an oven thermometer, but more importantly food still not cooking properly. Technician has no solution, since all parts have been replaced. So, if you are considering this unit for the convection oven as a second oven, you may want to consider a different brand. If you are not planning to use the convection oven often, this is a very expensive microwave to reheat food. Other comments on properly functioning features: Unit is loud when operating compared to other microwaves and definitely when operating in convection oven mode. One has to turn up the sound of the TV in the adjacent room to counter the loudness of the fan. Crisper feature is nice and seems to work well. Microwave steamer feature works well and is convenient.
Date published: 2017-04-07
Rated 5 out of 5
by
Barb
from
Works great!
Have truly enjoyed this microwave!
Date published: 2017-04-06
Rated 2 out of 5
by
Peebee
from
Noisy
Just installed when we noticed that the fan was noisy. Had a repairman come (covered by the warranty). Said it was a defective fan and that it could be replaced. We told RC Willey and Kitchenaid that we prefer to get a new replacement microwave since it is not even a month old. RC Willey did replace the first one with a brand new one, same model. Unfortunately, we ended up with the same problem. It still is noisy when being used. We have to live with that now. Our old tabletop microwave was a lot better.
Date published: 2017-02-17
Rated 5 out of 5
by
AL Owner
from
Great Versatility
Wanted a second oven and a microwave with space for only one. Perfect solution!
Date published: 2017-02-11
Rated 5 out of 5
by
Dan B
from
Coolest thing since sliced bread!
We are enjoying both the microwave and convection combination of this appliance. The funnest part of our process has been playing with and figuring out all of the options.
Date published: 2017-01-23
Rated 5 out of 5
by
The Lipp family
from
More than just a microwave!!
We remodeled our kitchen with ALL Kitchenaid black stainless appliances. It is absolutely BEAUTIFUL! We couldn't find one of these microwaves in a store, so we took a gamble and ordered it. NOT disappointed. It is so much more than just a basic microwave. It is also a second induction oven. When we got the appliances we tested them and baked chocolate chip cookies in both the microwave and the oven. I hate to say it, but I think that the cookies from the microwave were just a tad better!!!!
Date published: 2017-01-13
Rated 3 out of 5
by
Burnt offerings
from
Noisy fan
Fan makes an annoying noise. No its not quite and yes the dealer has attempted to repair it. They claimed they would replace it. It's been a few weeks with no feedback from them
Date published: 2017-01-07
Demos & Guides
guides
Dimension Guide
Detailed dimensions of your new appliance with space requirements for the area surrounding it.
Installation Guide
Instructions for unpacking and installing your appliance, including electrical requirements and necessary tools.
Flush Installation Instructions
Detailed flush installation instructions
Use & Care Guide
Comprehensive information about your new appliance - from getting started to cleaning and maintenance.
Warranty Information
A complete description of your warranty coverage, and contact information for service and support.
In order to read a PDF file, you must have Adobe Acrobat reader installed on your computer. You can download the latest version at the Adobe website.
Show More Guides