Classic™ Series 4.5 Quart Tilt-Head Stand Mixer
Classic Series 4.5 Quart Tilt-Head Stand Mixer is rated out of 5 by 3369.
Make up to 6 dozen cookies in a single batch with the KitchenAid® Classic™ Series 4.5 Quart Tilt-Head Stand Mixer. This mixer also features 10 speeds to thoroughly mix, knead and whip ingredients quickly and easily. For even more versatility, use the power hub to turn your stand mixer into a culinary center with over 10 optional hub powered attachments, from food grinders to pasta makers and more.
Onyx Black - K45SSOB
Features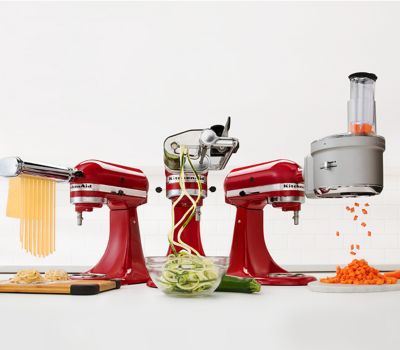 For Everything You Want To Make™
Turn your stand mixer into the culinary center of your kitchen. With over 10 different attachments, you can make everything from fresh pasta to burgers, veggie noodles, ice cream and more.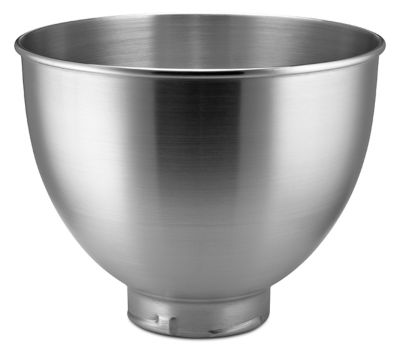 4.5 Quart Stainless Steel Bowl
Enough capacity to mix up to 6 dozen cookies, 3 loaves of bread or 6 pounds of mashed potatoes in a single batch.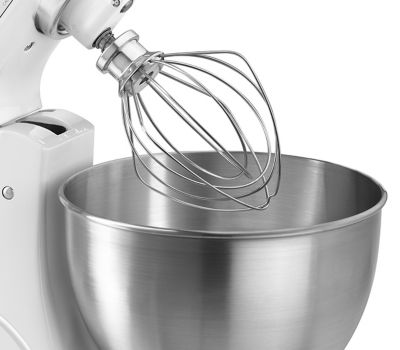 Tilt-Head Design
For clear access to the bowl and attached beater or accessory, to easily add ingredients. Locking the head into place during operation keeps the beater-to-bowl contact close and efficient.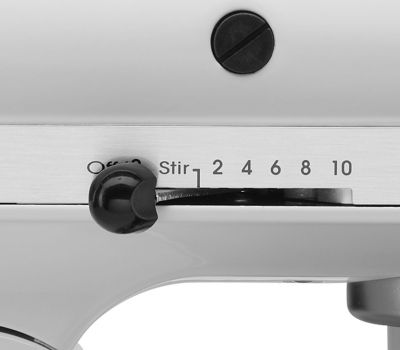 10 Speeds
With enough power for nearly any task or recipe, whether you're stirring wet and dry ingredients together, kneading bread dough or whipping cream.

Model K455 includes
(1) Coated Flat Beater, (1) Coated Dough Hook, (1) 6-Wire Whip
Specifications
Configuration and Overview
Bowl Capacity (Quarts)
4 1/2
Mash Potato Yield - Pounds
6 1/2
Flour Power Rating™- Cups
8
Design
Bowl Finish
Brushed Stainless Steel
Direct Drive Transmission
Yes
Includes
Included Accessories
6 Wire Whip, C - Nylon Coated Dough Hook, Nylon Coated Flat Beater
Show More Specifications
Reviews
Rated 5 out of 5
by
TinaD
from
17 Years and Still Going Strong
I "purchased" my cobalt blue Classic Stand Mixer using AirMiles (TM) way back when. It's followed me from apartment to condo to house and has always been dependable. I have the grinder, shredder/slicer/grater, ice cream maker and have loved all three "add ons". I've made bread dough, whipped cream, and ground hamburger. I've been through a few replacement whips over the years and have two extra bowls to get big jobs done. There really isn't a lot this mixer can't do - but now that I can afford it, I've started using a food processor in addition to this mixer. This mixer can't make the HUGE batches of dough I need for Cornish Pasties (but makes our bread well - just watch the kneading time) and while good with larger pieces of cheese, softer cheeses (like cheddar) do tend to get their ends mushed in the shredder making it a pain to clean - and there's a certain amount of cheese loss (so I've always done a lot of cheese at once and frozen it shredded - fine in recipes and even on nachos within 3 months). I like the slicer on my food processor better - but for more than 15 years, the mixer attachment got me through quite nicely. The grater is WAY better than anything you'll ever get with a food processor - it grinds like the old crank ones (that my mom had me cranking for entire summer days for her sweet relish during my childhood). My advice - if grinding meat, try to cut off the sinew as much as possible because it will wrap itself around the cutter and clog the exit. It can be cleared fairly easily but the fewer times you have to stop and take the end and blade off and re-mount, the better. I use the ice cream maker for sherbets - which are hard to find in the grocery stores anymore. Basically just frozen fruit (with some extra sugar) but still fat free. A small amount of raspberry sherbet is a real treat. I've thought about replacing the Classic with a larger model but it's still running strong - pretty much like the day it was new - and looks new too. I expect it to last like my mother's mixer, given to her as a wedding present in 1958, did - so I have another 15 years - maybe longer: I don't have kids sticking stainless steel spoons into the beaters! Sorry it only comes in black and white now - but it's more than enough for anyone who enjoys cooking and baking - but doesn't need to have a more expensive machine for the sake of the price tag.
Date published: 2018-01-18
Rated 5 out of 5
by
4pjcooking
from
Absolutely a great product!!
Received as a Christmas gift. Looking forward to seeing what we can make! Love using and displaying!!
Date published: 2018-01-15
Rated 5 out of 5
by
Baking J
from
So easy to use.
I love my new Kitchen Aid Mixer. I wish I would have purchased one years ago.
Date published: 2018-01-10
Rated 5 out of 5
by
martin3
from
Great Mixer
Recieved as a gift. My daughter loves it and uses it more than I do.
Date published: 2018-01-09
Rated 5 out of 5
by
Meme Teresa
from
Easy to play operate
Got this for Christmas! Love it! Very easy to operate.
Date published: 2018-01-08
Rated 5 out of 5
by
Spoild1975
from
So easy to use!
I got mine as a gift for Christmas. I have already used it numerous times!
Date published: 2018-01-06
Rated 5 out of 5
by
Marilu2610
from
Very good
I am so happy with my kitchenaid I bought it last month
Date published: 2018-01-05
Rated 3 out of 5
by
spatster
from
great mixer, loose mixer attachments
I finally have a KitchenAid mixer woo hoo! But when I went to use it I found the decision had been made by KitchenAid to remove the spring from the beater shaft, which left the attachments loose and unsecure on the beater shaft. It is as im told not to affect the performance, but is unsettling personally to use as such (no focus group im guessing for this decision). One expects precision and good fit with such a high regard item as the mixer has been for years. Its loose wobbly fit is disappointing and a poor decision by KitchenAid.
Date published: 2018-01-04
Rated 5 out of 5
by
SandiC.
from
great!!
I received this for Christmas and have used it, I love it.I feel like a child w/ a new toy. This will make baking and cooking easier.
Date published: 2018-01-04
Rated 5 out of 5
by
Nathan
from
Everything I was expecting and more!!
I received this as a Christmas gift this year and I have already used it four times in a two week period! I had been wanting to purchase one for a long time so I was excited when I got this one as a gift! That excitement hasn't worn off as I am thinking of recipes daily that I could use this great kitchen multi-tool for. I couldn't be happier with this product and I have made it the centerpiece on my kitchen counter to show it off!!!
Date published: 2018-01-04