Tri-Ply Copper 10-Piece Set
KitchenAid Tri-Ply Copper 10-Piece Set is rated out of 5 by 19.
Our Tri-Ply Copper Cookware combines the unrivaled conductivity of copper with the heating efficiency of aluminum and the durability of stainless steel. This premium set includes: 8" Skillet, 10" Skillet, 1.5-Quart Saucepan with Lid, 3.0-Quart Saucepan with Lid, 3.5-Quart Sauté with Lid, 8.0-Quart Stockpot with Lid
Satin Copper - KC2PS10CP
Features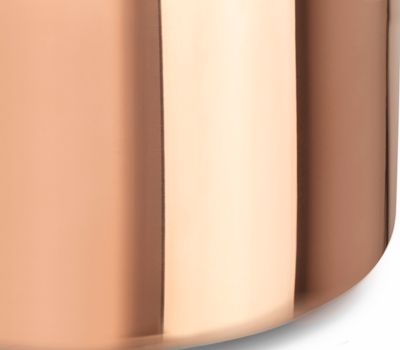 Beautiful Copper
A blend of beauty and performance: the polished pure copper exterior provides efficient, even heating. (Hand wash cleaning only)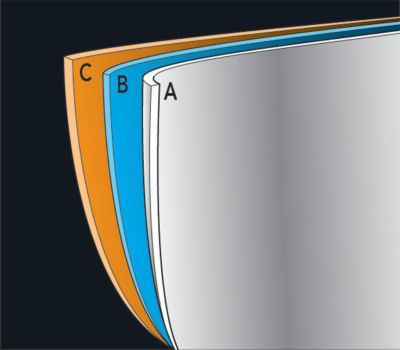 3-Ply Copper Design
Our 3-Ply Design gives you precise even heating. The layers include: ##A. 18/10 Stainless Steel; ##B. Aluminum; ##C. Copper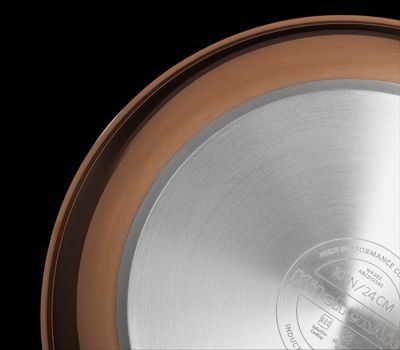 Copper with Induction Technology
Revolutionary induction technology on a copper exterior body. Its 18/0 magnetic stainless steel base stays flat on all cooktop surfaces, including electric, gas, and induction.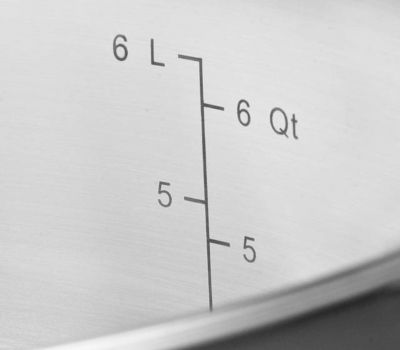 Etched Measurement Markings
Etched Measurement Markings make it easy to measure quantities for soup and sauce recipes.

Riveted Stainless Steel Handle(s)
This sturdy handle lets you take the pan from stove to table with ease.

Easy Pouring Rim
Each pan has a curved edge to make pouring easier and neater.

Oven Safe up to 500°F
To prep, finish or reheat food in the oven.
Specifications
Features
Handle
Riveted Stainless Steel
Interior Finish
Stainless Steel
Laser Etched Logo
Laser Etched
Lid Type
Domed Tempered Glass
Reviews
Rated 5 out of 5
by
Dave
from
I put my All-clad into storage
I've been using my new cookware for about two weeks now and really have no complaints. I use a gas range and the pans seem to distribute the heat evenly. As part of the testing process I baked corn bread in the 10" skillet at 450 degrees and it came out perfect. My favorite feature is the etched measurement markings on the inside of the pans they save a little bit of time and trouble by not having to use/dirty a measuring cup when starting a meal. The only fault that I can find is that the exterior copper finish discolored within the first couple uses, I've never owned cookware like this before so it is probably normal. I used some tarnish remover and it got rid of almost all of the spotting with little effort. That being said exterior is just for show, what really counts it how the cookware performs and this is a great product. I highly recommend it. I don't have an induction surface so I think that is the only feature that I was unable to test.
Date published: 2016-05-20
Rated 5 out of 5
by
KLee
from
Excellent Cookware For Everyday Use and Handling
Wow! What a great set of cookware. I have never had pots that have the liter and quart markings built within the inner walls. What an awesome asset to these heavy duty pans. Clean up is a breeze, though I need to learn how to keep cooper looking spotless. Love that I can use them on a gas stove and also on my induction cook top and this was clearly marketed on the box to make me aware of this. My mother and girlfriend are both wanting to purchase these pots and pans now.
Date published: 2016-05-20
Rated 5 out of 5
by
Kim
from
Beatiful!
We just purchased our first home and the first thing we are hanging is a pan rack!! These pans are beauuuutiful! My husband loves these pans...so much...maybe too much? Not only are they great to look at, but also great to cook with! I was worried at first they would be too heavy for me (not all of us have huge muscles), but they are perfect. They heat up super quick, which is helpful for those hungry weekday dinners. Speaking of dinners, we have cooked everything from stir-fry to steaks to couscous in them, and there isn't a mark left in the pans. One downside is you do have to wash them by hand if you want to keep that sparkle...but...lucky (?) for us we don't have a dishwasher yet!!
Date published: 2016-05-18
Rated 5 out of 5
by
DrDawn
from
Professional grade cookware
I have been an all clad user for years and this kitchen aid cookware changed my loyalty. Heavy and sits evenly. When items boil, the bubbles are all over, not at the edge and working in. Like being able to see my food without removing the lid. The handles fit ergonomically well in the hand. When cooking, slightly undercook your food as the pots hold their heat, similar to cast iron. Although you will need to polish occasionally if you want the copper to look good, keep a cream polish close by and the pots buff up easily. Beautiful looking set as a bonus.
Date published: 2016-05-14
Rated 5 out of 5
by
Teresa
from
The BEST Pots & Pans EVER!!!
At first glance a bit pricey but once I started using them they are worth every penny spent. Nothing sticks to them, they wash like a gem and even to just have them on display on the counter they are beautiful to look at; I would not hesitate to set them at the table during dinner. This 10-piece set is all a beginner or even experienced cook needs. This is the absolute best set I have ever owned and don't see myself shopping for any additional pieces.
Date published: 2016-05-13
Rated 5 out of 5
by
Jules
from
Tri-ply copper
I have had these Tri copper pots and pan for close to a month and the only thing I can say is Amazing.The best pans I have ever owned
Date published: 2016-05-13
Rated 5 out of 5
by
HRS
from
Beautiful pots
I love the set. They are beautiful to look at and also cook very evenly. I was amazed at the frying pans. Nothing sticks to them. I haven't used the stock pot yet but I am looking forward to making my famous chicken soup in it. The large deep sautéing pan is great for chill and chicken & rice. I love the fact that they can be put in the oven. I make an egg omelet with vegetables and cheese and I baked it in the large frying pan in the oven. It was delicious.
Date published: 2016-05-13
Rated 5 out of 5
by
Captain Bill
from
Absolutely Beautiful !!!
This cookware set is absolutely beautiful. The combination of copper and stainless steel will fit into any kitchen décor. No way was I going to hide this in a cupboard. It hangs from a pot rack and looks like something you would see in a magazine. I have had the opportunity to use professional chef quality cookware in the past and this set rivals any that I have worked with. The weight is perfect... heavy enough to give you that feeling of quality but still light enough to allow you to work with ease on the stove. An unexpected benefit that I discovered when using this set was that I could cook with less heat. In addition, when I adjusted the heat on the stovetop, the heat of the pan seemed to adjust almost immediately. This was a big help when I wanted to do something like browning or braising without burning the meat. Another neat detail is that on the inside of the pots, the designers etched measurement markings making it super easy to add specific amounts of liquid without having to use measuring cups. The only drawback about using copper cookware is that it requires a little more care to maintain. You need to hand wash it and occasionally polish it. I look at it this way...it's like the Mercedes of cookware and if I had a Mercedes , I sure wouldn't mind hand washing and polishing it. Overall, in my opinion, this is the best set of cookware I have ever used. It would grace any kitchen and it would make a great wedding gift for any young couple.
Date published: 2016-05-13
Rated 5 out of 5
by
TomTom
from
Great Cookware,impressive quality
Very attractive, excellent quality. I would recommended that anyone interested in new cookware should consider KitchenAid before making a decision.
Date published: 2016-04-29
Demos & Guides
guides
Use & Care Guide
Comprehensive information about your new appliance - from getting started to cleaning and maintenance.