Classic Forged All-Purpose Kitchen Shears
Classic Forged All-Purpose Kitchen Shears is rated out of 5 by 8.
Versatile shears for multiple uses in the kitchen, and beyond. Designed with contoured one-size-fits-all grips for extra comfort and strength.
Onyx Black - KKSSF4APOB
Features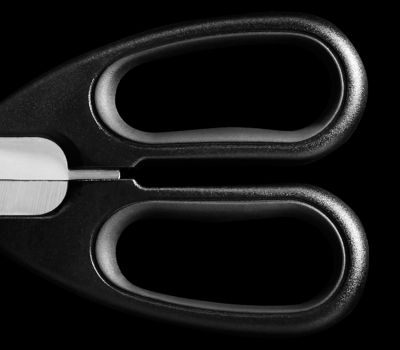 Comfort Grip
Designed with contoured one-size-fits-all grip and soft touch interior handle for extra comfort and strength.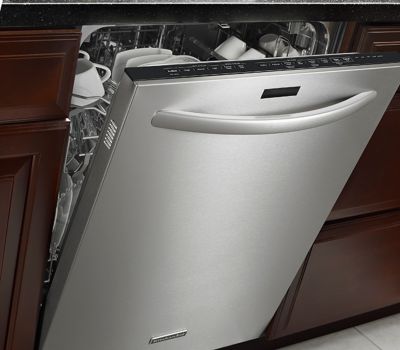 Dishwasher Safe
Our cutlery is tested to withstand the toughest dishwasher cycles. If you are looking for the longest lasting appearance, hand washing is recommended.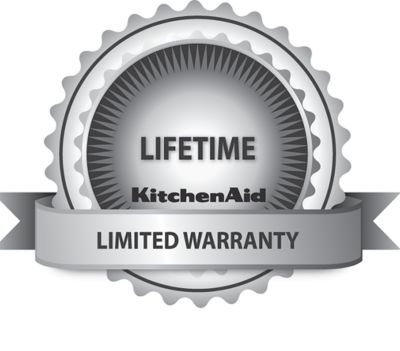 Lifetime Limited Warranty
Your KitchenAid cutlery purchase is warranted to be free of defects in material or workmanship under normal household use when used according to the instructions furnished with the product.
Specifications
Show More Specifications
Reviews
Rated 1 out of 5
by
Coquí
from
Rust
I've bought at least 3 KitchenAid Shears KKSSF4APOB. At the beginning everything is great; But unfortunately the blades rust within a few months and become dull. I keep buying so I can used them as long as possible since I haven't found anything better. I used them for cutting meats, no bones as well as opening plastic packaging like cereal and pasta. They are usually washed by hand but occasionally will go in the dishwasher and are thoroughly dried before storing in drawer. I've tried sharpening them on my own unsuccessfully.
Date published: 2018-01-08
Rated 5 out of 5
by
Nebraskan
from
Good pair of scissors
I bought these about a week ago because my husband used my other ones to cut up cardboard. This should last through everything. I'll probably buy the lighter weighted ones for coupon clipping. This goes through everything. This pair is heavy.
Date published: 2017-11-28
Rated 5 out of 5
by
John C
from
I MISS MY SCISSORS !!!!!!!
I received a cutlery set as a Holiday gift and have used the entire set more than I ever imagined that I would. Every item in the set is perfect, right down to the scissors, that have, mysteriously disappeared. Perhaps I used them, put them down and they were discarded with other items on my kitchen counter. Anyway, I feel like I've lost a good friend that I could always count on to do the job.
Date published: 2016-10-22
Rated 5 out of 5
by
A
from
Great pair of shears for the kitchen
I am very happy with the shears for our kitchen. We use the shears daily, as this is a useful utensil in the kitchen when you are cooking and need to cut poultry or a vegetables.
Date published: 2016-05-13
Rated 5 out of 5
by
Keaau96749
from
Excellent product!
Have several "kitchen shears", but never used them when preparing meats. Used the kitchen aide shears the first day I received it to debone chicken thighs. It was so easy and a lot safer than using a knife. Washed easily, and had no rust coloring after drying. Then I used them for cutting off excess fat from a bone-in pork butt. Used the shears to cut away pork from bone..easy. Love these shears and rest of family knows it is mine and to be used only for cooking. They can use the others for opening packages !
Date published: 2016-02-27
Rated 5 out of 5
by
Grandma Lynn
from
What a terrific product!
I feel so lucky to have these scissors. I love my Kitchen Aide products and these just reinforced that. I have always used other scissors that I had around, but having a dedicated pair for just cooking is a dream. Thank you so much!!!!
Date published: 2016-02-27
Rated 4 out of 5
by
Lew
from
Nice shears
Quality materials used in manufacturing. Comfortable hand grips although the hand holes could be larger to accommodate larger hands. Very sharp and tight action. The one caveat to the tight action is the shears blades are not designed for quick separation during cleaning.
Date published: 2016-02-27
Rated 4 out of 5
by
mmgirl
from
great quality
I mainly used this for cutting herbs from my herb garden, and it works great. I used to just use a regular pair of all-purpose scissors, but these are a great size and have good grip for kitchen-related duties. I do wish they came in pink to match my Kitchenaid appliances though!
Date published: 2016-02-27
Demos & Guides
guides
Use & Care Guide
Comprehensive information about your new appliance - from getting started to cleaning and maintenance.