21 3/4" Countertop Microwave Oven - 1200 Watt
21 3/4" Countertop Microwave Oven - 1200 Watt is rated out of 5 by 19.
Cook quickly and confidently with a countertop microwave that eliminates guesswork. Enjoy the control of nine sensor-driven and pre-programmed cooking cycles and precise timed defrosting, plus the convenience of electronic controls and LED displays. The 13 1/2" turntable is recessed to maximize the large 1.6 cu. ft. capacity. Available 30" or 27" Trim Kits provide a sleek built-in look when paired with a single wall oven.
Stainless Steel - KMCS1016GSS
Features

9 Quick-Touch Cycles Including Six Sensor Cycles
Takes the guesswork out of getting exceptional results from your microwave. The microwave will automatically adjust cooking time based on a menu of preprogrammed, menu-driven cycles.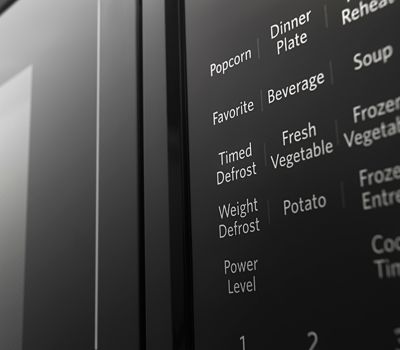 Timed Defrost
Allows intuitive operation by automatically setting the microwave oven's power level at 30% for the amount of time you select.

Electronic Controls with LED Display
Make the microwave easy to use and provide a display that shows the functions that are being programmed.

13 1/2" Recessed Turntable
Helps evenly cook food by continually rotating throughout the cooking cycle. The turntable is sunken into the bottom of the microwave to maximize the capacity.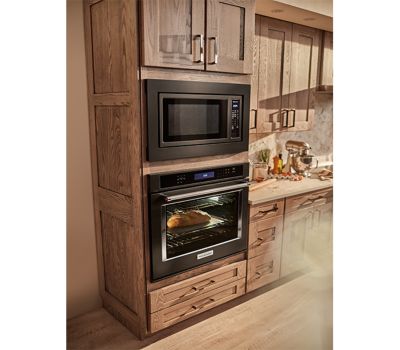 Accepts 30- or 27-Inch Trim Kit
Allows you to install your countertop microwave into an existing cutout for a more integrated appearance.

1.6 Cu. Ft. Capacity
Provides large capacity to make this microwave a true complement to a wall oven or range.

1200-Watt Cooking Power
Cooks with the power to quickly defrost or heat even large dishes.

Color-Coordinated Stainless Steel Cabinet
Is finished in a color-coordinated brushed stainless steel to complement the other appliances in your kitchen.
Specifications
Configuration
Microwave Type
Countertop
Dimensions|Capacity(FT3,cubic feet)
1.60
Configuration and Overview
Cooking Power Wattage
1200
Quick Touch Settings
Add 30 Seconds, Beverage, Control Lock, Cook/Start, Cook Power, Defrost, Dinner Plate, End of Cycle Signal, Favorites, Fresh Vegetable, Frozen Entree, Frozen Vegetable, Off/Cancel, Pizza, Popcorn, Potato, Soup, Timer
Controls
Turntable Diameter
13 1/2
Show More Specifications
Reviews
Rated 5 out of 5
by
Cindy San
from
Super quiet
Love it, very quiet, very powerful, does an excellent job and is sturdy. Do wish the opening button was a little larger.
Date published: 2018-04-06
Rated 5 out of 5
by
Teddy
from
Easy to use
Great appearance and easy to use. Ordered it with our new home.
Date published: 2018-04-05
Rated 1 out of 5
by
Jerry 12
from
Not Happy
Bought a house with a kitchen aid microwave and went out in 3 yrs. I bought another and it went out in 8 months.
Date published: 2018-03-28
Rated 4 out of 5
by
Kitchen Maid
from
!!
This is a great replacement microwave for us. it works very similarly to our previous KitchenAid microwave, and that is why we chose it. It is very quiet, and cooks very consistently. One frustration we have is difficulty opening the door. It doesn't pop open like most microwave doors, rather takes two hands to open it, one to push the button, one to guide the door open.
Date published: 2018-03-09
Rated 4 out of 5
by
jerryu
from
good performance
I bought this to replace a KitchenAid microwave I had for about 15 years. While it doesn't have all the features of what I had, it fits in with my KitchenAid oven and stove top, and it performs well.
Date published: 2018-02-27
Rated 5 out of 5
by
Dr. Karen
from
Clean dishes!
We bought the same microwave that we had, but in stainless. This is a great microwave-lots of wonderful pre-programmed options. I couldn't be happier!
Date published: 2018-02-23
Rated 5 out of 5
by
klsewell
from
Love it!
Great microwave! We love the features of this microwave. Easy to use.
Date published: 2018-02-16
Rated 5 out of 5
by
J & D
from
Good buy
As advertised. No problems. Better than I expected.
Date published: 2018-02-15
Rated 4 out of 5
by
dannyd
from
Nice Product
I purchased this microwave as a cabinet insert. Nice addition to the cabinets. Only complaint is that there's no handle. With no handle it shows fingerprints.
Date published: 2018-02-05
Rated 5 out of 5
by
chococat
from
Great microwave.
This was a replacement unit for the previous model. my original model still operated well, but the door latch began to malfunction. So far my new unit is running well. I don't anticipate any problems. I'd recommend this unit for anyone looking for a simple, easy to operate unit.
Date published: 2018-01-30