30'' Under-the-Cabinet, 4-Speed System
30'' Under-the-Cabinet, 4-Speed System is rated out of 5 by 42.
The power of a 4-speed motor adds to the precision of this under-the-cabinet ventilation system that pairs well with most 30-inch cooktops and ranges. The under-the-cabinet design allows you to hide ductwork inside cabinetry for a more built-in look.
Stainless Steel - KVUB600DSS
Features

600 CFM/65K BTU Threshold
Allows installation over any KitchenAid regular 36- or 30-inch range or cooktop, and some commercial-style cooking surfaces with outputs up to 65K BTU.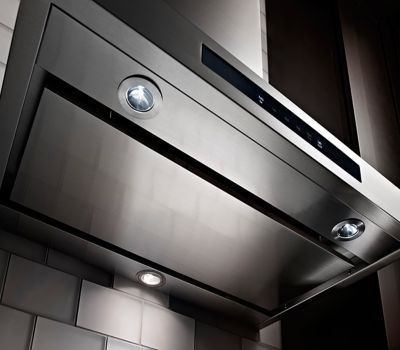 Perimeter Ventilation
Increases ventilation system efficiency by pulling air from the edges of the hood and speeding up the movement of air at the center, allowing it to efficiently handle up to a 65K BTU total output.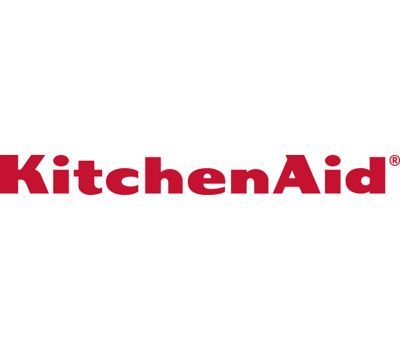 Programmable Off Function
Can be set to automatically turn off after a period of time.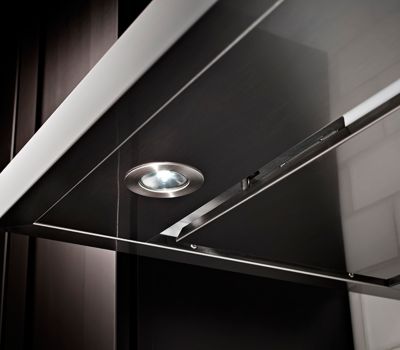 LED Task Lights
Provide extra lighting over the cooking surface to help in the cooking process.

4-Speed Electronic Touch Control with LED Display
Provides sleek, visual confirmation of your ventilation selections, settings, and filter status.

Whisper Quiet® System @ 44 dBA (1.3 sones) at Low Speed
Ensures that the ventilation system operates at a quiet level so it can be used while entertaining. At maximum speed, sound level is 68 dBA (7.0 sones).

Dishwasher Safe Grease Filters
Filter reduces steam, grease, and odor to help avoid contact with ceilings and countertops. The design increases filtration by obstructing the path of vented air to help capture more steam, grease, and odors as they are drawn through the vent.

Easy In-line Conversion
Converts from a traditional set-up to an in-line blower installation for an even more quiet operation. Metal box purchase required.
Specifications
Configuration and Overview
Hood Type
Under-the-Cabinet
Venting Type
Exterior or Recirculating
Controls
Control Type
Electronic Touch
Filters
Dishwasher-Safe Grease Filters
Show More Specifications
Reviews
Rated 5 out of 5
by
KrisE
from
Very quiet - compact size
I have had this range hood/fan since December 2017. So far, it works well. It is VERY quiet. The light and timer are nice features.
Date published: 2018-03-29
Rated 5 out of 5
by
BSmith18
from
Great looking hood
This is a beautiful hood and really completes our kitchen
Date published: 2018-02-14
Rated 4 out of 5
by
AreYouKiddingMe
from
Super quiet
Good looking, super quiet, multiple speeds. Only wish it were possible to adjust the lights from bright to dimmer. Can't have everything......or can we? Can't understand why it cost more than the new KitchenAid range I bought at the same time.
Date published: 2017-10-26
Rated 1 out of 5
by
Gman.p68
from
KVUB600DSS2 Range Hood
These things are a real bear to install. The metal edges are like razor blades (wear gloves and long sleeves), I had six cuts that needed bandaids and many other smaller cuts. The instructions are also very poor. After install, the fan will not turn off. I called their customer service (which is probably the worst experience I have ever had) and got nowhere fast. For the money these things cost.... I recommend you look for a different product, or for $900 bucks, you can have a piece of junk like me.
Date published: 2017-10-25
Rated 4 out of 5
by
creestopher
from
Beautiful and Gets the Job Done
We love our range hood. The simple clean design looks great with the other KA appliances we got and does an excellent job of venting smoke from cooking. My only gripe is that was incredibly difficult to install.
Date published: 2017-10-17
Rated 2 out of 5
by
Tim - Cincinnati
from
Hood MUST vent somewhere - VERY difficult to recir
This hood seems to work well once it has been installed. I am a professional in the renovation industry and have found this hood to be one of the most poorly designed systems from an installation aspect that I have ever dealt with. Thankfully, I was able to install this unit with the benefit of no lower cabinets in the way. If the bottom cabinets had had already been installed, I would have had to have been a contortionist. Most egregious, is the fact that this hood will not directly recirculate air through a filter and then back into your kitchen unless you vent it to a cabinet, wall or ceiling vent. It CAN NOT directly recirculate air out of the front of the unit and back into the kitchen. Very poor design. In addition, there is not even an option for attaching the hood unit to a spacer of some sort that could then redirect the air back into your kitchen. Do not purchase this unit unless you specifically intend to vent it to the outside!!!
Date published: 2017-10-09
Rated 5 out of 5
by
Mr Scott!
from
Nice!
Bought this to replace an OTR microwave. Really looks good in my kitchen. It's pretty quiet for a hood and has a lot of draw. LED lights give it some extra class. Little bit of a challenge to install if you're a DIY'er like me. Doesn't bolt in like a microwave. You have to measure and put the screws in first, then slide the hood onto the screws. Not much room to tighten them after. I had the additional challenge of going into a 7" duct that was already in place. This hood comes with a 6" adapter. Also comes with all the adapters to go through the wall or recirculate if needed. Because it's stainless, the whole thing is covered with that sticky tape to protect it. Most of it came off easily except for whats in the crack in-between the front panel and the slanted part. The logo was a little off center too so I messaged support and they sent a technician out. He heated it up and straightened it out for me, no problem. Still have tape left in the crease. I'm working on that. Support recommended a razor blade but I don't want to scratch it up. Will try ammonia. I read that works. So be careful when pulling that tape off. Go slow. Hood also comes with a countdown timer. Alarm is not very loud and only beeps once.
Date published: 2017-08-18
Rated 1 out of 5
by
Mr JB
from
BUYERS BEWARE, DONT BUY!!!!!!!!!!!!!!!!!!!!!!!
Buyers please be aware of this unit. I bought this hood vent 10 months ago and had nothing but problems. There has been three service tech and the unit still hasn't been repaired. The blower wheel just blow apart do to steam. Lol you can't even boil water under this unit
Date published: 2017-08-17
Rated 5 out of 5
by
Peg
from
Very nice!
Nice-looking hood with a wide, well-lit area and good ventilation.
Date published: 2017-07-17
Rated 4 out of 5
by
Bruce
from
Way better than the average home vent hood!
When we buying a KitchenAid appliance package, our dealer recommended this hood because of it quiet low speed setting, LED lights and industrial design. Good recommendation - way better than the alternatives we looked at. Sure, it gets noisy on the highest settings, but we rarely need to use them. Excellent heat and odor venting on the lowest setting.
Date published: 2017-07-14
Demos & Guides
guides
Dimension Guide
Detailed dimensions of your new appliance with space requirements for the area surrounding it.
Use & Care Guide
Comprehensive information about your new appliance - from getting started to cleaning and maintenance.
Installation Guide
Instructions for unpacking and installing your appliance, including electrical requirements and necessary tools.
Warranty Information
A complete description of your warranty coverage, and contact information for service and support.
In order to read a PDF file, you must have Adobe Acrobat reader installed on your computer. You can download the latest version at the Adobe website.
Show More Guides