Front-Control, Pocket-Handle Dishwashers
Displaying 2 out of 2 items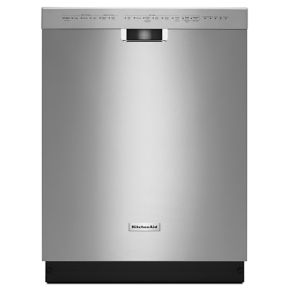 Top Features:

Close

ProScrub® Option:

Helps eliminate soaking or pre-scrubbing with 40 targeted spray jets that help remove stubborn messes like seared or baked-on foods.

Close

Third Level Rack:

makes it easy to clean hard-to-place items such as spatulas, serving utensils and measuring cups, freeing up space in the lower two racks.

Close

Professionally-Inspired Design:

combines a bold blend of professionally-inspired styling with sleek touches for the home. This beautiful console dishwasher features the KitchenAid® Badge, a symbol of uncompromised quality.



Top Features:

Close

ProWash™ Cycle:

Determines the ideal cycle for washing dishes based on soil level and then makes real-time adjustments to achieve the best cleaning performance

Close

Durable Stainless Steel Construction:

provides quality craftsmanship combined with the beauty of stainless steel to help withstand the test of time. It resists streaks, stains, and odors while retaining heat to help improve drying performance.

Close

Heat Dry Option:

Delivers the best drying2 by activating a recessed heating element at the end of the cycle.
Displaying 2 out of 2 items