2.0-Quart Stove Top Kettle with Full Stainless Steel Handle
2.0-Quart Stove Top Kettle with Full Stainless Steel Handle is rated out of 5 by 41.
Quickly and easily boil water on your stove top with this well-crafted porcelain enamel kettle, for a variety of drinks, soups, hot cereals and more, every day.
Mandarin Orange - KTEN20SBDO
Features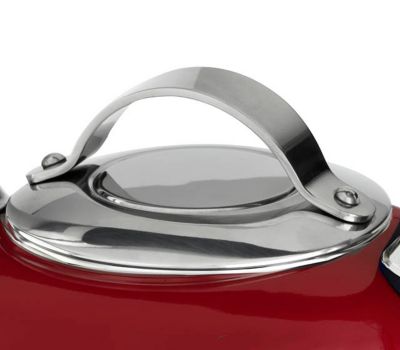 Easy to Fill and Clean
With the removable lid.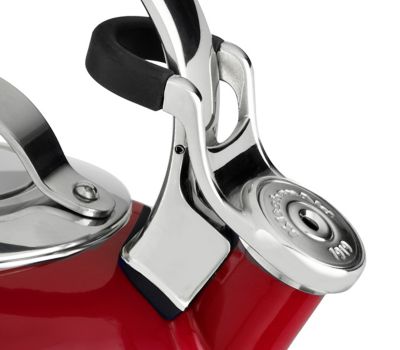 Simple to Pour
In a single motion, with the thumb-press spout - simply tip, open and pour.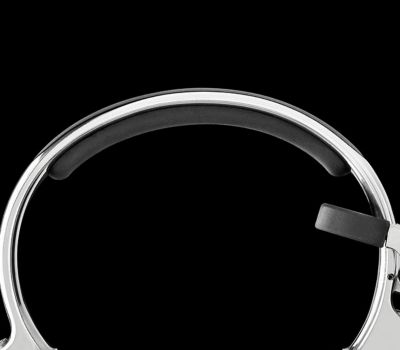 Soft Grip Polished Stainless Steel Full Handle
Sturdy, yet comfortable, and easy to grip.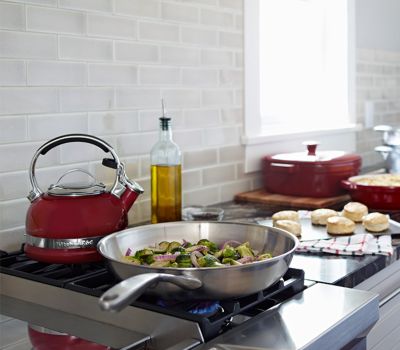 Vibrant, Colorful Porcelain
Available in a variety of colors and coordinates or matches a variety of KitchenAid products.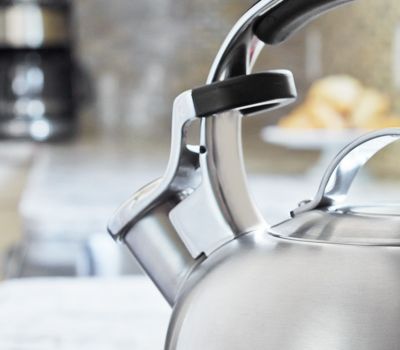 Clear, Audible Whistle
So you know exactly when your water has come to a boil.
Specifications
Features
Spout Control
Thumb Press
Trim Band
Stainless Steel
Show More Specifications
Reviews
Rated 2 out of 5
by
SorryButNo
from
Looks great, but the plastic melts.
This is our second try with this kettle. The plastic on the handle/spout lever melts, even without using a high setting to boil water. (We moved, so have used different stoves with the same result. ) Kitchen Aid is mystified, and said they've never heard of this before. I love the look, but the design is poor.
Date published: 2018-04-18
Rated 1 out of 5
by
starlove
from
Poor design
This kettle has a poor design. After boiling water, I can not hold the handle with out a towel. It gets very hot. Also, the plastic part that lifts the little whistle part to pour the water has melt. I have put it in a box to give it out to charity. I have few kitchen aid products and I love them. But this particular kettle however, needs a better design. Other than that, the look of the kettle and the amount of time it takes for the water to boil is great. Sad, that I had to get rid of it.
Date published: 2018-04-06
Rated 5 out of 5
by
Trailer Teri
from
Great quality
This is top notch quality, worth the price. And offered in my yellow? Priceless
Date published: 2018-04-05
Rated 5 out of 5
by
Nana's Twins
from
Great product
I bought this to go on my kitchen aid stove that was purchase a couple months ago
Date published: 2018-03-30
Rated 5 out of 5
by
Old Nabs
from
It's all good
I love this tea kettle. It looks great, the color is divine, it is the right size, it has some great features, it looks nice on my stove and whistle when its job is done.
Date published: 2018-03-29
Rated 4 out of 5
by
Jxsnb
from
Attractive
Replacement for a 3QT KitchenAid Kettle that finally gave up the ghost. Love the design, however it does not whistle until the water is way above boiling point. Far too hot before it whistles in my opinion. Love the warranty on this product and the customer service is top notch.
Date published: 2018-02-15
Rated 5 out of 5
by
L8start
from
Good Looking & Loud
The kettle is easy to fill and the cover on the spout is easy to open. That's a good feature because when the water boils the whistle is LOUD. That too is a good thing because it's easy to get distracted and forget that the kettle's on the burner. There's no ignoring this whistle. The kettle feels heavy for its size and the stainless steel band around the circumference makes it look sleek.
Date published: 2017-12-28
Rated 1 out of 5
by
Anonymous
from
Shocking Fail
Drips when pouring; handle too hot for gentle hands after boiling "You had one job to do..."
Date published: 2017-09-17
Rated 3 out of 5
by
Marty
from
Kettle Dribbles water when pouring
Hi I love the look and feel of my kitchen aid stove top kettle but the handle gets hot and when pouring the kettle dribbles water back down the outside of the spout and onto the bench, I contacted Kitchen aid Australia who were happy to replace the one i have but, wouldn't you know it they don't have a green one and they aren't importing any more. So do I purchase another from the states and take the risk that it won't leak or do I just put up with what I have??
Date published: 2017-09-08
Rated 1 out of 5
by
EK
from
The kettle designers have clearly never actually used this!
Kettle handles should not be made of metal!! They heat up and are very impractical. Poor design!!
Date published: 2017-06-21