11" x 14" Acacia Cutting Board
11" x 14" Acacia Cutting Board is rated out of 5 by 9.
This double-sided 11" x 14" acacia cutting board that is ideal for any kitchen. With a drain-away tray on one side and measure marks on the other, this cutting board is a go-to for quick and easy cutting, chopping or prepping.
Acacia Wood - KKWRE1114AA
Features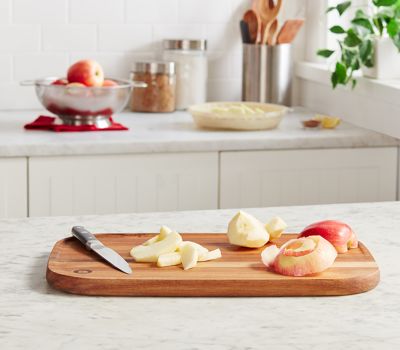 Two-Sided Cutting Board
For conventional cutting and prepping on one side. The other side features a drain-away tray and measure marks.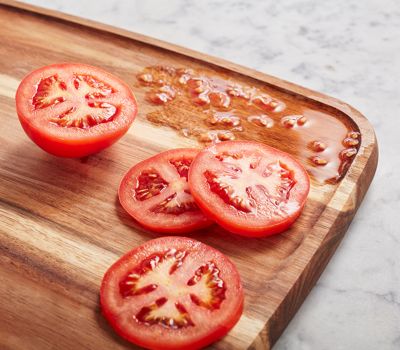 Drain-Away Tray
With an angled surface to allow liquids to drain away. Ideal for prepping juice filled items such as tomatoes.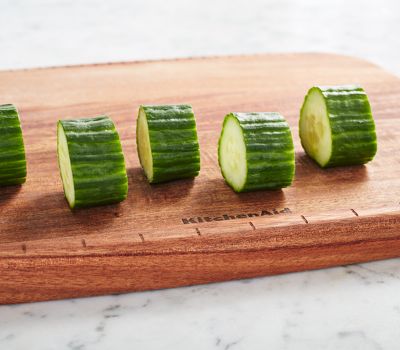 Measure marks
Molded into each KitchenAid® acacia cutting board, for precise cutting.

Lifetime Limited Warranty
Your KitchenAid cutting board is warranted to be free of defects in material or workmanship under normal household use when used according to the instructions.
Reviews
Rated 4 out of 5
by
Cindy
from
Lightweight
This cutting board is lightweight and easy to use. The "size markings" I find unnecessary. I do like the idea of the two sided capability (one side has a lip around three edges) so when you chop juicy things it is contained better. I find my knife blade cuts into the wood deeper than other cutting boards I have, such as bamboo, and the lip side of the cutting board made to contain any runoff juices from what you slice is very rough. Both of these bring to mind concerns about bacteria and the user needing to be a diligent cleaner, especially when using chicken. I do like the cutting board enough to continue using it, because I really like the light weight and convenient size, but I will only use it for fruit and veggies due to the easy knife blade cuts.
Date published: 2017-08-17
Rated 5 out of 5
by
none
from
Ridge a great feature
After the application of the mineral oil to help in the preservation of the board, the size of the carving board is very manageable and just the right size for a small roast.
Date published: 2017-08-03
Rated 5 out of 5
by
Clif
from
Size and shape
Great shape one side has area to catch fluid
Date published: 2017-06-30
Rated 4 out of 5
by
Monica MG
from
Overall, like the size and quality
I have a small kitchen so the size is large enough for prep work but also small enough for easy storage. The side that has the drain away feature works great but I was a bit disappointing with the side with the marks. They are a nice feature but too small to actually be useful for guiding when slicing.
Date published: 2017-06-27
Rated 5 out of 5
by
Barbie
from
Wood is beautiful
I love cutting boards, and love the beauty of this one. Love it when it has a lip to catch liquid.
Date published: 2017-06-22
Rated 5 out of 5
by
Chrissy
from
Highly Recommend
First, I put a couple coats of mineral oil on both sides of the cutting board. To my delight the the wood grain became more beautiful and rich with color. The angled side allows the juices from veggies and fruits to drain and mess free. Love the measure marks on the other side, which is very helpful. I do not have much counter space, this cutting board is the perfect size. Not overwhelming, but large enough to prep and chop. It is made well and durable. I look forward to using it everyday. Would make a great gift !
Date published: 2017-06-18
Rated 5 out of 5
by
rmranger
from
Reversable, Eco friendly natural wood cutting board
Very satisfied after about 3 weeks so far.
Date published: 2017-06-18
Rated 5 out of 5
by
Vicki
from
Love this cutting board!
It is very functional. I like the large size and the hash marks for measuring. It also looks pretty on my counter! Thank you so much for sending this and for letting me review it.
Date published: 2017-06-16
Rated 5 out of 5
by
Kitchenwitch
from
Two thumbs up!
I was given this cutting board to test and write a review but I honestly would buy this -- for myself and as a gift. One side has two separate rulers -- 1" and 3/16" which I have used to cut uniform pieces of food (so much easier than eyeballing!). The other side is slightly sloped with a gradual lip on 3 edges to catch juices from meats and fruits. Genius! But I have to say that my favorite thing about this cutting board is that it is gorgeous enough that I have used it as a serving piece. The only two cons are 1) it has no feet so when it's on the flat side I have to slide it to the edge of the counter to pick it up and 2) it needs to be oiled regularly. Neither of these take much time or effort so they are not deal breakers for me. I would definitely recommend this.
Date published: 2017-06-13