11" x 14" Bamboo Cutting Board
11" x 14" Bamboo Cutting Board is rated out of 5 by 11.
This double-sided 11" x 14" bamboo cutting board that is ideal for any kitchen. With a drain-away tray on one side and measure marks on the other, this cutting board is a go-to for quick and easy cutting, chopping or prepping.
Bamboo Wood - KKWRC1114BO
Features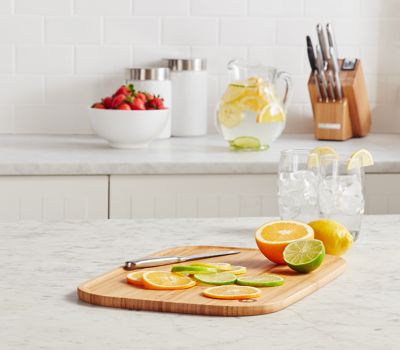 Two-Sided Cutting Board
With one side flat for conventional cutting and prepping, and the other with a drain-away tray and measure marks.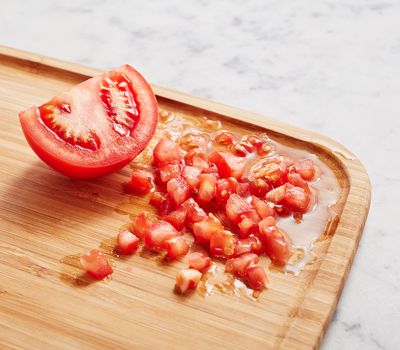 Drain-Away Tray
With an angled surface to allow liquids to drain away. Great for prepping juice filled items such as tomatoes.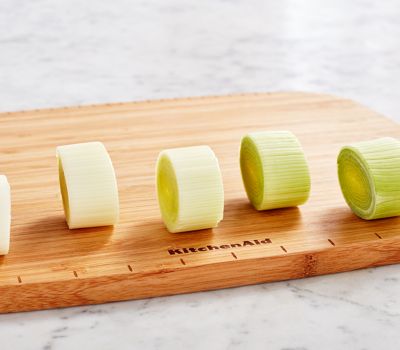 Measurement Marks
Molded into each KitchenAid® bamboo board, for precise cutting.

Lifetime Limited Warranty
Your KitchenAid cutting board is warranted to be free of defects in material or workmanship under normal household use when used according to the instructions.
Reviews
Rated 5 out of 5
by
Smreifeis21
from
Love the shape and extras in this cutting board
I love this cutting board the dip on the edge helps catch fluids so it's not all over the place. There measurement notches on a side as well.
Date published: 2018-04-05
Rated 5 out of 5
by
NEW1234
from
DURABLE CUTTING BOARD
I am very happy with this cutting board. It is durable and lightweight. It stays put on the counter while in use, which is a definite plus. The measurement and drain-away feature are awesome.
Date published: 2017-11-11
Rated 4 out of 5
by
pwalsh1015
from
Bamboo cutting board
love this it stays on my countertop. just needs a well for slicing meats and a nonskid feet.
Date published: 2017-10-30
Rated 5 out of 5
by
The Vicar
from
Versatile cutting board
I'm quite pleased with this board. After I oiled it per the care instructions, I gave it a try. The bamboo holds up rather well to a sharp knife and makes a satisfying sound while dicing. It has index markings on BOTH sides for judging your cuts; one smaller scale than the other. (Specs only say 1-side) Super-handy! The drain channel is more of a slope than a moat. My wife loves that it keeps things on the board better than a channel and is easier to clean out. I would highly recommend this board as it delivers a lot of bang for the buck.
Date published: 2017-09-21
Rated 5 out of 5
by
NotAChef
from
Excellent board
I received the board some time ago, and have really enjoyed it. The measurement feature is quite handy and the board itself is everything I would expect from something with the KitchenAid name on it -- I expect it to last forever! I don't mind it's handwash only -- seldom put wood in the dishwasher -- and love the drain "well". And, yes, I would buy one for myself (and may buy one for my daughter-in-law) -- only drawback for me is it wanted mineral oil prior to use -- I have none ... so just washed it and away I went!
Date published: 2017-09-15
Rated 5 out of 5
by
Tam
from
Very Functional
The cutting board is just the perfect size. It's not to big or to small. Love the well for wet foods. Put it in the dishwasher and washed like a pro. Would buy this on my own.
Date published: 2017-09-09
Rated 4 out of 5
by
Nona
from
Wonderful addition to your cutting board collection.
The size and weight of this cutting board are perfect for smaller amounts of food. The well for collecting meat juices and the inch and half inch measures on the flip size are very handy. I use those features regularly.
Date published: 2017-08-25
Rated 5 out of 5
by
Dave
from
Great cutting board for small veg or prep work.
I have used this for dicing and veg prep. It is extremely durable and does not show any signs of wear. I really like the recess available on one side that helps control any liquid runoff that occurs with my other cutting boards. It is lightweight so is easy to handle yet is solid enough that it does not move when using.
Date published: 2017-08-25
Rated 5 out of 5
by
Eyegirl63
from
eco friendly and attractive
I have had this cutting board about 6 weeks and I can honestly say I use it about once everyday or more. I use it for cutting veggie, fruits, bread and cheese. I will use it to serve tapas or appetizers on. It is easily the best size board I have for multi uses. It cleans up easy and looks attractive. I like that it is eco friendly bamboo that is renewable. I give it a 2 thumbs up.
Date published: 2017-08-24
Rated 4 out of 5
by
Rose
from
Great Cutting Board
It is a great little cutting board, nice and lightweight easy to transfer foods and herbs I have cut up for my meal. However the board was not very good with heat, I barely touched it to a pan and it charred and burned. It was not like I used it as a hot Plate, was transferring some onion to a dish I was making and lightly touched to pan.
Date published: 2017-08-24