11" x 14" Non-Slip Poly Cutting Board
11" x 14" Non-Slip Poly Cutting Board is rated out of 5 by 15.
This 11" x 14" non-slip two-sided cutting board that is great for any kitchen. One side features a drain-away tray, allowing juices to flow away from your cutting space. And measure marks are molded in for precise and even cutting.
Signature Red - KKPRC1114SD
Features
Non-Slip Grip
Prevents sliding or slipping on counter and table tops while you cut, slice, chop and dice.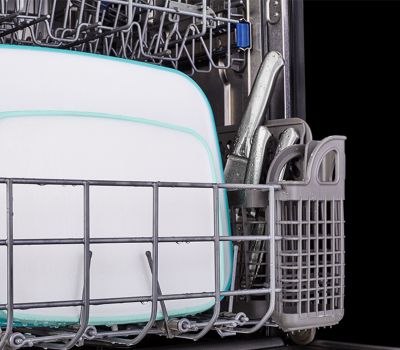 Dishwasher Fearless™
Rigorously tested for quick and easy cleanup everyday.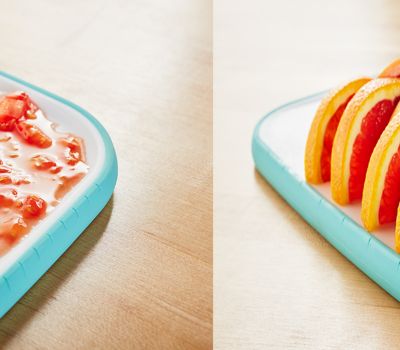 Reversible, Two-Sided Cutting Board
One side is flat for conventional cutting and prepping, while the other side features a Drain-Away Tray and Measure Marks.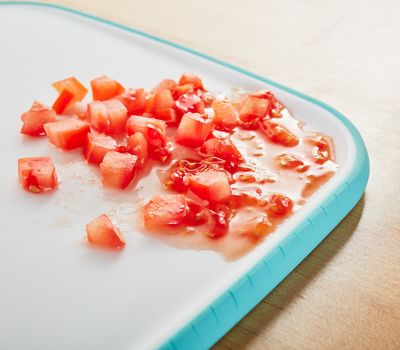 Drain-Away Tray
With angled surface allows liquids to drain away. Great for prepping juice filled items such as tomatoes.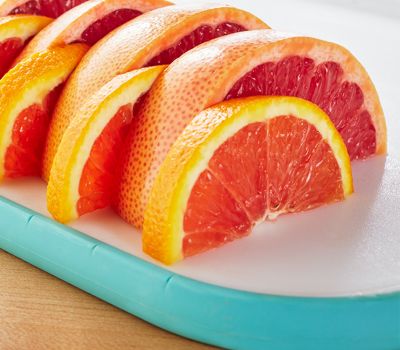 Measure Marks
Molded into each KitchenAid® poly cutting board, for precise cutting.

Lifetime Limited Warranty
Your KitchenAid cutting board is warranted to be free of defects in material or workmanship under normal household use when used according to the instructions.
Reviews
Rated 5 out of 5
by
Jenny
from
The best cutting board ever!!
When you are cutting up fruit, or when you are cleaning chicken off the carcass, or cutting roast beef, all of the liquids are contained on the cutting board. I absolutely LOVE this design. I have several cutting boards, but this one is the one I use every..single..time!!
Date published: 2017-05-22
Rated 5 out of 5
by
don't have one
from
Great size and doesn't slip.
So easy to use and store. Should last a long time.
Date published: 2017-05-03
Rated 4 out of 5
by
Rhondalr
from
Nice basic size
When I first received it I thought it was rather small, but after using it I think it was s good size. You can cut vegetables and just scrape them in the pot. It is sturdy enough to not collapse by the weight.
Date published: 2017-05-03
Rated 5 out of 5
by
canyoncreek
from
The best poly board!
Great, quality, cutting board which doesn't move. It allows you to cut, dice and/or mince easily. Very easy to clean as well. This is the 1st poly cutting board I have liked!
Date published: 2017-04-21
Rated 4 out of 5
by
Nursejenny
from
Works great, but a little small
I recieved this cutting board about a month ago. It is non slip and has grooved sides so liquid doesn't leak all over the counter. My only problem is that that cutting surface is to small.
Date published: 2017-04-20
Rated 5 out of 5
by
RWJ2
from
Nice board
This board stands on my countertop and has become my new go-to. it's attractive and hasn't shown any signs of damage from knives, I use it at least twice a week.
Date published: 2017-04-20
Rated 5 out of 5
by
Mk the teacher
from
Finally a cutting board that can safely go in the dishwasher
I was asked to give the cutting board a try and I am glad I did. The orange edging makes it easy to find. It does not slip so I am not chasing it around the counter. The markings for inches and centimeters come in handy. And I love to be able to wash it in the dishwasher when I am finished.
Date published: 2017-04-20
Rated 5 out of 5
by
blips
from
Think there could be a different type of cutting board? Yes!
I received this cutting board to test and review it. I have many quality cutting boards and professional knives. I have been using this board surprisingly often. The textured surfaces do not dull my knives, and the unique design of the cutting surface- it's different depths on the opposing side- are very functional, and the silicone edges really keep the board stable on the counter. When cutting vegetables, I use the even side that is flush with the edge, and use the deeper/ sloped side when defrosting items or cutting fruits or cooked proteins to catch the juices. I have nothing negative to say about this innovative product!
Date published: 2017-04-19
Rated 5 out of 5
by
Ann
from
Great Cutting Board
I really like the inch marks on this cutting board. Helps with consistent cutting. I liked that it was easy to scrape the cut up items into the pot. The board was easy to clean.
Date published: 2017-04-19
Rated 5 out of 5
by
Bobbie
from
Perfect Cutting Board
This cutting board is the perfect weight and size. It's drip edge is perfect also. Colors are also attractive.
Date published: 2017-04-19