6.5" Round Electronic Device Holder and Cutting Board
6.5" Round Electronic Device Holder and Cutting Board is rated out of 5 by 7.
Meet a convenient way to hold your electronic device as you follow a recipe online while cooking. Then flip the board and it is a small cutting board.
Matte Gray - KKPCD06FG
Features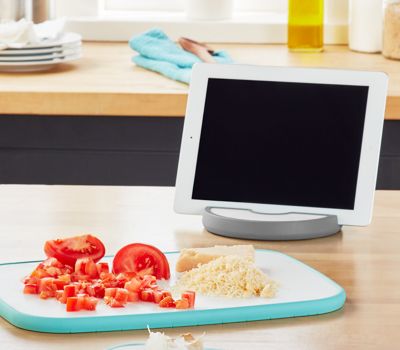 Electronic Device Holder
One side conveniently holds your electronic device to follow a recipe while cooking.
Non-Slip Grip
Prevents sliding or slipping on counter and table tops while you cut, slice, chop and dice.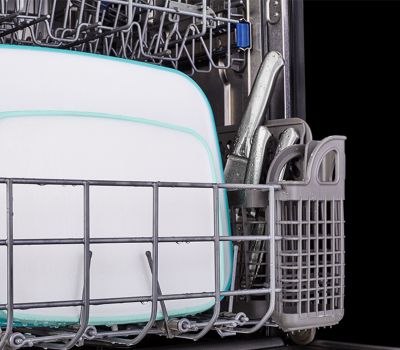 Dishwasher Fearless™
Rigorously tested for quick and easy cleanup everyday.

Lifetime Limited Warranty
Your KitchenAid cutting board is warranted to be free of defects in material or workmanship under normal household use when used according to the instructions.
Reviews
Rated 4 out of 5
by
ddipps
from
Very nice little cutting board and device holder
This item is perfect for small kitchens, and small items to cut. Does not slide on the counter. Good for holding a device so you can read the recipes
Date published: 2017-08-25
Rated 5 out of 5
by
briamart
from
This thing is great!
I usually bring my phone or tablet into the kitchen when I am cooking, so I can listen to music or look at recipes. Before I got this, I would precariously prop up my phone and hope it stayed there. Now I have a great place to keep my phone upright while cooking, and I can easily scroll through the recipe or my music playlist. The non-slip grip is much appreciated and keeps my device stable when I am scrolling. When I am cooking and don't need my device, I use the other cutting board side for veggies and chicken and the size feels just right. The non-slip grip is also useful here and keeps the board from siding around. Overall, this is a great addition to my kitchen toolset, I would highly recommend it!
Date published: 2017-08-25
Rated 5 out of 5
by
Linda
from
Great for a single person
This item wasn't for me. It was too small for a cutting board for me. I think it would work great for a single person. The product is excellent quality. The phone holder worked well for me.
Date published: 2017-08-22
Rated 5 out of 5
by
Vanessa
from
Nice cutting board
I am really please with this cutting board, it is great for cutting veggies, and worked well with small chicken breasts, did not slide at all on wilson art counter tops, looks great after many times in the dishwasher. The device holder worked great with my kindle, tablet, and phone, while using to hold for a recipe, but it only works well with devices, I also tried to get it to hold a few different cookbooks (all hard back) and it did not work. I would highly suggest this for someone that has limited space or just does not want to deal with large kitchen items. Seems to be pretty high quality and no issues at all.
Date published: 2017-08-18
Rated 3 out of 5
by
thotpham
from
Serves its purpose
I received this item to use and do an unbiased review. At first I was really excited to receive and it use it, but when I did get it, I wasn't so much any more. It's very small as a cutting board. It was useful to cut lemons and smalls fruits, but that was it. The stand function works, but if you have a thick case on your device, it may not fit. Mine did not fit. It kind of got in the way more than it was useful.
Date published: 2017-08-15
Rated 4 out of 5
by
AZ Joe
from
Interesting Design
As a cutting board, it's limited due to small size. Good for cutting limes and lemons, or small fruits and veggies. But great as holder for iPad where I have my recipes.
Date published: 2017-08-15
Rated 5 out of 5
by
Sana
from
So convenient
This is so easy to use! I like the way it holds my cell phone to keep the receipes right in place at eye view . Just right for cutting small amount of veggies
Date published: 2017-08-15