Ceramic 4Pc Set
Ceramic 4Pc Set is rated out of 5 by 14.
Tough-Grade, Stays Sharp, Ceramic. This culinary cutlery set includes our 6" Chef, 6" Serrated Bread, 5" Santoku and 3" Paring knives. These four ceramic knives are used very frequently for cutting and prepping.
Black - KKCER04CSBL
Features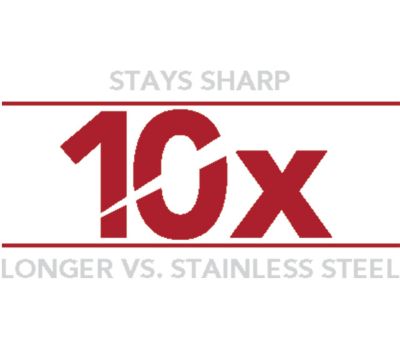 Stays Sharp Blade
Our ceramic cutlery maintains their ultra sharp performance up to 10x longer versus stainless steel knives*.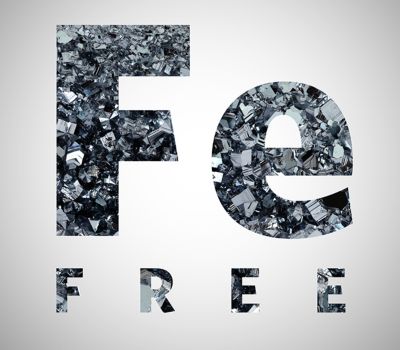 Rust-Free Guarantee
Our pure ceramic knives won't rust or corrode from regular cleaning because they are free of metallic ions. They also won't corrode food, oil and acids like traditional steel knives.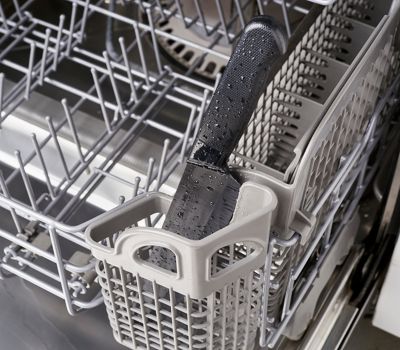 Dishwasher Fearless™
We love dishwashers. In fact, we encourage you to wash our ceramic cutlery in the dishwasher as often as you like. That's because we always torture test our ceramic cutlery so you can rely on it for carefree, dishwasher-safe cleaning.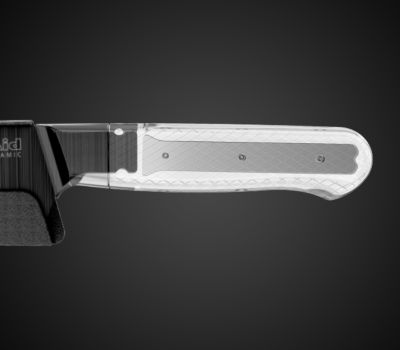 Weighted Handle
Properly weighted to feel like the stainless steel knives with the superior sharpness of a ceramic knife.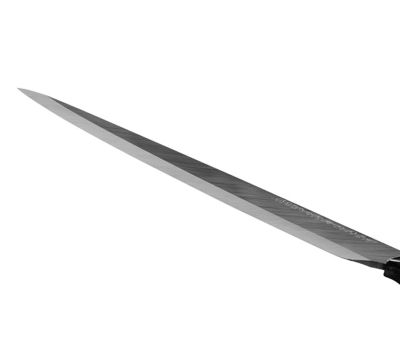 Precision Diamond Ground Edge
The cutting edge of each of our ceramic knives is thoughtfully designed from tip to heel, giving you a control during every step of your meal preparation.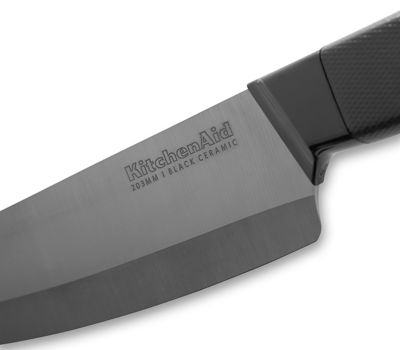 Tough-Grade Black Ceramic
The advanced material and technology that goes into our ceramic blades makes them second only to diamond in hardness, and extremely wear resistant. Plus they're substantially lighter than stainless steel knives allowing for easy maneuverability no matter the cutting angle.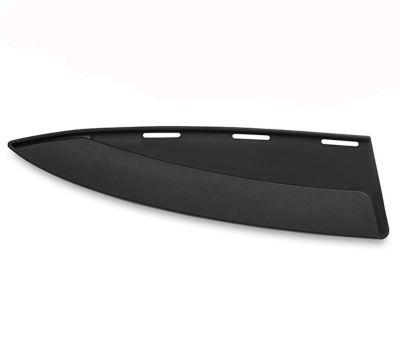 Sheath Shield
The hard plastic blade shields that come with our ceramic cutlery keep knife edges clean, and provide scratch-free convenient drawer storage. Plus they slip on and off in seconds, making instant blade protection hassle free.
Specifications
Features
Knife Construction
Press Molded
Handle Construction
Weighted Handle Construction
Show More Specifications
Reviews
Rated 5 out of 5
by
Katie1234
from
Excellent knives
This knife set is great! The four different knives are perfect for all needs plus they're sharp too.
Date published: 2018-02-05
Rated 5 out of 5
by
Moe2
from
Knives fit your hand great.
These knives really cut, you will be very happy you bought a set.
Date published: 2018-01-29
Rated 5 out of 5
by
Digikatt
from
Love these knives
I had another set of white ceramic knives and two of them chipped while using them. I wrote the company and they said they no longer make that set so they sent two of this set in replacement. I LOVE them. They are nice and sharp. Strong. and they clean up easily. Makes cutting and shopping things a pleasure. I love using them.
Date published: 2017-04-03
Rated 5 out of 5
by
Edge804
from
Super Sharp
Since I got these knives I haven't used any of my others. Razor sharp. They make my food preparation a breeze.
Date published: 2016-09-30
Rated 5 out of 5
by
Joyce
from
Use These All the Time!
From the first time I used this knife set, I loved the sharpness, clean cuts, ease of use, & the feel in the hand of each of the four knives. I have not once used my old knives since receiving this knife set, & I don't believe I ever will. There are two drawbacks which I noticed: I was not used to very sharp knives & so cut myself more than once as I adjusted to using these (not really a drawback of the knives, so much as my fault), & the 6" chef knife did get a chip out of it. I do not know how this happened as I was very careful with the knives, even hand washing them though the instructions say they are dishwasher safe. I was impressed with the company when I emailed & asked for a replacement knife, as they immediately contacted me & I very quickly received a replacement. Great company with a long, very good warranty on an excellent knife set. Without question, I'd have given these knives 5 stars if not for the chip out of the 1 blade.
Date published: 2016-09-29
Rated 5 out of 5
by
Linda757a
from
Fantastic knives!
These knives look terrific. They feel very comfortable in your hand with good balance. They are very sharp and cut through everything with ease, even cutting tomato thin enough to see through without smooshing it. I have never had ceramic knives before and these far exceeded my expectations.
Date published: 2016-09-29
Rated 5 out of 5
by
Texas Grannie
from
Ceramic Is The BEST
I have used these knives for a little while and I am so pleased with how sharp they are, I LOVE the paring knife!! I find I pick it up time and time again. I look forward to many years of use from this set of knives. And of course having the Kitchen Aid name behind it doesn't hurt.
Date published: 2016-09-27
Rated 5 out of 5
by
Renee
from
Lightweight and sharp!
I own another KitchenAid knife, and while I like it, it is heavy. These knives are so light to hold, love the sheath on each knife for safety, love that they are dishwasher safe and rust-free. These are now my go-to knives. The set includes a chef's knife, bread knife, santoku knife, and a paring knife so it covers most routine kitchen needs. I've never been disappointed with KitchenAid products!
Date published: 2016-09-26
Rated 5 out of 5
by
KatieK
from
Great knives
These knives are fantastic. Sharp, durable and well made. Would highly recommend them.
Date published: 2016-09-26
Rated 5 out of 5
by
Twhee
from
Excellent knife set!
Love using these knives whenever I need a good sharp cut!
Date published: 2016-09-25
Demos & Guides
guides
Warranty Information
A complete description of your warranty coverage, and contact information for service and support.