Classic Forged 8-Inch Triple Rivet Chef Knife
Classic Forged 8-Inch Triple Rivet Chef Knife is rated out of 5 by 6.
Every Cook's knife. For chopping, dicing, slicing — the workhorse of knives for every chef, everyday. Lifetime limited warranty.
Onyx Black - KKFTR8CHOB
Features
German Stainless Steel
Our Chef, Slicer, Utility, Santoku, and Paring cutlery are made of high-grade, high carbon German 1.4028 Stainless Steel, giving them an exceptional and enduring razor sharp edge with long life durability.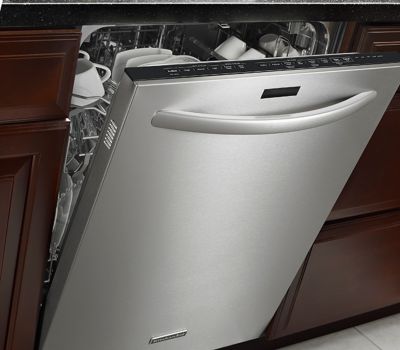 Dishwasher Safe
Our cutlery is tested to withstand the toughest dishwasher cycles. If you are looking for the longest lasting appearance, hand washing is recommended.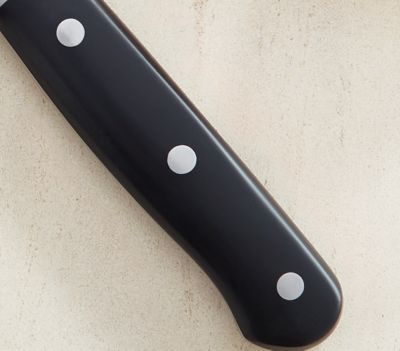 Triple Rivet Comfort Handle
Ergonomically engineered with full tang and bolster, our handles are designed for ultimate comfort and easy handle control. The polished triple steel rivets reinforce and strengthen each handle's seamless fit, while also adding a touch of elegance.
Specifications
Features
Knife Construction
Forged
Handle Construction
Ergonomic Triple Rivet Handle
Show More Specifications
Reviews
Rated 5 out of 5
by
Beatranger
from
Worth every penny
Great knife, did have an issue when initially purchased with a defect in the blade, but customer service was awesome. Received a replacement knife and have no issues since. Very sharp, great for a vegies and fruits that I have used it on so far. Would purchase this set again if I had to.
Date published: 2018-02-08
Rated 5 out of 5
by
Peppermint Patti
from
Sharpness in Conway
I bought this a month ago and I'm glad I did! It has made my life in the kitchen easier. It's versatile in cutting and trimming meats; breaking vegetables down and slicing hard cheeses
Date published: 2016-05-10
Rated 4 out of 5
by
Rswover
from
Solid, comfortable knife
Found this knife to accomplish the simple slicing and chopping with ease. Was also able to comfortably use this knife for some more precise prepping. One thing that would improve this product would be a sheath to protect the blade during storage.
Date published: 2016-03-11
Rated 5 out of 5
by
Paula Thornton
from
Excellent Chef Knife
I have been using my Kitchenaid Chef Knife for the past month and have been extremely satisfied with its performance. I use it for pretty much everything. Cutting, chopping and slicing vegetables, cutting raw and cooked/roasted meats, cutting and dicing fruits (including melons and cantaloupes, that have a very hard shell). It is perfect. The blade is still as sharp as it was on the first day I've used it. It does not go dull easily, like my other chef knives. The only thing I couldn't do very well with this knife was trim meat and chicken, but that was expect because this is not the appropriate size knife for this task. It is made of a very good quality and sturdy steel and is lightweight, which is great because sometimes I chop a large amount of vegetables and meat at once to freeze and my wrist doesn't get sore. The handle is also very comfortable and has a good grip. I highly recommend this knife, very good product!
Date published: 2016-02-29
Rated 5 out of 5
by
Marcia
from
Love this Kitchen Aid Chef Knife!
I am a small person and didn't think I needed such a large chef knife, but I absolutely love it! The edge is sharp, the knife is hefty enough, but lightweight and easy to use, even in my small hands! Best of all, I've not cut myself once yet, and my husband hasn't had a chance to get near it because I grab it for every kitchen cutting task which I formerly assigned to him. I am delighted with the performance and hope to keep using it for a long time to come. I have other good quality German knives, and this ranks up with the best of them.
Date published: 2016-02-27
Rated 5 out of 5
by
Mominbridport
from
I would love to purchase the whole set of knives
This knife Is the best knife I own. It's sharp and high quality. It's the biggest knife I own so it was a little intimidating at first but it's perfect. I would love to collect them all.
Date published: 2016-02-27
Demos & Guides
guides
Use & Care Guide
Comprehensive information about your new appliance - from getting started to cleaning and maintenance.